It's time to make some spooky Halloween treats for the kids and you can't beat these easy Oreo Monster pops.
They are fun to make and little kids love them.
Perfect for trick-and-treat fun or a Halloween party.
When Halloween season comes around, it's the perfect time of year to whip up some creative and delicious treats for the kids.
If you're on the lookout for a fun and easy Halloween treat or party snack that's also vegan, look no further than these "Halloween Oreo Monster Pops."
These adorable treats, perfect for kids and adults alike, are a great way to celebrate the spookiest time of the year while keeping things vegan-friendly.
Jump to:
💭 Halloween in Scotland
Halloween, or "Hallowe'en" as it's called in Scotland, has a rich history.
The holiday is very popular in America, where kids love trick or treat but the origins can be traced back to ancient Gaelic pagan traditions.
Over the centuries, it's evolved into the modern celebration we know today. Here's a brief history of Halloween in Scotland:
Pagan Roots: Halloween comes from the ancient festival of Samhain, which marked the end of the harvest season and the beginning of winter.
Samhain - It was believed on the night of Samhain, the boundary between the living and the dead was blurred, allowing spirits to return to the earthly realm.
All Hallows' Eve: November 1st is All Saints' Day, also known as All Hallows' Day. The night before, October 31st, became known as All Hallows' Eve, and this name eventually morphed into "Halloween."
Traditions and Superstitions: In Scotland, people would light bonfires to ward off evil spirits and tell fortunes. It was believed that this was a time when supernatural forces were particularly active.
Guising: One of the most enduring Scottish Halloween traditions is "guising" or "galoshin." Children would dress up in costumes and go from house to house, performing tricks or songs in exchange for treats. This tradition is very similar to "trick-or-treating". but a party piece had to be performed in exchange for a gift or treat.
Turnip Lanterns: People would carve grotesque faces into turnips and place candles inside to ward off evil spirits. The practice of carving lanterns from turnips rather than pumpkins used to be common in Scotland, but these days pumpkins are more readily available to buy and are much easier to carve.
Modern Celebrations: Today, Halloween in Scotland closely resembles the celebrations in other parts of the world. Children still go guising, dressing up in costumes and visiting neighbors for treats. There are also Halloween parties for adults, and people often decorate their homes with spooky decorations. It's all so much fun.
🍭 Make Homemade Halloween Treats
It's easy to go shopping and buy bags or sweets to give out to the guisers or trick-or-treaters on Halloween, but it's more fun to make your own and of course, you can make the treats suitable for vegans.
Not only do they taste better but you can get the kids involved in the lead-up to All Hallows Eve.
And even better these are no-bake Halloween treats.
🍭 Vegan Treats for Halloween
For those following a dairy-free or vegan diet, these Halloween Oreo Monster Pops with candy eyeballs are not only vegan but also incredibly easy to make.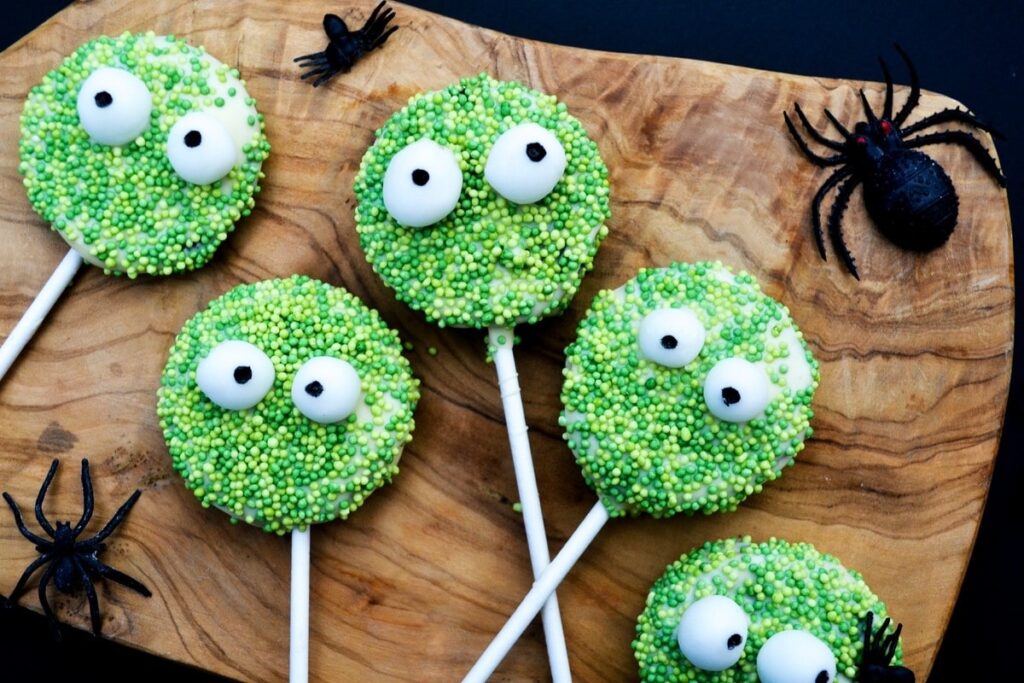 They're a fun twist on the classic Oreo cookies and a perfect way to get little hands involved in the kitchen.
📋 What you need to make easy Halloween Oreo monster pops
Here are the simple ingredients and equipment you need to make these Halloween monster pops.
Equipment
Microwave-Safe Bowl - for melting the chocolate in the microwave or over a pot of simmering water (also called a bain marie or double-boiler).
Spoon - to stir the melted chocolate coating and add it to the cookies (there's no need for a piping bag when making this fun treat)
Lolly pop sticks - the white stick type are better than the flat lollipop stick (popsicle sticks)
Edible ink pen - if you are making fondant eyes and not buying candy eyes for the little monster pops.
Baking sheet - a lined baking tray to leave the chocolate-dipped oreos to set
Monster Pop Ingredients
Oreos - regular Oreos
Vegan white chocolate - or you can use dark chocolate
Ready to use fondant icing - for the eyeballs, although you can buy ready-made candy eyes
Green sprinkles - purple sprinkles would work well too
See the full printable recipe card below for quantities and method.
🍫 Melted chocolate or candy melts
To make these monster Oreos, they need first to be coated in melted chocolate or candy melts.
You will want some parchment paper or baking paper to catch any drips, but the chocolate dipped Oreos have eyes and sprinkles added before they are left to set.
You can use vegan white chocolate, milk chocolate or dark chocolate.
Alternatively, you can use flavoured candy melts.
🍬 Fondant or candy eyes
You can make the eyes for these cute monster oreo pops from fondant or buy ready-made candy eyes.
To make them from fondant, you simply roll little balls of fondant and add pupils using an edible marker.
You could also use vegan M&Ms or Smarties (try the ones from Doisy & Dam) or jelly tots and add pupils with the marker.
👩🏻‍🍳 Storing Halloween Oreo Pops
You can make these Halloween Oreo cookie pops ahead and store them in an airtight container.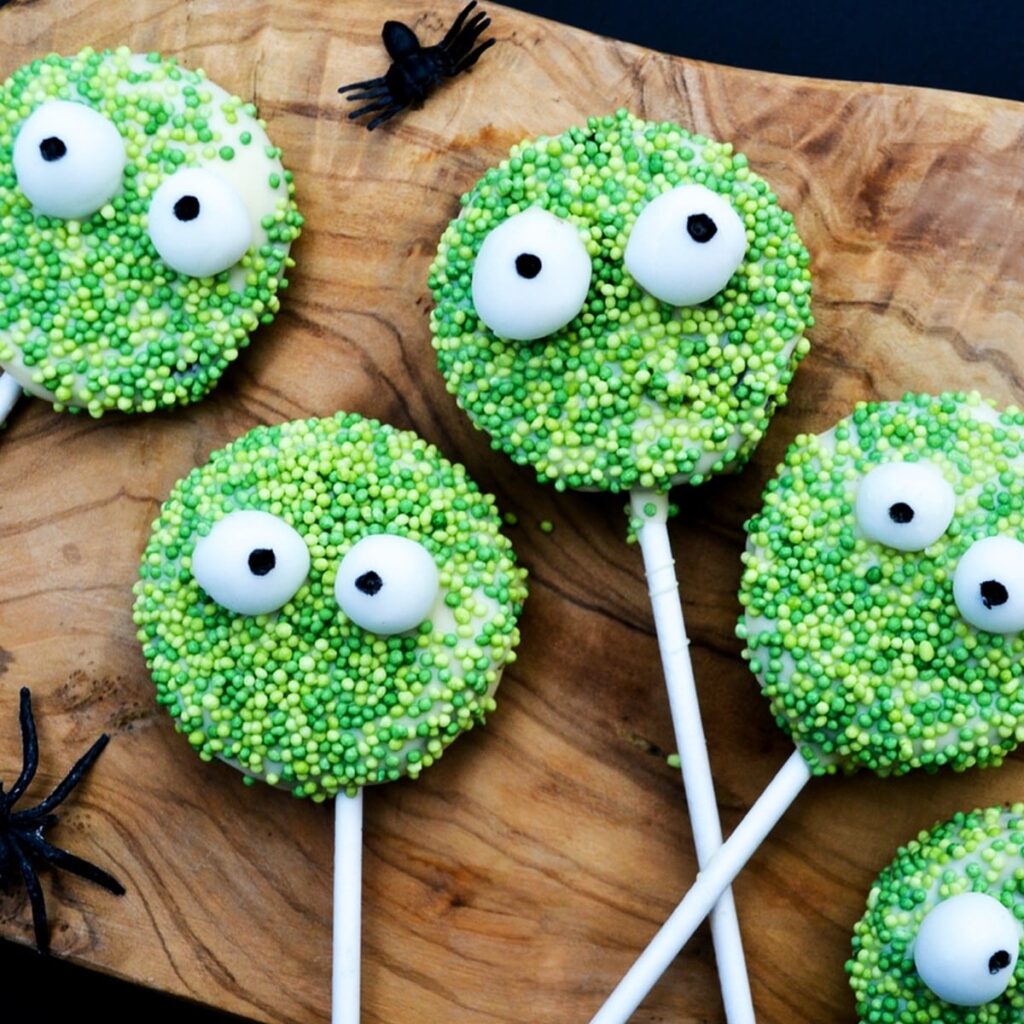 Keep them for 2-3 days.
The Halloween oreos are better stored in an airtight container (with layers of wax paper between them) on the countertop, as when you put Oreos in the fridge they lose their crispness and become soft.
Little monsters don't like soft cookies!
🧁 More spooky vegan treats
Here are a few more vegan Halloween Treats for you to try this year.
📖 Recipe
Halloween Oreo Monster Pops Recipe
It's time to make some spooky Halloween treats for the kids and you can't beat these easy Oreo Monster pops.
Equipment
12 fine lolly pop sticks

1 edible marker pen
Ingredients
308

g

Oreos

(2 packets, there will be breakages)

200

g

chocolate

(vegan white, milk or dark chocolate)

50

g

fondant icing

12

teaspoons

green sprinkles

(or purple & you may need more)
Instructions
Melt the chocolate in a bain marie (bowl over simmering water or in the microwave). Make sure the base of the bowl doesn't touch the water or the chocolate will seize.

While the chocolate is melting roll 24 fondant eyeballs. Wrap the rest of the fondant and pop in the fridge for your next project.

Carefully insert a lollypop stick gently into each Oreo, Just edge it gently into the cream filling. If the back pops off you can gently press it back together.

Drizzle the chocolate over each pop with a teaspoon, smoothing as you go. Go easy and take your time.

Add two eyes to the pop before the chocolate sets and cover the rest of the Oreo with sprinkles. Leave the pops to set on a lined baking sheet.

Once the pops are set draw pupils onto the eyeballs.
Notes
You probably won't use all the fondant, but best to have enough to play with.
You can buy candy eyes instead of making them.
Or why not use jelly tots or vegan smarties and add a pupil with the edible pen for eyes?
Once set you can keep these in an airtight container on the counter top for a few days. Don't put in the fridge or the cookies will go soft.
Nutrition
Serving:
1
pop
Calories:
225
kcal
Carbohydrates:
33
g
Protein:
2
g
Fat:
11
g
Saturated Fat:
5
g
Polyunsaturated Fat:
1
g
Monounsaturated Fat:
4
g
Trans Fat:
0.01
g
Sodium:
102
mg
Potassium:
108
mg
Fiber:
2
g
Sugar:
24
g
Vitamin A:
1
IU
Calcium:
9
mg
Iron:
4
mg