A simple potato salad with lots of fresh dill. An incredibly tasty side salad to add to your lunch or dinner.
DILL POTATO SALAD
I first tried dill potato salad when I was at art college.
I would often visit a local deli at lunchtime for a cup of soup and I could never resist a small tub of their coleslaw or potato salad.
The potato salad was something else. I'd never tasted anything like it before. It was potato salad but so much better.
When I asked what it was that gave it that incredible flavour they said dill and I've added it to my potato salad ever since.
You really must try it.
WHAT POTATOES SHOULD I USE FOR POTATO SALAD?
I like to use baby potatoes to make potato salad, but any waxy potato would do.
You don't want a starchy potato as it would be too soft and fluffy. A potato salad is much nicer if the potato is soft but on the firm side and glossy.
KEEP THE SKINS ON!
Don't remove the skins.
It's a lot of faff and the skins contain a lot of nutrients, so it's crazy to peel them.
The potato salad looks a lot more interesting with the skins on, so that's another win.
FRESH DILL IN POTATO SALAD
Fresh dill is the star of the show in this potato salad. It brings all the flavour to the party.
Dill is sometimes known as dill weed although it is definitely not a weed.
It's actually part of the celery family.
Oh, it's wonderful stuff and smells glorious. You do have to use fresh dill for this potato salad to get that sensational flavour and all that gorgeous colour.
SPRING ONIONS IN POTATO SALAD
Onions really lift the flavour of a potato salad.
I often add red onion, but my favourite onion addition has to be spring onions, which are also known as scallions.
They have a softer flavour than other onions but still add that little kick.
TIPS FOR THE BEST POTATO SALAD
Choose a waxy potato.
Leave the skin on the potatoes.
Cut the potatoes into even-sized pieces.
Boil or steam the potatoes until soft but firm.
Rinse under cold water until the potatoes are cold. This will stop the cooking and wash off the starch, leaving you with glossy, firm potatoes.
Gently pat the cooked and rinsed potatoes with kitchen paper to get as much water off as possible.
Use lots of fresh dill and chopped spring onions.
Season well with salt and pepper.
Add your favourite mayo. We like Hellman's vegan mayo.
also try Vegan Macaroni Salad (quick and creamy)
WHEN TO SERVE POTATO SALAD
In your lunch box with a green salad and onion bhajis
With your sandwich, wrap or toastie
With quesadillas and salsa
On the side with a burger
On the side with a hot dog and corn on the cob
On your salad
also check out Kid- Friendly School Lunch Plan for Vegan Kids
pin it for later
Then join my Facebook group Living on the Veg. It's a very friendly community with lots of recipes and chat. I'm in there every day chatting.
You can also
sign up to my newsletter
and never miss a new recipe. They'll all arrive in your inbox once they're published.
HOW TO MAKE DILL POTATO SALAD
Scroll down for step-by-step photos followed by a full printable recipe. If you don't have a printer hit print and save as a PDF.
STEP 1
Add chopped spring onions to a large bowl.
STEP 2
Add chopped fresh dill. Be generous! It will make your potato salad taste amazing.
STEP 3
Add your cooked potatoes and season well with salt and pepper.
STEP 4
Add your mayo. You can add more than I have if you like it super creamy.
STEP 5
Mix well and taste to check the seasoning, then taste again and marvel at how good it is!
📖 Recipe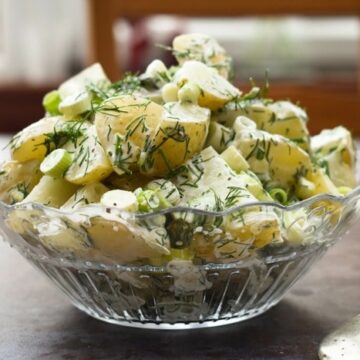 Dill Potato Salad
A simple potato salad with lots of fresh dill for an incredibly tasty side salad to add to your lunch.
Ingredients
500

g

baby potatoes

(or other waxy potatoes), cut into chunks

6

spring onions

sliced

20

g

fresh dill

chopped

pinch

salt and pepper

4-5

tbsp

vegan mayo
Instructions
Once your potatoes are steam or boiled until tender and rinsed until cold, pat them dry with kitchen paper and pour them into a large bowl.

Add the chopped spring onions and dill.

Add the mayo and season with salt and pepper.

Mix well and taste to see if it needs more salt or pepper.

Serve and enjoy!
Notes
You can keep this potato salad in the fridge for 3-4 days.
Potato salad can be frozen in a freezer bag or airtight container for 2-3 months. To defrost it, leave it in the fridge overnight and give it a good stir before serving.
Nutrition
Serving:
1
g
Calories:
194
kcal
Carbohydrates:
27
g
Protein:
3.75
g
Fat:
7.8
g
Saturated Fat:
1.24
g
Sodium:
330
mg
Fiber:
3.45
g
Sugar:
2.95
g