A vegan ploughman's lunch is a dairy-free version of this traditional English salad plate often served in pubs.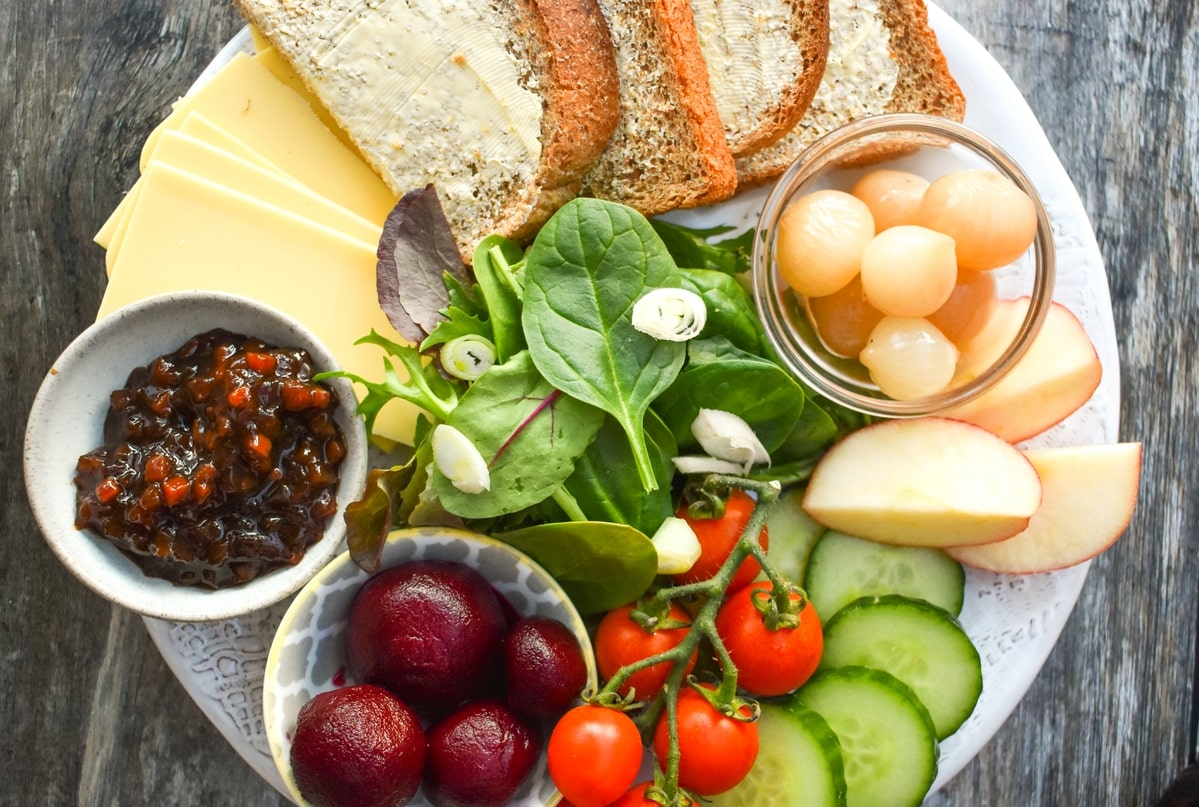 This hearty cheese ploughman's salad is a hearty lunch often seen on pub menus.
It's an old English recipe, if you can call it a recipe.
Today I'm sharing the history of a ploughman's lunch and giving you lots of options for you to make it just how you like it.
Of course, my vegan ploughman's lunch recipe is vegan.
Jump to:
📖 History of the ploughman's lunch
I bet you are thinking of a farmer sitting in his field after an arduous morning ploughing his field and unpacking some crusty bread cheese, pickles and salad.
To be fair, back in the day, many farmers and plowmen probably did take something similar to this for their lunch, just grabbing what they had in the larder.
Although, back in 1394 when the ploughman's lunch was first seen in print, it was probably more likely to be just bread, cheese and beer.
🍺 Beer for lunch?
It might seem like a bad decision when you are operating machinery.
Back in the 1800s and early 1900s farm-workers would still be drawing water from streams and wells, but the water often lead to upset stomachs.
So beer was a popular drink for farmworkers as it was a safer option.
Well that was their excuse anyway.
🥗 Modern version of this lunch
The modern version of the ploughman's lunch is a bit more than bread, cheese and beer, although they are still part of it.
It actually comes from a marketing promotion by the Brewer's Society and the Cheese Bureau in 1957 to promote their produce and products
They reinvented the ploughman's lunch and included pickles and salad alongside bread, cheese and beer for their guests at their events to try and to promote both of their businesses.
It soon took off and has been a popular favourite on pub menus since then.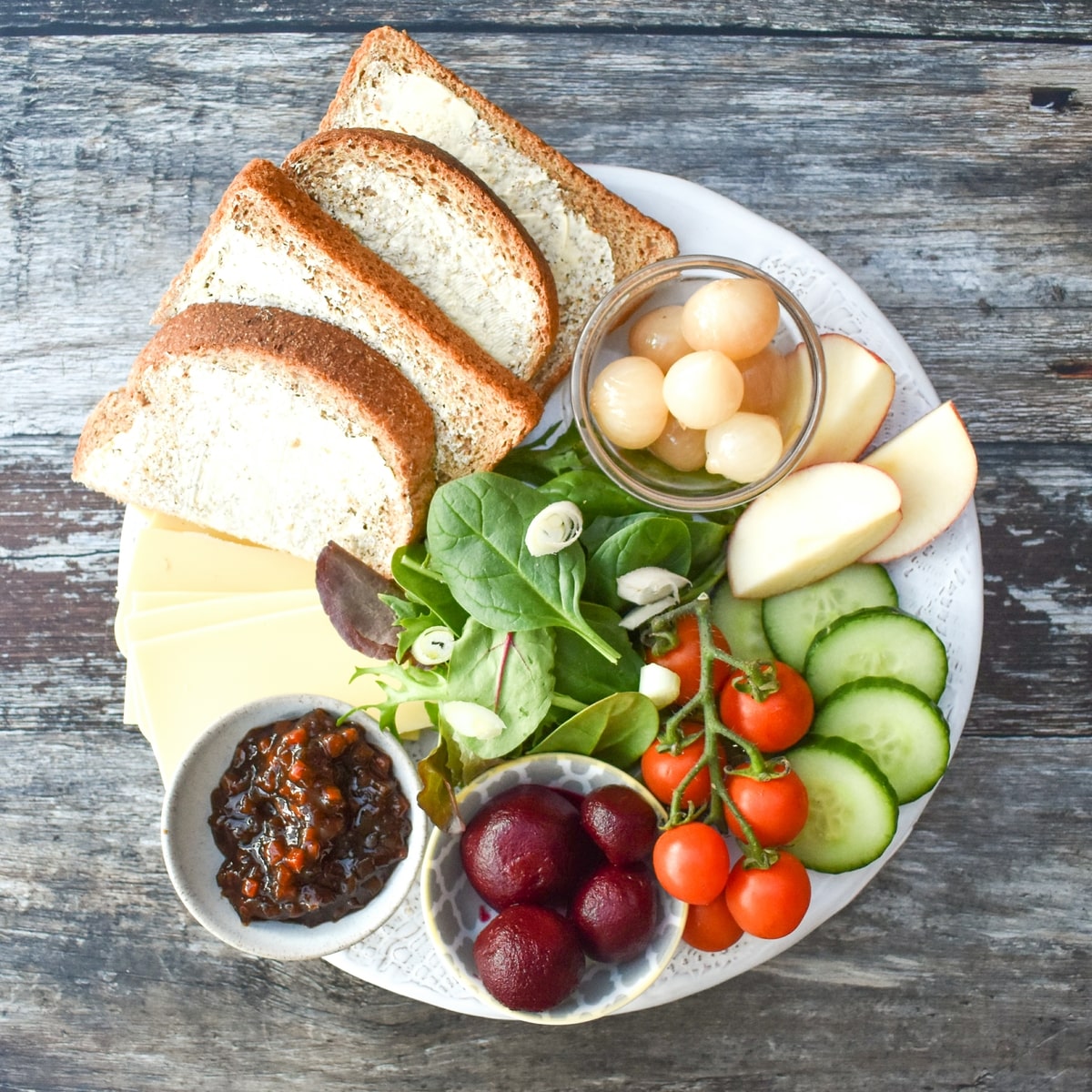 🍴 What to include in a ploughman's lunch
As I have said it is usually cheese, bread, pickles and salad served with beer, but let's give you some tasty options.
🍞 Bread
Crusty bread is the standard option, but here are a few ideas. Choose one of them.
Soft brown bread - if it's what you have at home, just use it.
Bloomers bread - white, but is a good option
Baguette - a popular choice in pubs
Sourdough bread - a gastro pub favourite
Make sure to spread that bread with vegan butter.
🧀 Cheese
A chunk of cheese would usually be included but we are more limited with vegan cheeses. I used slices of Violife vegan cheddar which I had in the fridge.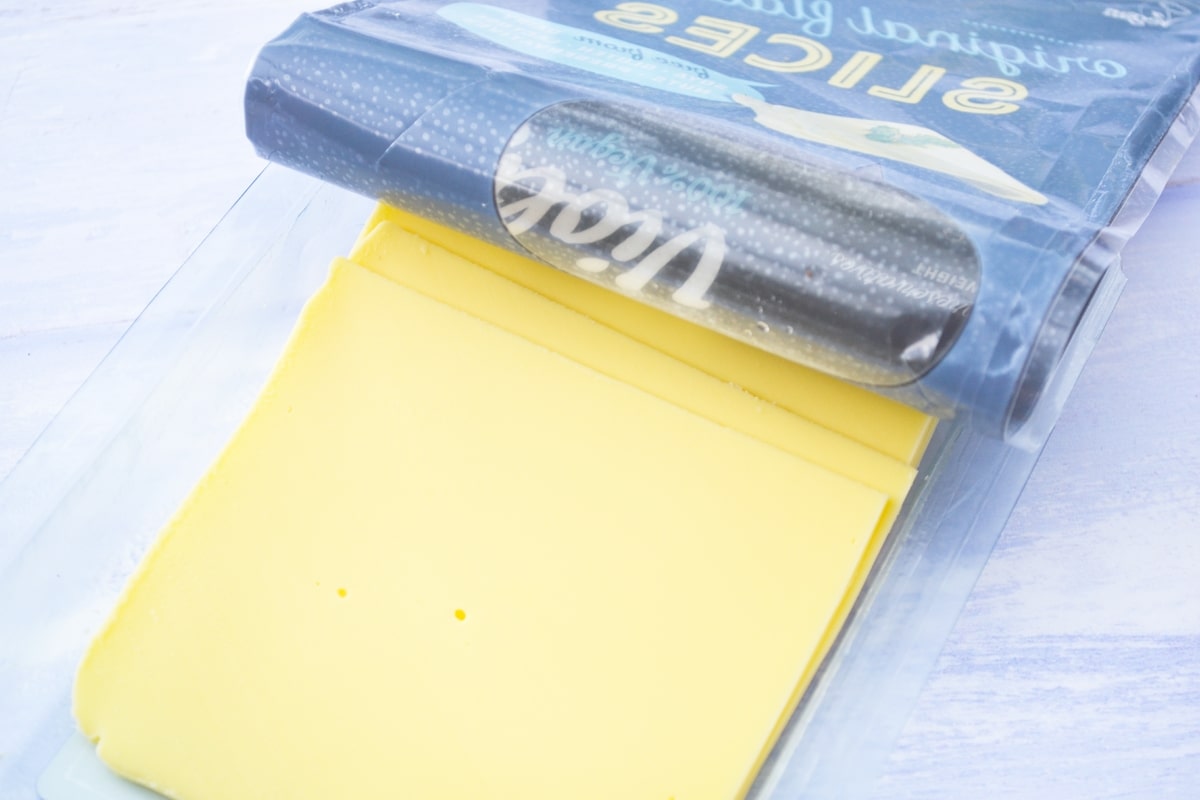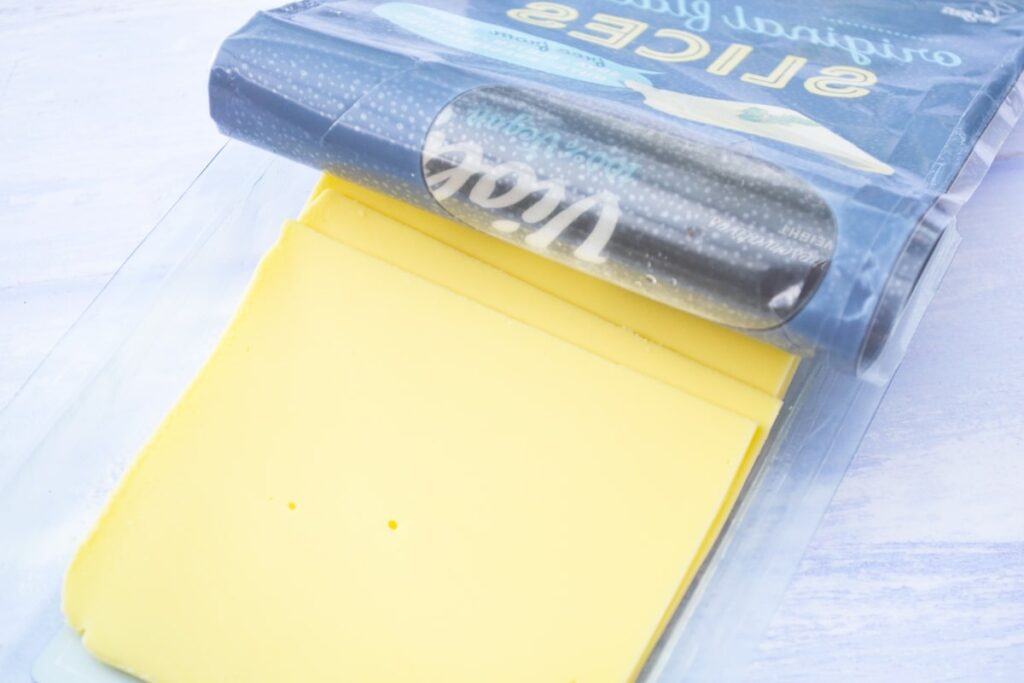 Sliced vegan cheddar - an easy option
Block vegan cheddar - just cut a chunk
Smoked vegan cheese - also a good option
🥣 Pickles
Pickles and chutney are an important part of a ploughman's lunch.
Branston pickle - a British favourite
Red onion chutney - another tasty option
Tomato chutney - so tasty
Piccalilli - a bright yellow pickle made with cauliflower
🥒 Pickled rather than pickles
Don't forget those pickled extras too.
Pickled onions - a must
Pickled beetroot - my favourite
Gherkins - not traditional but a good option
🥗 Salad
Now on to the salad. It's always quite basic, choose a few of these.
Salad leaves - a selection of soft leaves
Iceberg salad - for a bit of crunch
Cucumber - sliced
Tomatoes - baby tomatoes or sliced salad or beef tomatoes
Onion - red or white onion, finely sliced
Spring onions - a softer option
Carrot - grated or finely sliced
Apple - often served in wedges
Coleslaw - not traditional but a nice addition
🍵 No salad dressing?
Salad dressing is not part of a ploughman's salad.
You have the pickles for a shot of flavour, but really it's all about the bread and cheese and the flavours of the salad should be left to shine through.
Of course, you could add some, but try it without any first.
🍻 To beer or not to beer
Beer or lager is traditionally served with a cheese ploughman's lunch.
Saying that, cider is also a good choice. It would be great with all these flavours.
If you don't want to drink alcohol, you could just choose a soft drink.
🥪 Is a ploughman's also a sandwich?
Yep, you can also make or buy a cheese ploughman's sandwich.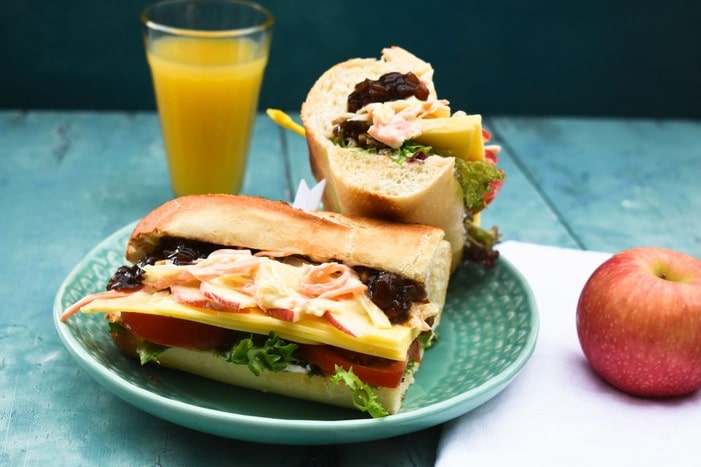 It's sold in sandwich shops, supermarkets and cafes.
Never a vegan version though. Well, I haven't seen a vegan version on sale anywhere.
So if you want to make your own, try my Vegan Cheese Ploughman's Sandwich.
🥗 More vegan salads to try
Here are a few more vegan salads for you to try.
📋 Want new recipes delivered to your inbox?
Also, sign up for my Tinned Tomatoes newsletter for a selection of recipes delivered to your inbox each week or sign up for my email updates and don't miss out on the latest recipe.
Check your spam folder if they don't arrive, I share a new recipe on each of my blogs every week.
⭐ Pin it for later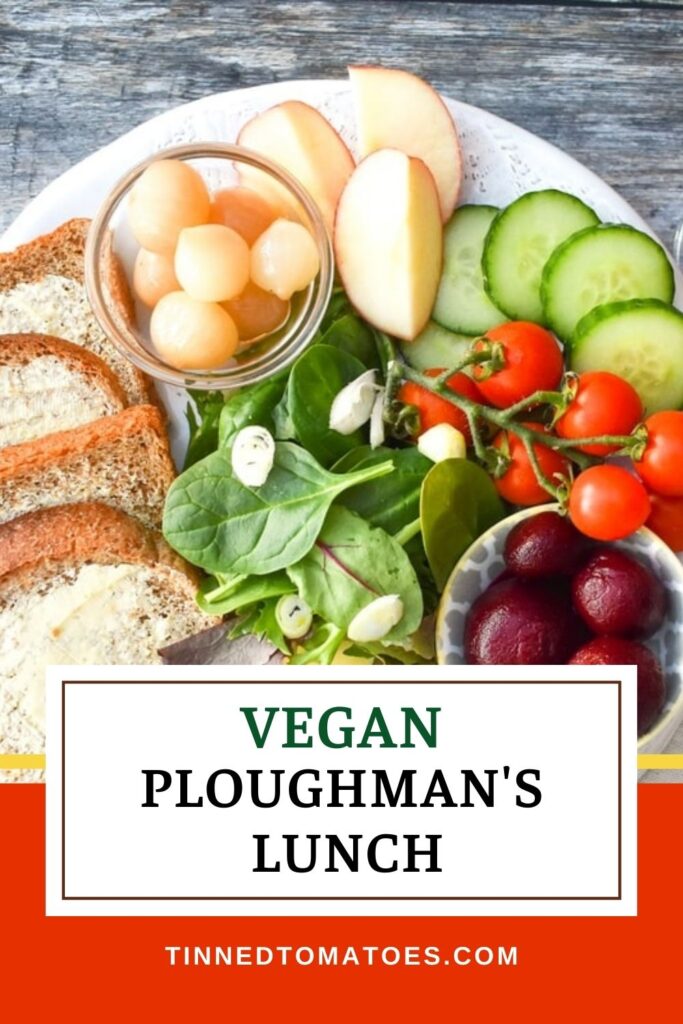 Follow me on Pinterest, Facebook, Twitter and Instagram.
🥦 Living on the Veg
Once you've signed up for my newsletters and followed me on social media, why not join my Facebook group Living on the Veg?
Such a friendly community with lots of recipes and chat. I'm in there every day chatting. It's such a nice place to spend time.
📖 Recipe
Vegan Ploughman's Lunch
A traditional British pub lunch but done vegan style.
Ingredients
4

slices

wholemeal bread

(or a sliced baguette)

1

tablespoon

vegan butter

(or spread)

4

slices

vegan cheese

50

g

salad leaves

½

cucumber

12

cherry tomatoes

(or 2 large salad tomatoes, slices)

2

spring onions

(or thinly sliced red onion)

1

red apple, cut into wedges

12

pickled onions

8

pickled baby beets

3

tablespoons

Branston pickle

(I like the finer sandwich pickle)
Instructions
Butter the slices of bread and cut in half in rectangles or triangles. Place on the plate.

Add the vegan cheese, either a chunk or slice the slices into smaller pieces and add to the plate.

Now add the salad and apple.

Finish of with the pickles.
Notes
Variations
Bread - you can use brown bread, baguette, bloomers bread or a sourdough.
Cheese - you can use vegan sliced cheese or a chunk of vegan cheddar.
Pickles - you could include piccalilli and gherkins if you like.
Dressing - no dressing in a ploughman's lunch
Best served freshly made.
Nutrition
Serving:
1
salad
Calories:
425
kcal
Carbohydrates:
61
g
Protein:
12
g
Fat:
16
g
Saturated Fat:
5
g
Polyunsaturated Fat:
2
g
Monounsaturated Fat:
2
g
Trans Fat:
1
g
Sodium:
782
mg
Potassium:
883
mg
Fiber:
11
g
Sugar:
19
g
Vitamin A:
3566
IU
Vitamin C:
49
mg
Calcium:
220
mg
Iron:
5
mg