The cheese ploughman's sandwich is a British classic. This recipe is vegan and adds an ingredient often missed in this popular sandwich.
CHEESE PLOUGHMAN'S SANDWICH
A cheese ploughman's sandwich is a traditional British sandwich, you will find in sandwich bars, cafes and pubs.
It's a staple in homes across the country too, although a vegan version is often overlooked.
It is a sandwich variety of a ploughman's lunch.
PLOUGHMAN'S LUNCH
A ploughman's lunch is a classic pub lunch.
It sounds like a really old-fashioned meal from long, long ago, doesn't it?
You might have visions of rather handsome, tanned farmer, with sleeves rolled up and the muscles in his arm tensing as he guides a plough, hitched up to his horse across a rough field, in preparation for planting. Yes, take a minute to visualise that!
Oh OK, is that just me?
The term ploughman's lunch did actually appear in print way back in 1394* so that could be a fairly accurate description, but alas no, that hard-working farmer did not eat a lunch such as this.
He did eat a variation of it though. A ploughman's lunch in 1394 would be cheese, bread and beer. Beer was commonly drunk as the water was often disease-ridden unless it came fresh from a stream or deep well.
The modern version of the ploughman's lunch, I'm sad to tell you, comes from a marketing promotion* dreamt up by the Brewer's Society and the Cheese Bureau in 1957 to promote their wares.
They included pickles and salad alongside bread, cheese and beer for their invited city toffs (city gents) to dine on.
It may have started as a marketing promotion, but it has been popular pub fayre ever since.
VEGAN CHEESE PLOUGHMAN'S SANDWICH
The vegan cheese sandwich is easy to make but not one you see on offer anywhere.
It's super easy to make at home using vegan mayo, vegan coleslaw and cheddar instead of the normally included vegetarian cheese and coleslaw.
It's well worth making a vegan version. It's packed with flavours and textures and it won't let you down.
WHICH TYPE OF BREAD SHOULD I USE TO MAKE A CHEESE PLOUGHMAN'S SANDWICH?
I used a French baguette baton for this sandwich.
When you eat a ploughman's lunch in a pub it usually comes with a chunk of crusty bread, so a baguette works well.
If they serve you it with sliced bread, you've gone very down market!
However, a cheese ploughman's sandwich can be really delicious on good quality wholemeal or seeded bread.
You could even make it on a soft bloomer's bread with its crispy crust.
Alternatively, you could serve it on a soft morning roll or a wholemeal roll (bap, bun, cob).
For dinner, serve this sandwich with a bowl of easy tomato soup
VEGAN COLESLAW
Coleslaw wasn't in that original ploughman's lunch back in the 50s, but it has been added over the last few decades.
I like to add it to a ploughman's sandwich. It really makes it something rather special.
Of course, I added a bit too much and my husband struggled to eat it without getting messy. You can add less.
Vegan coleslaw is available in most supermarkets these days but of course you could make your own.
HOMEMADE VEGAN COLESLAW
Vegan coleslaw is super easy to make at home.
Shred cabbage, grate carrot and finely chop some onion. Mix them together and season with salt and pepper and then mix in vegan mayo (I like Hellman's) and you have a basic, but really tasty coleslaw.
Make a batch and add it to baked potatoes, salads, burgers and sandwiches.
SANDWICH PICKLE
Pickle or chutney plays an important part in a cheese ploughman's lunch or sandwich.
The most popular pickle for a ploughman's lunch or sandwich is made by a brand called
Branston
. It's a sweet but spicy pickle that goes well with cheese and gives a tang to the sandwich filling.
You can, of course, use other pickles or chutneys.
The yellow pickle you could see in the photo above of a ploughman's lunch is called
piccalilli
. It's made with cauliflower, marrow and other vegetables with Indian spices and vinegar.
The bright yellow colour comes from turmeric.
It's got quite a strong flavor, so not my first choice for this sandwich, although it would be good on a vegan sausage sandwich.
THE MISSING INGREDIENT
Apples are usually included in a ploughman's lunch but you never find it in the sandwiches.
I think that is such a shame as it adds a bit of crunch and sweetness.
I recommend slicing an apple thinly and adding it to your sandwich.
I know you will love it.
MORE VEGAN SANDWICHES TO TRY
pin it for later
HOW TO MAKE VEGAN CHEESE PLOUGHMAN'S SANDWICHES
STEP 1
You can use bread, a baguette or a roll to make this sandwich.
First spread the bottom slice/half with vegan mayo.
Next add salad leaves and slices of ripe tomato, then slices of vegan cheese. We like Violife original slices.
STEP 2
Now one of the most important ingredients that is often left out, slices of apple. If you are making this ahead, you may want to soak them in a little lemon juice so they don't brown.
On top of the apple add the coleslaw. Maybe don't add as much as I did as it was a bit overfilled.
Lastly, add the pickle to the top of the sandwich/other slice of bread.
Marvel at your delicious creation and then get stuck in.
Enjoy!
📖 Recipe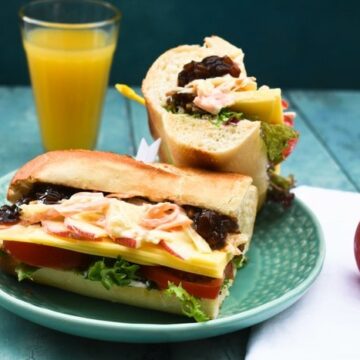 Vegan Cheese Ploughman's Sandwich
The cheese ploughman's sandwich is a British classic. This recipe is vegan and adds an ingredient often missed in this popular sandwich.
Ingredients
1

baguette baton

roll, bap or two slices of bread

2-3

tsp

vegan mayo

handful

salad leaves

2-3

slices

vegan cheese

sliced lengthways

1

ripe tomato

sliced

½

apple

sliced

2

tbsp

vegan coleslaw

2

tbsp

sandwich pickle (or chutney
Instructions
Cut your baguette baton in half and spread the lower half with mayo.

Top with salad leaves, slices of tomato, then slices of cheese.

Next, add the apple slices.

Top the apple with the coleslaw, then spread the top of the baton with pickle.

Serve and enjoy!
Notes
If you are making ahead, you may want to toss the apple slices in lemon juice so they don't brown.
This sandwich is quite large, you could cut it in half and serve for two with a side salad and a handful of crisps (chips).
This sandwich is best made and served fresh, but can be made in the morning for lunchtime.
Nutrition
Serving:
1
g
Calories:
391
kcal
Carbohydrates:
39
g
Protein:
25
g
Fat:
12.6
g
Saturated Fat:
2.5
g
Cholesterol:
1
mg
Sodium:
592
mg
Fiber:
5.5
g
Sugar:
28
g
REFERENCE:
* Ploughman's Lunch - Wikipedia