Want a quick pickle to add to sandwiches or tacos? Try this easy & quick pickled cabbage recipe, it's delicious & simple to make.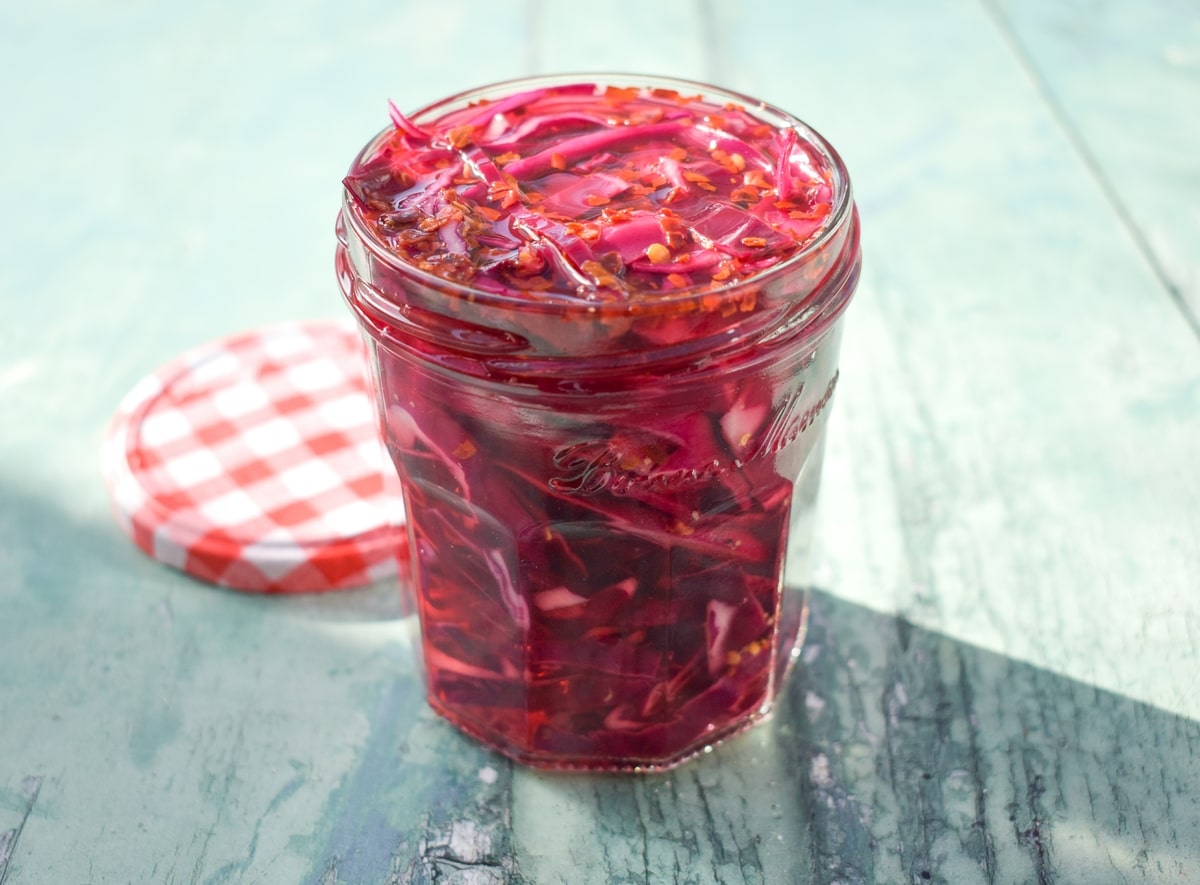 This small batch recipe for quick pickled cabbage is super easy to make and perks up so many dishes, including tacos and sandwiches.
Whip up a batch today, to add to your meals and snacks this week.
Jump to:
💭 Is pickled cabbage the same as sauerkraut?
Cabbage pickle is very similar to sauerkraut, but it's not the same.
Fast pickled cabbage has a sour flavour from the vinegar.
It is basically a quick marinated red cabbage.
Whereas sauerkraut gets that sour flavour from the fermenting process.
Sauerkraut also takes a lot longer to mature and to be ready to serve.
🥘 What you need to make quick pickled red cabbage
Here are the simple ingredients you need to make this pickled slaw.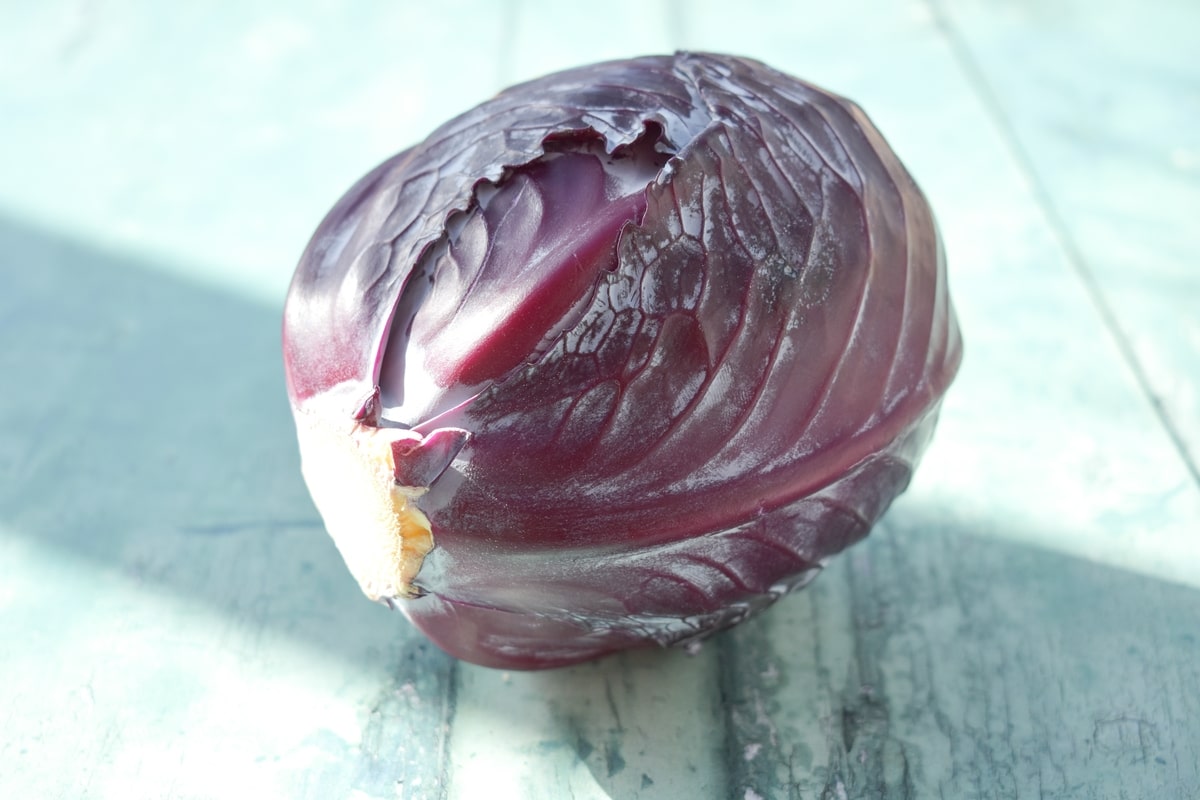 Cabbage
Vinegar
Chilli Flakes
Salt & Pepper
Maple Syrup
Water
See the printable recipe card below for full ingredients, method and nutritional information.
🍶 Which type of vinegar?
I use red wine vinegar when I make this pickled purple cabbage, but you can use other types of vinegar.
Here are a few ideas.
Distilled white vinegar
White wine vinegar
Red wine vinegar
Apple cider vinegar
Concentrated vinegar like balsamic doesn't work well when making pickles, although you can add a little to boost the flavour.
🥕 Variations to this small batch pickle
Here are a few tweaks you can make to this quick pickle.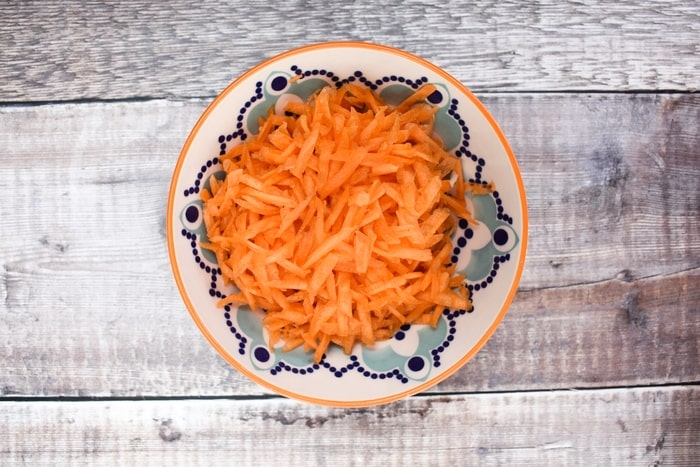 Carrots - add some grated carrot to the mixture
Garlic

- garlic can also be added to boost the flavour

Herbs & spices - you could also add juniper berries, mustard seeds or bay leaves to add flavour
Red onion - use half the quantity of cabbage and add finely sliced red onion
Sugar - you can add sugar instead of maple syrup
🥬 Can you use different types of cabbage?
Yes, you can definitely use different types of cabbage when making pickled cabbage.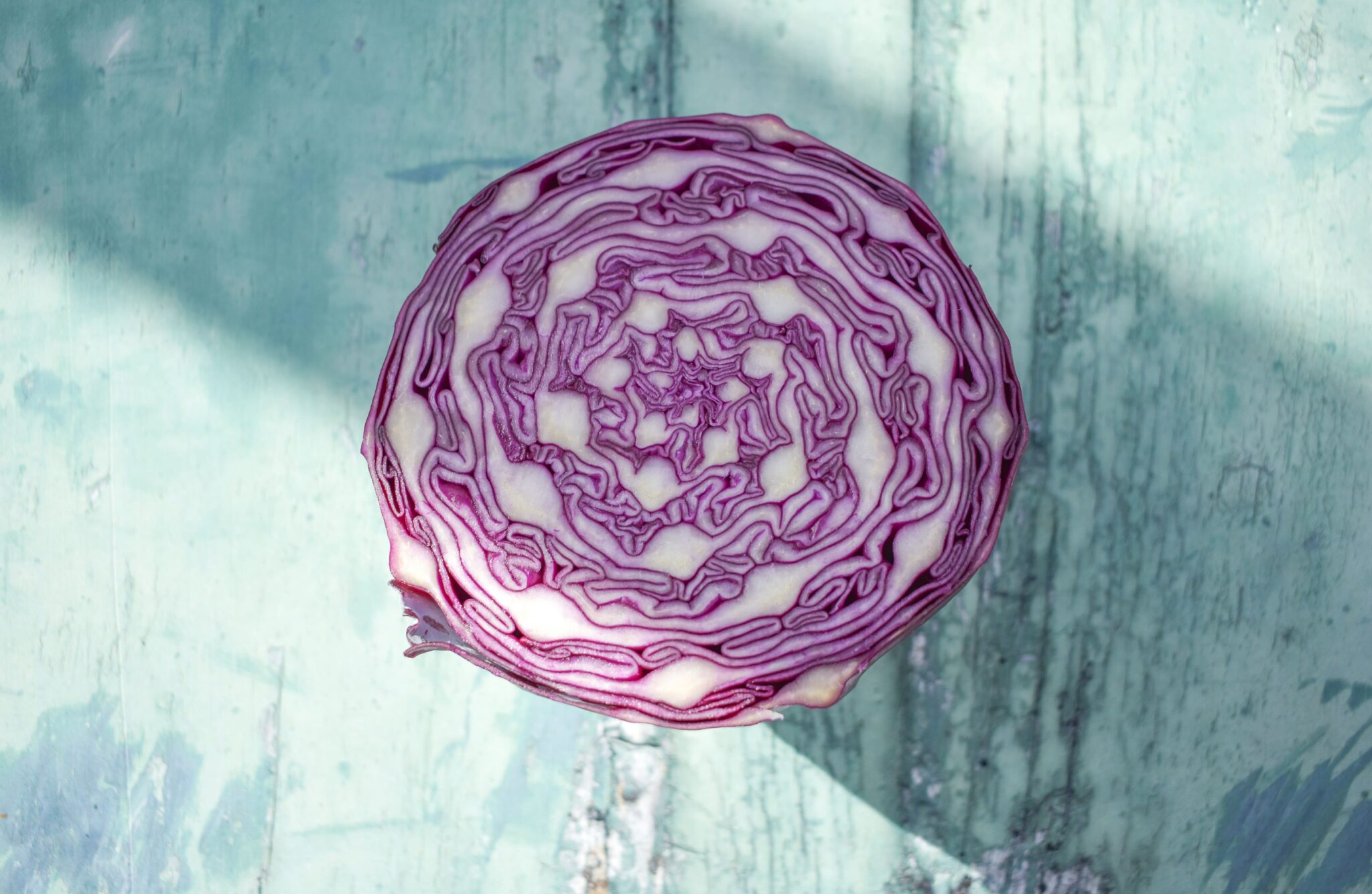 I like red cabbage for the good crunch and the colour, but you can use whatever you have.
It's the perfect recipe when you want to use up leftover (uncooked) cabbage.
Here are a few types you can try.
Red cabbage
White cabbage
Savoy cabbage
Napa cabbage
If you use green cabbage, you're best to use clear vinegar, it looks better.
🌶 Make it spicy!
Love a bit of heat in your condiments?
If you do, then you can go crazy and add some finely sliced fresh chillies, as hot as you would like to go.
If you're a chilli-head, then you may like to try this easy red chilli garlic chutney.
Me, I'm a wuss, so some chilli flakes were enough for me. Just a bit of warmth.
🥒 Other vegetables you can pickle
You can pickle all sorts of vegetables. Have you tried my quick pickled red onions? They are so good!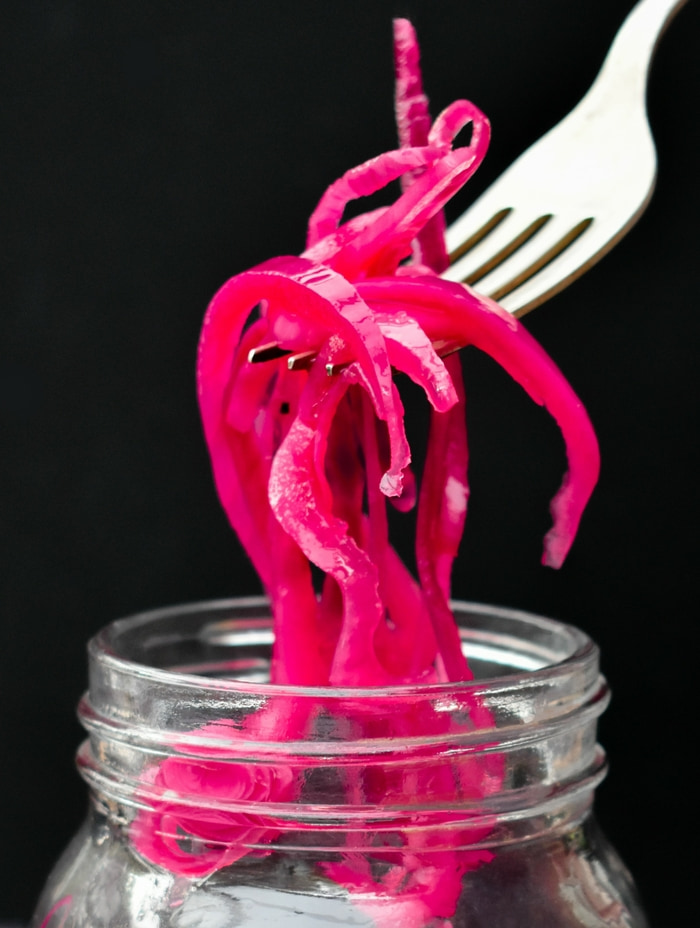 Here are a few vegetables that work particularly well as a pickle.
Carrots
Cauliflower
Cucumber
Jalapenos
Onions
Radishes
🥃 Top tip for sterilising jam jars
Use the traditional method when sterilising jam jars if you like, but I prefer to use an easier and more modern method.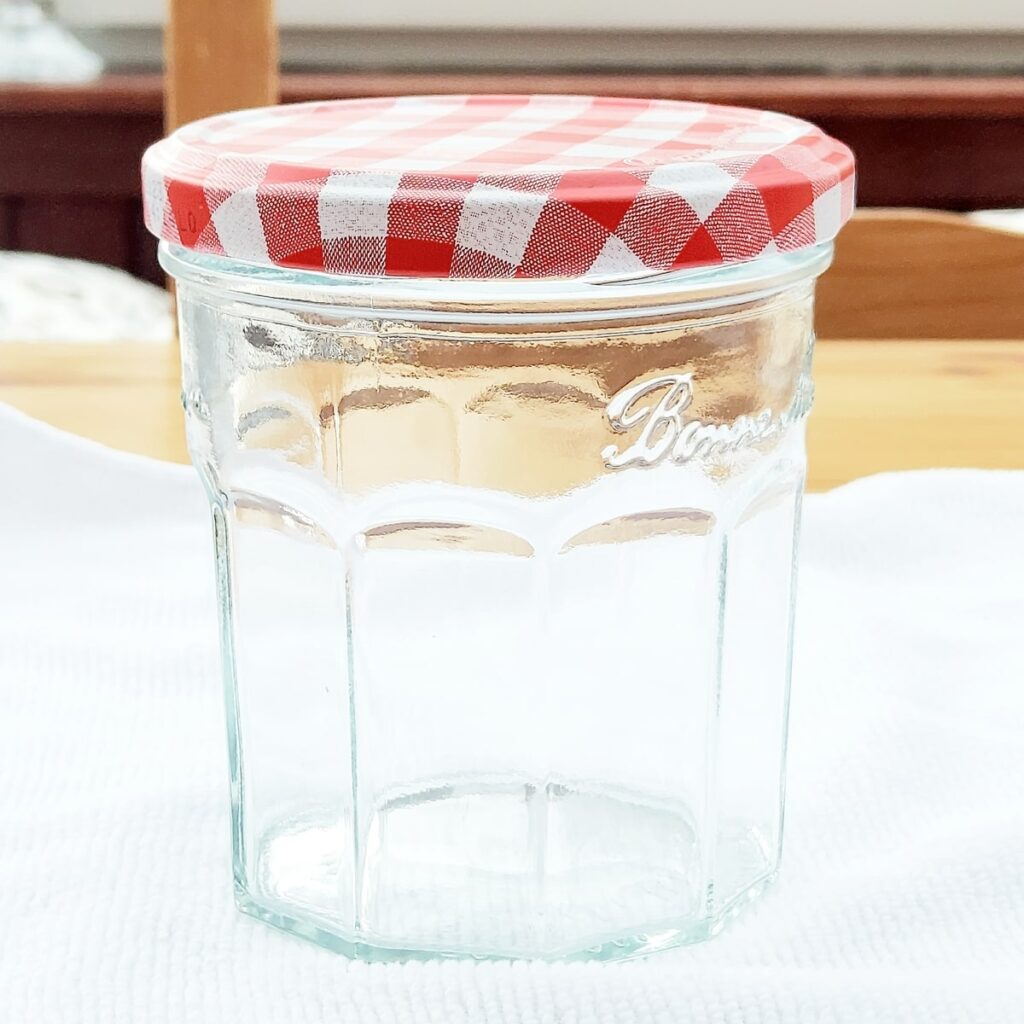 I pop my jam jars and lids in the dishwasher and run them through a hot wash, then jar up my pickle, chutneys or jams while they are still hot.
It means you have to time it right, but it's such an easy method.
Just remember not to touch the inside of the lid or jar when removing them from the dishwasher or you could be introducing bacteria.
If you don't have a dishwasher, check out this sterilising jam jar guide by Choclette over at Tin & Thyme.
⭐ Why is this red cabbage pickle recipe so good?
You are going to love this quick pickled cabbage slaw and here's why.
It's quick - takes minutes to make
Easy to make - a good recipes for beginners in the kitchen
Small batch - fills one jam jar
Colourful - such a pop of gorgeous pink
Crunchy - adds crunch and flavour to dishes
Versatile - add it to lots of different dishes (see below for ideas)
Can be tweaked - change up the vegetables, type of vinegar and spices
Tastes great - so tasty
Cheap - great for using cheap vegetables or leftovers
Low calorie - just an added bonus (only 29 calories per portion)
🍔 How to serve easy pickled cabbage
Here are a few ideas of how to serve this quick pickled cabbage recipe.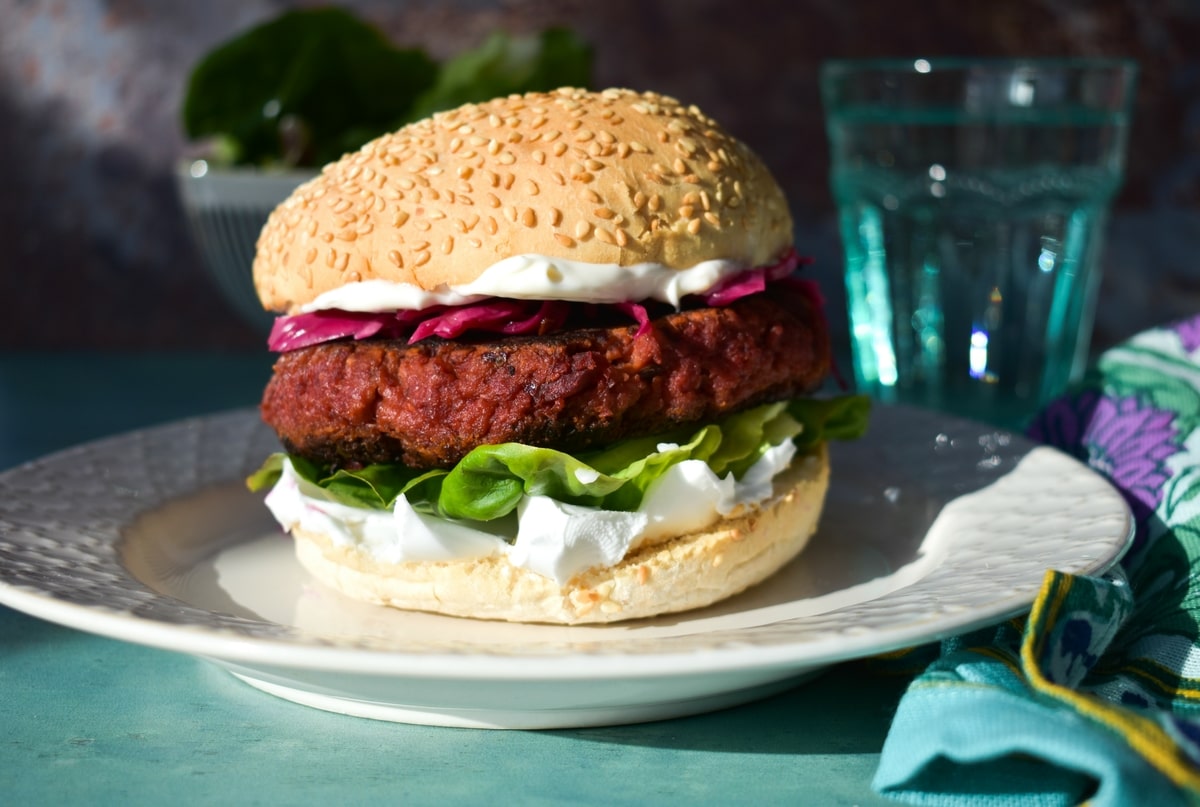 Tacos - top tacos with this colourful cabbage slaw
Sandwiches - add to sandwiches for a punch of flavour and crunch
Salads - perk up salads with this quick pickle
Burgers - top burgers with salad and pickled cabbage
Hot Dogs - great piled on hot dogs too
Bruschetta - not traditional, but a tasty topping
🥪 Add it to these sandwiches
This pickled cabbage is particularly good in these sandwiches.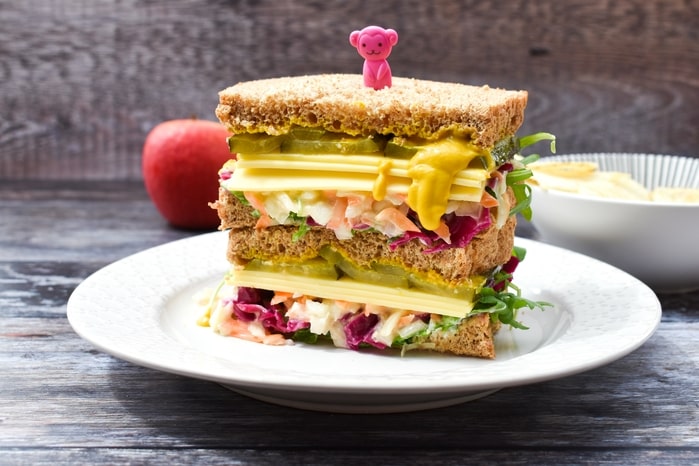 💭 How long does pickled cabbage last?
As this cabbage pickle isn't cooked in the vinegar like a chutney would be, it doesn't last as long.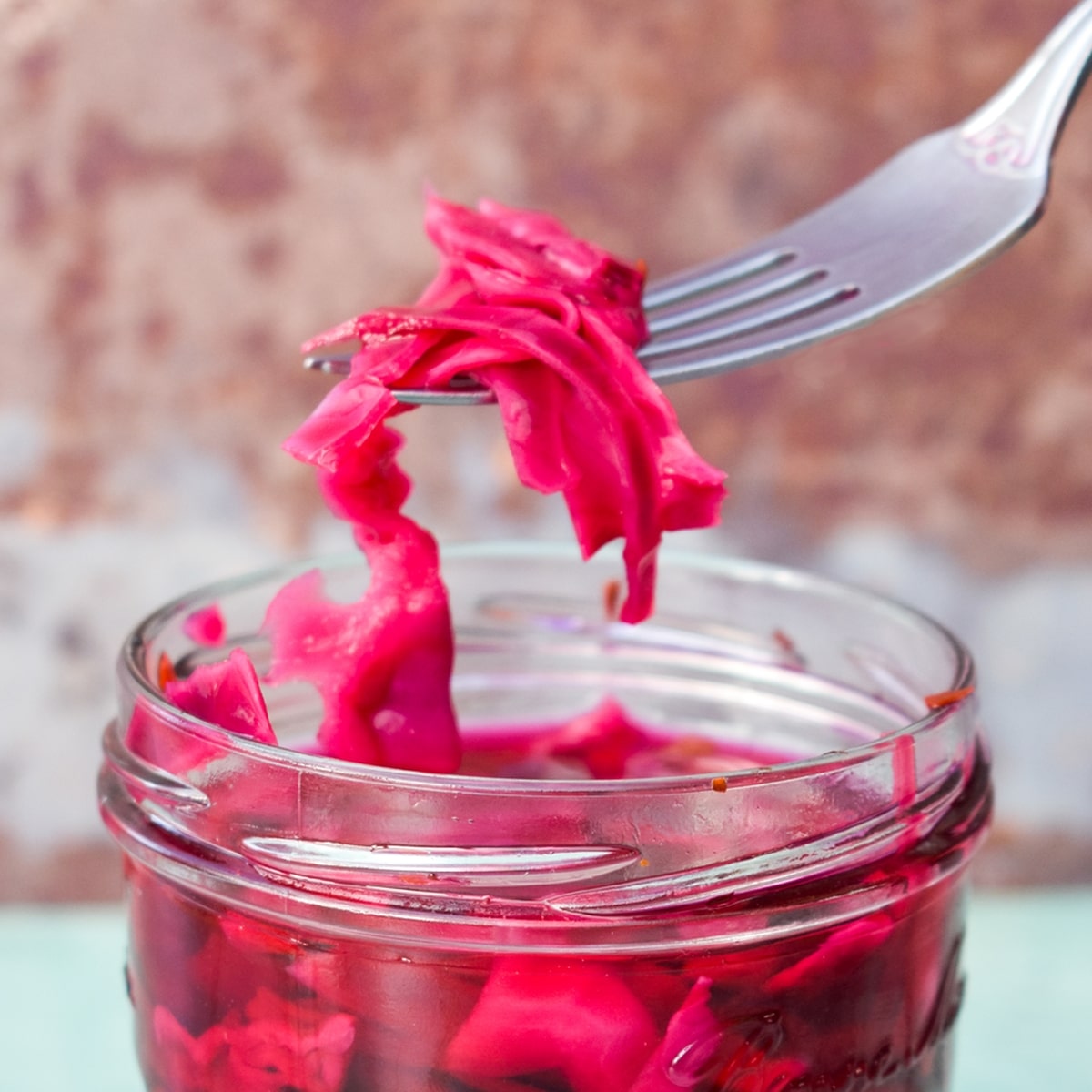 Once made, it should be stored in the fridge and can be kept for 1-2 weeks once opened.
I find, it rarely lasts that long.
👩🏻‍🍳 More vegan recipes with cabbage
Here are a few more tasty recipes made with cabbage for you to try next.
⭐ Hit the heart
Have you seen the little heart? (on the right of this page)
Hit it to like the recipe and you can also save your favourite recipes or share them.

👩🏻‍🍳 How to make quick pickled cabbage
Step-by-step photos. Keep scrolling for the full printable recipe (with full ingredient list, calories and nutritional info).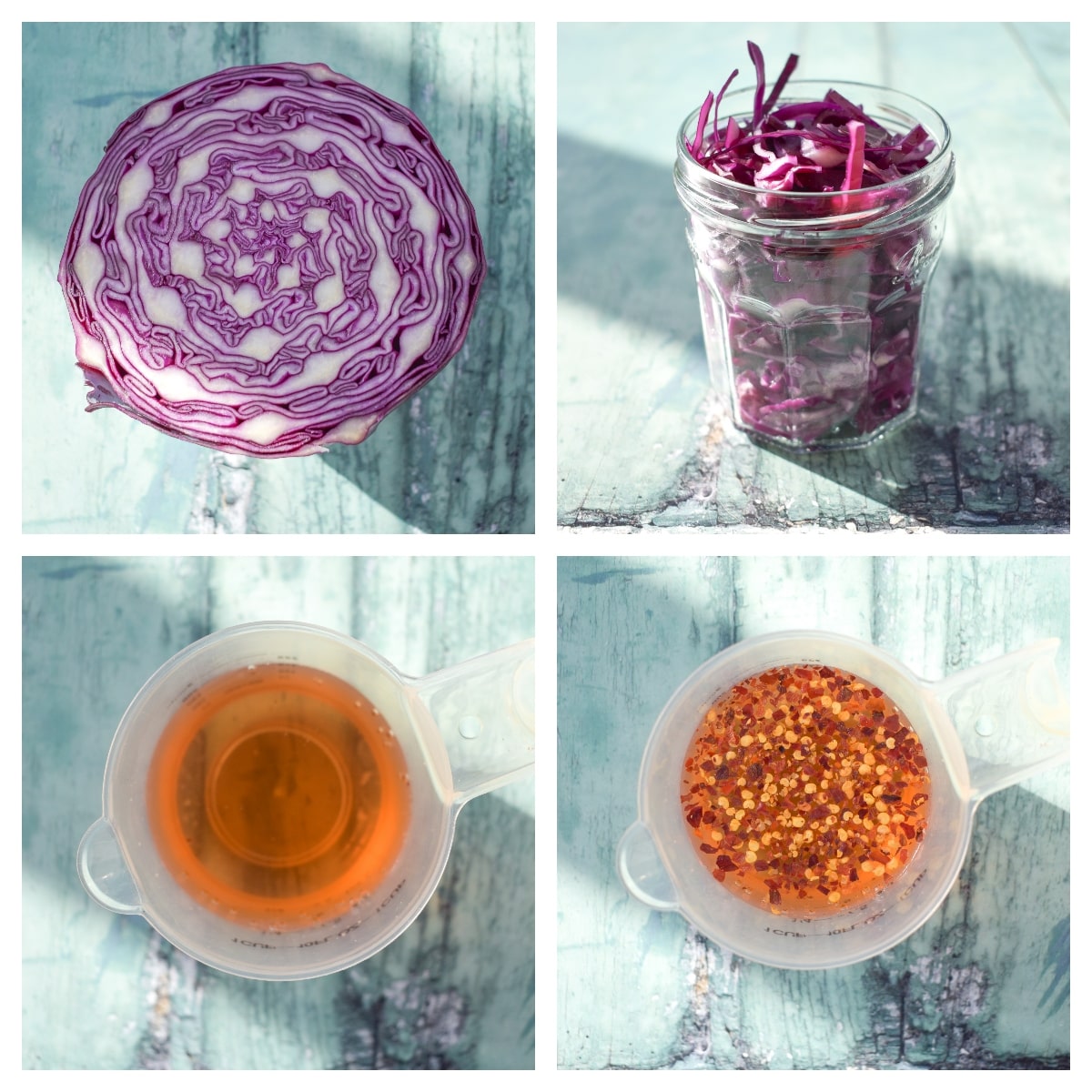 Step 1
Sterilize your clean jam jar.
Finely shred the cabbage and add to the jar.
Add your vinegar, maple syrup and water to a jug, then add the chilli flakes and seasoning to flavour.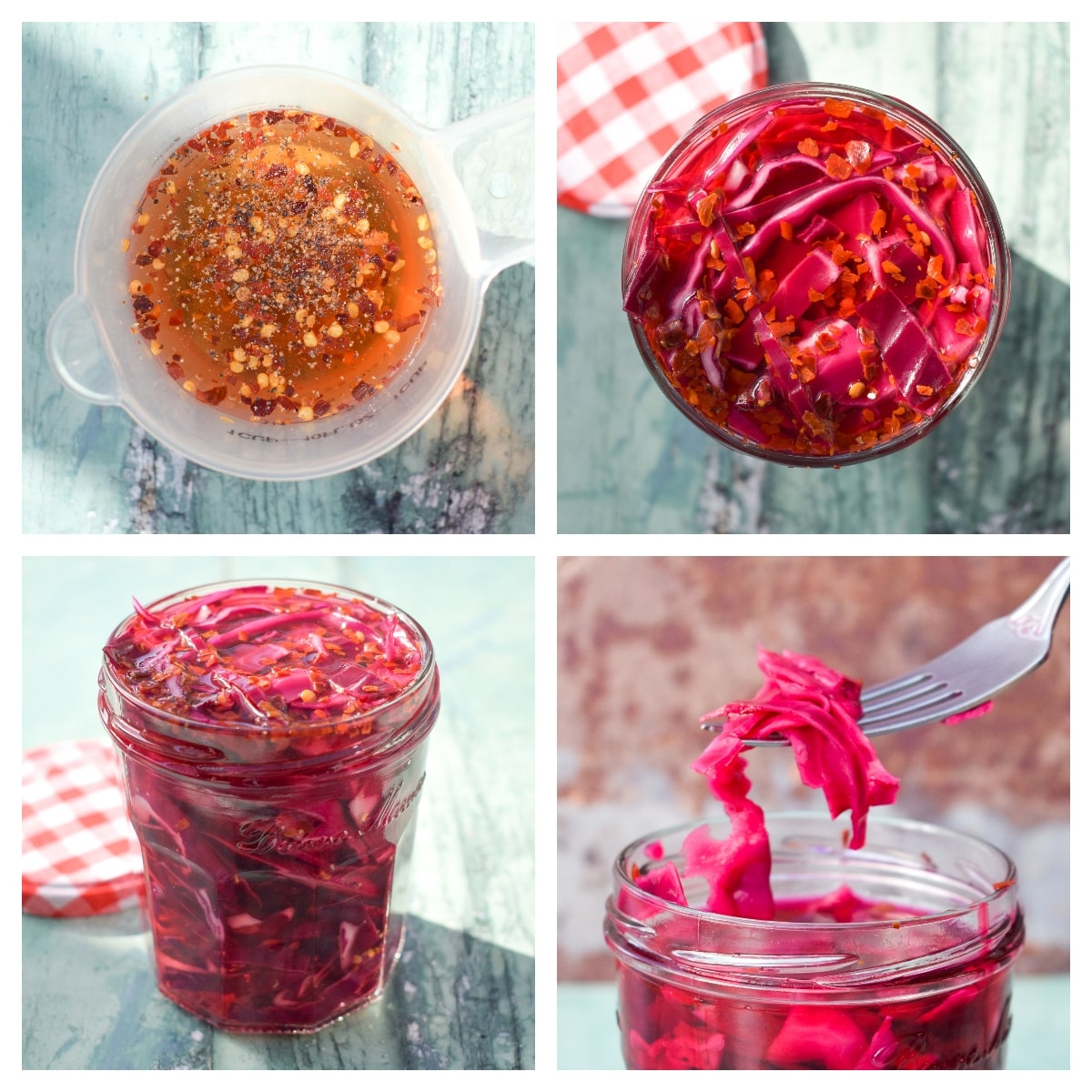 Step 2
Heat your vinegar mixture in the microwave or in a pot on the cooker top for a couple of minutes until hot.
Pour into your jam jar over the cabbage. It should fill to the rim.
Add the lid and set aside to cool.
Once cool, pop it in the fridge.
📖 Recipe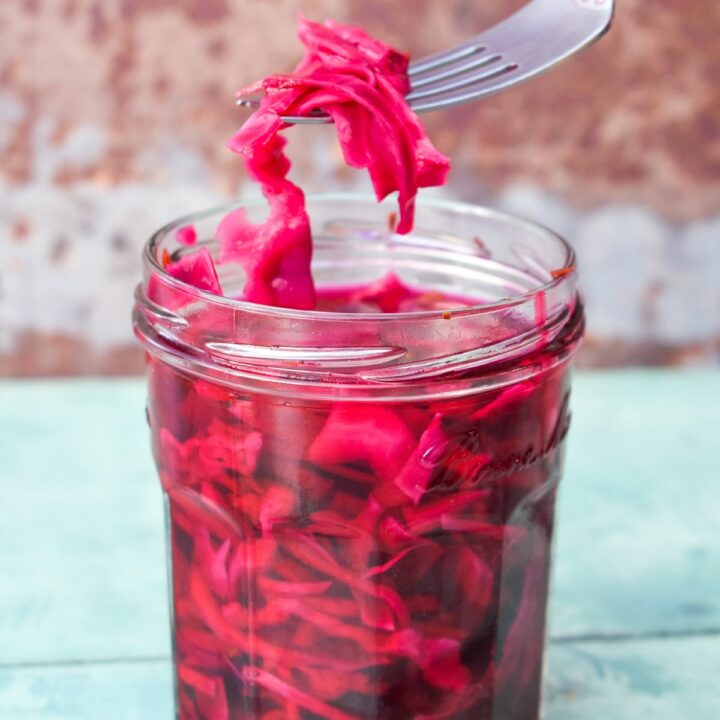 Easy Quick Pickled Cabbage for Tacos or Sandwiches
Want a quick pickle to add to sandwiches or tacos? Try this easy & quick pickled cabbage recipe, it's delicious & simple to make.
Equipment
1 sterilised jam jar

Run the jam jar through a hot cycle of the dishwasher and fill while hot, being careful not to touch the inside of the jr or lid. Alternatively use the traditional oven method of sterilising.
Ingredients
¼

red cabbage

(finely sliced)

½

cup

red wine vinegar

¼

cup

water

1 ½

tablespoons

maple syrup

1

teaspoon

chilli flakes

(more if you like)

1

pinch

salt & pepper
Instructions
Add the vinegar, water, maple syrup, chilli flakes and seasoning to a jug and heat in the microwave or in a pot, until hot.

Add the cabbage to the sterilised and still hot jam jar until well packed, then pour over the hot vinegar mixture, it should reach the rim.

Add the lid and set aside to cool.

Keep in the fridge for up to 2 weeks.

Add to salads, baked potatoes, sandwiches, tacos, hot dogs etc.
Notes
You can use white distilled vinegar, white or red wine vinegar or apple cider vinegar.
Add more chilli flakes or some finely sliced chilli if you like more heat.
When sterilising the jam jar, be careful not to touch the inside of the jar or lid.] or you could add bacteria.
Once cooled, this can be kept in the fridge and used for 1-2 weeks.
Nutrition
Serving:
1
serving
Calories:
29
kcal
Carbohydrates:
6
g
Protein:
1
g
Fat:
0.1
g
Saturated Fat:
0.01
g
Polyunsaturated Fat:
0.1
g
Monounsaturated Fat:
0.01
g
Sodium:
24
mg
Potassium:
110
mg
Fiber:
1
g
Sugar:
4
g
Vitamin A:
489
IU
Vitamin C:
20
mg
Calcium:
24
mg
Iron:
0.4
mg