This delicious, toasted falafel beetroot bagel sandwich is filled with falafel, shredded vegetables and a tangy sauce for the most satisfying and tasty lunch.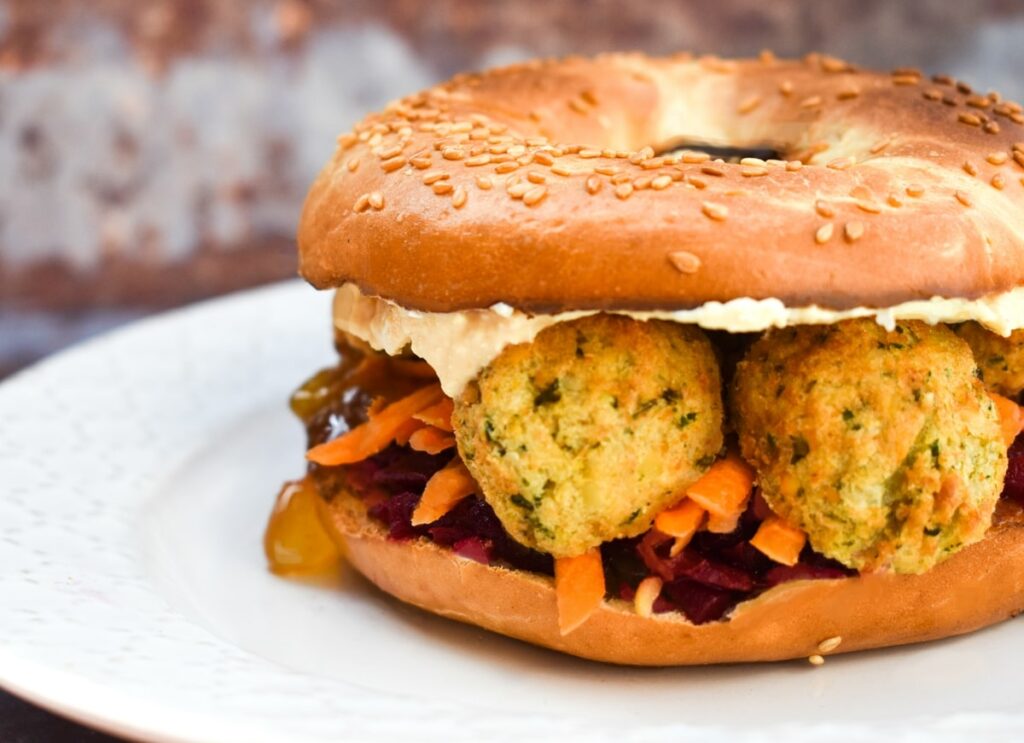 This toasted bagel is tweaked from one I used to make years ago.
My husband decided to make it last week so I got him to make me one too, then I decided to add another layer for even more flavour.
This will become a real favourite once you have tried it.
I am drooling thinking about it just now!
Jump to:
🥘 Ingredients
Here are the simple ingredients you need to make this hearty lunch bagel.
See recipe card for quantities.
🥯 Bagels
Bagels make a tasty alternative to bread when you are making a sandwich.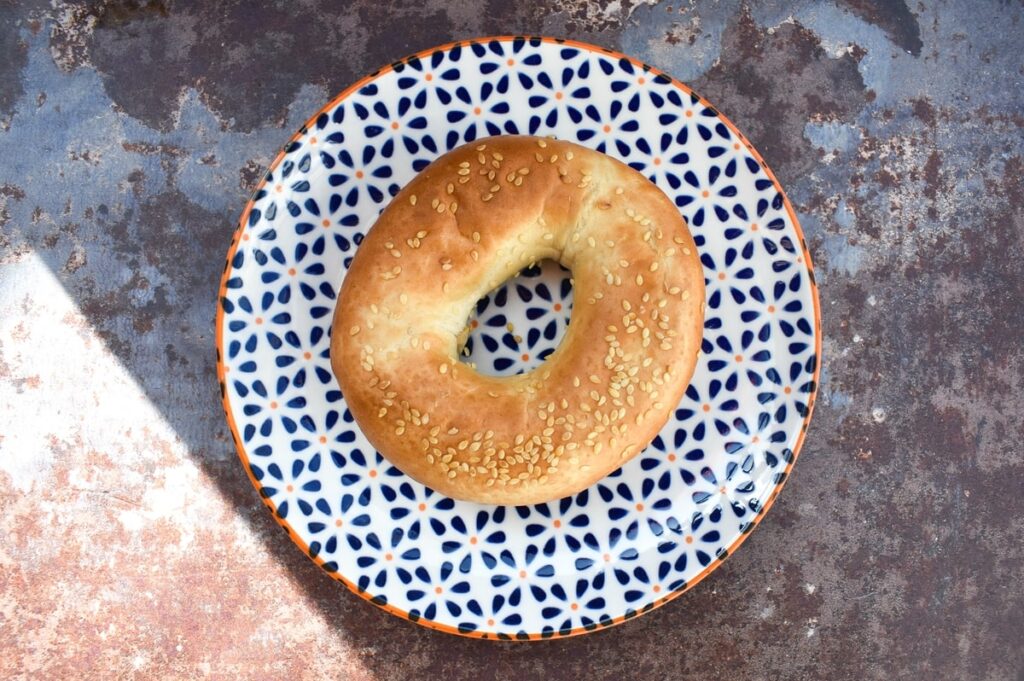 The trick is to toast it first. This step is essential.
Toasting the bagel gives a nice crunch and makes it less doughy.
🥯 Which type of bagel makes the best sandwiches?
For me, it has to be sesame bagels.
They have a little bit of extra flavour from the seeds and of course seeds are good for you.
You could use a plain bagel of course and that would be perfectly acceptable or a gluten-free bagel if you need to avoid gluten.
DO NOT make this sandwich with a cinnamon and raisin bagel, it would not taste good with the flavours included in this toasted sandwich.
Keep the cinnamon and raisin bagels to serve toasted then slathered with vegan cream cheese.
🍵 Hummus is essential
Hummus is one of the main flavours in this heavenly toasted sandwich, but it also acts as a glue to hold the falafel in place.
You can use homemade hummus or shop-bought hummus for this sandwich.
I think a plain hummus or a lemon and coriander hummus work best with these flavours.
🥪 Which type of beetroot should be used in sandwiches?
You can use raw beetroot, cooked plain beetroot or pickled beets in sandwiches.
For this bagel sandwich, I recommend grated pickled baby beets.
The sweet tang of the beetroot works really well with the other flavours.
If you really hate pickled beetroot, then go ahead and add grated plain cooked beets. You will find them in your local supermarket.
💭 Variations to falafel beetroot bagel sandwich
There are a few tweaks you can make to this sandwich.
Chilli flakes - added to the mango chutney for a bit of heat
Lemon and coriander hummus - instead of plain hummus
Rocket - a layer of rocket would give a nice peppery bite
Roasted peanuts - to add a crunch, sprinkled over the generous layer of hummus on the lid of the sandwich
🥪 Can you make this bagel sandwich the night before?
For the very best sandwich, one that will make you drool, make it fresh and eat it warm.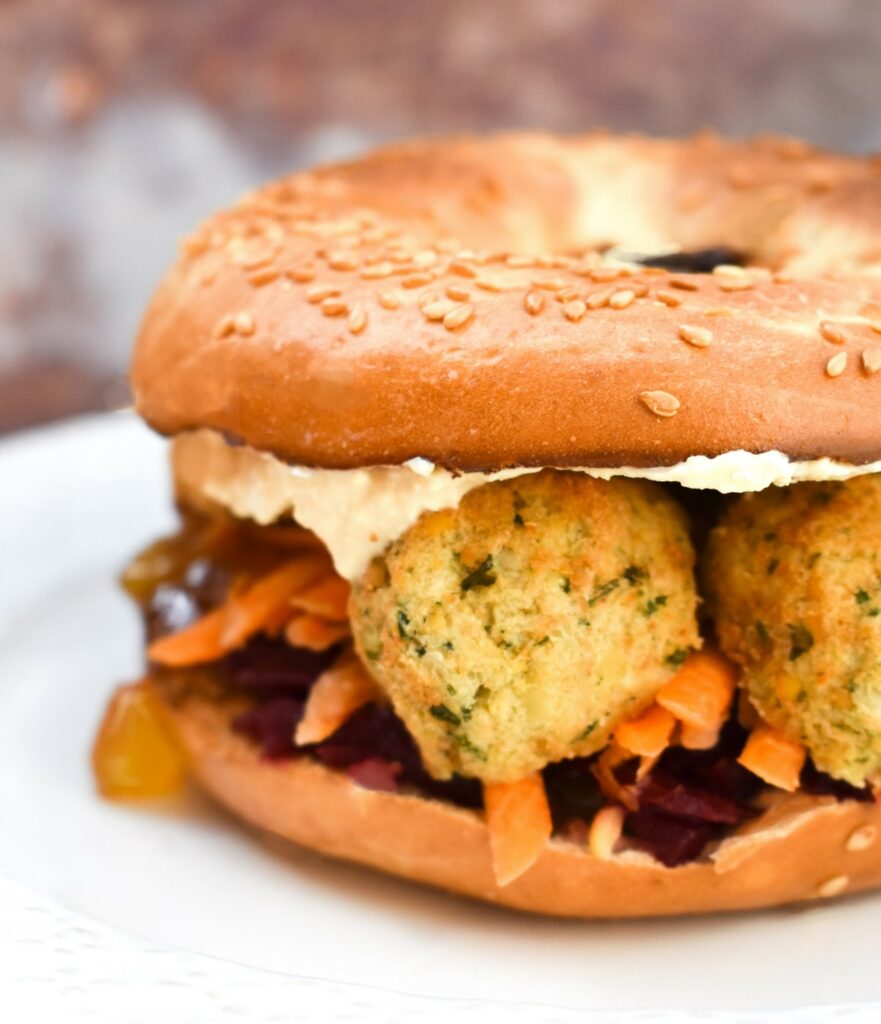 However, I have made this bagel the night before, wrapped it and popped it in the fridge for my lunch at work the next day.
It's not as crispy, but it's still damn delicious.
So make it fresh if you can and eat it while it's still warm, but if not, don't miss out, make it the night before.
You'll still enjoy this taste sensation.
🥪 More vegan sandwiches to try
Here are a few more delicious vegan sandwiches for you to try: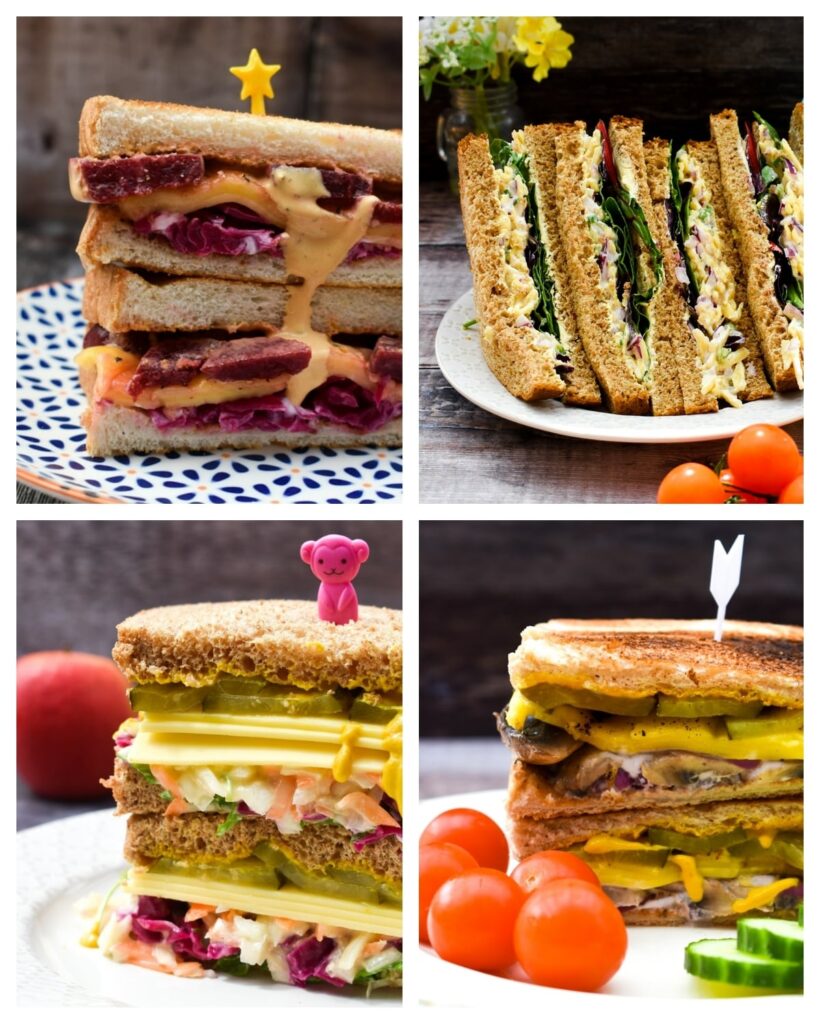 These vegan sandwiches are all flavour-packed and easy to make.
👩🏻‍🍳 Want new recipes delivered to your inbox?
Sign up for my Vegan Lunch Box newsletter and I'll send the latest recipe straight to your inbox as soon as it is published.
Also, sign up for my Tinned Tomatoes newsletter for a selection of recipes delivered to your inbox each week or sign up for my email updates and don't miss out on the latest recipe.
Check your spam folder they don't arrive, I share a new recipe on each of my blogs every week.
📋 Pin it for later
Follow me on Pinterest, Facebook, Twitter and Instagram.
🥦 Living on the Veg
Once you've signed up for my newsletters and followed me on social media, why not join my Facebook group Living on the Veg?
It's a very friendly community with lots of recipes and chat. I'm in there every day chatting. It's such a nice place to spend time.
🥯 Falafel Beetroot Bagel Sandwich - step-by-step photos
Step-by-step photos of this bagel sandwich being made. Keep scrolling for the full printable recipe.
Step 1
Slice your bagel and half and toast it.
Spread one slice with a generous layer of mango chutney.
Step 2
Top the mango chutney with grated beetroot. I like to use pickled baby beets, but you could grate beetroot raw or grated cooked, plain beetroot if you prefer that.
No matter which type of beetroot you choose, it's a good idea to pat it will kitchen paper to remove excess juice or vinegar, especially if you are making it up for the next day.
Next, add a layer of grated carrot.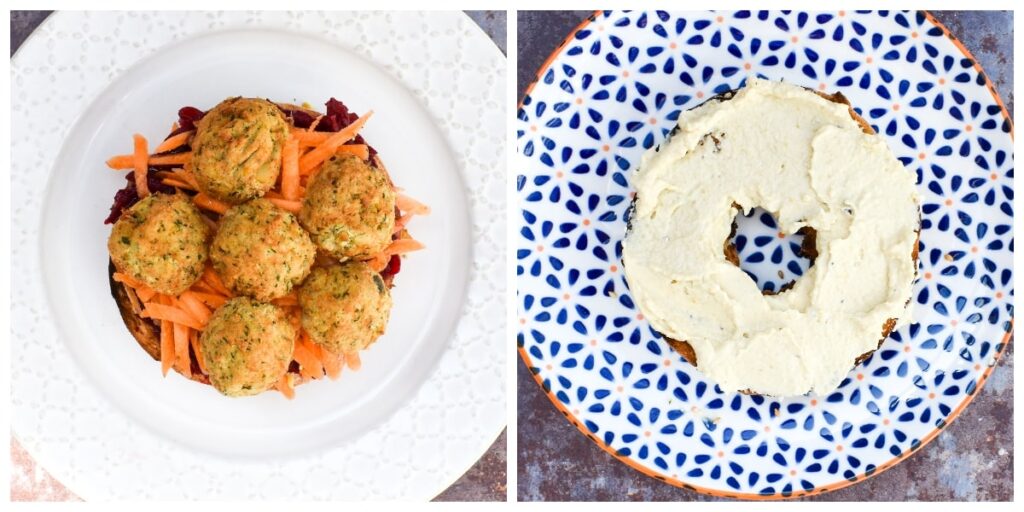 Step 3
Cut three falafel in half and place over the carrot layer. If you've covered the bagel hole with the carrot layer like I did, you will easily get 6 halves onto the bagel.
Spread the other half of the bagel with a thick layer or hummus and top your sandwich.
Bite in and enjoy the bliss that is this filled toasted bagel.
📖 Recipe
Falafel Beetroot Bagel Sandwich
This delicious, toasted bagel sandwich is filled with falafel, shredded vegetables and a tangy sauce for the most satisfying and tasty lunch.
Ingredients
1

sesame bagel

1

tbsp

mango chutney

1

small

carrot

grated

2

beetroot

grated (pickled or plain)

3

falafel

halved

2

tbsp

hummus
Instructions
Cut the gagel in half and toast (broil).

Spread one half of the bagel with a generous layer of mango chutney, then top with the grated beetroot.

Next add a layer of grated carrot and top with halves of falafel.

Spread the other slice of bagel with a thick layer of hummus. You want to be generous.

Top your bagel sandwich, bite in and enjoy!
Notes
You may use pickled, raw or plain cooked beetroot for this dish. I like pickled baby beets as they add a tang.
You could use a plain bagel if you can't find a sesame bagel.
This bagel sandwich is best served, warm and crisp. but can be made ahead for the next day and stored in the fridge.
Nutrition
Serving:
1
g
Calories:
588
kcal
Carbohydrates:
94
g
Protein:
16
g
Fat:
10
g
Saturated Fat:
1
g
Polyunsaturated Fat:
2
g
Monounsaturated Fat:
1
g
Sodium:
836
mg
Potassium:
878
mg
Fiber:
10
g
Sugar:
25
g
Vitamin A:
8416
IU
Vitamin C:
13
mg
Calcium:
76
mg
Iron:
4
mg