Egg Mayo Sandwiches are such a classic British sandwich. If you miss them, try these Easy Vegan Egg Mayo Sandwiches. They are spot on!
Are you vegan but miss egg mayo sandwiches?
I've cracked it for you (sorry about the pun).
An easy egg mayo made with tofu, with a creamy dressing that tastes and smells eggy.
You have to try this vegan egg mayo sandwich filler on soft brown bread or piled high on a baked potato.
Jump to:
Which tofu to use for vegan egg mayo
The main ingredient of vegan egg mayo is tofu.
Tofu replicates the texture of boiled eggs.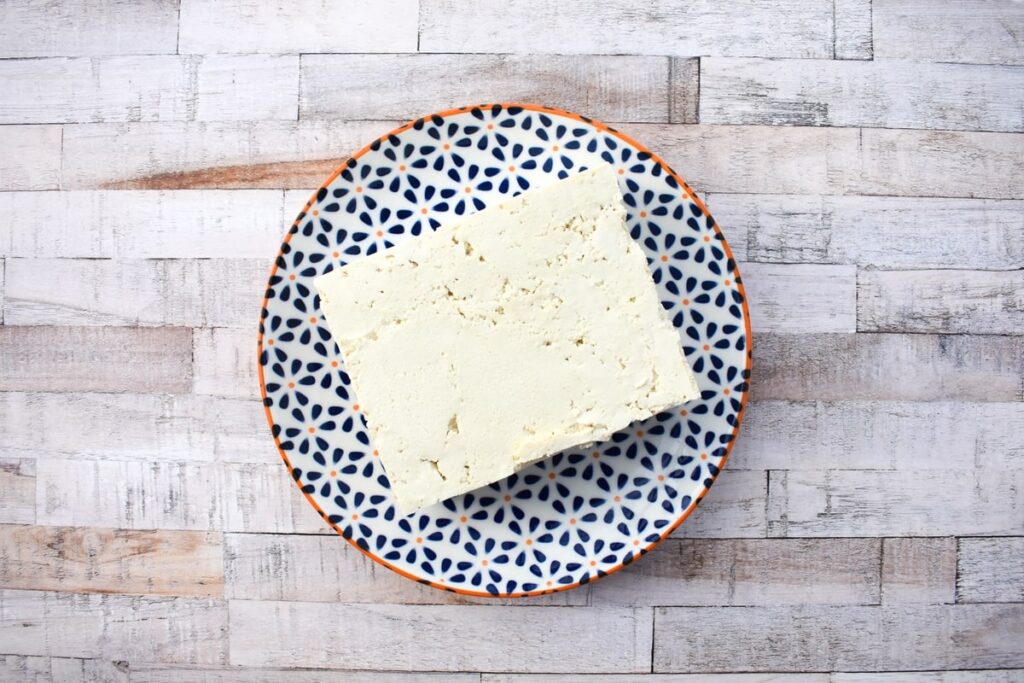 Firm tofu is the type of tofu you need to make tofu egg mayo for egg sandwiches.
It is firm as the name suggests, but it's also soft and can be mashed.
I used half a block to make this egg mayo, but you could double or triple the quantities to make a bigger batch. This is included in the recipe card to make it easier.
DON'T use silken tofu. Silken tofu isn't right for this recipe. It's a creamy tofu that is best for sauces and desserts.
Love tofu? Try Teriyaki tofu crumbles. Add them to tacos and wraps.
How to get that eggy flavour in vegan egg mayo
Making vegan egg salad is super simple with some easy ingredients.
The eggy flavour and smell comes from something called kala namak.
It produces that sulphur smell and the flavour of egg.
It's quite astonishing how eggy it is.
Combine this with mayo, mustard and a few other ingredients and you have a really good egg mayonnaise.
What is kala namak?
Kala namak is also called black salt.
Actually, it has many names, but that's the simplest to remember.
It's also called Himalayan black salt, Indian black salt, bire noon, bit loona, bit lobon, sulemani namak, kala loon, guma loon and pada loon.
Kiln-fired black salt is mined in the areas around the Himalayas and is popular in Asian cuisine.
Mineral-rich, this low sodium salt contains calcium, iron and magnesium.
But most of all it has that eggy flavour you want in a vegan egg salad sandwich.
Ingredients you need to make vegan egg mayo sandwiches
Here are the simple ingredients you need to make egg-less mayo sandwiches.
Egg mayo ingredients
Firm tofu - not silken
Vegan mayo - I like Hellmans
Vegan salad cream - trust me, it tastes great
Dijon mustard - or even yellow American mustard
Nutritional yeast - also known as nooch
Parsley - I used dried but you can use fresh parsley
Dill - I used dried but you can use fresh dill
Turmeric - gives the lovely yellow eggy colour
Black pepper - to season
Other sandwich ingredients
Bread - your favourite
Vegan butter - spread
Baby spinach - or other salad leaves
Salad cream, really?
Oh yes it tastes so good.
When I was wee, my mum would make me egg mayo in a little white bowl with chicks on it.
She called it choppy egg and she always added salad cream.
It gives it such a gorgeous flavour.
Do try it when you make this tofu egg mayo.
Best bread for vegan egg mayo
You can really just choose your favourite, but which type you choose will really change the mouth-feel of the sandwich.
Soft brown bread - this could be wholemeal or seeded brown bread
Soft white bread - a bloomer or tiger loaf would be a good option
Toast - white bread is better toasted for a egg mayo sarnie
Sourdough bread - if you are feeling fancy
Variations to the recipe
Salad cream - you can skip this and just add mayo, but I urge you to add the salad cream
Dijon mustard - you could use yellow American mustard instead
Dill - you could use chives instead
Baby spinach - you could add cress for a more traditional egg mayo or even salad leaves
Change the texture to suit you
I go for a chunky egg mayo, but you can go for a softer texture.
Just make the recipe (recipe card below), then use a fork to mash the egg mayonnaise to a softer consistency.
How to stop egg mayo sandwiches from going soggy
Spreading vegan butter to the bread adds a barrier between the bread and the filling.
Salad leaves also help to create a barrier.
They will always be softer the longer they are stored, but the butter does help.
How long will egg-less mayo sandwiches keep?
For best results make the egg mayo ahead and not the sandwiches.
Just whip it out of the fridge and spread your bread, then pile it on and add some salad.
The egg mayo can be kept in the fridge in an airtight container for 3-4 days.
If your sandwich is going to sit for a while you could spread the bread and wrap that for lunch then take the egg mayo and salad in separate tubs then assemble at lunchtime.
Or if you can't be bothered with that, just wrap the fully made sandwiches and take them made up.
How to serve vegan egg mayonnaise
This recipe is a small batch recipe that makes 2-3 sandwiches.
Here are some ideas for serving vegan egg mayo sometimes called mock egg salad.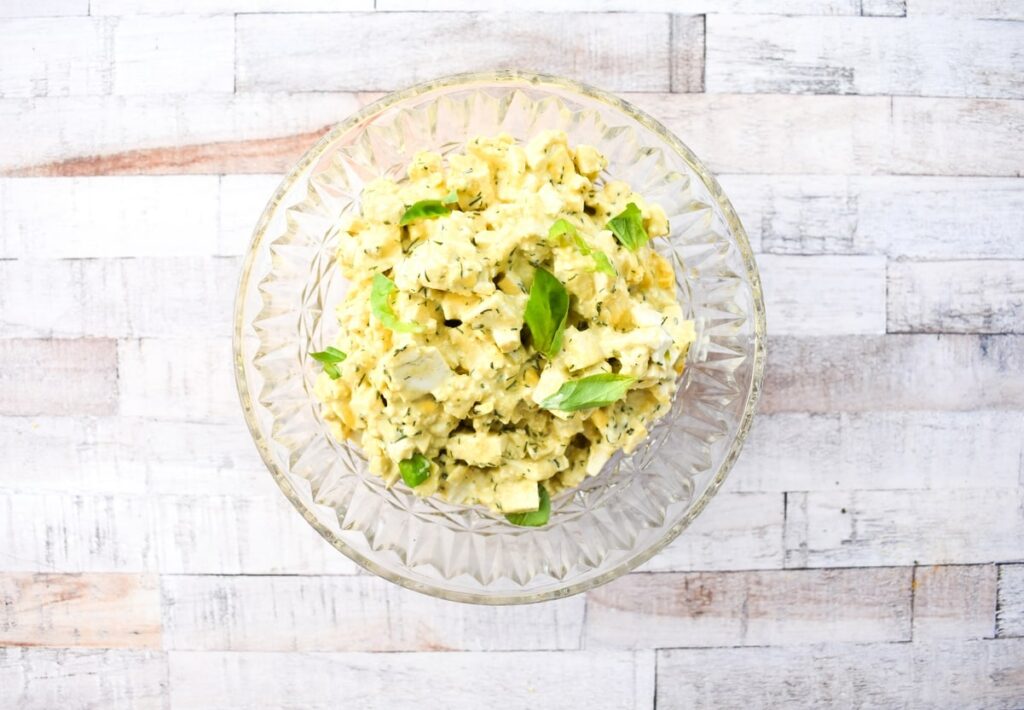 Sandwich - it's a no brainer really
Pitta - serve on a pitta with lettuce, cucumber and tomato
Wrap - not traditional, but tasty
Baked potato - pile it high in a baked spud
Oatcakes - load it onto oatcakes or crackers
Vol-au-vent - make little canapes with puff pastry
Share any other ideas for serving vegan egg salad in the comment area below.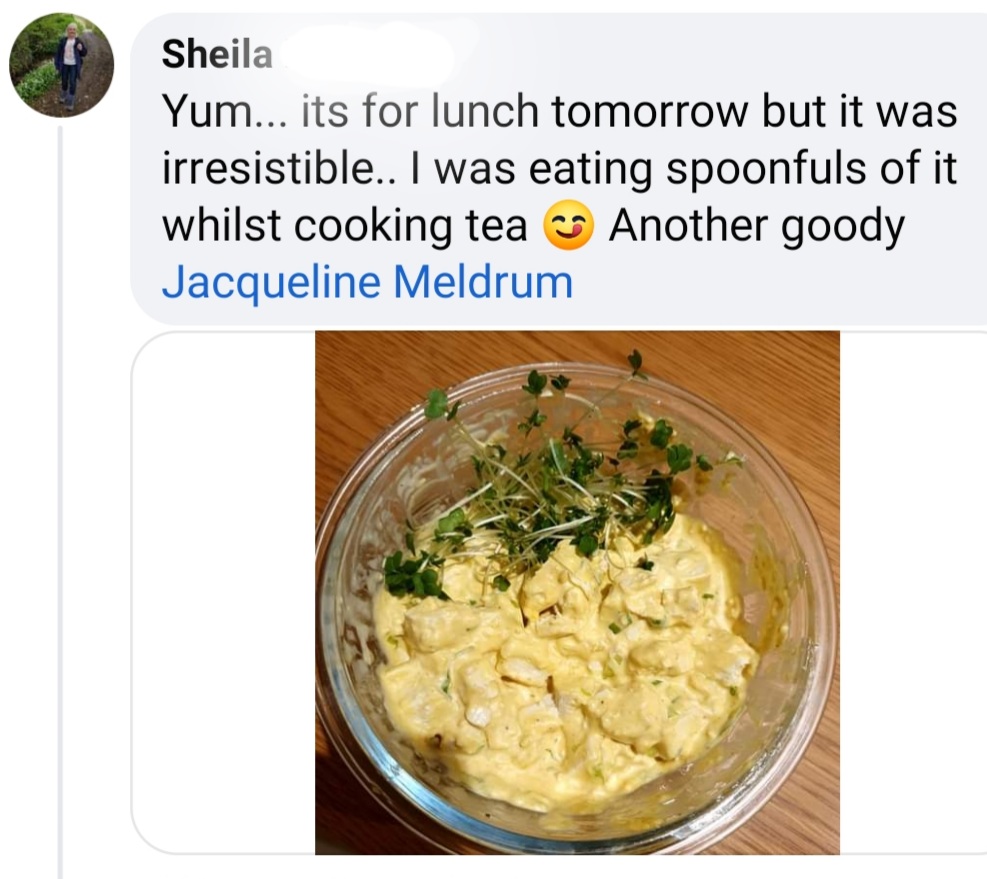 More vegan sandwiches to try
Here are 10 of the best vegan sandwiches to perk up your lunch.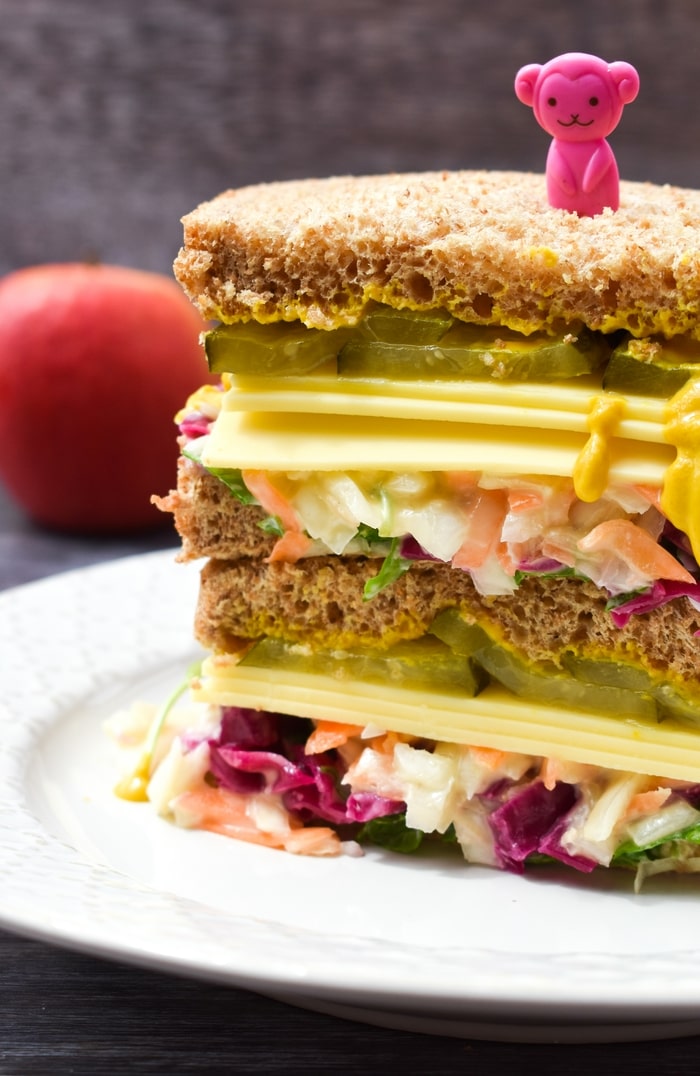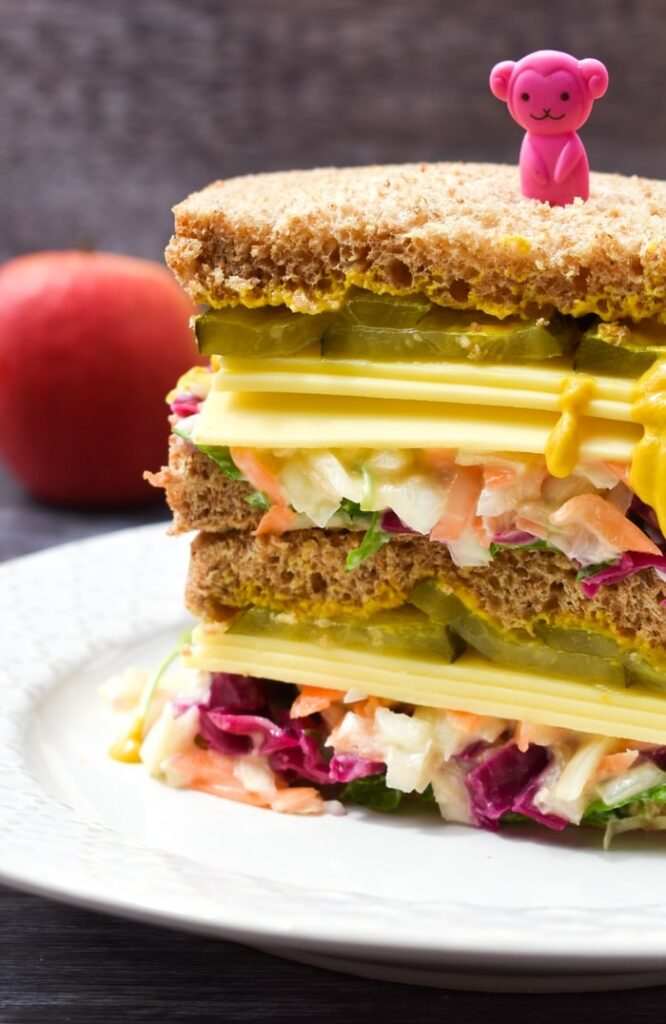 The most delicious vegan sandwiches.
Also, check out 39 of the Best Vegan Sandwiches and my guide to Packing Lunch.
Want new recipes delivered to your inbox?
Sign up for my Vegan Lunch Box newsletter and I'll send the latest recipe straight to your inbox as soon as it is published.
Also, sign up for my Tinned Tomatoes newsletter for a selection of recipes delivered to your inbox each week or sign up for my email updates and don't miss out on the latest recipe.
Check your spam folder they don't arrive, I share a new recipe on each of my blogs every week.
Pin it for later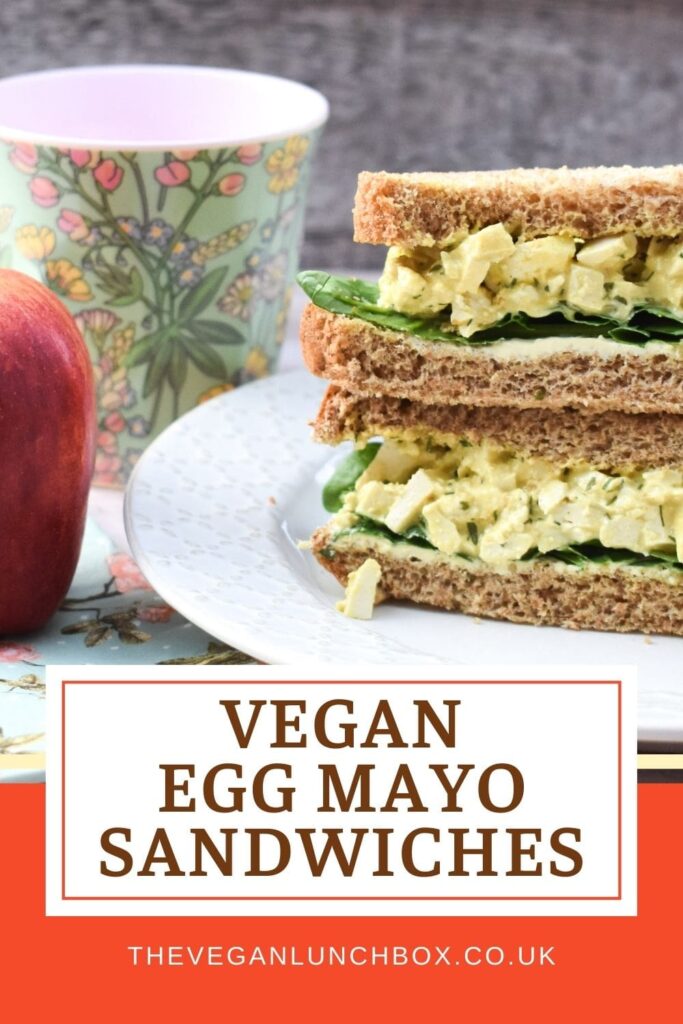 Follow me on Pinterest, Facebook, Twitter and Instagram.
Living on the Veg
Once you've signed up for my newsletters and followed me on social media, why not join my Facebook group Living on the Veg?
It's a very friendly community with lots of recipes and chat. I'm in there every day chatting. It's such a nice place to spend time.
How to make easy vegan egg mayo sandwiches
Step-by-step photos. Keep scrolling for the full printable recipe (with full ingredient list and nutritional info).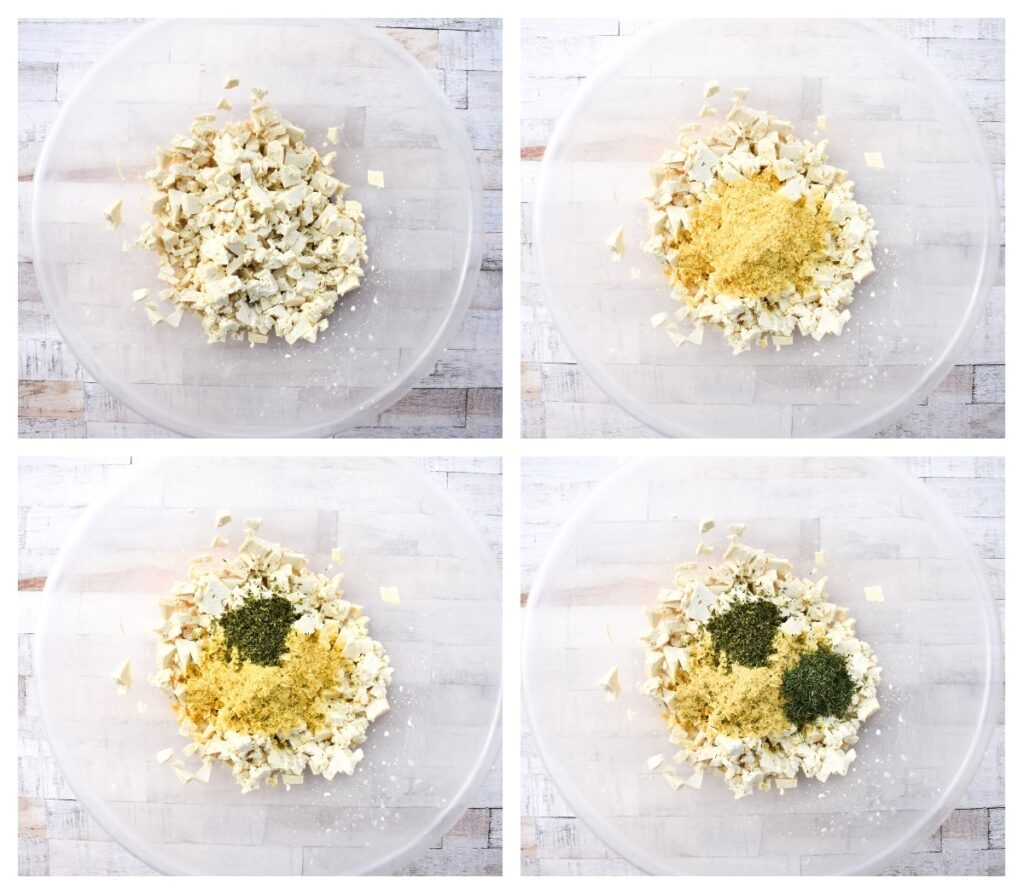 Step 1
Cut the tofu roughly and add it to a large bowl. There is no need to press it first.
Add the nutritional yeast and dried (or fresh) herbs.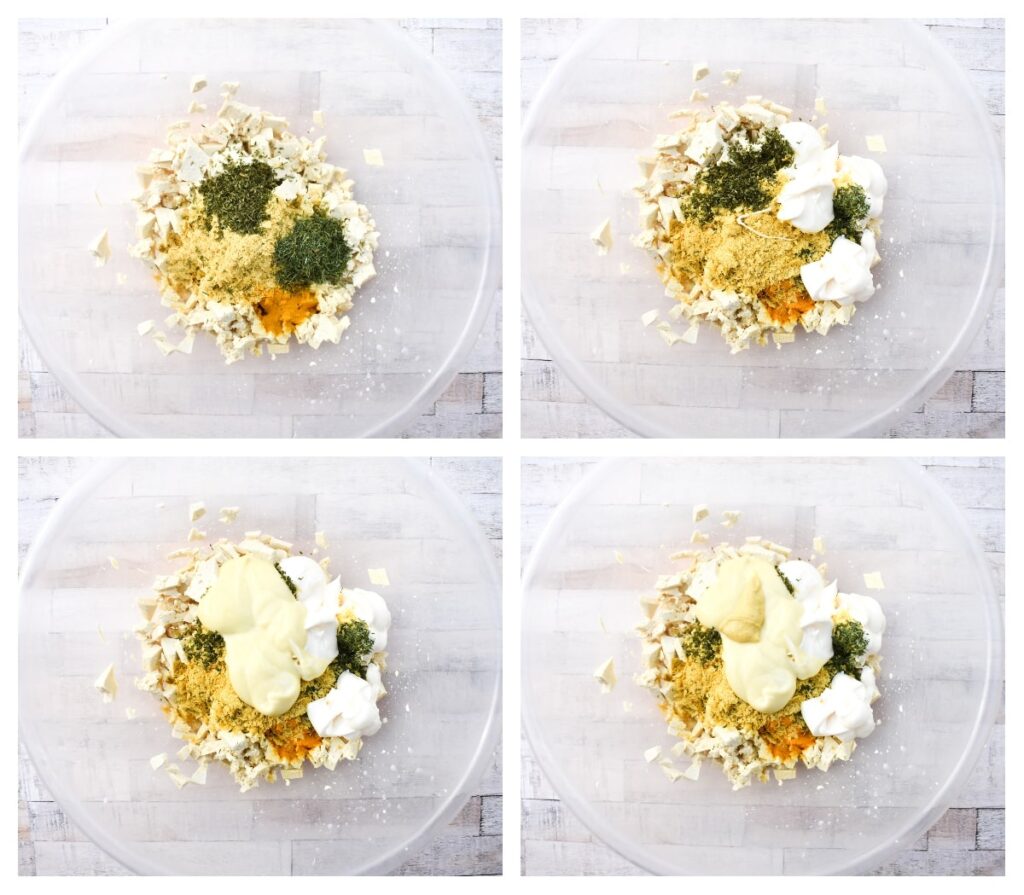 Step 2
Now add turmeric, vegan mayonnaise and vegan salad cream.
Don't forget the mustard!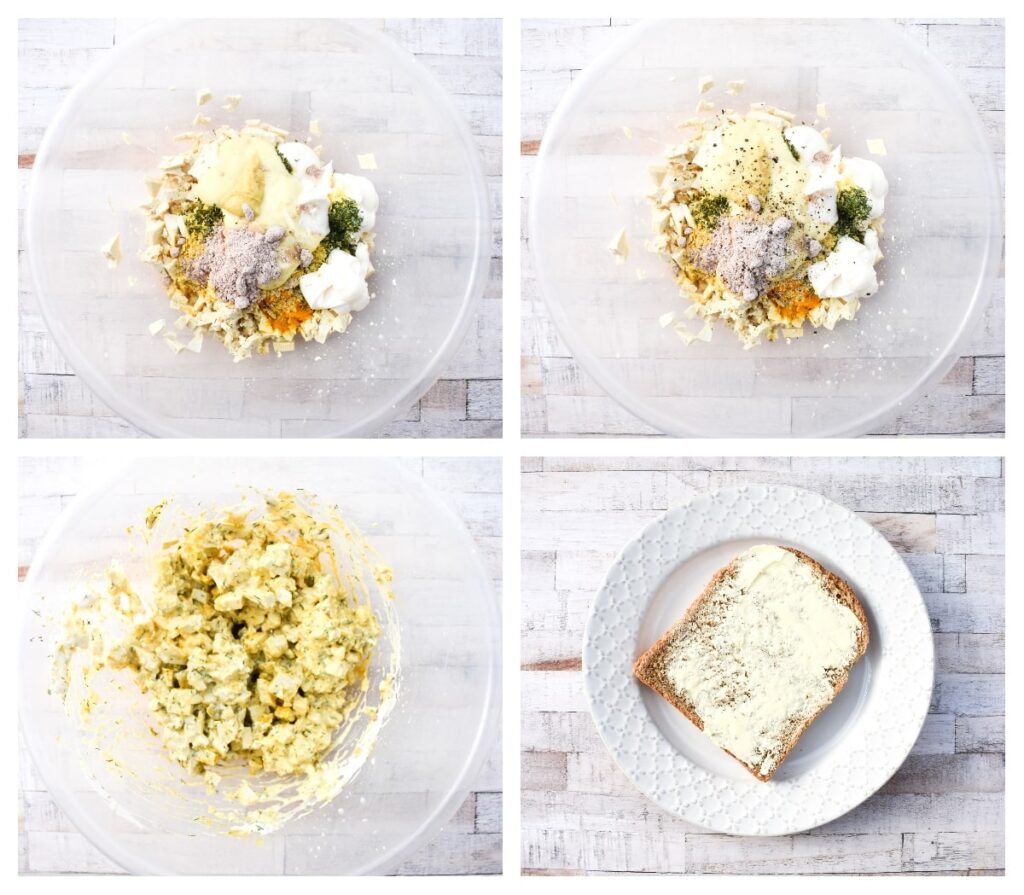 Step 3
For that eggy flavour add the black salt (kala namak) and season with black pepper.
Give it a good mix and taste to check the seasoning. You can add some normal salt if you think it needs it.
Now let's prepare the sandwiches.
Spread both slices of bread (for each sandwich) with vegan butter or spread.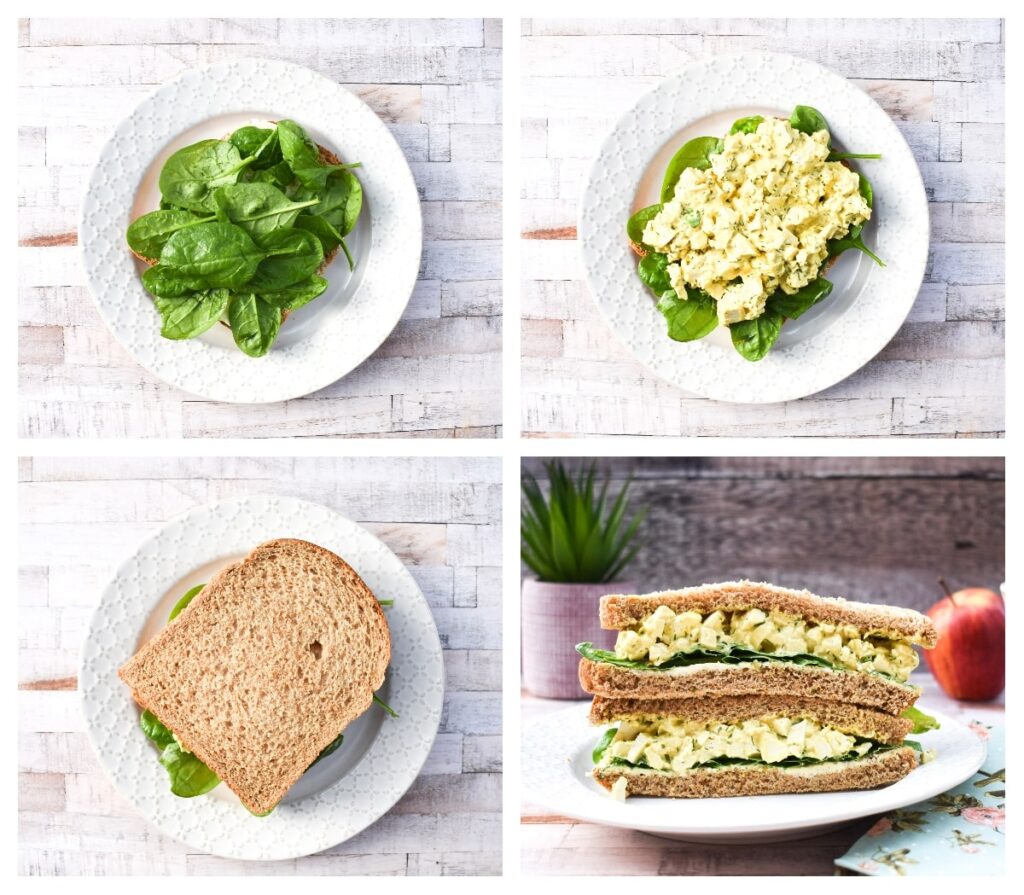 Step 4
Add the baby spinach (or cress) to one slice of the buttered bread.
Add a generous layer of vegan egg mayo.
Top with the other slice of buttered bread, cut in half and serve.
Enjoy!
📖 Recipe
Vegan Egg Mayo
Egg Mayo Sandwiches are such a classic British sandwich. If you miss them, try this Easy Vegan Egg Mayo.
Ingredients
198

grams

firm tofu

half a standard size block

3

tablespoons

vegan salad cream

2

tablespoons

vegan mayo

½

teaspoon

dijon mustard

you can use yellow American mustard instead

2

tablespoons

nutritional yeast

also known as nooch

1

teaspoon

dried parsley

you could add fresh parsley instead

½

teaspoon

dried dill

you could use fresh dill

½

teaspoon

dried turmeric

for that eggy colour

1

teaspoon

black salt

also known as kala namak

pinch

black pepper
Instructions
Chop the firm tofu and add to a large bowl.

Add all the other ingredients and mix well.

Taste to check the seasoning and add more salt and pepper if you think it needs it.

Spread bread with vegan butter or spread, top with baby spinach or cress, top with egg mayo and the other buttered slice of bread, cut in half and serve.
Notes
The calories are for the egg mayo.
For a softer, less chunky vegan egg mayo, smoosh with a fork once you have made it.
Keep the egg mayo in the fridge for 3-4 days.
Take out the fridge a few minutes ahead of making your sandwich (if you have time) to take the chill off, for the best flavour.
Nutrition
Serving:
1
serving
Calories:
226
kcal
Carbohydrates:
6
g
Protein:
8
g
Fat:
18
g
Saturated Fat:
2
g
Polyunsaturated Fat:
2
g
Monounsaturated Fat:
1
g
Sodium:
921
mg
Potassium:
116
mg
Fiber:
2
g
Sugar:
1
g
Vitamin A:
11
IU
Vitamin C:
1
mg
Calcium:
87
mg
Iron:
1
mg