My latest vegan delicacy is this tofu grinder salad sandwich. The tofu is grilled with a BBQ sauce and the salad dressing is just divine.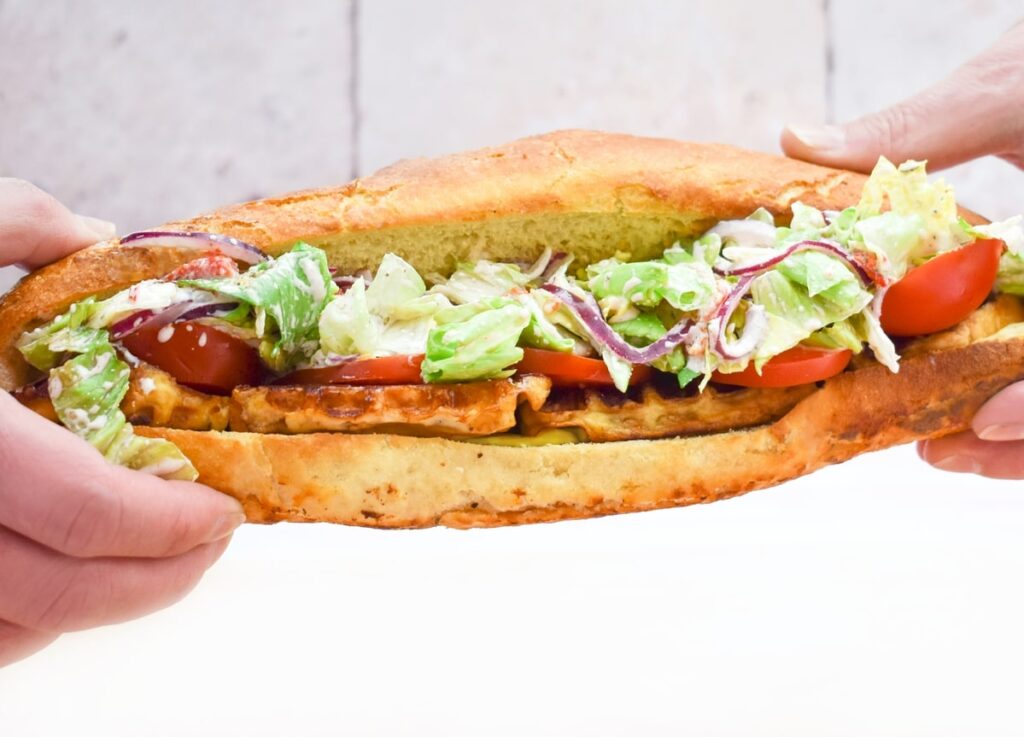 I wish you could taste this amazing vegan sandwich.
The photo just doesn't show how much flavour is in this tofu sandwich.
My mouth is watering, just looking at it.
Jump to:
🥪 What is a grinder salad sandwich?
Grinder sandwiches first came to my attention on TikTok, although the ones I saw were not vegan.
They were filled with dressed salad, tomatoes, deli meats, and cheese.
An internet search found a few titbits about the history of this sandwich.
An online dictionary describes it as a submarine sandwich.
"A large sandwich consisting of a long roll split lengthwise and filled with layers of various ingredients such as meat, cheese, tomatoes, lettuce, and condiments. Also called grinder, hero, hoagie; Also called regionally torpedo, wedge, zep." from The Free Dictionary.
Houston Press say "Hoagie referring to a type of sandwich that was popular among Italian workers on Hog Island in Pennsylvania (get it?); "grinder" a slang term for dockworkers who were fans of a similarly structured sandwich; and the "sub" being a broad descriptor for any long, spherical sandwich that resembles a submarine".
Read more in the Press article Hoagies vs. Grinders vs. Sub(marine) Sandwiches.
🥪 How do you make a grinder sandwich vegan?
Grinder sandwiches or hoagies, usually have slices of dairy cheese and slices of deli meat, but it's easy to swap that out for a tasty vegan sarnie.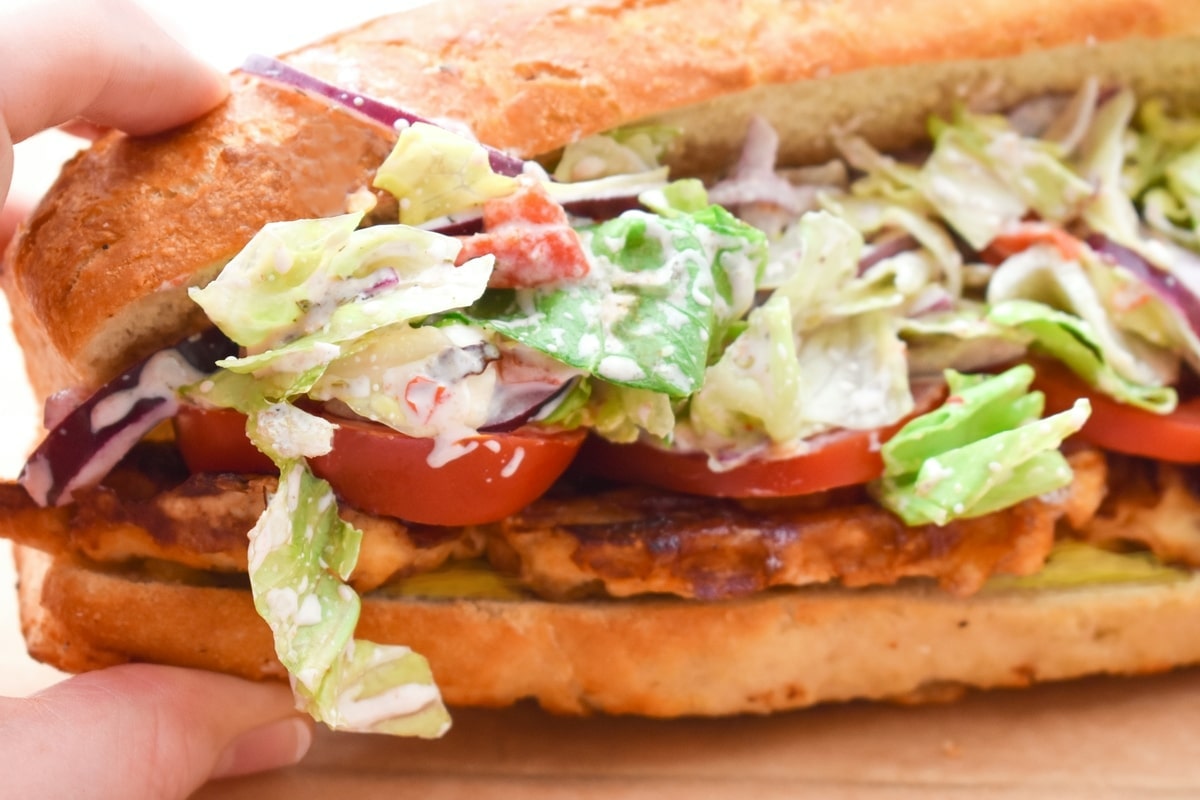 Here are the simple swaps:
Slices cheese - slices of vegan cheese
Deli meat - grilled or baked tofu, or why not try it with my easy vegan pepperoni?
Creamy Italian dressing - use vegan mayo
See recipe card below for full ingredients and quantities.
🥗 What you need to make this TikTok famous sandwich
Here are the simple ingredients you need to make this deli sub.
Sub rolls (see substitutes below)
Firm tofu
BBQ sauce
Olive oil
Iceberg lettuce
Red onion
Peppadew peppers (see substitutes below)
Dried oregano
Chilli flakes
White wine vinegar (or red wine vinegar)
Salt & pepper
Sliced vegan cheese
Ripe tomatoes
For a twist, try adding some quick homemade pickled cabbage.
More viral TikTok recipes
Here are a few more easy recipes made famous on Tik Tok.
💭 What type of tofu?
Firm tofu is what you need for this sandwich. Never silken tofu as it is creamy and more suitable for desserts and sauces.
Personally, I like Tofoo's Naked Tofu, which is extra firm and already pressed, so no need to press it, just slice it and away you go.
🍲 Marinating Tofu
The marinade is the most important step when cooking tofu as it gives all the flavour.
I often make my own marinade, like this homemade tandoori paste, but this time I used shop-bought BBQ sauce.
I didn't leave it to soak in the marinade this time.
A good brush of sauce on both sides, then another brush of sauce once it's grilled.
🥘 How to grill tofu
There are several ways to grill tofu.
You can choose which option works best for you.
Waffle maker - my favourite as it makes it chewy and gives that wonderful waffle pattern
Sandwich maker - you could also use a sandwich maker
Electric grill - either a grill plate or something like a George Foreman grill
Grill pan - a ribbed frying pan
Air fryer - which makes the surface nice and crispy
Oven bake - on a tray
You could also try these sandwiches with Tomato & Olive Deli Slices.
Also, try Teriyaki tofu crumbles and easy tofu fried rice.
📖 Variations
I couldn't get hold of sub (submarine) rolls to make this deli sandwich, so I used a baton, which has good crunch.
Here are some more options:
Baguette- cut in three
Baton - a mini version of a baguette
Sub rolls - a classic, but make sure you toast them for crunch.
Jumbo hot dog rolls - regular hot dog rolls are too narrow to hold enough filling.
🥛 Creamy salad dressing
The creamy salad dressing on the crunchy iceberg lettuce is what takes this sandwich over the edge.
It is mouth-wateringly good.
I would describe it as a creamy Italian dressing.
🌶 Peppadew peppers
Peppadew peppers are added to the salad which tops off this sub sandwich.
The Peppadew peppers are little sweet roast peppers in a tangy brine, which you can buy in little jars at the supermarket, usually next to the olives and sundried tomatoes.
You can also get them in a hot version for a bit of a kick.
If you can't get these, you could use roast pepper antipasti or just finely chop either jarred or home-roasted red pepper.
🌶 Another way to add heat
Like a bit of spice?
You could also add jalapenos to the dressed salad or more chilli flakes. I only added enough to add a little warmth.
🍟 What to serve with your grinder
Here are a few ideas of what to serve with your vegan grinder.
Green salad - why not make extra dressed iceberg salad to serve on the side?
Chips - or fries
Crisps - or tortilla chips (try these homemade paprika tortilla chips)
Sweet potato fries - or wedges
Spiced wedges - make them yourself or buy them frozen
🥪 More tasty vegan sandwiches to try
Here are a few more of my favourite vegan sandwiches for you to try after you try this vegan grinder sandwich.
For more sandwich inspiration check out 39 of the Best Vegan Sandwiches and check out my guide to packing lunches.
📋 Want new recipes delivered to your inbox?
Also, sign up for my Tinned Tomatoes newsletter for a selection of recipes delivered to your inbox each week or sign up for my email updates and don't miss out on the latest recipe.
Check your spam folder if they don't arrive, I share a new recipe on each of my blogs every week.
⭐ Pin it for later
Follow me on Pinterest, Facebook, Twitter and Instagram.
🥦 Living on the Veg
Once you've signed up for my newsletters and followed me on social media, why not join my Facebook group Living on the Veg?
Such a friendly community with lots of recipes and chat. I'm in there every day chatting. It's such a nice place to spend time.
👩🏻‍🍳 Step-by-step photos
Step-by-step photos. Keep scrolling for the full printable recipe (with full ingredient list and nutritional info).
Step 1
First prepare the tofu. If it is already pressed just slice it and dab with kitchen paper to remove any excess liquid from the pack, if it's not, press it for half an hour, then slice.
Brush both sides of the slices with BBQ sauce and grill. See the guide above for grilling ideas.
Once grilled and crispy, brush with extra sauce and set aside.
Step 2
Now make the dressed salad while the tofu grills.
Add the shredded iceberg, peppers, red onion and flavourings to a bowl and mix.
Add the dressing at the last moment, so the lettuce stays crisp.
Step 3
Slice your roll or sub in half and place the cheese on one side, then toast (broil) or air fry to allow the cheese to melt.
Top with slices of tofu.
Step 4
Add the dressing to the salad and mix well.
Now add the slices of ripe tomato to the roll, then pile high with the salad.
Enjoy! I know you will love it.
📖 Recipe
Tofu Grinder Salad Sandwich
My lastest vegan delicacy is this tofu grinder salad sandwich. The tofu is grilled with a BBQ sauce and the salad dressing is just divine.
Ingredients
3

sub rolls

450

g

firm tofu

4

tablespoon

BBQ sauce

1

teaspoon

olive oil

6

slices

vegan cheese

1

small

iceberg lettuce

(shredded)

½

red onion

(finely sliced)

8

sweet peppadew peppers

(sliced)

1

teaspoon

dried oregano

½

teaspoon

chilli flakes

1

pinch

salt & pepper

5

tablespoons

vegan mayo

1 ½

tablespoons

white wine vinegar

3

large

ripe tomatoes

(sliced)
Instructions
If the tofu is pre-pressed, slice it and brush with sauce, then grill. If it's not pre-pressed. press the tofu, then slice and coat with sauce before grilling. (grilling ideas in notes below.

Slice the rolls in half, add the cheese to one side and toast (broil) or air fry, so the roll crisps and the cheese melts.

Add the salad ingredients to a bowl (lettuce, pepper and onion), then add the herbs, spices and salt and pepper. Mix and set aside. Adding the dressing at the last minute.

Once the tofu is grilled add to the toasted subs with the melted cheese, then top with slices of tomato.

Add the mayo and vinegar to the salad and mix well, then pile high on the filled rolls.
Notes
Type of roll options
Baguette- cut in three
Baton - a mini version of a baguette
Sub rolls - a classic, but make sure you toast them for crunch.
Jumbo hot dog rolls - regular hot dog rolls are too narrow to hold enough filling.
Grilling tofu
Waffle maker - my favourite as it makes it chewy and gives that wonderful waffle pattern
Sandwich maker - you could also use a sandwich maker
Electric grill - either a grill plate or something like a George Foreman grill
Grill pan - a ribbed frying pan
Air fryer - which makes the surface nice and crispy
Oven bake - on a tray
Peppadew peppers - can't find these then use one of these:
Home roasted pepper -  diced
Pepper antipasti
Jarred roast pepper - diced
Dress the salad at the last minute - so the shredded iceberg remain crisp
Nutrition
Serving:
1
sub
Calories:
691
kcal
Carbohydrates:
70
g
Protein:
23
g
Fat:
34
g
Saturated Fat:
6
g
Polyunsaturated Fat:
5
g
Monounsaturated Fat:
3
g
Sodium:
1281
mg
Potassium:
700
mg
Fiber:
8
g
Sugar:
20
g
Vitamin A:
2285
IU
Vitamin C:
35
mg
Calcium:
289
mg
Iron:
15
mg