A variation on overnight oats, vegan peach blueberry overnight Weetabix are a tasty, fruity breakfast that can be prepared the night before.
It's super easy to make, tastes great and makes breakfast quick.
Perfect for a summer breakfast or if you are short of time, pop it in your lunchbox to take to work to enjoy later.
Jump to:
💭 What is overnight Weetabix?
You will have heard of overnight oats, where oats are soaked in milk, yoghurt or fruit juice (sometimes a combination of all three) and left in the fridge overnight for a tasty breakfast?
Overnight Weetabix is made in the same way.
Super easy to make and it tastes delicious.
🎥 TikTok trend
If you're on TikTok and follow some of the foodies on there, you may have already heard about overnight Weetabix.
So many fun food ideas have appeared on TikTok.
Have you seen my vegan bounty bars or vegan date snickers?
They were both inspired by TikTok trends.
Yes, I may spend too much time on there.
👩🏻‍🍳 Prepare it ahead
Make a few of these vegan overnight Weetabix and stack them in the fridge for your week-day breakfasts, or take them to work for a tasty lunch.
They are super quick to make and don't take up much room in the fridge.
🥃 Storing overnight Weetabix
You can use all sorts of containers to make and store vegan overnight Weetabix.
Here are a few ideas.
Tupperware tub
Jam jar
Plastic takeaway container
Dessert glass (cover with cling film)
Short drinking glass (cover with cling film)
💭 Is Weetabix a healthy option?
It's actually a pretty good choice for breakfasts.
Weetabix is made from wholewheat so it's full of fibre and while it does have some sugar, it is a fairly low amount and much lower than most breakfast cereals.
Look at the box and our UK traffic light style health info and you will see it is low in fat, sugar and salt.
Also, it's high in Vitamin B1 & B2, Niacin, Folic Acid and Iron.
And most importantly it's also suitable for vegans.
🍨 It's all about the layers
Like an onion, this breakfast is all about the layers.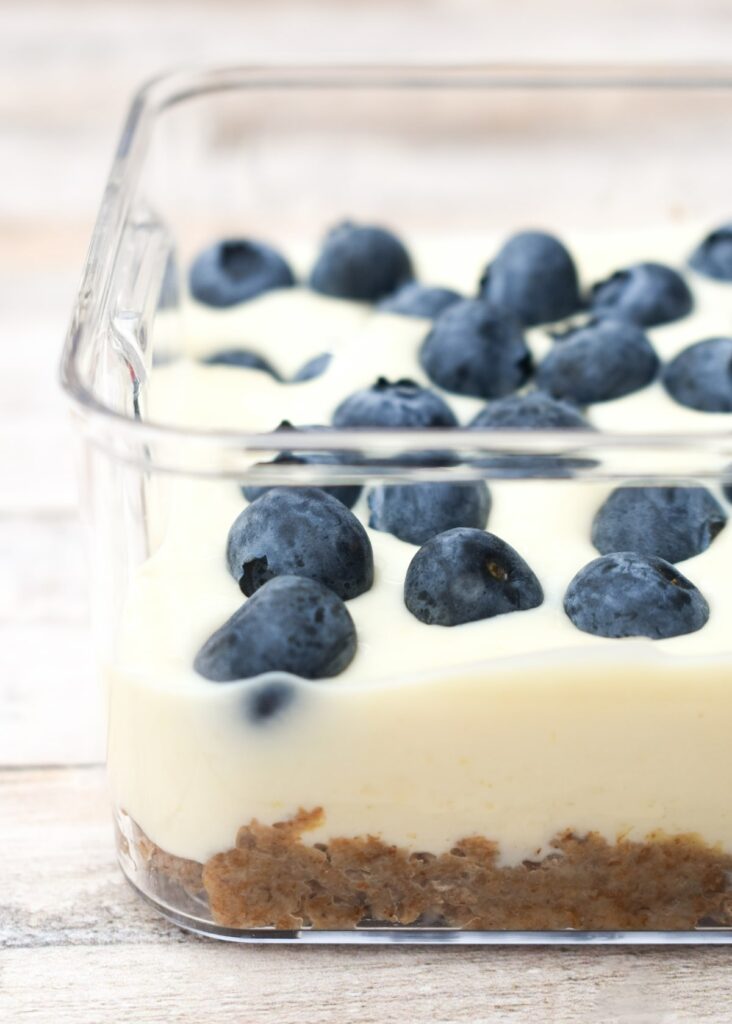 And this vegan overnight Weetabix is no exception.
Layer 1 - crumbled Weetabix mixed with oat milk (or your favourite milk). or yoghurt and a little sweetness can be added
Layer 2 - the yoghurt layer, you can use plain or flavoured yoghurt for this layer, or flavour it yourself
Layer 3 - the topping can be varied, fruit, nuts, seeds or granola
See the recipe card for full ingredients and quantities.
Also, try vegan Nutella overnight Weetabix with yoghurt
🍑 Flavouring vegan yoghurt
For the middle layer, you can use pre-flavoured yoghurt (there are so many flavours available now), I used peach yoghurt, but you can also flavour plain yoghurt.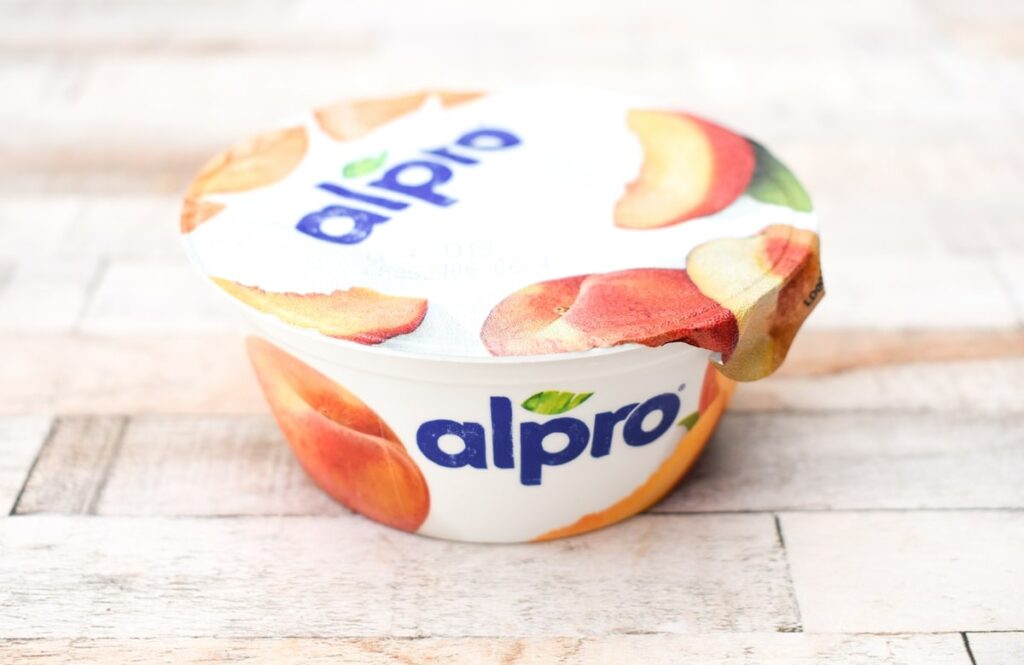 Here are some ideas.
Berries - mix in fresh berries
Biscoff spread - even better, swirl some Biscoff through the yoghurt
Chocolate spread - swirl it though for a chocolate hit
Coconut - swirl some coconut flakes (desiccated coconut) through the yoghurt
Fruit compote - you could also swirl in some fruit compote
Jam - is another good option for swirling through the yoghurt
Marmalade - for a very British breakfast option
Vanilla - keep it simple and just mix in some vanilla extract
Once you start making vegan overnight Weetabix, you will think up endless flavour combinations.
🍓 Toppings
Here are some topping ideas.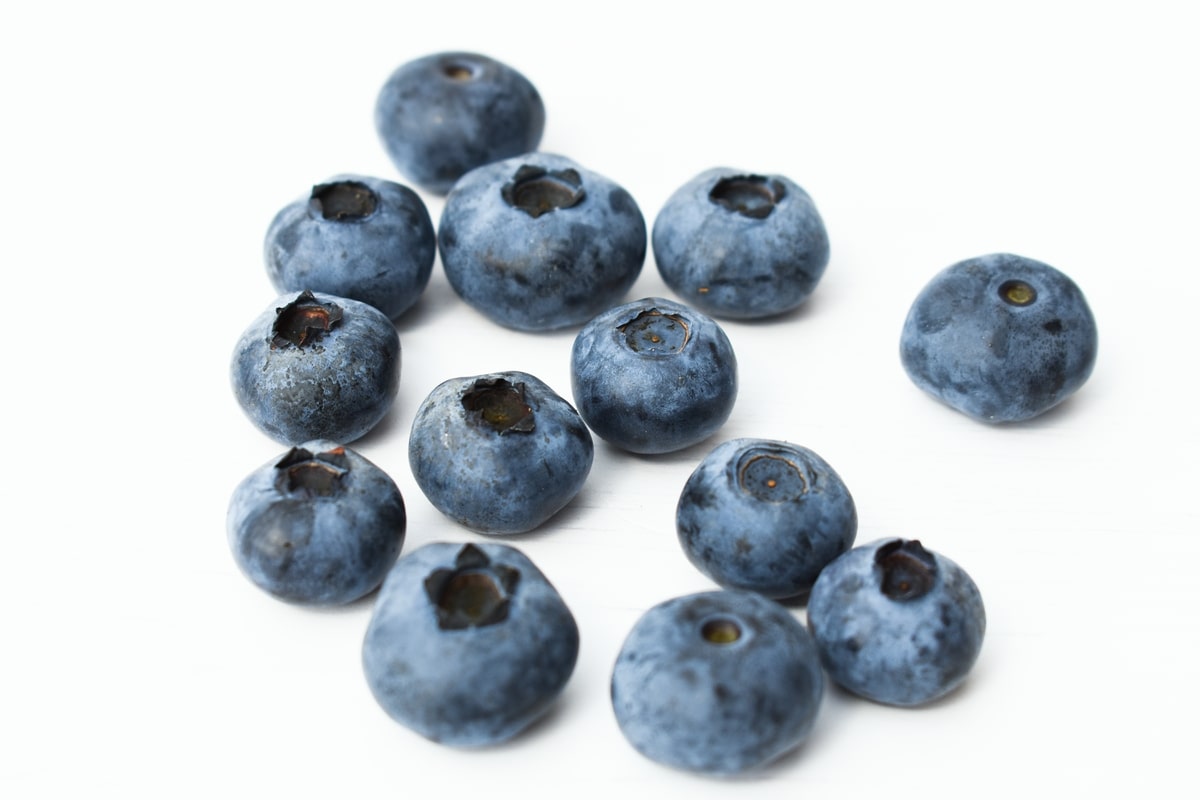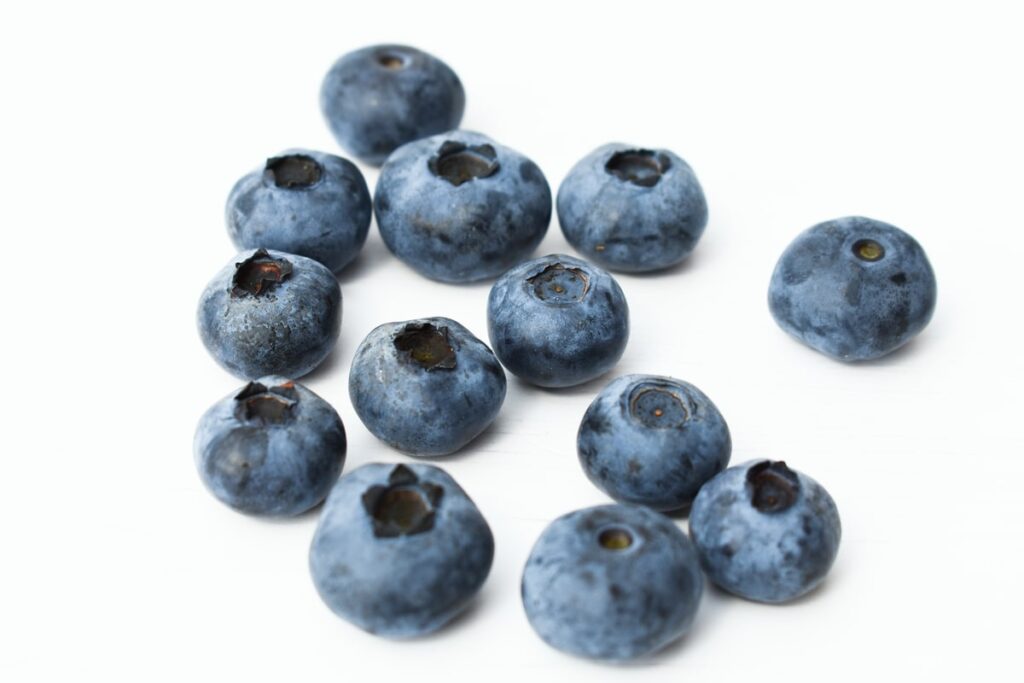 Chocolate chips - sometimes a little chocolate is just what you need
Fresh fruit - so many types to choose from
Granola - for a bit of crunch
Nuts - roughly chop some nuts and scatter them on top
Seeds - same with seeds
Tinned fruit - don't forget tinned fruit, which is tinned while fresh and can have more nutrients than fresh fruit, just choose the ones in juice and not syrup
Squirty cream - for a bit of luxury and surprisingly it's fairly low in calories
🥜 Add crunchy toppings in the morning
If you are adding crunchy toppings like nuts, seeds or granola, wait until the morning to add them.
If you add them the night before, liquid from the yoghurt will make them soft.
So to keep the crunch add just before you serve.
🥄 Want to eat it right away?
I know, I know, it looks so good you want to eat it right away.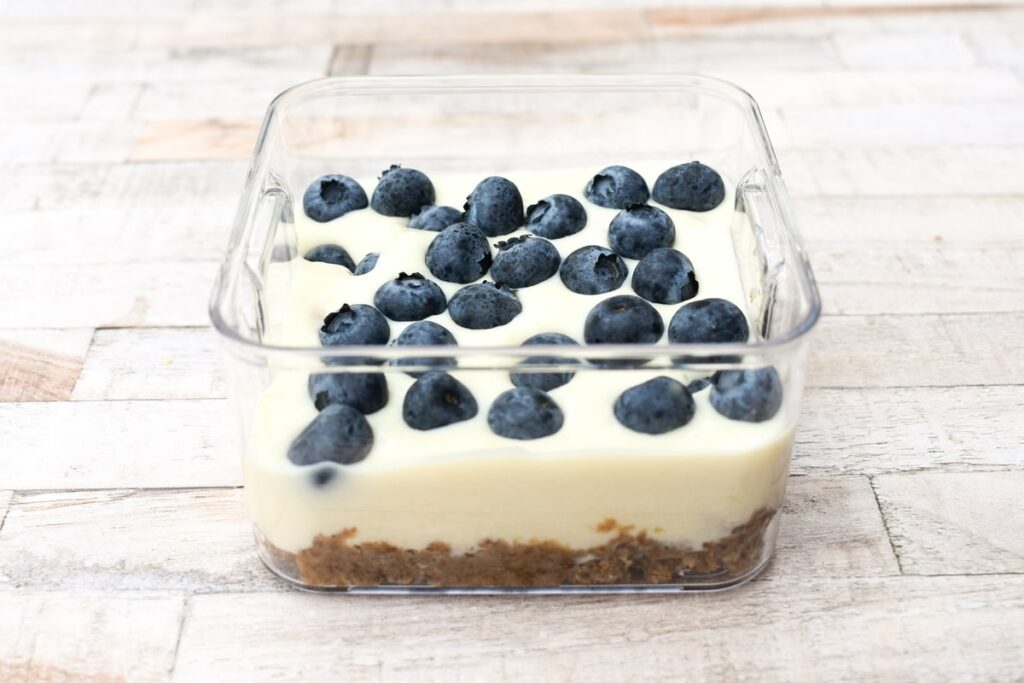 Try to resist, it's even better if you leave it in the fridge for a few hours or better still overnight.
💭 How long will it keep?
You could keep it in the fridge for 2 or 3 days.
However, it is better the morning after you make it, as the base just gets softer the longer it sits.
Not really a problem though as it's fun to make and only takes a few minutes.
🍊 More fruity vegan recipes to try
Here are a few more fruity recipes you might like to try next.
⭐ Hit the heart (NEW)
Have you seen the little heart in The Vegan Lunchbox this week when you look at recipes.

Hit it to let me know you like the recipe and if you hit the molecule-like symbol beside it, you can save your favourite recipes in one place or share them on Twitter or Facebook.
👩🏻‍🍳 How to make vegan peach overnight Weetabix
Step 1
Add the Weetabix to a bowl and crush with your fingers, until they are crumbs.
Now add some sweetener, if you are adding any.
Then measure out the milk in a jug.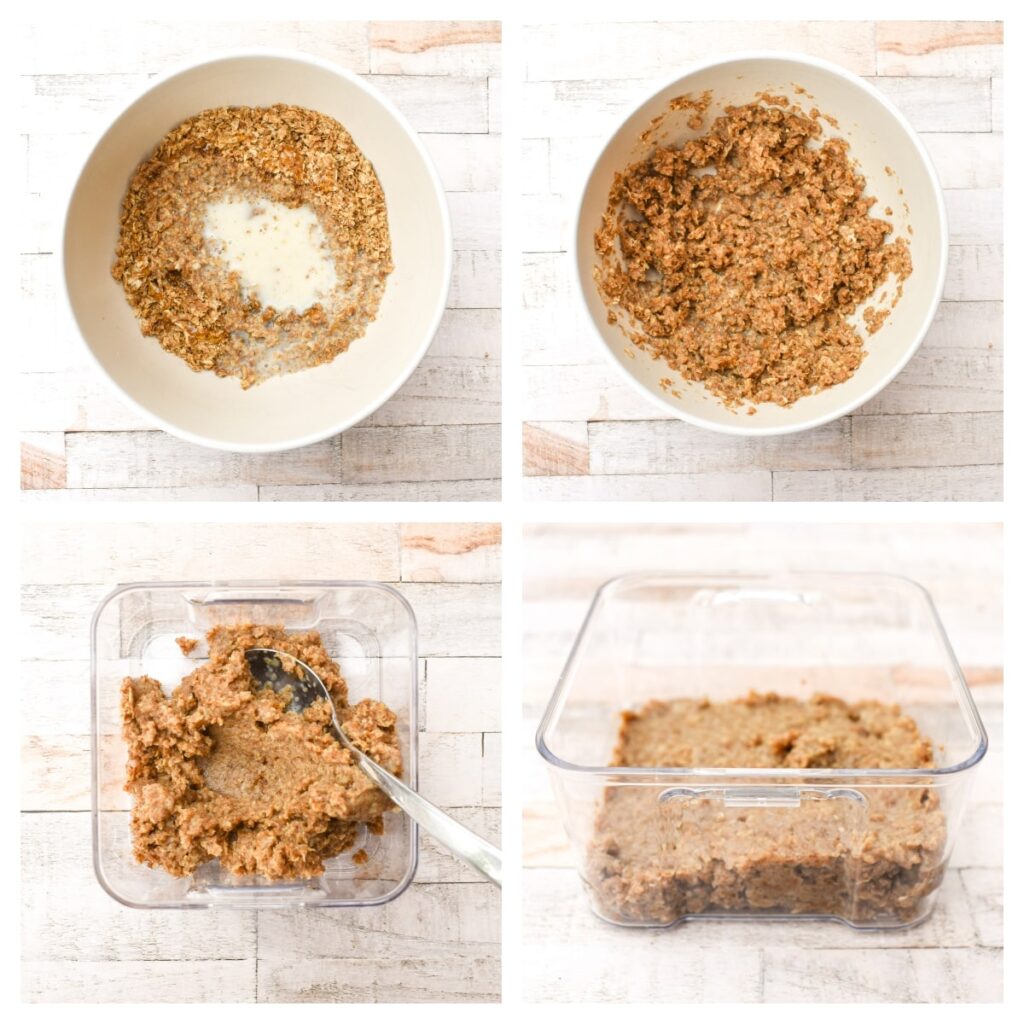 Step 2
Add the milk to the crushed Weetabix and mix well.
Spoon into the container you will be storing it in and press down firmly for an even base.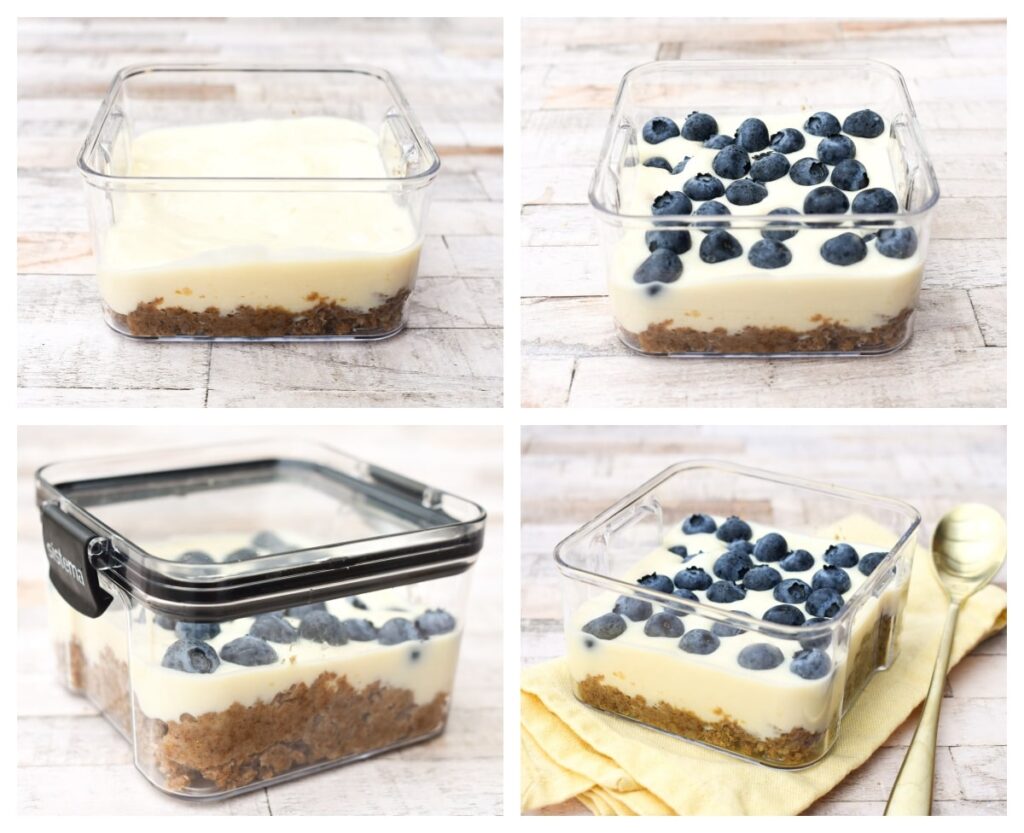 Step 3
Next top with a generous layer of yoghurt.
Add your toppings, pop the lid on and store in the fridge overnight. Remember don't add crunchy toppings until the morning.
Serve and enjoy!
📖 Recipe
Vegan Peach Overnight Weetabix
A variation on overnight oats, this vegan peach overnight Weetabix is a super easy and fruity breakfast that can be prepared the night before.
Ingredients
2

Weetabix

1

teaspoon

maple syrup

(optional)

100

ml

oat milk

(or your preferred milk)

125

g

peach yoghurt

(or another flavour)

1

handful

fresh blueberries
Instructions
Place the weetabix in a bowl and crumble with your fingertips into crumbs.

Add the maple syrup and milk and mix well.

Press into your container, so there is a even, well-packed layer in the bottom.

Top with a generous layer of peach yoghurt.

Finish by adding fresh blueberries as a topping and chill for 4 hours or overnight.

Serve for breakfast or pop in your lunchbox to enjoy at work.
Notes
If you are adding nuts, seeds or granola to the topping, add it when you are serving the overnight Weetabix, so they stay crunchy.
Jam jars make a good container for this tasty breakfast.
You can vary the flavour of the yoghurt and toppings.
Best served the next morning, but can be kept for up to 3 days, but will get softer.
Nutrition
Serving:
1
serving
Calories:
318
kcal
Carbohydrates:
30
g
Protein:
15
g
Fat:
3
g
Saturated Fat:
0.4
g
Polyunsaturated Fat:
0.1
g
Monounsaturated Fat:
0.1
g
Trans Fat:
0.01
g
Cholesterol:
6
mg
Sodium:
94
mg
Potassium:
300
mg
Fiber:
6
g
Sugar:
25
g
Vitamin A:
254
IU
Vitamin C:
7
mg
Calcium:
297
mg
Iron:
6
mg