This homemade vegan orange ice cream is made with fresh oranges & it's no-churn, so you don't need an ice cream maker. It's easy to make too!
How good does that look?
It tastes good too. Creamy and light and fruity.
Super easy to make too.
Jump to:
🍨 Homemade ice cream without an ice cream maker
If you have the room and budget to have an ice cream maker, they are great, but you can make ice cream without them.
Without an ice cream maker you would normally make up your ice cream mixture, pop it in the freezer, then take it out again to whip several times before it is ready ie the churning.
However there is a type of easy ice cream which doesn't need an ice cream maker or hand churning.
🥫 Condensed milk ice cream
The secret ingredient is condensed milk.
It makes a wonderfully creamy ice cream mixture that is whisked before it is frozen, but does not need to be churned,
You just pop it in the freezer until you are ready to eat it.
And the good news is you can now buy vegan condensed milk, which is coconut based.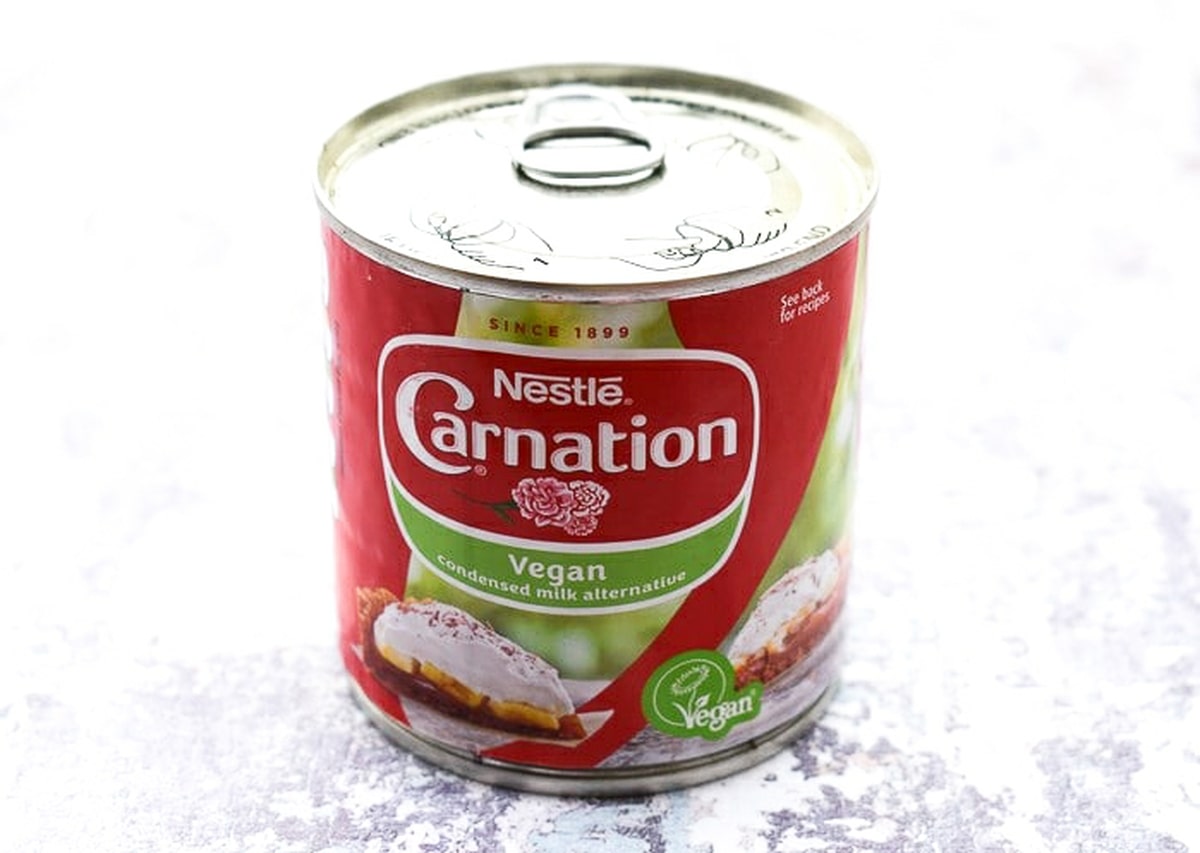 🥫 Is condensed milk ice cream as good as regular ice cream?
Oh yes, it's just as good and so easy to make.
The only difference in my opinion is it needs to sit a little longer to soften before you scoop it than regular ice cream.
🥛 Ingredients
Here are the simple ingredients you need to make this delicious vegan ice cream.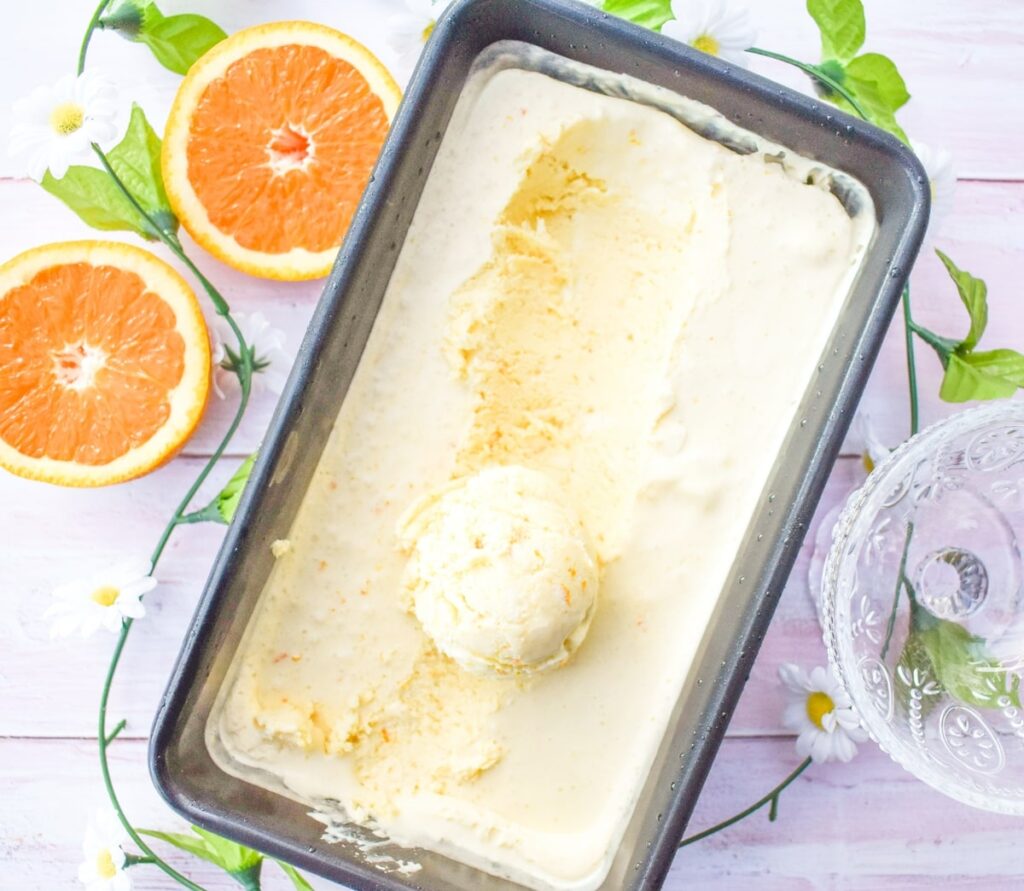 Double cream - I use Elmlea Plant Cream, which can be whipped
Vanilla extract - not essence, as it's artificial and not very nice
Condensed milk - there are lots of vegan brands available, I use Carnation Vegan Condensed Milk
Orange juice - freshly squeezed
Orange zest - for that extra flavour boost
🍊 Can I use orange essence?
No, you are really better to use fresh oranges.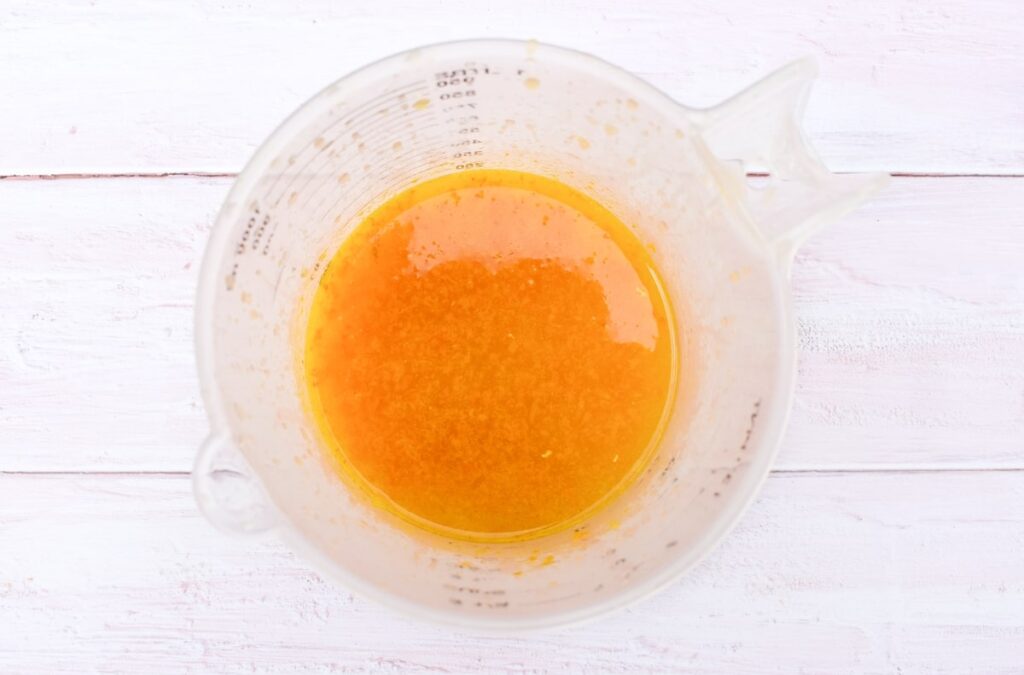 It will give you the best flavour.
For extra flavour, add finely grated orange zest.
For another orange dessert, try this vegan fruit trifle with microwave sponge pudding.
🍫 Make it chocolate orange ice cream
You will laugh. I meant to make this ice cream orange choc chip, but forgot to add the chocolate chips.
D'oh!
If you would like too add them, fold them in once the mixture is whipped and ready to pour into your container.
🌡️ Which containers are best for freezing homemade ice cream
Any freezer-friendly container will do.
I tend to use a loaf tin, but you could use a glass casserole dish, re-use an ice cream tub, or just some tupperware.
If your container doesn't have a lid, you could just cover the orange ice cream with cling film.
Just make sure it's suitable to use in the freezer.
🧾 More vegan condensed milk recipes
Here are a few more vegan condensed milk recipes you might like to try.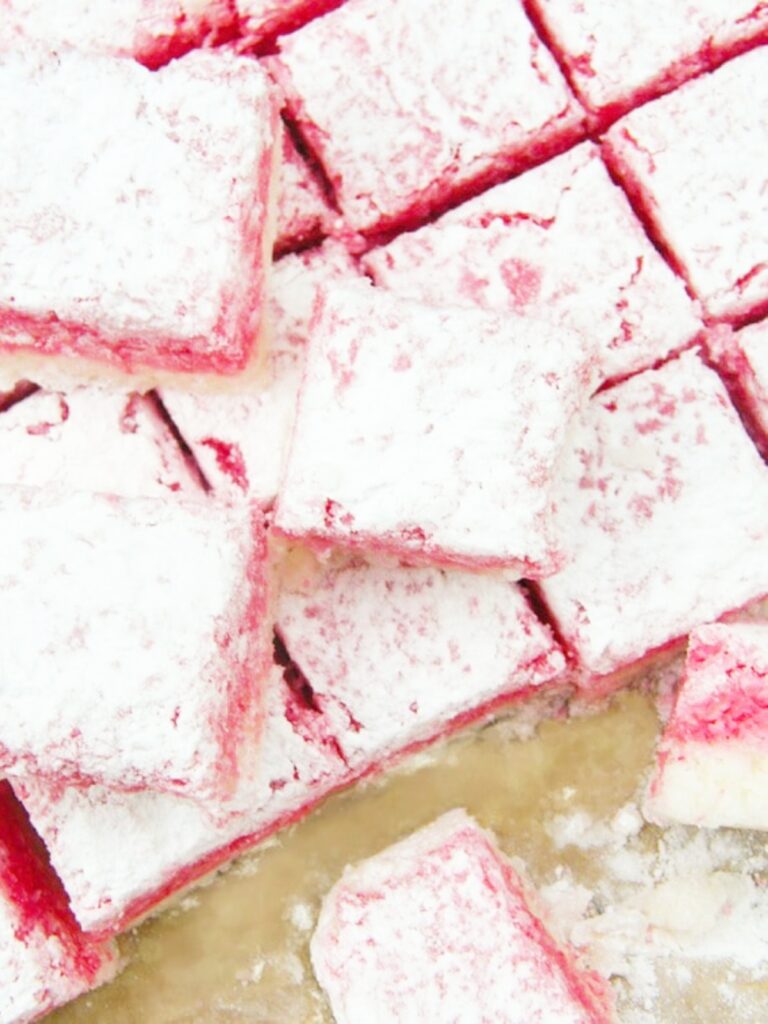 📋 Want new recipes delivered to your inbox?
If you don't want to miss any of my new recipes, sign up in the green box below and I will send you my new recipes by email when they are published.
Never miss a recipe again!
Also, sign up for my Tinned Tomatoes newsletter for a selection of recipes delivered to your inbox each week or sign up for my email updates and don't miss out on the latest recipe.
Check your spam folder if they don't arrive, I share a new recipe on each of my blogs every week.
⭐ Pin it for later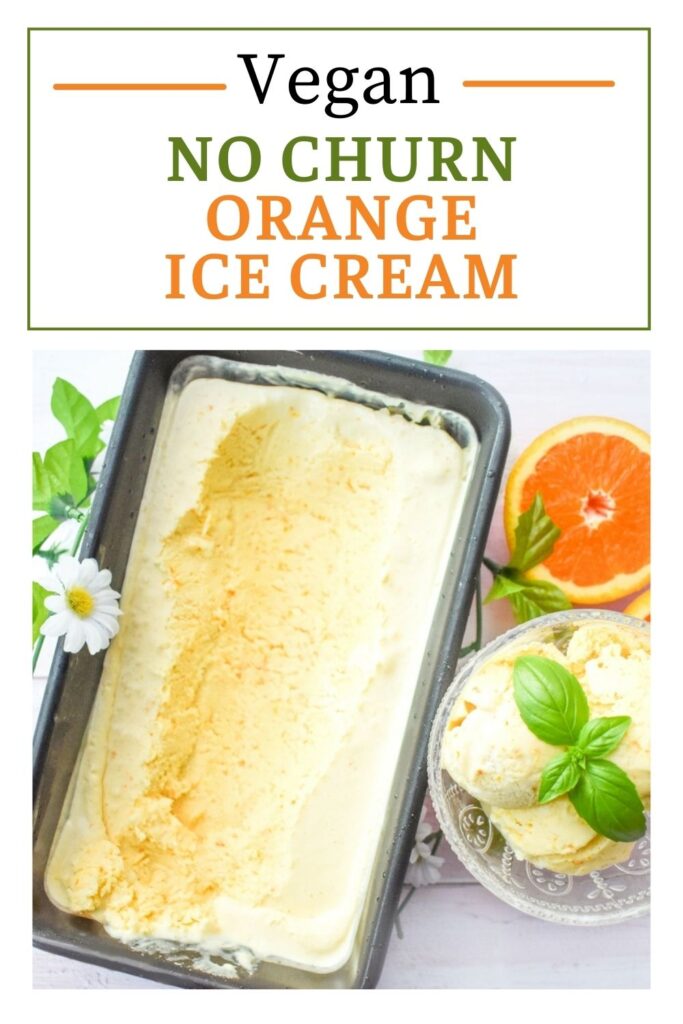 Follow me on Pinterest, Facebook, Twitter and Instagram.
🥦 Living on the Veg
Once you've signed up for my newsletters and followed me on social media, why not join my Facebook group Living on the Veg?
Such a friendly community with lots of recipes and chat. I'm in there every day chatting. It's such a nice place to spend time.
👩🏻‍🍳 Step-by-step photos
Step-by-step photos. Keep scrolling for the full printable recipe for vegan orange ice cream (with full ingredient list and nutritional info).
Step 1
First wash your oranges thoroughly and finely zest them, then juice them.
Whip cold vegan double cream in a bowl with an electric hand whisk, hand whisk (if you are feeling very energetic), or in a stand mixer.
Add vanilla extract and whip again until thick.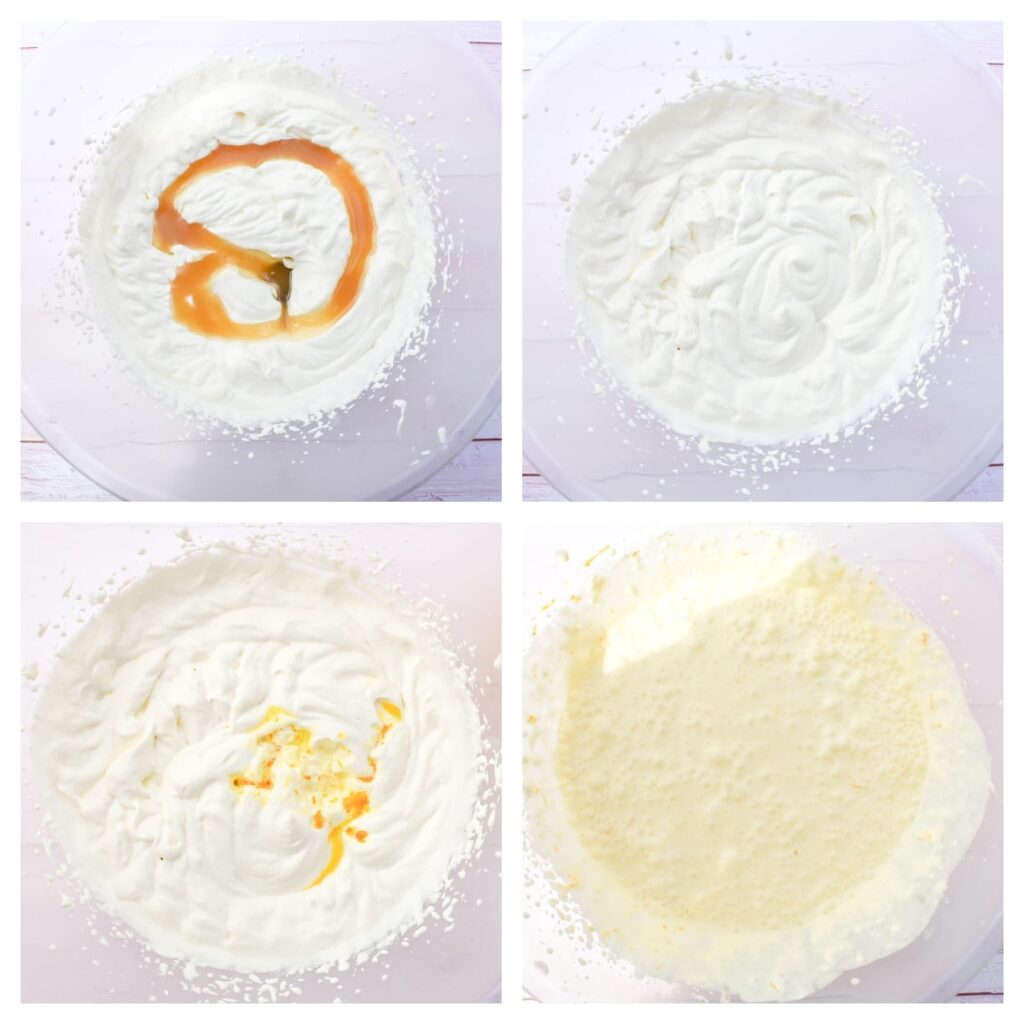 Step 2
Pour in the condensed milk and whisk again.
Then gradually add the orange juice and zest, while whipping. The mixture won't be as thick but it will be light and fluffy.
Step 3
Pour into your container and freeze for a few hours.
Take out of the freezer a little while before serving to allow it to soften.
Enjoy!
📖 Recipe
Homemade Vegan Orange Ice Cream
This homemade vegan orange ice cream is made with fresh oranges & it's no-churn, so you don't need an ice cream maker. It's easy to make too!
Ingredients
3

large

oranges

250

ml

vegan double cream

185

g

condensed milk

1

teaspoon

vanilla extract
Instructions
Finely zest and juice the oranges.

Pour the cold cream into a mixing bowl, add the vanilla extract and whisk until thick.

Add the condensed milk and whisk again.

Now add the orange juice with zest a bit at a time while whisking.

Pour into your freezer container and freeze for 4 hours.

Allow it to sit to soften a little before serving.
Notes
You can add dark chocolate chips or grated dark chocolate. Fold them in before pouring the ice cream mixture into your container.
Let the ice cream soften a little before serving.
Keep in the freezer for 3-4 months.
Nutrition
Serving:
1
serving
Calories:
257
kcal
Carbohydrates:
40
g
Protein:
5
g
Fat:
10
g
Saturated Fat:
4
g
Polyunsaturated Fat:
4
g
Monounsaturated Fat:
1
g
Cholesterol:
10
mg
Sodium:
238
mg
Potassium:
282
mg
Fiber:
2
g
Sugar:
28
g
Vitamin A:
289
IU
Vitamin C:
50
mg
Calcium:
124
mg
Iron:
0.1
mg