No need for an ice cream maker to make this easy vegan peach ice cream. It's super easy to make and tastes like summer.
Summer is the perfect time to enjoy homemade vegan peach ice cream.
Make it at home and it's even nicer and you don't even need an ice cream maker.
It tastes absolutely delicious.
Jump to:
🍑 Seasonal peaches
Summer is a wonderful time for fruit. Peaches, nectarines and berries are all in season and such a treat.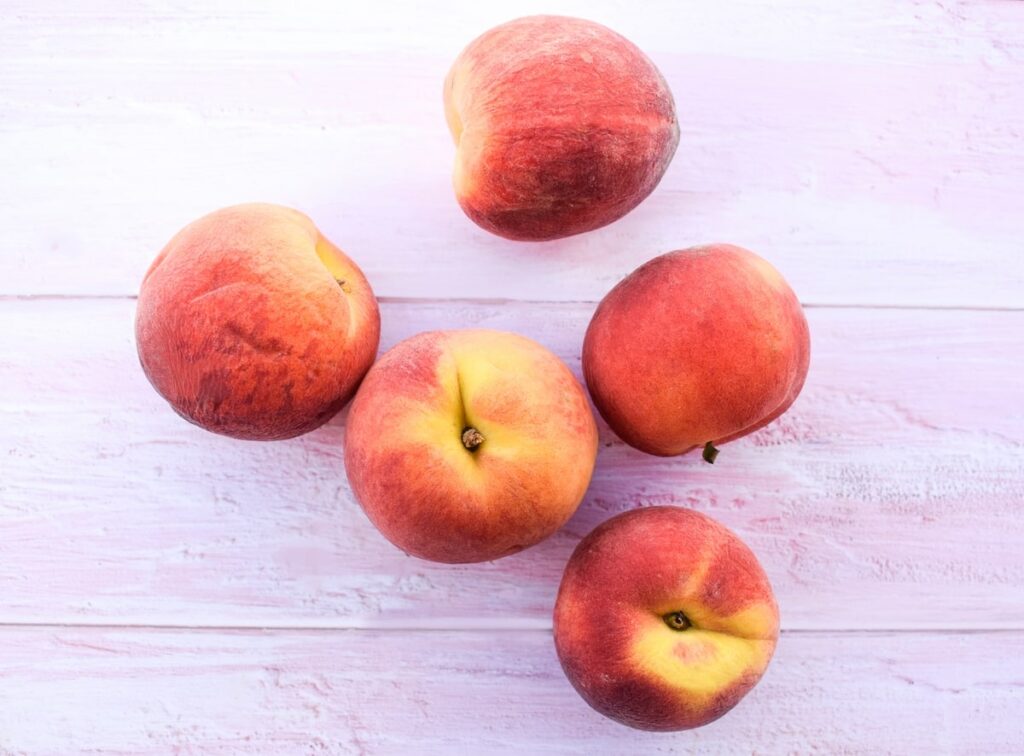 It's always best to local and seasonal fruit, it's at its best, tastes amazing and is usually cheaper too.
Peach season here in the UK starts in July and ends in September, so plenty of time to enjoy this juicy fruit.
🍑 Do you need to peel peaches?
There's no need to peel peaches for this ice cream.
I blend the peaches after they are cooked, so the skin isn't an issue and consequently, it will add to the nutrients and flavour.
Less faff too.
🍑 Cooking peaches
Peaches are cooked gently with some sugar until soft and juicy.
Once they are soft, they are left to cool, then blended into a gorgeous peach puree which is whipped into the base ice cream mixture.
🍦 No ice cream maker needed
One of the most exciting things about this creamy homemade ice cream is you don't need an ice cream maker.
You don't even need to take it out of the freezer to whip it several times.
Just whip the mixture together and pour it into your container and freeze.
That's it!
Super easy homemade vegan ice cream.
🥛 Which type of vegan cream?
You want a thick cream for this type of ice cream.
Look for one that can be whipped, usually a vegan double cream.
I like Elmlea Plant Double Cream.
It whips up nice and thick.
🥫 Vegan condensed milk
The secret to no-churn ice cream is condensed milk.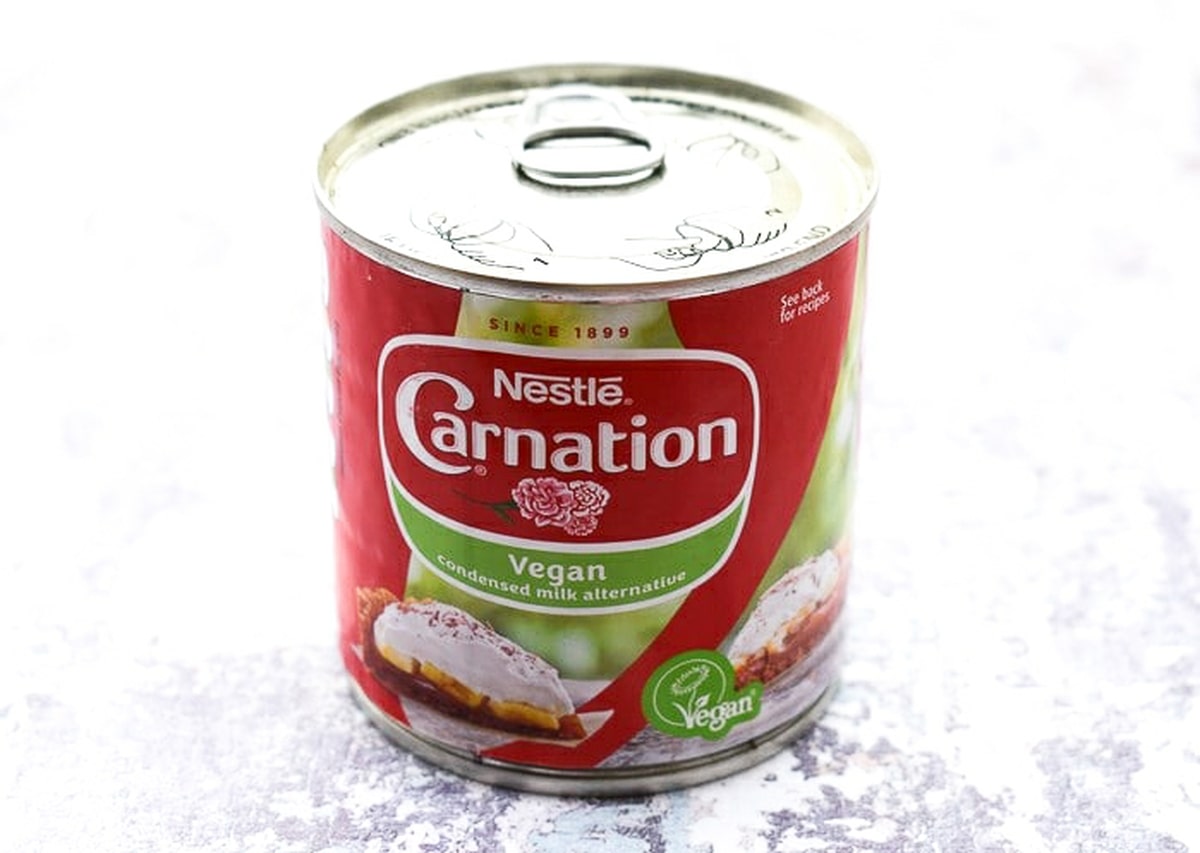 It thickens the ice cream and makes it super creamy.
And the good news is you can buy vegan condensed milk now, which is made with coconut milk and tastes just as good as the original dairy-based milk.
I usually buy Carnation vegan condensed milk, which sits beside the regular condensed milk on supermarket shelves.
There are other brands out there if you can't find this one.
Use leftover condensed milk
This recipe only uses half a tin of condensed milk.
Here are some ideas for using up the rest.
Bounty Bars - smaller batch (half the recipe)
Coconut Ice - It's a little less than the recipe but will still work
Easy Fudge - half the recipe
Ice Cream - make another batch of ice cream (list of recipes below)
🍲 Storing ice cream
You can store homemade ice cream in a freezer-friendly tub.
An old ice cream tub, Tupperware or even a glass casserole dish.
I tend to use a loaf tin, but a container with a lid is the best choice.
It will be at its best used between 1-2 weeks.
Preventing freezer burn
If you're serving ice cream the same day you make it, a lid isn't so important.
However, if you're keeping it longer, a lid is a good idea to stop it from getting freezer burn.
Freezer burn is what happens when food in the freezer isn't sealed properly and ice forms across the top.
💭 Top tip
Your freezer container doesn't have a lid? That's easy to remedy.
You can either, slide the container carefully (being carefully not to tip it) into a large freezer bag, which can be sealed.
Or you can cover with freezer-friendly cling film.
👩🏻‍🍳 What you need to make this vegan no churn ice cream
Here are the simple ingredients you need to make this peach dairy-free ice cream.
Peaches - stone removed but skin left on
Sugar - caster sugar
Vanilla Extract - not essence
Double Cream - look for a vegan cream that can be whipped
Condensed Milk - the vegan version is usually coconut based
See the recipe card below for a full ingredient list and method.
🧾 Variations
Here are a few tweaks you can make to this ice cream.
Brown sugar - instead of caster sugar
Raspberries - mix raspberries through the ice cream with raspberry syrup for a peach melba ice cream
Swirled - swirl the peach puree through the cream but don't mix in for colour-swirled fruity ice cream.
Cheesecake - add crumbled digestive biscuits (graham crackers), and make sure they are vegan, the Molly's brand in Tesco is suitable for vegans.
🍨 More no churn vegan ice cream
More of my no-churn vegan ice cream recipes for you to try next.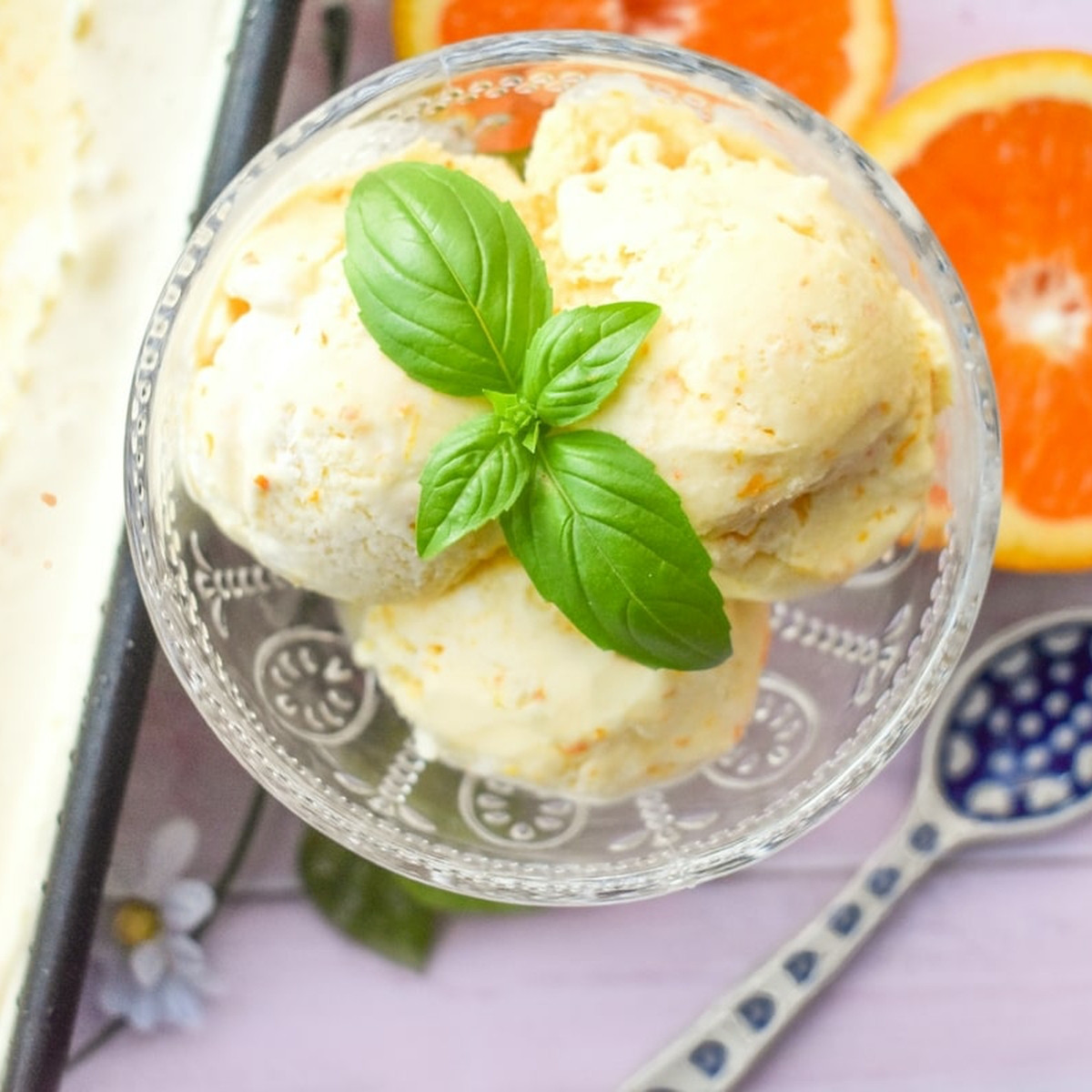 Want more easy vegan desserts? Check out my Cakes, Bakes & Desserts recipe index.
⭐ Hit the heart (NEW)
Have you seen the little heart in The Vegan Lunchbox this week when you look at recipes.

Hit it to let me know you like the recipe and if you hit the molecule-like symbol beside it, you can save your favourite recipes in one place or share them on Twitter or Facebook.
🥄 How to make vegan peach ice cream without an ice cream maker
Step-by-step photos. Keep scrolling for the full printable peach ice cream recipe (with full ingredient list and nutritional info).
Step 1 - Cook the peaches
Wash and halve the peaches, then remove the stone and chop roughly.
Now pop in a pan, add the sugar and vanilla and cook until soft, with a fruity syrup.
Step 2 - Blend the peaches
Remove the cooked peaches from the pot and pop in a bowl to allow to cool.
Blend in a food processor; in a blender; or in a jug with a stick blender until you have a smooth puree.

If you don't have any of these, remove the skin from the peaches before cutting and cooking, then you can just mash the cooked fruit.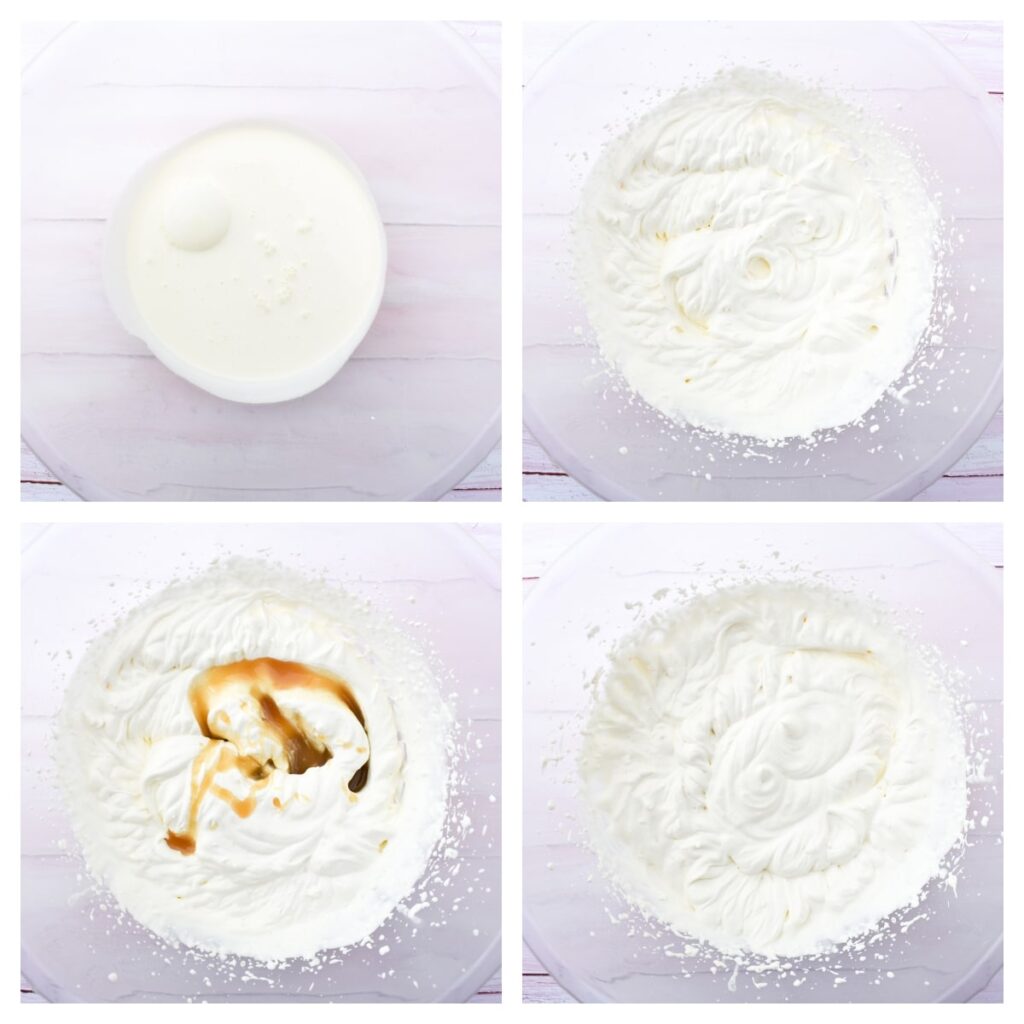 Step 3 - Make the vanilla base
Add the cold cream to a mixing bowl and whisk until thick.
Now add the vanilla extract and whip again to combine.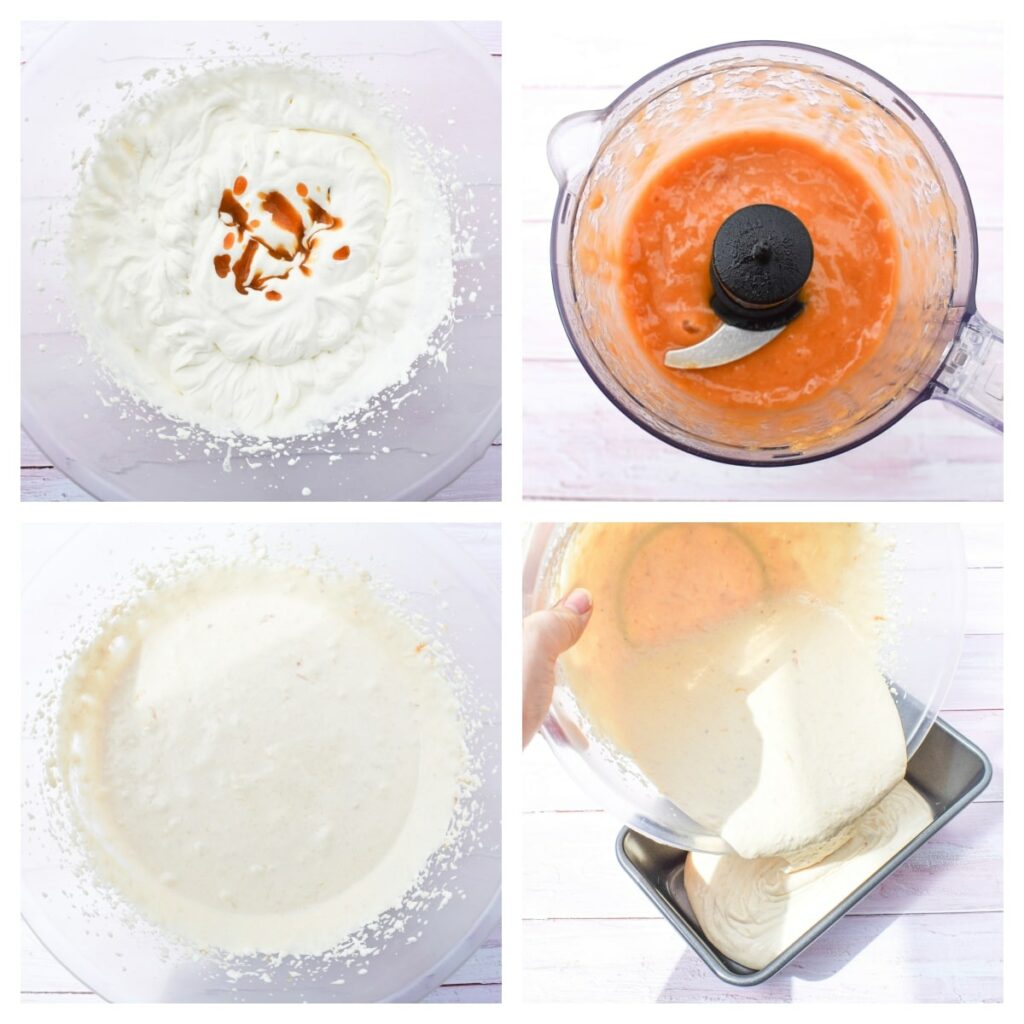 Step 4 - Add the peach puree
Add the peach puree to the whipped cream a little at a time (yes those top two photos are back to front) and whisk in.
Once all the puree is whisked in, pour the ice cream into your container and freeze for 4 hours or overnight.
Step 5 - Serving ice cream
Finally, you can take the ice cream out and let it sit for a while until it is soft enough to scoop (be patient).
Pop your scoop into a jug of boiling water to help get a clean scoop of ice cream.
Eat the ice cream plain; top with raspberries; a drizzle of fruit sauce; sprinkles; or a drizzle of melted chocolate.
Enjoy!
📖 Recipe
Easy Vegan Peach Ice Cream (no churn)
No need for an ice cream maker to make this easy vegan peach ice cream. It's super easy to make and tastes like summer.
Ingredients
5

ripe peaches

(stone removed)

3

tablespoons

caster sugar

(or brown sugar)

2

teaspoons

vanilla extract

250

ml

vegan double cream

(whipping cream)

185

g

vegan condensed milk
Instructions
Chop the peaches roughly and pop in a pan with the sugar and 1 teaspoon of vanilla extract and cook (let it simmer) until soft with a thick syrup.

Pour the cooked peaches into a large bowl and set aside to cool.

Whisk the cold cream in a mixing bowl until thick, then whisk in the other teaspoon of vanilla extract, then gradually add the condensed milk while whisking.

Blend the cooled peaches into a puree.

Gradually add the peach puree into the ice cream mixture, while whisking.

Pour into your freezer tub and freeze for at least 4 hours or overnight.

Before serving, allow to sit until soft enough enough to scoop.
Notes
If you are serving the same day as you make this ice cream, it doesn't matter if your freezer container has a lid.
If you are keeping your ice cream longer, you should cover it with a lid or freezer-friendly.
This ice cream can be kept for up to 2 weeks in the freezer.
Nutrition
Serving:
1
portion
Calories:
275
kcal
Carbohydrates:
50
g
Protein:
5
g
Fat:
7
g
Saturated Fat:
3
g
Polyunsaturated Fat:
4
g
Monounsaturated Fat:
0.1
g
Sodium:
257
mg
Potassium:
155
mg
Fiber:
2
g
Sugar:
38
g
Vitamin A:
483
IU
Vitamin C:
5
mg
Calcium:
118
mg
Iron:
0.4
mg