If you love Bounty bars, you will love these easy vegan bounty bars, which are really just chocolate-covered coconut bites. They are divine!
Yeah, I know they are more balls than bars, but you can shape them into bars too.
The same recipe, just shaped differently.
I made them into bites in the hope I'd eat less. Well, that didn't happen, haha.
These are so bloomin' gorgeous!
Really hope you try them. You won't be disappointed.
Jump to:
🥥 What are Bounty bars?
Just in case you live in a part of the world where these aren't available, I thought I should explain what vegan bounty is.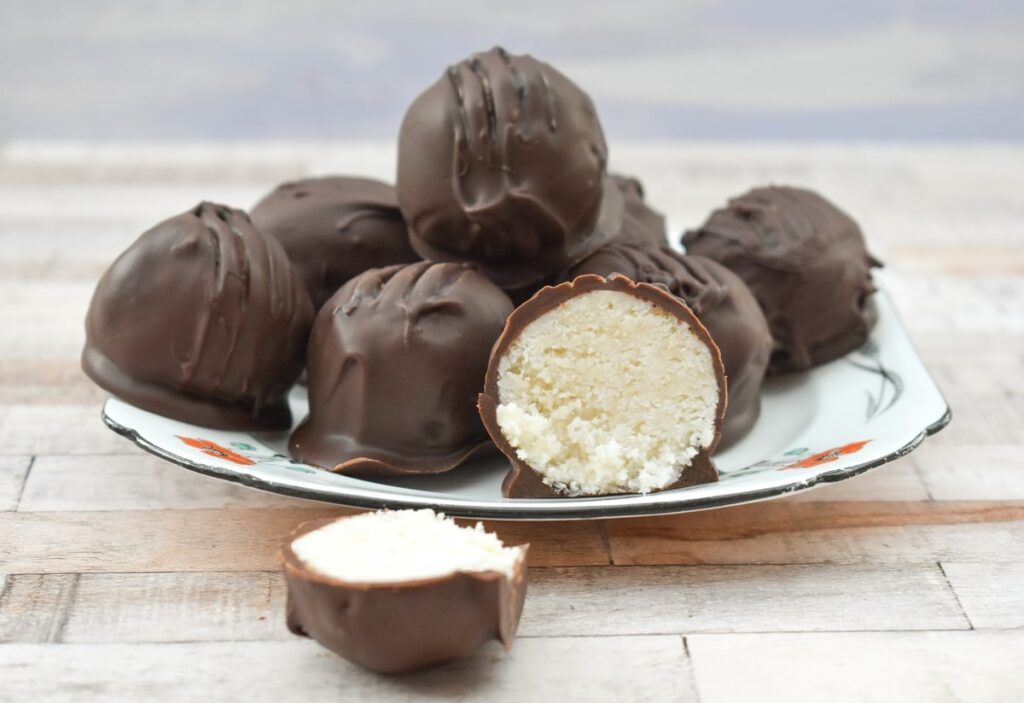 Bounty bars are chocolate bars popular in the UK and made by Mars.
They come in milk and dark chocolate.
Chocolate on the outside and coconut inside.
There are similar bars called Mounds bars and Almond Joy.
💭 Are Mars Bounty Bars suitable for vegans?
Nope, Mars Bounty Bars are not suitable for vegans.
Both the milk and the dark chocolate versions contain milk.
That's why I like to make my own. Plus they are fun to make.
👩🏻‍🍳 Balls or bars?
Traditionally bounty is made in bars.
It looks like one long bar, but when you open it, it is actually two.
When making them at home you can make the shorter bars or balls.
I find the balls are easier to coat neatly, but the bars aren't hard to make either.
I'll leave it up to you.
🍫 What type of chocolate?
Vegan dark chocolate is what you are looking for.
You can use either chocolate chips or bars of chocolate.
If you are sticking to a budget, the chocolate chips might be a better option and they melt quicker too.
Just remember to check the ingredients if you are unfamiliar with the brand as milk is often and rather unexpectedly added to dark chocolate chips.
🍫 The best way to melt chocolate
A bain-marie is the best option as it melts the chocolate slowly and gently, but you can melt it in the microwave, but keep an eye on it as it can burn.
If you are heating in a microwave, keep opening the door to give the chocolate a stir as it melts.
Either method will require quite a big bowl for coating the bars.
💭 What is a bain-marie?
A bain-marie is basically the method of melting chocolate in a bowl over simmering water.
First select a bowl that won't sit too deeply in the pot you are using, as you want the bowl to sit above the simmering water.
If the bottom of the bowl touches the water, the chocolate will seize and be unusable.
Bring water in the bottom of the pot (well below the bowl) to a gentle simmer and place the bowl filled with the broke up chocolate, or choc chips.
Keep stirring until it is completely melted, then take off the heat.
🥥 Coconut balls
The centre of these no-bake coconut bites is a mixture of moist coconut.
Sweetened and formed into a sort of chewy fondant centre with condensed milk.
For Halloween, add some green food colouring to the coconut filling and call them monster bogies. You might also like to try Easy Halloween Oreo Monster Pops.
💭 Rolling tip
The mixture is quite sticky, so the secret it is wet your hands.
Don't soak them, just run your clean hands under the tap, then shake of the excess water, so your hands are left damp.
This will make the balls easier to bring together and roll.
💭 Coating with chocolate tip
Bounty balls are well coated in melted dark chocolate.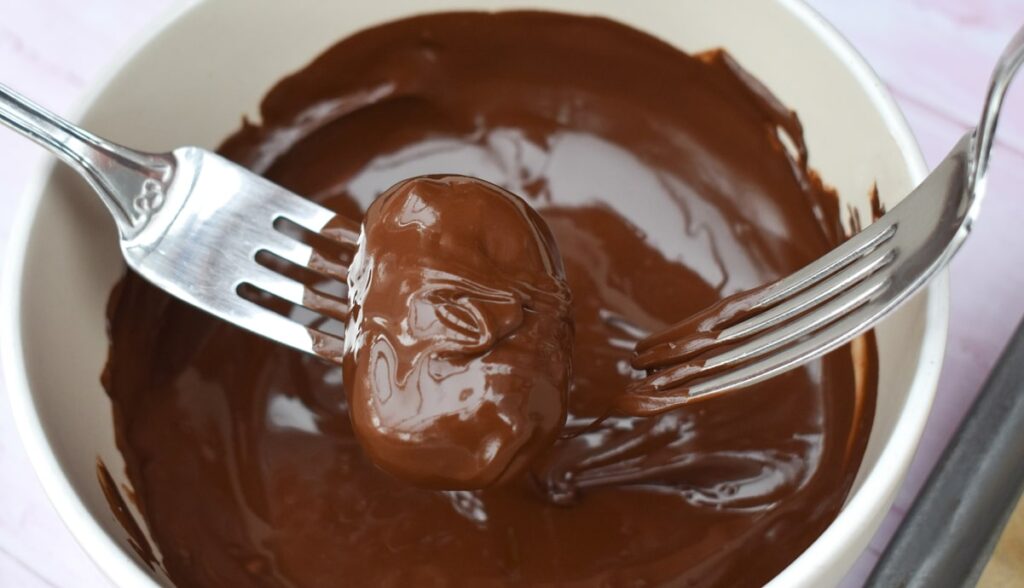 I find the easiest way is to pick them up, well cradle them with the tines of two forks as pictured above and lower them into the chocolate.
I used this technique for my vegan Snickers bites made with dates.
You can use this technique with coconut bars too.
💭 Line a baking sheet
Once coated in chocolate the dark chocolate bounty bars are paced onto a baking paper or parchment-lined baking sheet to set.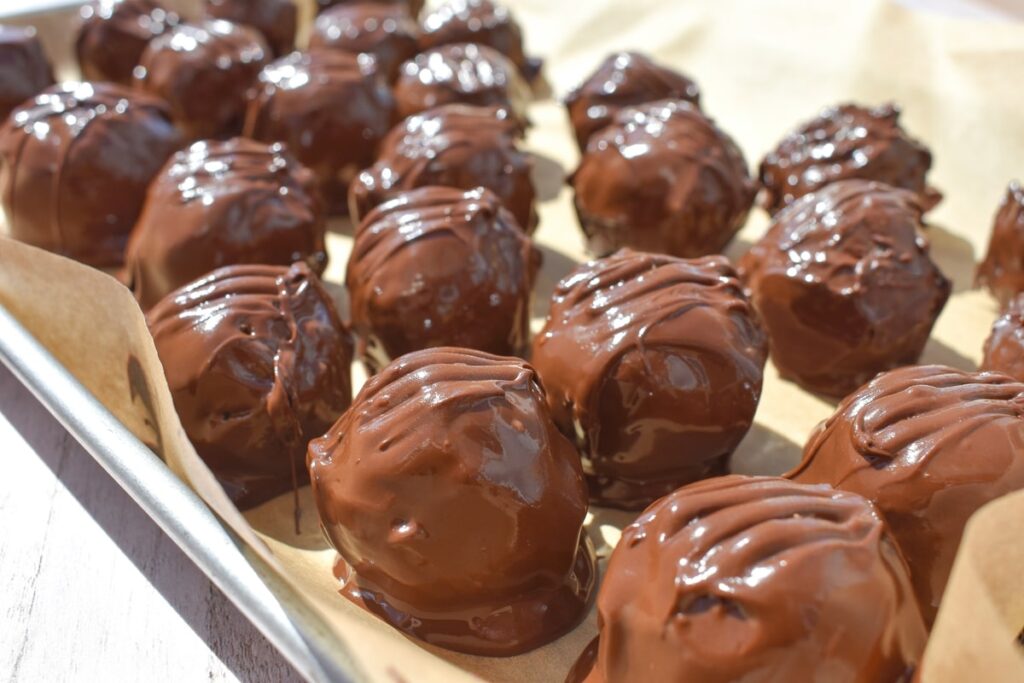 It's best to prepare this first.
I buy my non-stick baking paper in precut sheets, which are coated on both side.
They are very useful.
🍴 Mark the top of the coconut bites
Once you have coated the bars or balls with chocolate, use the fork to make a pattern similar to the shop-bought bars.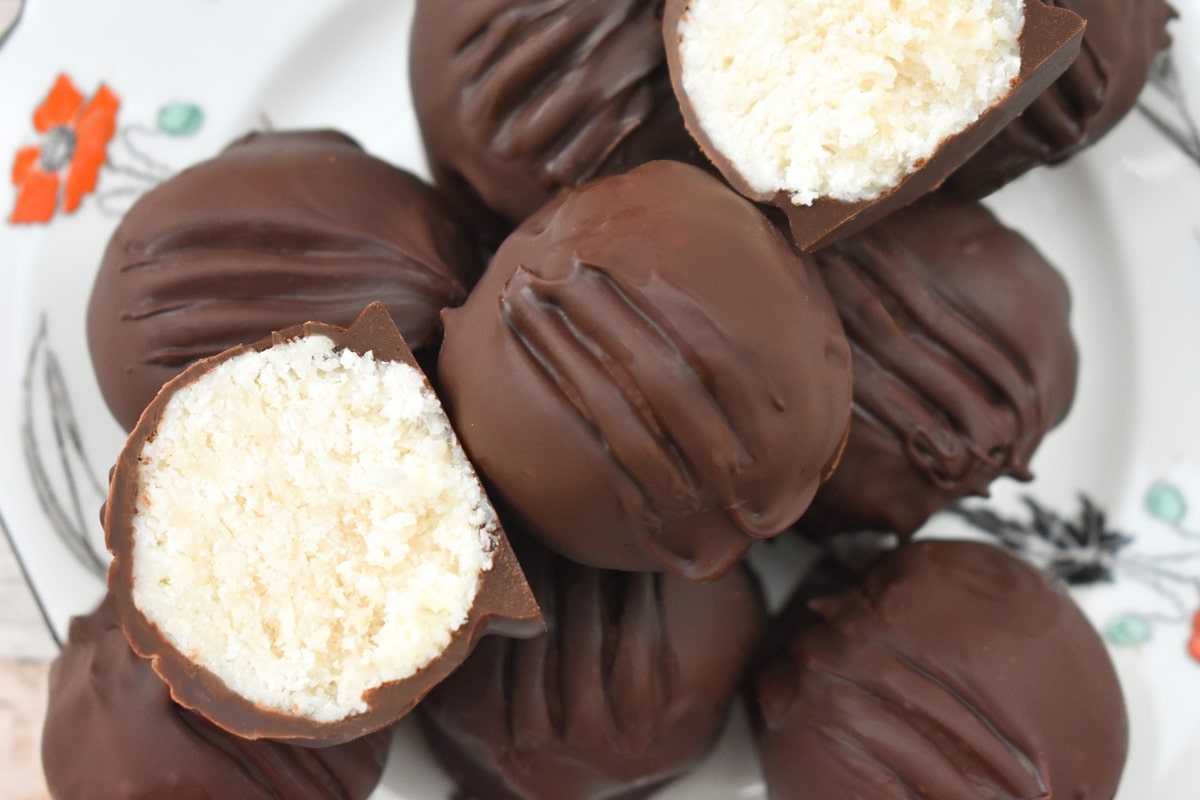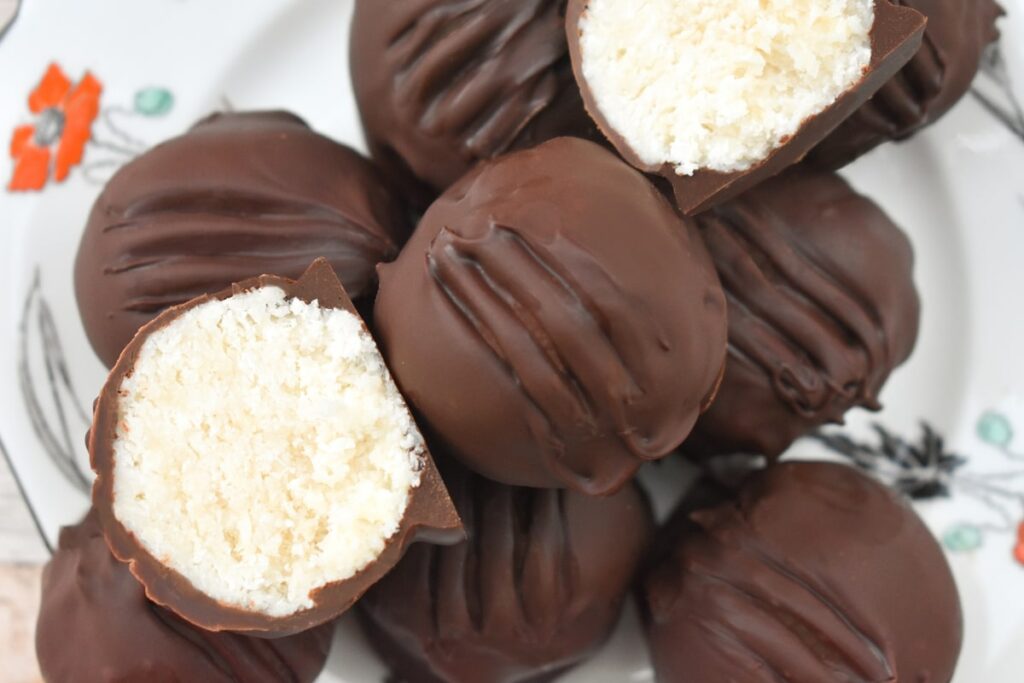 It is a nice finishing touch and can be achieved by pressing the tines of the fork into the still-wet chocolate.
Then just pop them into the fridge to set.
💭 Storing Bounty Bites
You can store these bounty bars (mound bars) in an airtight container in the fridge for up to a week.
⭐ More vegan snack bars
Here are a few more vegan snack bars for you to try.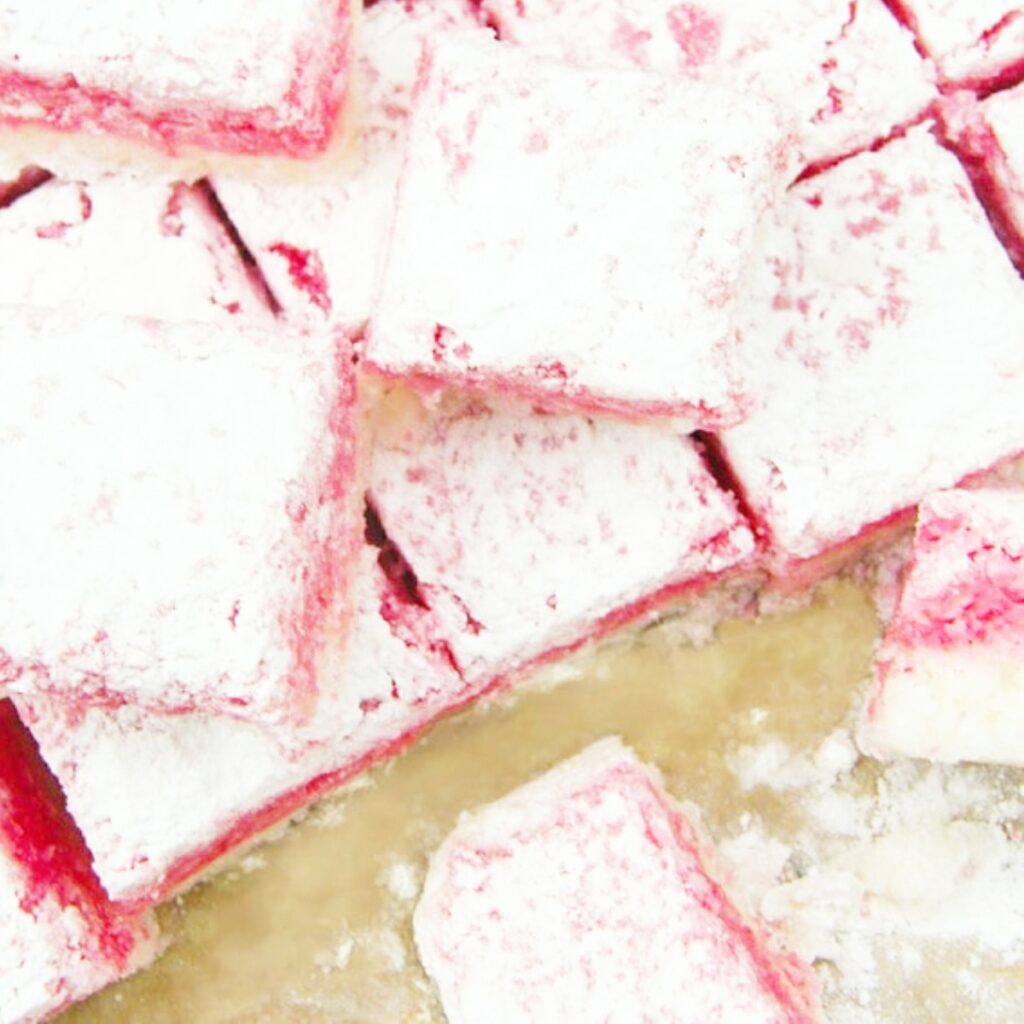 Check out my cakes and bakes recipes for more sweet treats.
Another recipe to try using vegan condensed milk is easy vegan peach ice cream.
📋 Want new recipes delivered to your inbox?
If you don't want to miss any of my new recipes, sign up in the green box below and I will send you my new recipes by email when they are published.
Never miss a recipe again!
Also, sign up for my Tinned Tomatoes newsletter for a selection of recipes delivered to your inbox each week or sign up for my email updates and don't miss out on the latest recipe.
Check your spam folder if they don't arrive, I share a new recipe on each of my blogs every week.
⭐ Pin it for later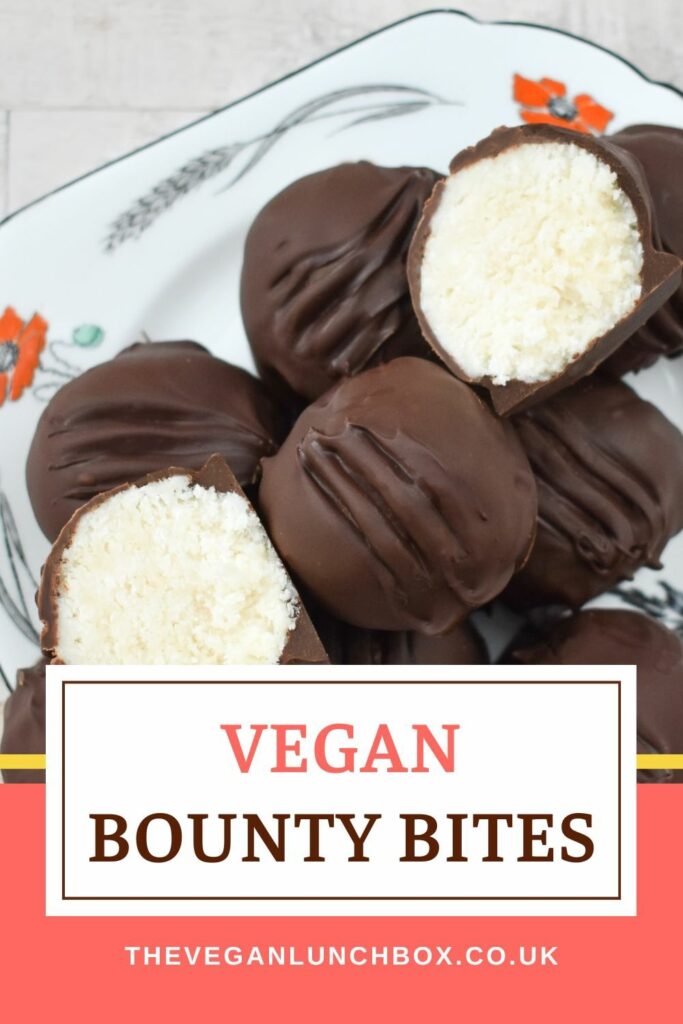 Follow me on Pinterest, Facebook, Twitter and Instagram.
🥦 Living on the Veg
Once you've signed up for my newsletters and followed me on social media, why not join my Facebook group Living on the Veg?
Such a friendly community with lots of recipes and chat. I'm in there every day chatting. It's such a nice place to spend time.
👩🏻‍🍳 Step-by-step photos
Step-by-step photos. Keep scrolling for the full printable vegan bounty bars recipe (with full ingredient list and nutritional info).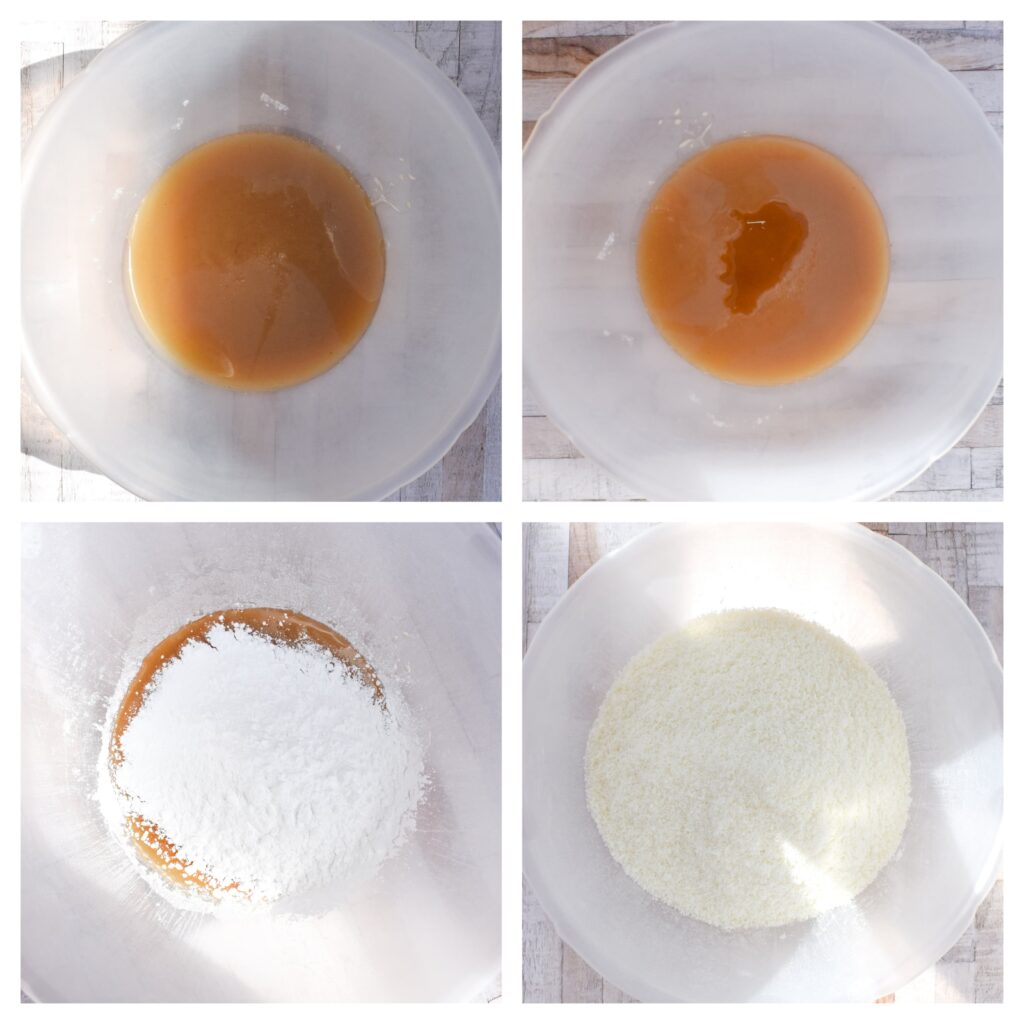 Step 1
In a large mixing bowl, add the vegan condensed milk and add the vanilla extract and a pinch of salt.
Now add the icing sugar and coconut.
Step 2
Mix well, then roll into balls and set aside.
Now melt the chocolate.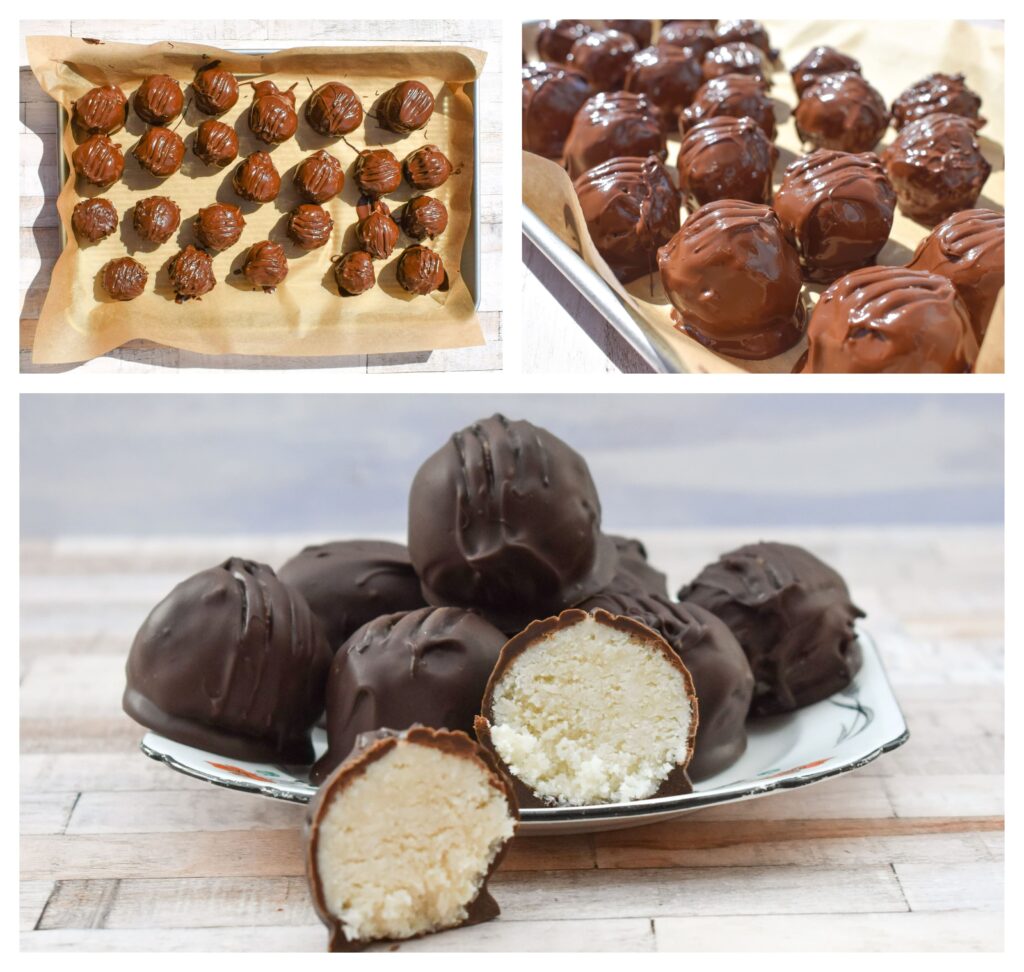 Step 3
Use two forks, to lower the coconut balls into the chocolate, coat them, then place on a non-stick baking sheet.
Once you have coated them all, use the tines on a fork to press that authentic shape into the chocolate.
Pop in the fridge to chill.
Enjoy!
📖 Recipe
Vegan Bounty Bars
If you love Bounty bars, you will love these easy vegan bounty bars, which are really just chocolate-covered coconut bites. They are divine!
Ingredients
370

g

vegan condensed milk

200

g

icing sugar

(confectioner's sugar)

1

teaspoon

vanilla extract

1

pinch

salt

400

g

dessicated coconut

350

g

dark chocolate

(or dark chocolate chips)
Instructions
In a mixing bowl, add the condensed milk, coconut, icing sugar, vanilla and salt and mix well to combine.

With clean, damp hands shape the bounty bar filling into balls or bars and place them into a plate or lined baking tray and pop them in the fridge.

Now melt the chocolate in the microwave or in a bain marie (notes below). If you are melting in the microwave it will only take between 1-2 minutes, so keep checking and giving it a stir.

Use two forks to cradle the coconut balls or bars and lower them into the melted chocolate, coat and than place on a plate or lined baking sheet.

Once they are all coated, press the tines of a fork in the melted chocolate to make that destinctive pattern.
Notes
Bain-Marie - To melt the chocolate in a bain-marie, pop a bowl over a pan of simmering water. The bowl should not touch the water or the chocolate will seize. Add the chocolate to the bowl and stir until melted. Storing Bounty Bars - You can store these bounty bars in an airtight container in the fridge for 1 week.
Nutrition
Serving:
1
bite
Calories:
194
kcal
Carbohydrates:
25
g
Protein:
3
g
Fat:
10
g
Saturated Fat:
7
g
Polyunsaturated Fat:
0.2
g
Monounsaturated Fat:
2
g
Trans Fat:
0.003
g
Cholesterol:
0.3
mg
Sodium:
28
mg
Potassium:
124
mg
Fiber:
3
g
Sugar:
21
g
Vitamin A:
42
IU
Vitamin C:
0.1
mg
Calcium:
67
mg
Iron:
2
mg