An individual and easy vegan fruit trifle made with microwave sponge cake. Perfect when you want a quick but luxurious vegan dessert.
I love homemade fruit trifle.
It's a really popular dessert in Scotland. My mum made it every weekend when I was a child and her mum before her and so on.
Of course, it can be a wee bit trickier making a vegan trifle what with the sponge and the jelly but I've simplified it for you.
You are going to love it!
And yes it is a rather generous portion!
Jump to:
🍨 What is a trifle?
A trifle is a layered British dessert, that is a popular Sunday pudding in Scotland.
It was first made in the 16th century, but back then it was just alcohol-soaked sponge topped with custard and cream.
The jelly and fruit were added later.
🍨 What is in a Scottish trifle?
A Scottish trifle is probably very similar to an English trifle.
Some people add custard and some people don't. The same with the jelly.
I personally think it needs both.
The Scottish trifle I grew up eating had it all.
The sponge is also often soaked with sherry or brandy.
My mum can be quite heavy handed with the sherry. Very boozy indeed.
🥃 Tipsy laird
Of course, in Scotland, we have our own twist on a trifle.
It's called a tipsy laird.
Isn't that a fabulous name?
Instead of sherry, the sponge is soaked with whisky and instead of jelly, there is a layer or raspberry jam.
It still has the custard and cream layer.
Just lush!
🍊 Can you make trifle without alcohol?
Trifle can be made with no alcohol.
Fruit juice is the key.
If you're using canned fruit, you can spoon some of the juice over the sponge and if you're using fresh fruit, you could spoon over some orange juice.
For this vegan trifle, I used canned mandarin, so I used some of the mandarin juice to soak the sponge.
⭐ Hit the heart
As you scroll down the page a heart will appear on the right hand side (mobile & pc).

Hit the heart to like the recipe and to save your favourite recipes or share them.
📋 Vegan trifle ingredients
Here are the simple ingredients you need to make this easy vegan fruit trifle.
Sponge - a vegan sponge, I include a recipe for a microwave sponge, but you can use shop bought (see below)
Mandarins- I used canned mandarins and some of the juice
Jelly - vegan orange jelly (see below)
Custard - ready-made vegan custard, we like Alpro custard
Whipped cream - vegan of course, we like Elmlea Plant
Sprinkles - optional but fun
📋 Vegan microwave sponge ingredients
If you would like to make your own vegan sponge, here are the ingredients you will need.
Plain flour - also known as all-purpose flour
Sugar - I use caster sugar
Baking powder
Salt - just a pinch
Oil - I use a mild olive oil but vegetable oil is fine too
Milk - use whichever type you have in the fridge, I use oat milk
Vanilla extract - buy vanilla extract if you can afford to, it's much nicer than essence, which is artificial
🍰 Microwave vegan sponge cake
Vegan sponge cakes are still not readily available everywhere, so it's good to make your own.
The joy of making a microwave sponge is it's super quick to make and only uses a few spoonfuls of ingredients.
And best of all it is baked in a couple of minutes.
Remember, you do have to wait for it to cool before making your individual trifle.
🥣 Vegan jelly
Vegan Jelly can be hard to get hold off here in the UK.
Supermarkets used to stock a raspberry glitter jelly powder in sachets by the brand Hartleys but I've not seen that one for years.
I've also not seen the strawberry jelly powder, that used to come in a white sachet in my local supermarket, although I'm sure health food shops still do it.
And of course, there is always vegan supermarkets online if you get stuck.
🥣 Quick vegan jelly
I was in the supermarket buying some bits and pieces for my son's lunchbox when I had a eureka moment standing in front of the little pots of Hartley's ready-to-eat jelly (which are suitable for vegans).
"Why not just use this to make a trifle?" and boy am I glad I gave it a go.
It's quite soft, so it just sort of flowed in a fairly even layer.
Perfect!
🥣 Ready-made vegan custard
For the custard, you could use custard powder and make a batch up but I just buy ready-made custard.
It's very good quality and so convenient.
Our favourite is Alpro custard which is creamy and has a really good vanilla flavour.
📖 Substitutions
Here are a few tweaks you can make to this trifle.
Smaller portions - once you have baked the sponge in the microwave, divide it into two smaller glasses.
Raspberry trifle - add a layer or raspberry jam on top of the sponge, then raspberries and use raspberry jelly.
Strawberries - same as above but strawberries, strawberry jelly and jam.
Chocolate - flavour the custard with cocoa powder for a chocolate orange trifle and grate dark chocolate to decorate the trifle instead of sprinkles.
Squirty cream - you could use vegan squirty cream instead of whipping cream.
Love this recipe? Check out a few of my other vegan microwave mug cakes. You may also enjoy my easy vegan raspberry mousse.
🍨 What do you serve trifle in?
A trifle is usually served in a big clear glass bowl, so you can see all the gorgeous layers, however, if you are making individual trifles, you want something smaller.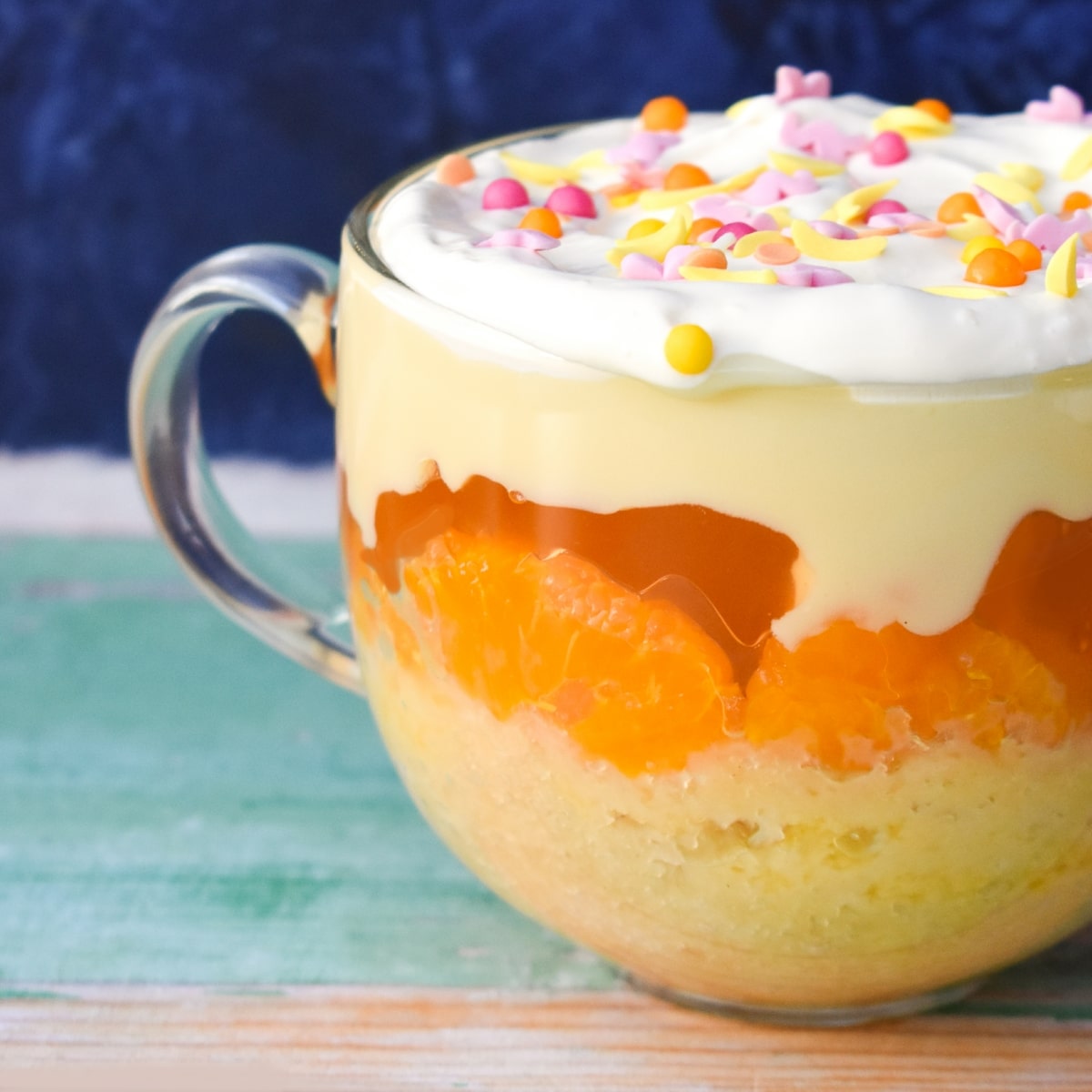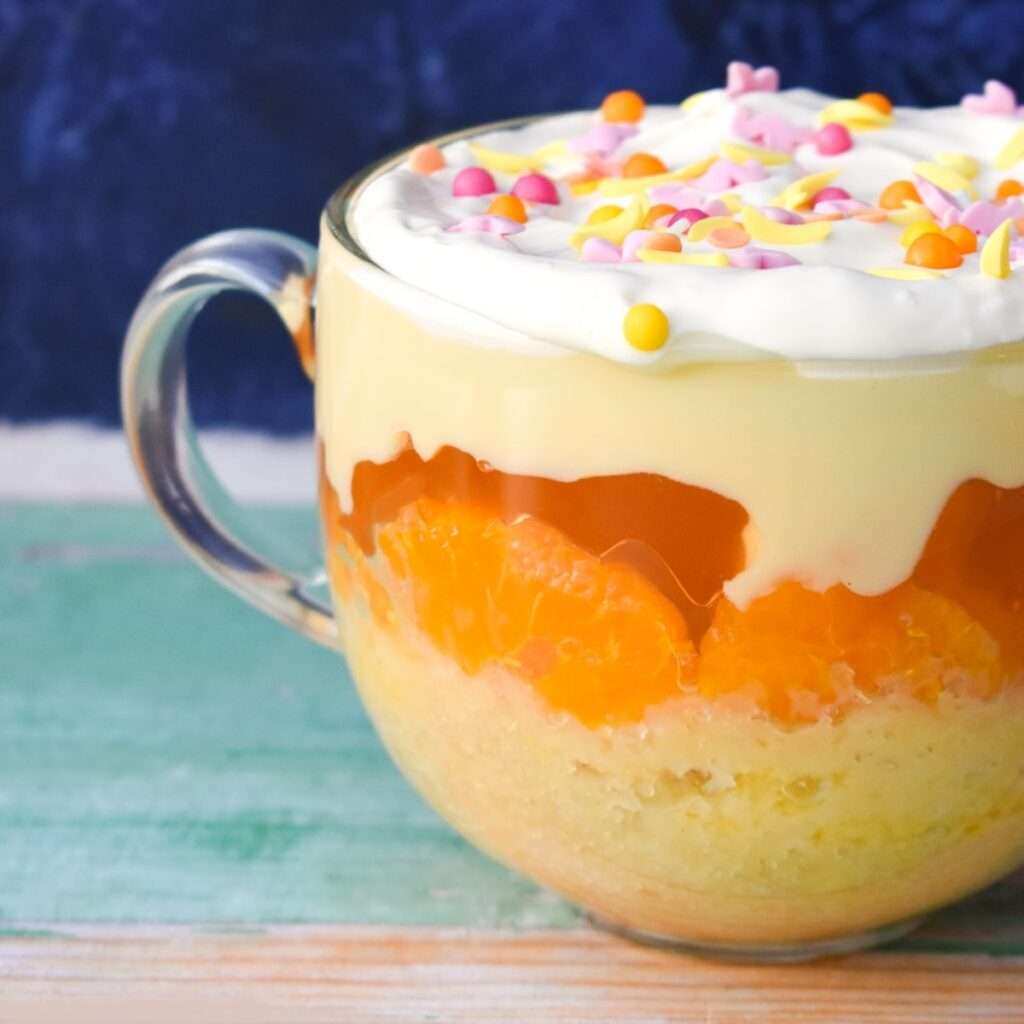 I used a glass mug, that was microwave safe, but it was quite a large portion.
You could use any big mug to make the sponge and then decant it into wine glasses or small nip glasses, the type you would serve a whisky in.
🍦 More vegan sweet treats and desserts
Looking for more sweet vegan treats? Try these:
👩🏻‍🍳 How to make easy vegan fruit trifle
Step-by-step photos. Keep scrolling for the full printable recipe (with full ingredient list, calories and nutritional info).
Step 1
Mix all the sponge ingredients (full recipe below) and pour into a large microwave-safe mug.
Microwave for 2 minutes until springy to the touch.
Spoon some of the juice from the can of mandarins over the sponge.
Now add a generous layer of mandarin segments.
Step 2
Now add the jelly, you may need to smoosh it a little, but it should settle into a fairly even layer.
Add a generous layer of ready-made custard. Wow, look at those gorgeous layers!
Lastly, add a layer of whipped vegan cream or vegan squirty cream and finish the trifle off with some sprinkles.
Enjoy!
📖 Recipe
Easy Vegan Fruit Trifle with Microwave Sponge Cake
An individual and easy vegan fruit trifle made with microwave sponge cake. Perfect when you want a quick but luxurious vegan dessert.
Ingredients
Sponge ingredients
4

tablespoons

plain flour

(all-purpose flour)

2

tablespoons

caster sugar

½

teaspoon

baking powder

1

pinch

salt

1

tablespoon

mild oli

(or vegetable oil)

3 ½

tablespoons

oat milk

(or whatever you usually buy)

½

teaspoon

vanilla extract
Trifle Ingredients
4

teaspoons

mandarin juice

(from the can or orange juice if you are using fresh mandarins or easy peelers)

100

g

mandarin segments

(or one peeled & segmented fresh mandarin/easy peeler etc)

125

g

vegan jelly

(I used ready to eat Hartley's orange jelly)

6

tablespoons

vegan custard

6

tablespoons

vegan double cream

(whipped with 1 teaspoon sugar)

1

pinch

sprinkles
Instructions
Add the sponge ingredients to a bowl and whisk until smooth, then spoon into a large microwave safe mug and microwave for 2 minutes (see notes) until springy to the touch.

Once the sponge is cool top it with the fruit juice, then a layer or fruit.

Now add the ready-made jelly, smooch it a bit before adding the next layer.

Next, add the layer of custard.

Finish with a layer of whipped (or squirty) cream and sprinkles.
Notes
I made a large trifle, which is enough for two I recommend, dividing the sponge and other ingredients into two smaller glasses.
My microwave is 800 watts. If yours is stronger the cake will be baked quicker than 2 minutes.
You can make up vegan jelly with jelly powder but it works really well with ready-made jelly.
Nutrition
Serving:
1
serving
Calories:
397
kcal
Carbohydrates:
83
g
Protein:
7
g
Fat:
16
g
Saturated Fat:
5
g
Polyunsaturated Fat:
6
g
Monounsaturated Fat:
5
g
Sodium:
491
mg
Potassium:
367
mg
Fiber:
1
g
Sugar:
23
g
Vitamin A:
834
IU
Vitamin C:
24
mg
Calcium:
208
mg
Iron:
2
mg