This Easter make a batch of vegan mini egg tiffin which is a no-bake chocolate traybake. A fun springtime snack.
No-bake traybakes or fridge cakes as they are also called, are one of the easiest snacks you can make and there's no baking involved.
My latest recipe is an Easter fridge cake.
An easy vegan mini egg tiffin.
Jump to:
🍫 What is chocolate tiffin?
Chocolate tiffin is a traditional Scottish teatime treat sold in cafes and bakeries in Scotland as well as made at home.
Tiffin consists of crushed biscuits (cookies) mixed with butter, cocoa powder and golden syrup.
Historically Scottish tiffin also includes raisins which give a nice chewy finish.
It is chilled and topped with a layer of chocolate.
👩🏻‍🍳 History of Scottish chocolate tiffin
Chocolate tiffin was created in the early 1900s in a bakery in Troon on the west coast of Scotland.
It soon became a popular teatime treat all over Scotland and is still widely available and made in homes today.
🍫 Look out for fake tiffin
Many recipes for tiffin are made by just mixing ingredients with melted chocolate a bit like a chocolate bark or a chocolate fridge cake.
They are not a traditional chocolate tiffin and the texture is all wrong.
A proper Scottish tiffin should be soft and chewy with a bit of bite.
It's all about the texture.
So if you see one of those recipes, then scroll on by feeling smug!
🐇 Easter chocolate tiffin
Easter is approaching fast and I wanted to make some tasty Easter treats, so I created this mini eggs tiffin.
It's colourful, fun and super easy to make without switching the oven on.
Quick to make too, so you can whip it up before bed, top it with chocolate and leave it in the fridge to set overnight.
Or make it in the morning to enjoy later in the day.
Perfect with a cuppa on Easter Sunday.
🍬 Vegan mini eggs
Here in the UK we all know and love Cadbury's Mini eggs, but unfortunately, they are not suitable for vegans.
Luckily a wee company called Doisy and Dam created a vegan version of the Cadbury's mini eggs.
The shell is a fair bit crisper than the originals, but they are still rather yummy and perfect for Easter bakes and cakes.
If you are buying some of these vegan mini eggs anyway, why not buy extra and make a batch of my Easter Mini Egg Ice Cream which is an easy no-churn ice cream.
👩🏻‍🍳 Crushing mini eggs
When you are adding mini eggs to an Easter bake or cake, it's a good idea to crush some and leave some whole.
It looks rather nice and it give a bit of texture.
My tip for smashing them is to bash them with the end of a rolling pin while they are still in the sealed bag they are sold in.
Try smashing them on a cutting board and they will fly everywhere.
Best to keep them contained.
You'll thank me!
📋 What you need to make vegan mini egg tiffin
Here are the simple ingredients you need to make this delicious vegan mini egg recipe.
Oreo cookies
Butter - vegan butter or spread
Golden syrup - maple syrup just isn't as good in s tiffin
Cocoa powder - for that chocolate flavour
Salt - just a touch
Jelly tots - or other vegan jelly sweeties chopped and added for a bit of chew
Mini eggs - vegan style
Dark chocolate - for that top layer
📖 Substitutions
Here are a few substitutions you can make to this recipe.
Biscoff cookies or vegan Digestives (graham crackers) - instead of oreo cookies
Maple syrup - instead of golden syrup, but try to get golden syrup if you can as it has a wonderful caramel flavour
Raisins - instead of Jelly Tots
White chocolate - vegan white chocolate could be melted and used as a drizzle or as the topping instead of dark chocolate
If you love the idea of a slice of Scottish tiffin, also try my Biscoff tiffin and pretzel tiffin. I even make a version of tiffin with cornflakes.
💭 Chocolate tiffin-making tips
Here are a few tips for making the best chocolate tiffin.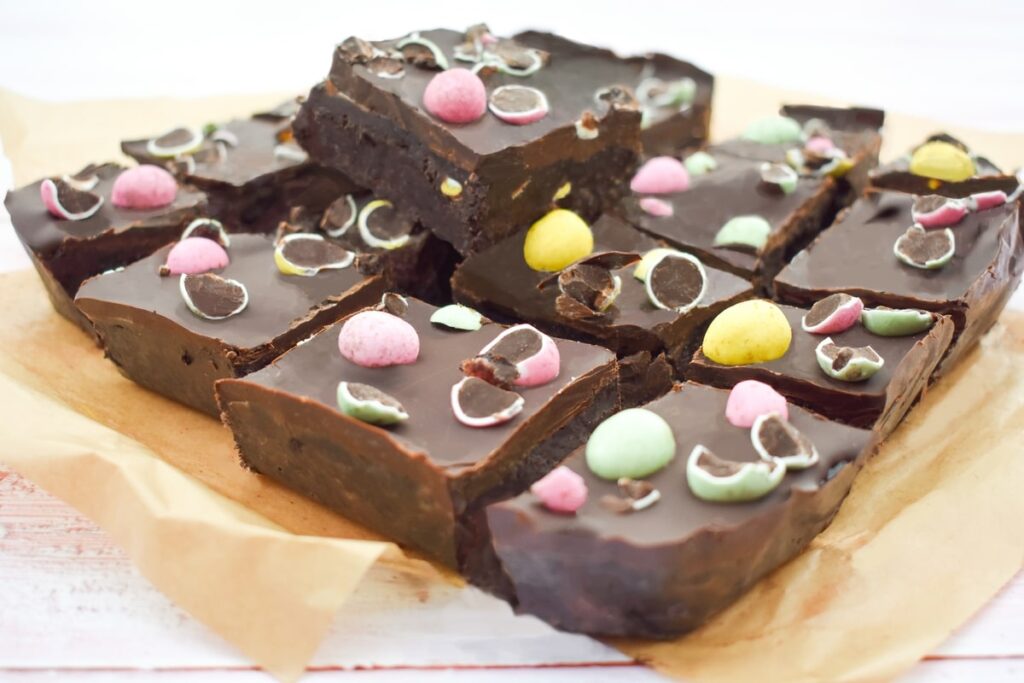 Line the pan - I use a 20 cm x 20 cm (8 inch x 8 inch) brownie tin to make tiffin and line it with two long strips that cross each other and the excess hangs over the edge of the pan, for easy removal.
Butter the pan first - I rub a little vegan butter over the pan first, to hold the non-stick baking paper in place.
Fine crumb - crush or process the biscuits into a fine crumb which will soak up the chocolate mixture.
Score the chocolate - score the lines where you will cut the chocolate bars while the chocolate is only half set. It will prevent cracking when you cut into the set chocolate.
🍫 Dark chocolate or chocolate chips?
The chocolate topping is an important part of this cake slice, so you want to get it right.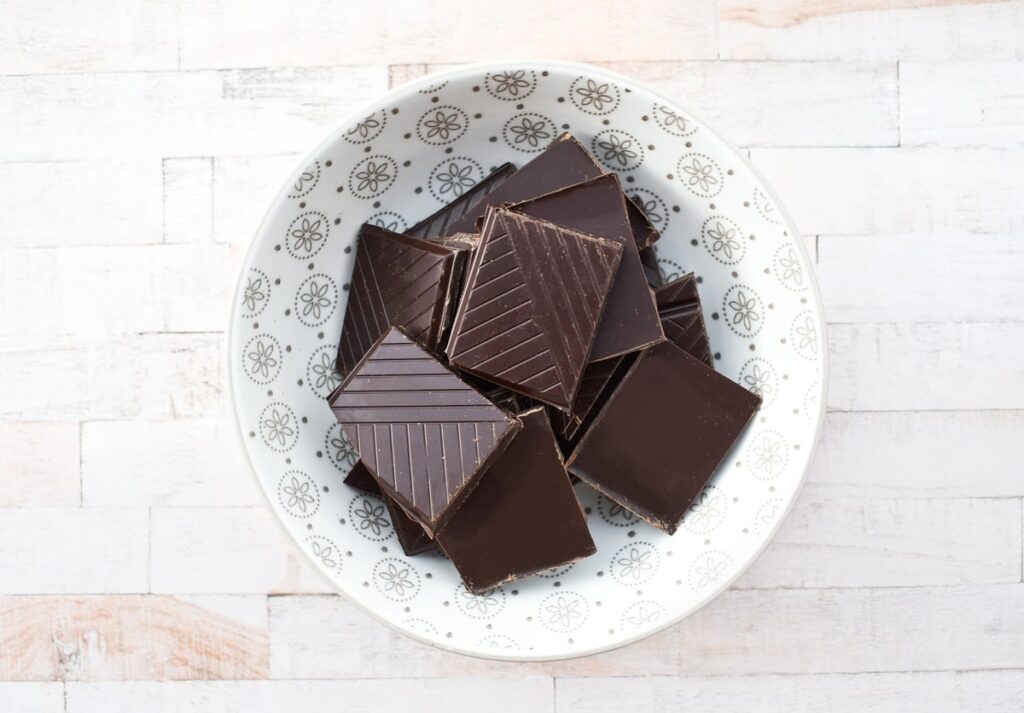 I recommend melting a good quality dark chocolate that is suitable for vegans instead of melting chocolate chips.
As you can really taste the chocolate when you bite into the bar, you want it to taste delicious.
Of course, if you only have chocolate chips, you can melt them instead, but plan the recipe if you can for best results.
🌡️ Storing Easter tiffin
Once cut into squares or slices, store this mini egg fridge cake in an airtight container in the fridge.
If you're storing in more than one layer, it's a good idea to add a sheet of baking paper between the layers to keep them from sticking.
🐇 Related Easter recipes
Looking for more easy vegan Easter recipes? Try these:
👩🏻‍🍳 How to make mini egg tiffin for Easter
Step-by-step photos. Keep scrolling for the full printable recipe (with full ingredient list, calories and nutritional info).
Step 1
First hit the heart to the right of this recipe to save it so you can find it again and to give it a thumbs up, then line your brownie tin.
Now add the vegan butter, cocoa powder, salt and golden syrup to a pan and heat gently to melt.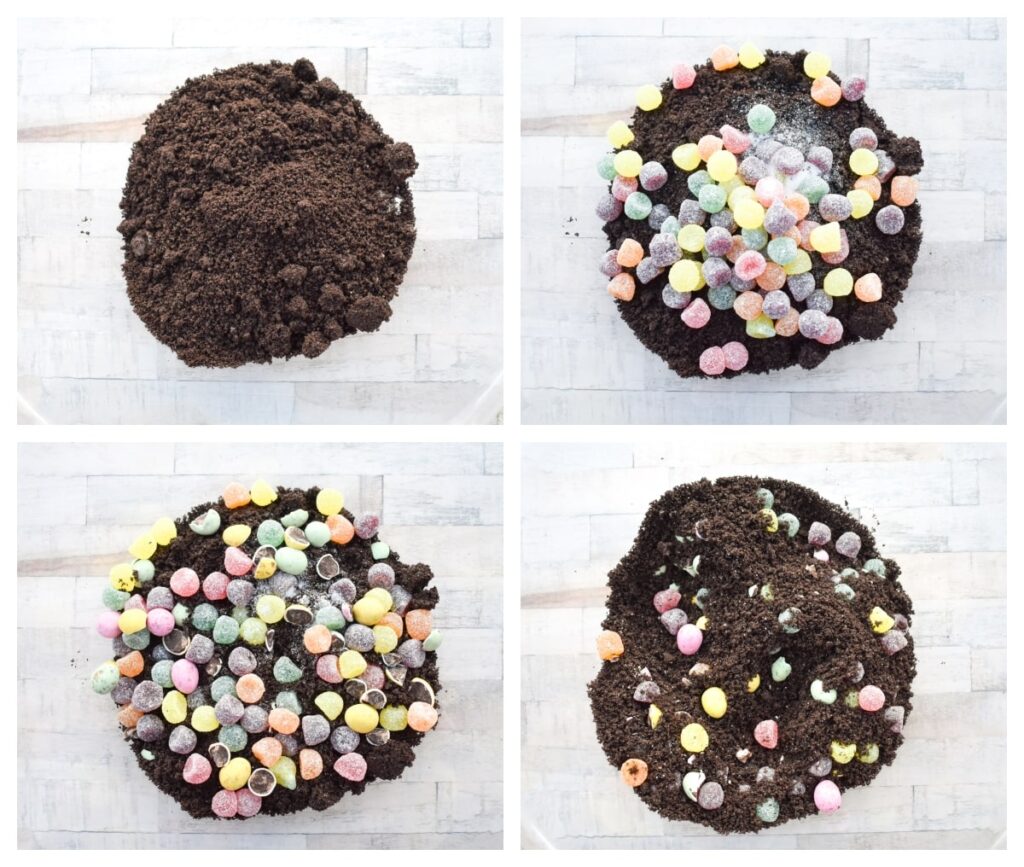 Step 2
Crush some of the mini eggs (I use the end of a rolling pin on the sealed bag of eggs) and set aside.
Crush or whizz the Oreos in a food processor until you have a fairly fine crumb.
Pour the Oreo crumbs into a mixing bowl and add the jelly tots and mini eggs (reserving some for the topping, don't worry, I list this separately in the recipe card.
Mix well.
Step 3
Add the melted cocoa mixture to the crushed biscuits and mix well, then pour into your lined brownie tin.
Level with the back of a spoon or a spatula and chill.
Next, melt the chocolate in the microwave (it usually takes me about 2 minutes, stirring occasionally and keeping an eye on it) or in a bain marie (a bowl suspended in a pan, over simmering water, but not touching the water).
Pour it over the chilled tiffin and smooth, then pop back in the fridge to melt.
When the chocolate is partially set, score your squares or bars, well at least the chocolate. This will prevent the chocolate from splintering when cut.
Step 4
While the chocolate is partially set, add the mini eggs for decoration. I added them before scoring the chocolate and found them awkward to cut through.
Once set, but into squares or bars and serve.
Enjoy!
📖 Recipe
Vegan Mini Egg Tiffin for Easter
This Easter make a batch of vegan mini egg tiffin which is a no-bake chocolate traybake. A fun springtime snack.
Ingredients
300

g

oreos

(or vegan digestives/graham crackers/biscoff cookies)

50

g

cocoa powder

200

g

vegan butter

3

tablespoons

golden syrup

1

pinch

salt

75

g

Jelly tots

(or other soft vegan jelly sweeties chopped)

100

g

vegan mini eggs

(partially smashed)
Topping
200

g

dark chocolate

50

g

vegan mini eggs
Instructions
Line a 20cm x 20 cm (8 inch x 8 inch) square brownie pan. You can use a longer, rectangular pan but the bars will be thinner.

Crush the mini eggs and set aside.

In a pan (or large microwavable bowl) add the butter, golden syrup, cocoa powder and salt and melt.

Add the Jelly tots and first batch of mini eggsand mix well.

Whizz the biscuits to a fairyly fine crumb in a food processor or crush in a bowl with the end of a rolling pin, then add to the cocoa mixture in a mixing bowl.

Spoon into the lined brownie pan and press down evenly until well packed, then pop in the fridge to set.

Once set melt the chocolate. You can melt it in a bain marie (see notes below) or in a bowl in the microwave (keep an eye on it, it doesn't take long).

Pour the melted chocolate over the tiffin and smooth out in an even layer and pop back in the fridge,

When the chocolate is partially set, score the squares or bars with a knife, then top with the extra mini eggs, avoiding the cut lines.

Pop in the fridge to set them cut into squares or bars.
Notes
Instead  Jelly tots you can add raisins.
Maple syrup can be used instead of golden syrup, but golden syrup has a wonderful caramel flavour
These bars can be kept in the fridge for up to 5 days in an airtight container.
You can also freeze these bars. Wrap the whole tiffin or individual bars in freezer-friendly baking paper and store in a freezer bag in the freezer for up to 2 months. Take one out when you need a treat. They don't take long to defrost in the fridge.
Nutrition
Serving:
1
square
Calories:
254
kcal
Carbohydrates:
35
g
Protein:
3
g
Fat:
20
g
Saturated Fat:
8
g
Polyunsaturated Fat:
3
g
Monounsaturated Fat:
7
g
Trans Fat:
0.1
g
Cholesterol:
2
mg
Sodium:
168
mg
Potassium:
186
mg
Fiber:
3
g
Sugar:
23
g
Vitamin A:
504
IU
Vitamin C:
0.1
mg
Calcium:
28
mg
Iron:
4
mg