If you're craving dessert but don't want to make a family-size pie, this vegan microwave apple crumble is perfect. A generous single portion.
I'm very fond of mug cakes.
Perfect when you want a quick dessert or if you want individual portions.
This is my latest mug cake or more accurately mug dessert and it's perfect to serve as a winter pudding.
Jump to:
What is a crumble?
🥧 A crumble is a British pudding, which is called a crisp elsewhere.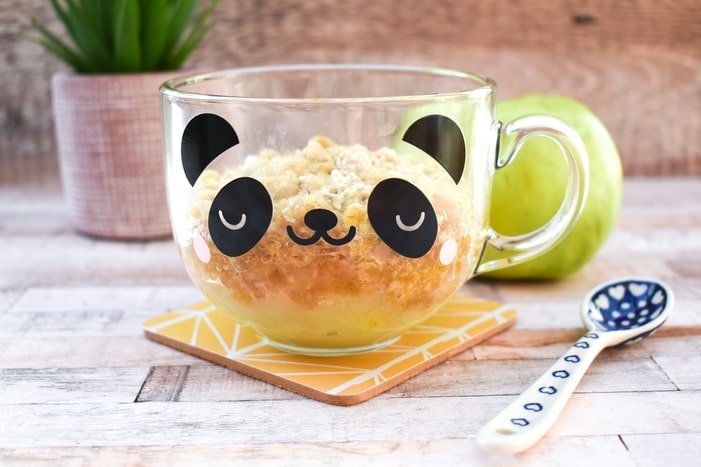 Basically, it's soft fruit topped with a crumbly, crisp topping.
My crumbles are made Scottish style with oats added to the crumble topping, which gives a fabulous texture.
I sometimes add raisins to the crumble topping too.
🍏 Which kind of apples are best for a crumble?
Any apple can be used in an apple crumble, but the flavour will vary.
When making an apple crumble or apple crisp you can use red or green apples, eating apples, or cooking apples.
Bramley apples were my choice this time, although if I didn't have any, I would just grab a couple of apples from the fruit bowl.
The only thing to remember when making this recipe, is bramley apples are pretty big apple, so if you are using smaller eating apples, you may want to use two.
💭 How to stop apples from browning when cut
Traditionally peeled and cut apples are tossed in a little lemon juice to stop them from browning.
Don't have lemons? Just toss them in some fruit juice from the fridge.
Fruit juice will be acidic too and do the same job as the lemon.
💭 How to make a crumble topping
Crumble topping is super easy to make.
It's basically just butter (vegan of course), flour and sugar rub together with fingertips until you have a breadcrumb-like texture.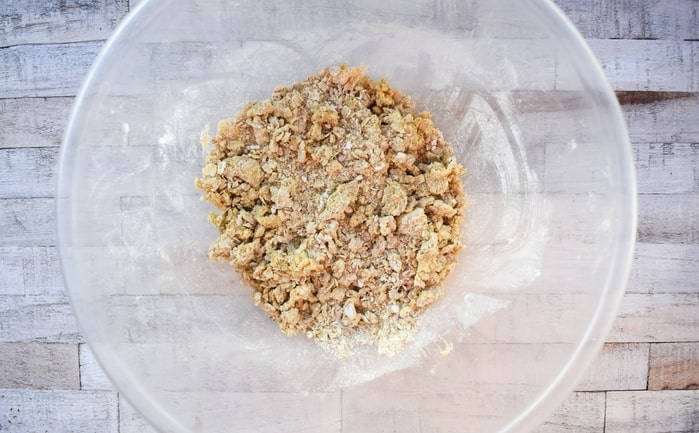 💭 Top tips for making the best crumble topping
Here are my top tips for making the best crumble (or crisp topping).
Use cold vegan butter just out of the fridge.
Add brown sugar, it will give an almost toffee or caramel flavour to the crumble.
Add oats (porridge oats, also known as rolled oats), they give a good texture.
Remember to add a pinch of salt, which will also boost the flavour.
You can add warming spices like cinnamon, ginger or nutmeg.
Don't overwork the crumble mix, use your finger tips and rub in the butter until it is just combined and resembles breadcrumbs.
Always make a lot of crumble topping as it sinks as it cooks, you will have much less than you think once it cooks.
📋 Recipe substitutions
Here are a few ideas for changes you can make when making this recipe.
Brown Sugar - you can use a white sugar instead of brown sugar, but the brown sugar gives it a lovely caramel-type flavour
Spices - you can flavour the crumble with spice, try cinnamon, ginger, nutmeg or mixed spice
Apples - ripe pears would be a good swap for apples and they don't need to be cooked before adding the crumble topping, or you could use frozen berries.
🍦 Serving vegan apple crumble
My favourite way to serve microwave apple crumble is to add a dollop of vanilla ice cream and serve while it's still hot, but here are a few more ideas.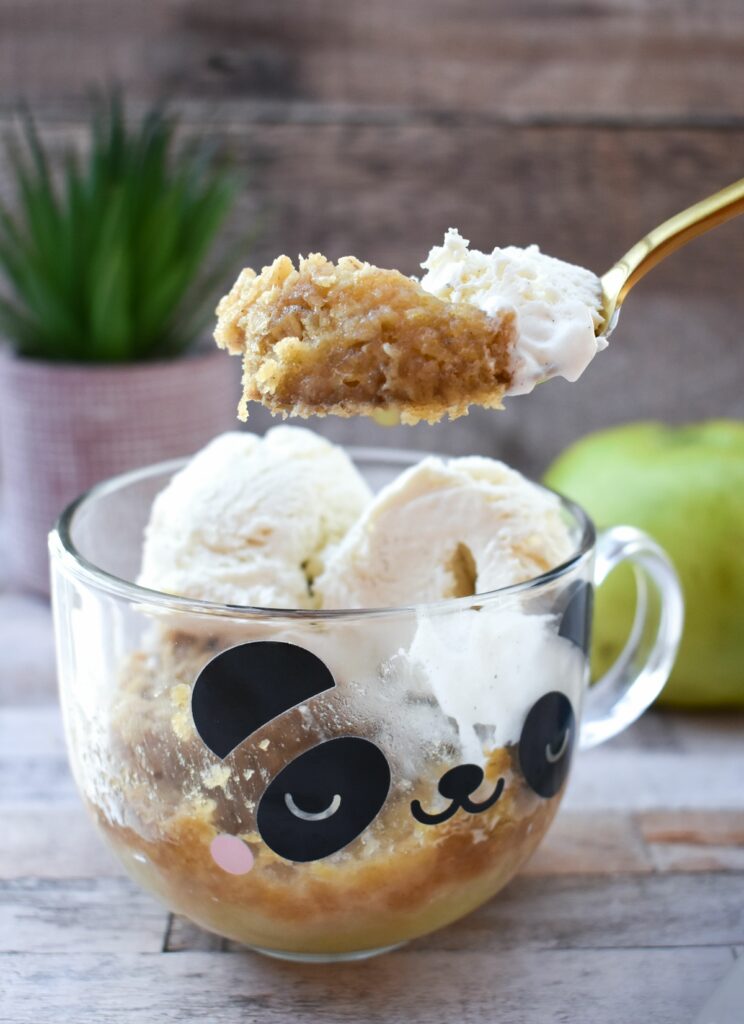 custard (vegan)
whipped cream (vegan)
squirty cream (vegan)
To serve the crumble in a bowl or plate with custard or cream, you can loosen the sides with a knife, then turn it onto a plate or a bowl.
Also, try Vegan Plum Crumble with oats for a family-size crumble.
☕ What type of cup do you need to make a mug cake?
When cooking a mug cake in a microwave, you need a generous size mug.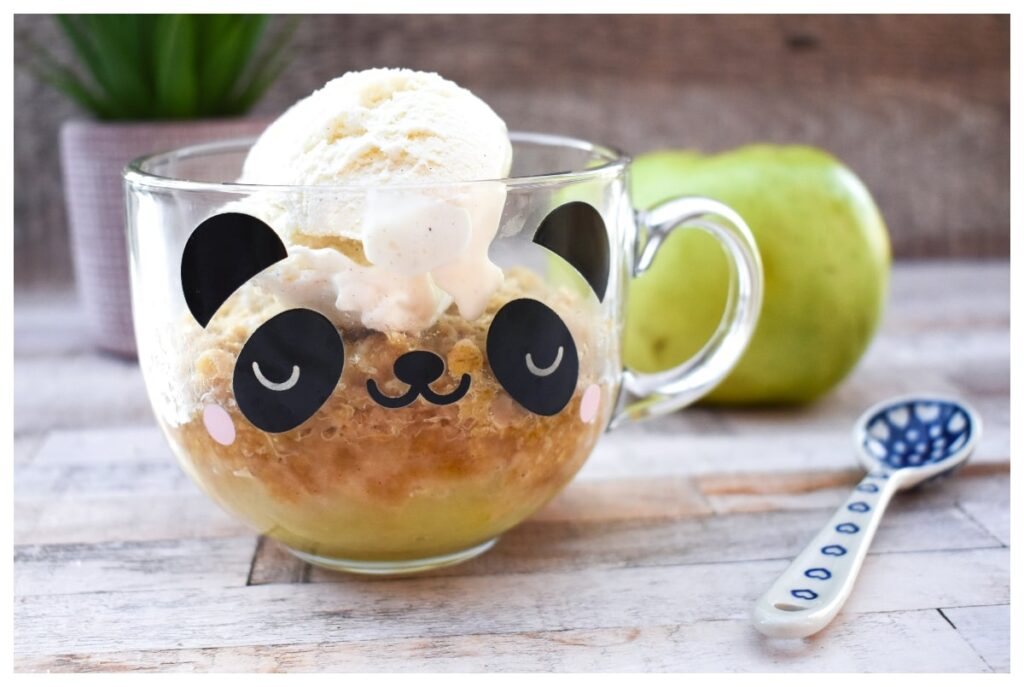 Think of the type of large mug you would use to make a hot chocolate or serve soup.
Look for a deep, wide mug and make sure it is microwave safe.
Glass mugs are great for mug cakes. They look so bonnie when you can see all the layers of the pudding, but it doesn't have to be glass, ceramic is fine.
In the UK? Asda is great for deep glass mugs like my panda mug.
🧁 More vegan mug cakes to try
Here are a few more mug cakes to try from my main blog Tinned Tomatoes.
Also, check out my guide Vegan Mug Cakes - What Microwaves Were Made For.
If you are looking for another easy dessert try this quick vegan raspberry mousse. So yummy!
📋 Want new recipes delivered to your inbox?
Sign up for my Vegan Lunch Box newsletter and I'll send the latest recipe straight to your inbox as soon as it is published.
Also, sign up for my Tinned Tomatoes newsletter for a selection of recipes delivered to your inbox each week or sign up for my email updates and don't miss out on the latest recipe.
Check your spam folder they don't arrive, I share a new recipe on each of my blogs every week.
Pin it for later
Follow me on Pinterest, Facebook, Twitter and Instagram.
🥦 Living on the Veg
Once you've signed up for my newsletters and followed me on social media, why not join my Facebook group Living on the Veg?
Such a friendly community with lots of recipes and chat. I'm in there every day chatting. It's such a nice place to spend time.
🧾 How to make Vegan Microwave Apple Crumble for One
Step-by-step photos. Keep scrolling for the full printable recipe (with full ingredient list and nutritional info).
Step 1
Peel, core and chop your apple and add to a large microwave-proof mug.
Add some water, then sprinkle some sugar over the apple, if it is tart (full ingredient list in recipe card below).
Step 2
Make up your crumble topping by rubbing the vegan butter into the flour, sugar and oats with your fingertips until it resembles breadcrumbs.
Cook the apple in the microwave briefly to soften it.
Pile on the crumble.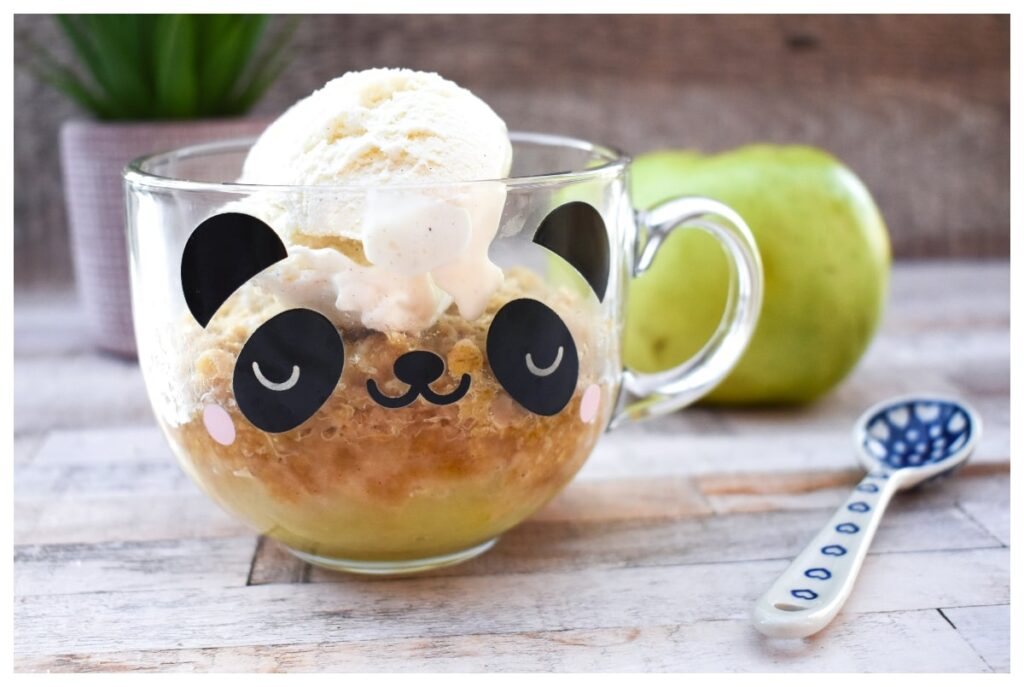 Step 3
Cook in the microwave, then serve warm with vegan ice cream or custard.
Enjoy!
Vegan Microwave Apple Crumble Web Story
📖 Recipe
Vegan Microwave Apple Crumble
An easy, Scottish-style apple crumble cooked in the microwave.
Ingredients
1

large

cooking apple

or 2 eating apples

6

tablespoons

plain flour

also called all-purpose flour

4

tablespoons

porridge oats

also known as rolled oats

2

tablespoons

demerara sugar

or brown sugar

1

pinch

salt

2

tablespoons

vegan butter

or margarine
Instructions
Peel, core and chop your apples into chunks.

Add the apple to a large microwave-safe mug, add 1 tablespoon of water and microwave for 1 minute to start to soften the apple. If the apple is tart, you can add a spoonful of sugar and stir in.

While the apple is cooking, make the crumble topping. Add the flour, dememera sugar, salt, porridge oats and vegan butter to a large bowl and mix the butter into the flour mixture with your fingertips until it turns into the texture of breadcrumbs.

Pile the crumble topping onto the apple and pop the mug back into the microwave for 2 minutes. (microwaves do vary in power, so if your microwave is powerful it may be ready in 1-1 1.2 minutes or it may take a little longer. My microwave is a mid-range model.

Serve with a dollop of vegan vanilla ice cream.
Notes
You can use brown sugar or caster sugar instead of demerara sugar.
Serve warm with custard or ice cream.
If you want to serve the crumble in a bowl or plate with custard or cream, you can loosen the sides with a knife, then turn it onto a plate or a bowl.
Nutrition
Serving:
1
g
Calories:
530
kcal
Carbohydrates:
105
g
Protein:
8
g
Fat:
20
g
Saturated Fat:
5
g
Polyunsaturated Fat:
6
g
Monounsaturated Fat:
8
g
Trans Fat:
1
g
Sodium:
225
mg
Potassium:
388
mg
Fiber:
9
g
Sugar:
47
g
Vitamin A:
1190
IU
Vitamin C:
10
mg
Calcium:
36
mg
Iron:
3
mg