Tried and tested lunch box ideas for vegan kids that are picky eaters.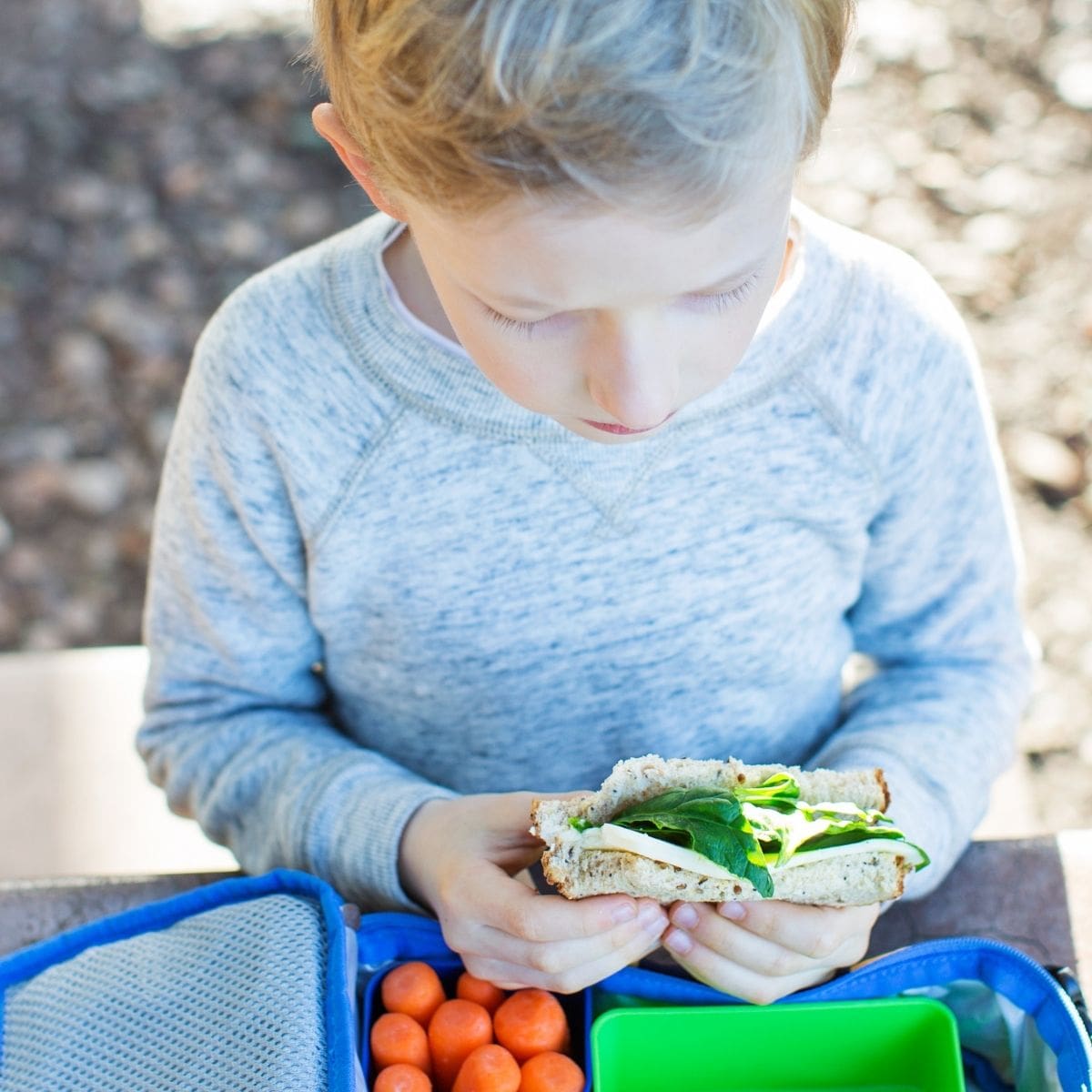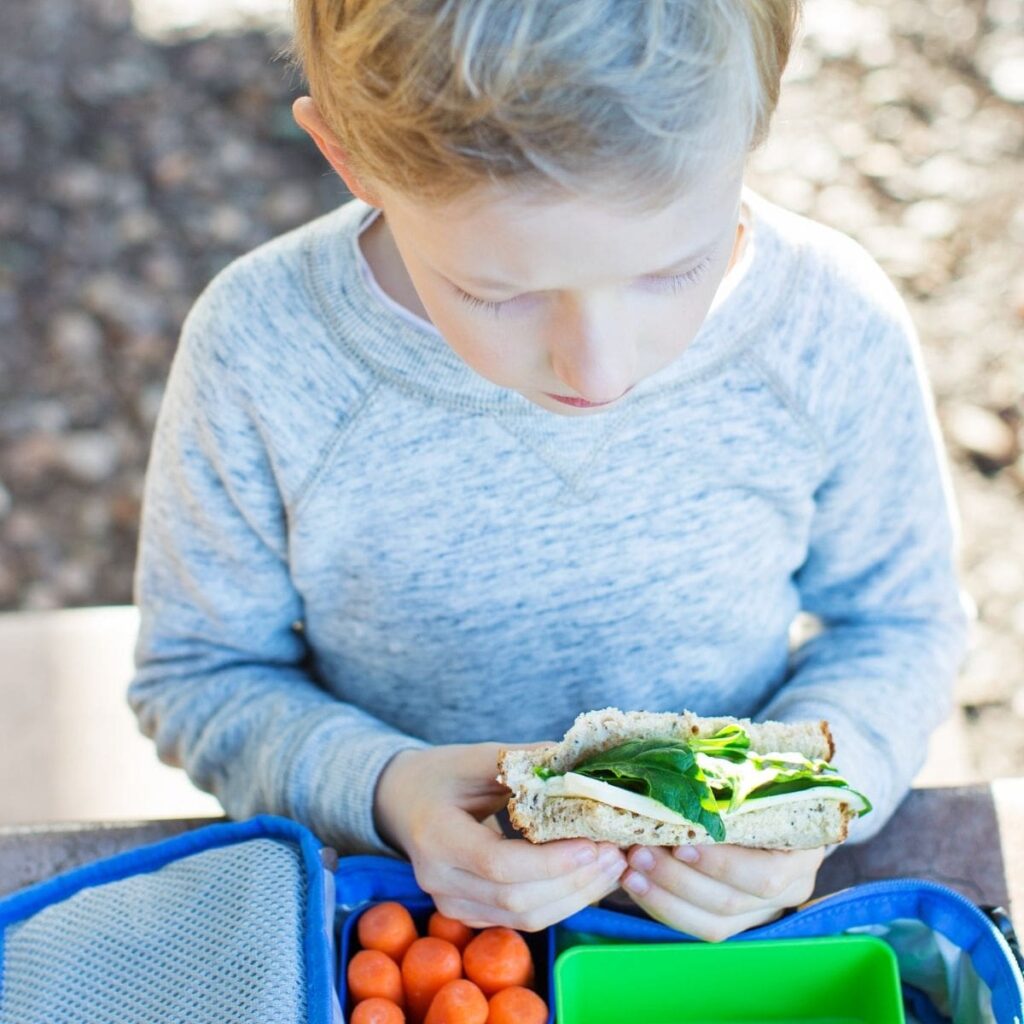 I wanted to share my easy meal plan to help other parents.
While my son eats a good range of food at home, he isn't great with traditional lunch options like sandwiches because he is rather picky.
There aren't many vegan options provided by the school (even less at the moment) and it's all things he just wouldn't eat and so packed lunches it is.
Jump to:
👪 Fussy eaters
It's so important to stay calm around fussy eaters and not to make lunchtime (or any other meal) a battleground.
Most importantly, work with your children to plan their meals and let them help decide what is added with a bit of gentle but firm guidance.
Good days and bad days
Remember, there will be good days where they eat lots and bad days when lunchboxes return with hardly anything touched.
Because let's face it sometimes kids are just not hungry or they want to run out to the playground to play with their friends more than they want to eat lunch.
⭐ You're doing a great job
Remember you are doing a great job just by caring and offering your children different options.
Will it always go as planned? No, but that's ok.
Don't make a big fuss about their uneaten lunches, but do remind them that lunch is important when they are working hard at school.
It can be hard to do, but you want lunch to be a positive experience.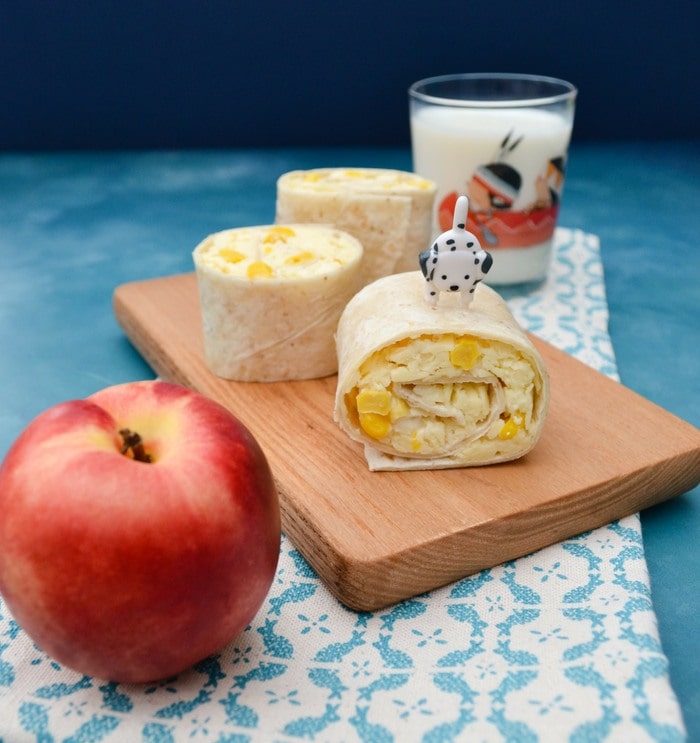 💭 Lunch is about more than sandwiches
If your child loves sandwiches, that's a great place to start, but if they don't I have the perfect meal plan for you.
Before we get to that I'm going to give you a list of simple sandwich ideas, then move onto my meal plan, which is mostly little bites of picky food.
I combine a lot of fresh food with shop-bought items and a few homemade bits and pieces, so it's really stress-free.
Nibbles of food that can be served bento box style that appeal more to picky eaters.
Just think about eating at a buffet (a vegan one of course) and how much fun it is to eat a little bit of everything.
🥪 Let's start with sandwiches
Before I get to the meal plan, let's look at sandwiches.
The thing to remember with kids, particularly picky eaters, is to keep the fillings simple.
Most picky eaters won't touch a sandwich that has lots of salad added to it, but remember you may get away with some crunchy veg on the side.
Which bread to use for sandwiches?
Here are a few bread options for sandwiches:
Brown bread
Soft white bread
Toast
Baguette
Bread roll
Finger roll
Panini
Bagel
Tortilla wrap
Pitta Bread
🍔 25 Simple vegan sandwich fillings
Here is a list of simple vegan sandwich fillings for vegan kids.
Grated carrot and hummus (try easy homemade hummus)
Vegan cream cheese and strawberry Jam
Vegan butter and raspberry jam
Cream cheese and cucumber
Peanut butter and strawberry jam (try this easy peanut butter recipe)
Bangers (cooked vegan sausages) and Hummus
Bangers and tomato ketchup
Grated vegan cheddar and tomato
Chocolate spread and banana
Lentil pate and cream cheese (try this black bean pate)
Refried beans and mashed avocado
Cream cheese and crushed blackberries
Mushroom pate with cucumber (try this mushroom pate)
Cheese savoury and cucumber
Rainbow sandwich (layers of grated or shredded cucumber, carrot and plain beetroot on cream cheese)
Falafel, hummus and grated carrot
Chickpea mash and tomato
Mashed baked beans and vegan cheddar
Toasted pizza sandwich (tomato puree and vegan mozzarella)
Vegan butter and jam pinwheels (rolled wraps, but into spiral slices)
Vegan mayo, tomato slices, salt and pepper
Cream cheese, tomato and baby spinach
Biscoff spread and banana
Cream cheese and apple slices (dip the apple in lemon juice so it won't brown)

💭 Top tip
Try changing up their sandwiches by cutting them into little squares or triangles or use a sandwich cutter for a shaped sandwich.
After that, you could even use the TikTok hack and cut them with a glass or cup for partially sealed, round sandwiches.
🍴 Vegan picky eaters meal plan
No need to download anything, you don't have to sign up for my plan and you don't need anything fancy to make your own plan.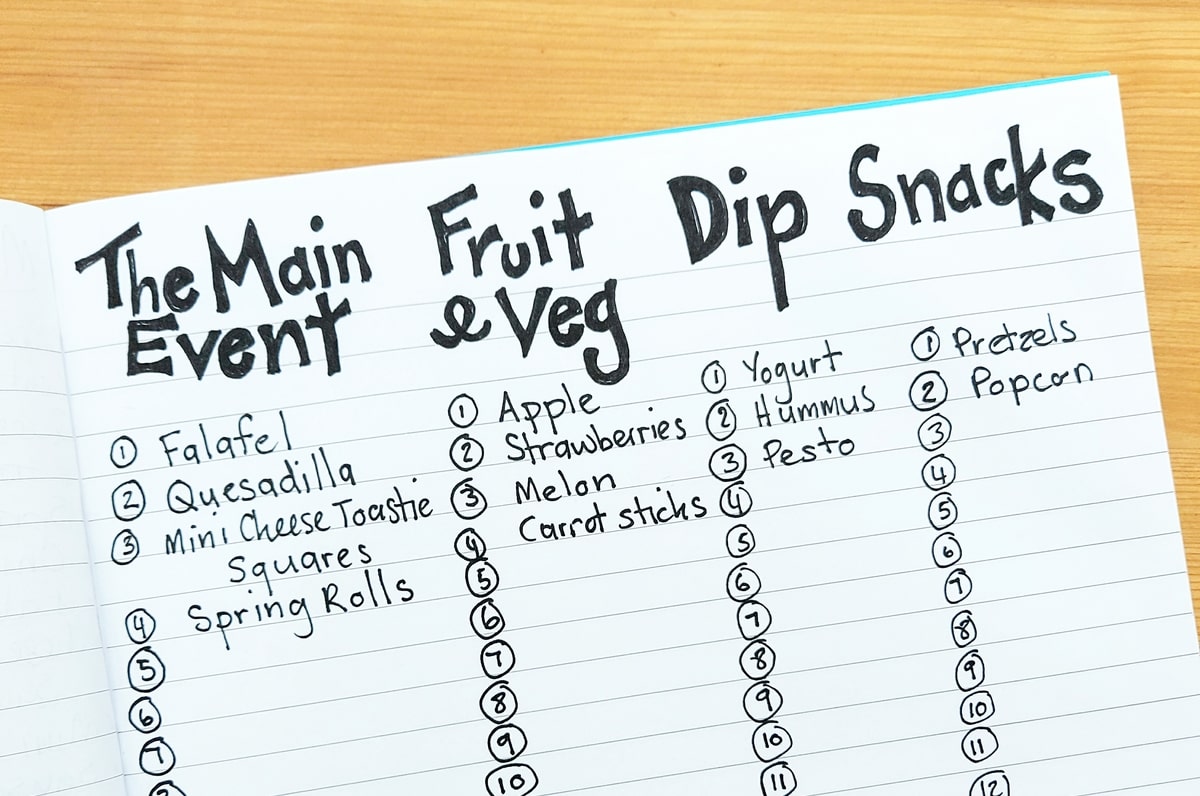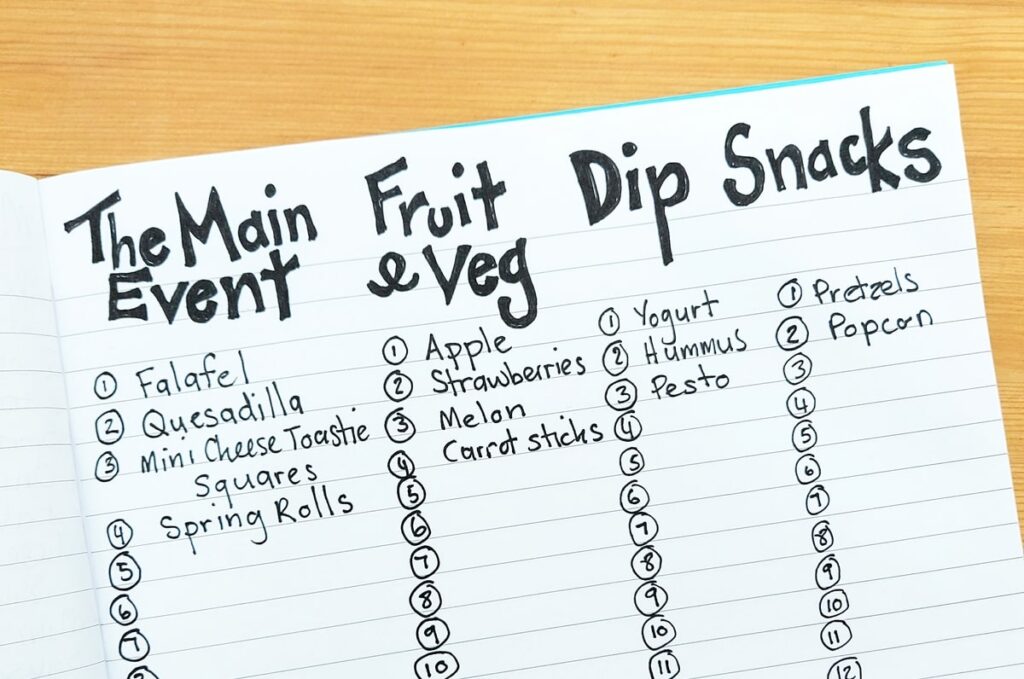 You can type it up on your computer or write it up in a notebook as I do. You can see the beginning of a plan above.
In addition, once you have your plan, you can print it out (or tear the page out of your notebook to pin on the fridge for easy reference when you are making a shopping list or making up lunch from the fridge.
You need four columns
The Main Event - this is usually the savoury element to the lunch
Fruit and Veg - crunchy veg sticks and cubes or slices of fruit
Dips - this can be savoury or sweet to dip their main savoury snack, their fruit or veg
Snacks - these can be sweet or savoury and don't have to be healthy as long as you include fruit and veg as well.
Before you get started, remember to get your kids involved. Let them give you suggestions for the plan.
It's ok to include new things and add things to the plan, but make sure there are familiar things they like in their lunch box too.
Small portions
We want to make sure their lunchbox is fun but not daunting and remember don't pack too much.
Packing adult size portions is a common mistake. Kids have smaller stomachs and don't need adult-sized portions. It can also be off-putting for them.
📋 Meal Plan Ideas
First, I will share my own Picky Eater Meal Plan with you.
You can look at it as a starting point, however, make it individual and appealing to your child.
After that, you can use the list to make a meal plan for the week ahead or you can plan a few weeks of bento-style boxes using the list if you are super organised.
Last minute lunch box
If you stock up on a variety of options from the plan, you can even wing it and pull some bits and pieces out of the fridge and make up their lunch just before they head out of the door in the morning.
Here's a photo of one of my son's bento-style boxes using my meal plan.
There are a couple of onion bhajis; carrot and red pepper sticks; cubes of melon, pretzels and a few chocolate chips.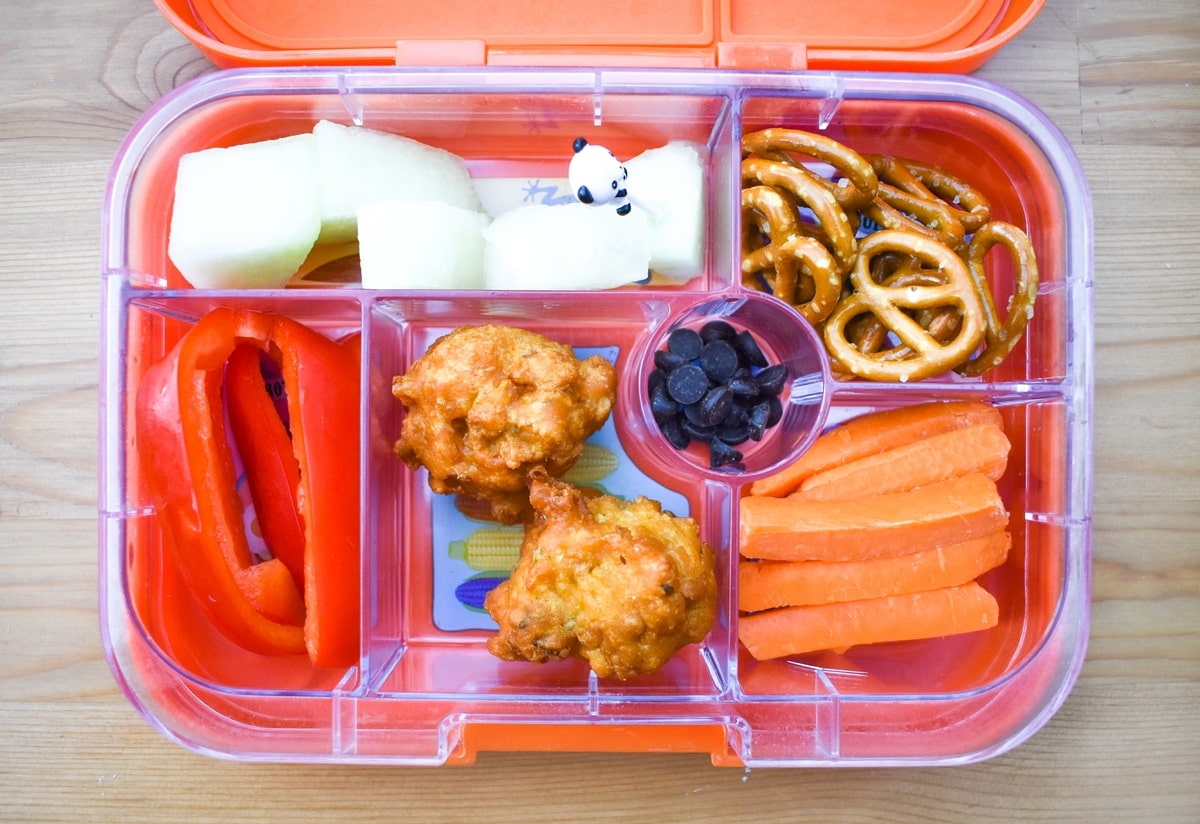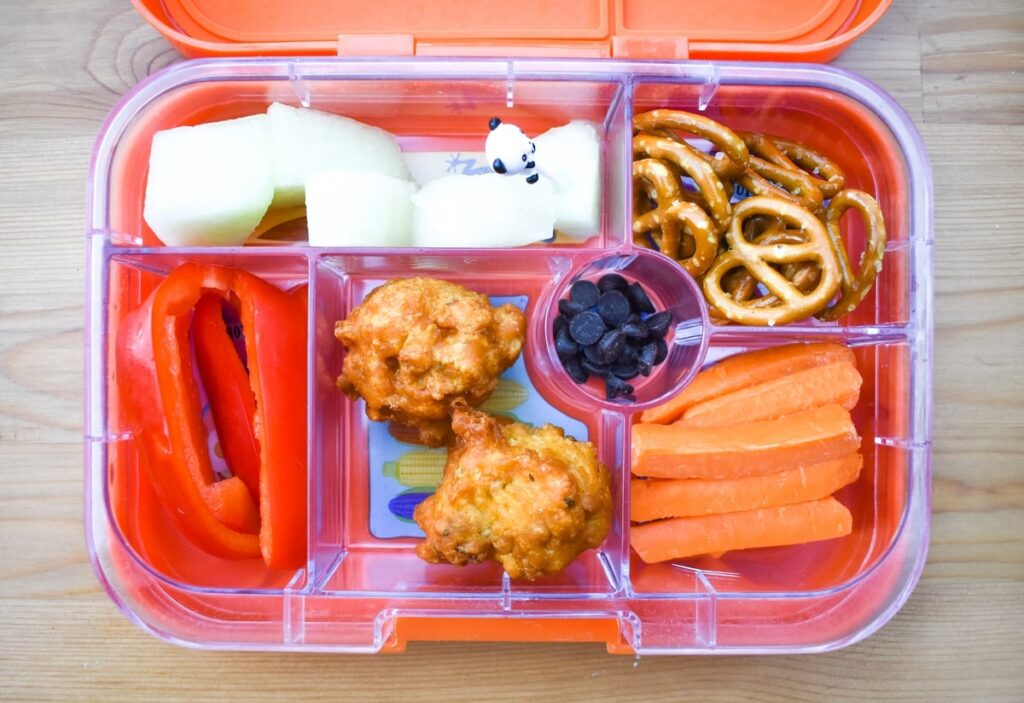 🍱 Which lunch box?
There are so many lunchboxes available online and in supermarkets these days and many are split into different compartments, which is handy.
If you're using what you already have at home and you don't have a bento-style box with different compartments, you can use little silicone (or paper) cupcake cases to separate different dry foods in the lunchbox.
Then add little tubs (with tight lids) for dips.
🍱 Yumboxes
I use Yumboxes, which can be quite expensive compared to supermarket lunchboxes, but worth every penny,
Each compartment is totally sealed so you can add things like ketchup, mayo or yogurt and it won't leak over the rest of the food.
Dishwasher safe
They can be thrown in the dishwasher and I've been using mine for 7 years now and they are still going strong (no I don't work with them, I bought them myself).
I highly recommend them. I use them for my work lunches sometimes too.
We have a couple like the one above with a few small compartments and a couple with larger compartments, that will take a sandwich or wrap as well as snacky bits.
💭 Look for discount codes
If you do buy decide to buy yumboxes (or any other lunchboxes online) look around to see if there is a discount code first.
Brands (including Yumbox) sometimes have a discount code for first purchases on their own site.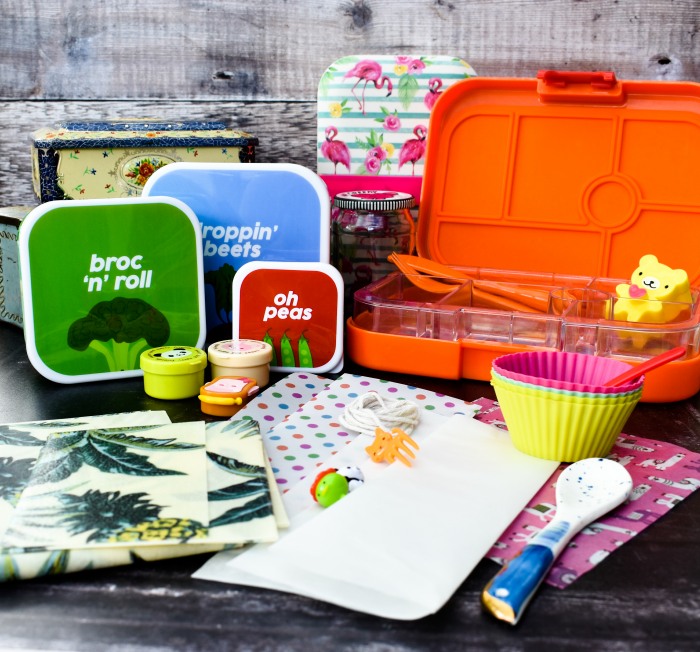 🐇 Make lunch fun!
Make their lunchbox fun with a few of my tips. It doesn't need to cost a lot.
Colourful lunchboxes
Patterned paper napkins
Reusable coloured cutlery
Cute animal or star food picks
Animal dip pots
Shaped sandwich cutters (think dinosaurs, animals, cars, trains and flowers)
A little note or inspirational phrase
A quiz question
A joke (you can write these or print them off online)
And remember to add some napkins or wipes for any spills and to wipe their hands on.
For drinks add water, vegan milkshakes or fruit juice.
🧾 Building the meal plan
Here's what I have on my list so far. It will probably be added to before my son starts school next week, but it will give you some ideas to start your plan.
Do leave me a comment below and let me know what you think or if you have ideas of more bits and pieces I could add for vegan kids.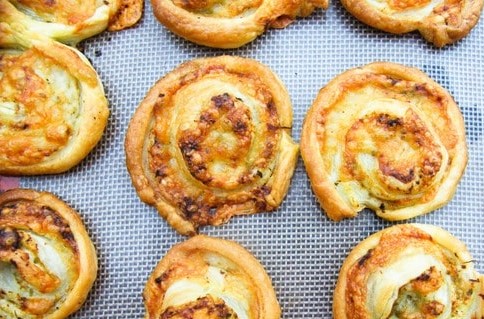 🥟 The main event
The main event is usually a savoury item you build the lunchbox around. Here are my ideas.
Falafel
Quesadilla - with tomato puree, vegan cheddar or mozzarella and little dollops on pesto, cut into triangles
Mini cheese toasties squares - cut a toastie into four bite-sized pieces
Onion bhajis
Vegetable spring rolls
Cooked vegan sausages - cut into bite-sized pieces
Mini pizza - you can make these with tomto puree, vegan mozzarella and any toppings you like on puff pastry, pitta bread or flour tortillas (cut into smaller pieces)
Falafel wrap - a flour torrtilla spread with hummus, topped with falafel, folded and served plain or toasted for a crunchy finish
Vegetable fingers - the breaded vegetable fingers found frozen in supermarkets, cook and allow to cool before chilling in the fridge ready for lunchboxes
Toasted bagel - spread with vegan butter or cream cheese
Pasta salad - drained and cooled pasta (cool under cold water as soon as it's cooked) with pesto, sweetcorn and cherry tomatoes
Couscous salad - with grated carrot, sweetcorn and cherry tomatoes
Mushroom sausage rolls - they won't know they are made with mushrooms, they just taste savoury
Potato scones or farls - toasted and cooled
Potato waffle - toasted and cooled
Mini falafel and onion pies - super easy to make with puff pastry
Popcorn Tofu - make it less spicy by using tomato puree instead of harissa and skip or cut down on the spices in the breadcrumbs, although my son likes them as they are
Noodles - cooked and tossed in a little soy sauce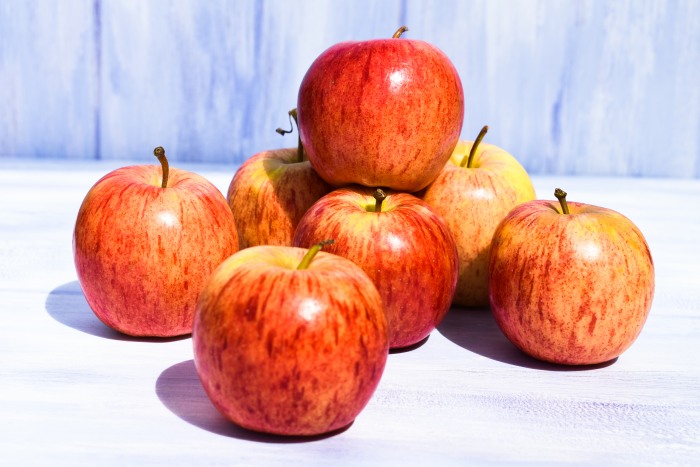 🍏 Fruit & Veg
Make a list of the fruit and veg your children like and maybe experiment with some they haven't tried either cooked or raw. I usually add raw veg.
Carrot sticks
Bell pepper sticks
Cucumber sticks
Broccoli florets
Sweet potato cubes - roasted
Butternut squash cubes - roasted
Fresh peas in a pod
Sweetcorn
Mini corn on the cob - steamed or boiled and cooled
Cherry Tomatoes
Olives
Chickpeas - tinned are fine
Strawberries
Blackberries
Blueberries
Raspberries
Melon chunks
Watermelon chunks
Apple slices - dip them in some water with lemon juice to stop them browning
Pear slices - dip in lemon water too
Banana chunks - same again, lemon water
Clementime segments - or tangerine, mandarin or easy peeler
Mango chunks
Pineapple chunks
Grapes - halved
Dried banana slices
Dried pineapple slices
Raisins
Nuts - if allowed
Seeds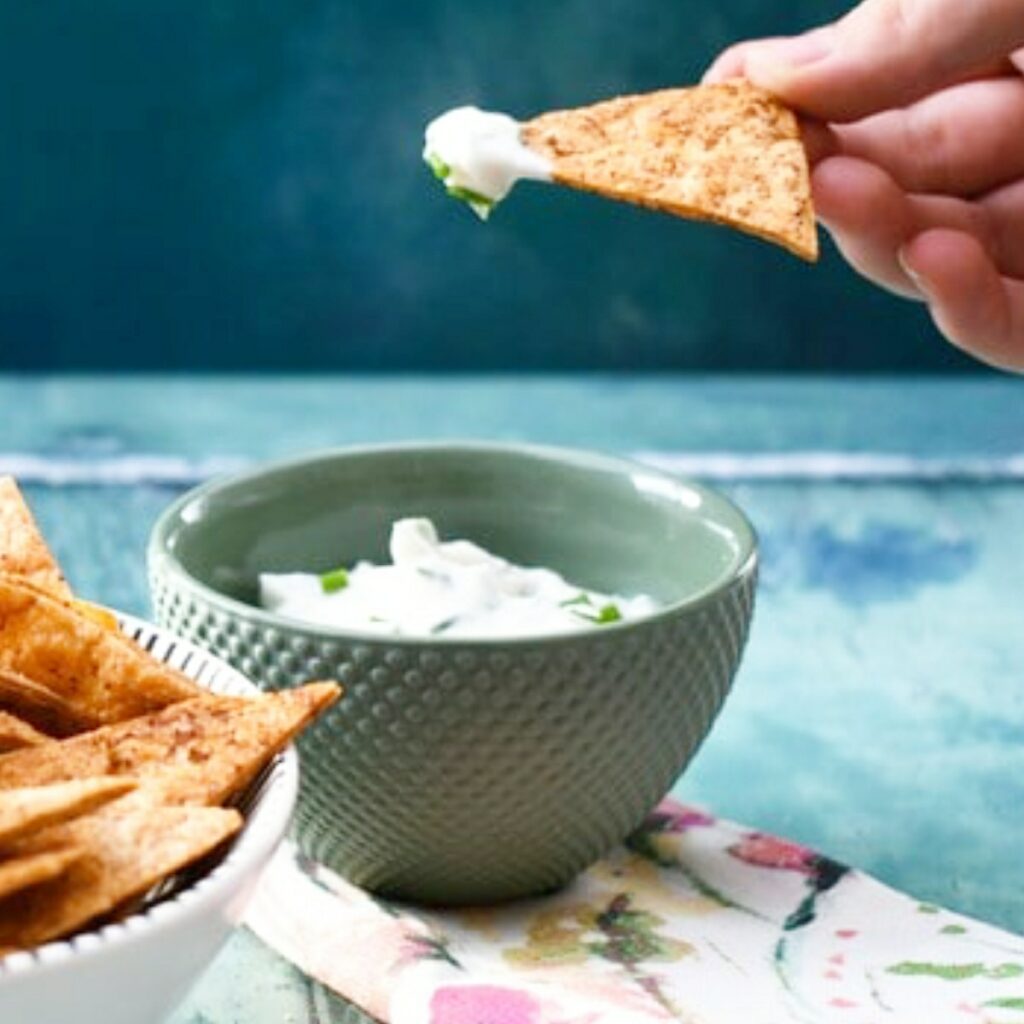 🍵 Dips
Add some of these dips (savoury and sweet) to dunk their fruit, veg and snacks into.
Vegan mayo
Vegan garlic mayo
Tomato ketchup
Vegan cream cheese
Vegan salad cream
Hummus
Pesto
Vegan sour cream - or creme fraiche
Sweet chilli mayo - stir sweet chilli sauce through mayo, sour cream or plain yogurt
Vegan plain yoghurt - or Greek yogurt
Flavoured vegan yoghurt
Peanut butter - if allowed and no allergy
Almond butter - as above
Jam
Chocolate spread
Biscoff spread
Tahini sauce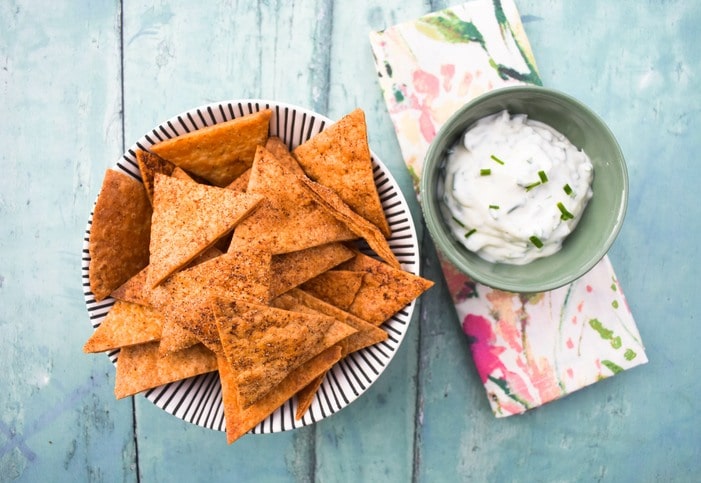 🥨 Snacks
It's good to add some snacks for a bit of crunch or a sweet treat.
Pretzels
Mini breadsticks
Tortilla chips - homemade tortilla chips or shop-bought
Rice cakes
Oatcakes
Crackers
Croutons
Mini pitta bread
Cubes of vegan cheddar
Cubes of vegan smoked cheese
Popcorn
Flapjacks - try these carrot, banana and chocolate flapjacks or these blueberry flapjacks
Muffins - these chocolate muffins are super easy and quick to make
Slice of banana bread - this is my favourite banana bread recipe, but I make it with plain flour, you can whizz up gluten free oats to make flour to use in this recipe too.
Vegan marshmallows
Square of dark chocolate
Dark choc chips
Vegan yoghurt
Easy Danish pastries - made from ready rolled puff pastry.
I hope you have lots of ideas now and have fun making your meal plan with the help of your kids.
Once it's written, if they are wee toots, then let them decorate the edges of the plan with drawings or stickers.
For more ideas check out my vegan lunch guides - Packing Lunch; 45 Backed to School Packed Lunches for Kids or Back to School Vegan Lunches.