These cheats easy Danish pastries are super simple to make and perfect to add to lunch boxes or serve with a cuppa in the afternoon.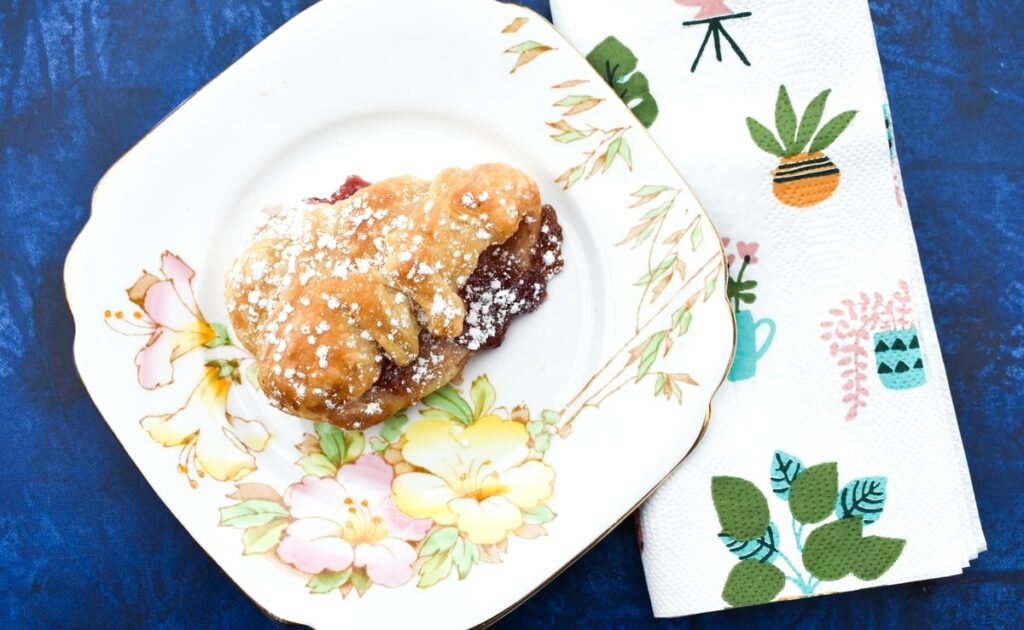 I was inspired to make these cheat's easy Danish pastries after watching the Hebridean Baker on TikTok.
The Hebridean Baker's real name is Coinneach (pronounced Ker-NAH-K).
He lives on the Isle of Lewis, which is a Scottish island on the west of Scotland, way, way way up at the very top.
The Isle of Lewis is one of two islands (along with the Isle of Harris) that make up the Outer Hebrides.
Coinneach has the most fabulous accent, that I could listen to all day and he has some great recipe ideas too. Do check him out (I added the links above).
I decided to try his quick and easy technique to make some easy Danish Pastries.
I think his pastries may have been filled with a creamy mixture including whisky and honey, but I decided to keep it easy with a simple filling.
Jump to:
🥘 Ingredients for Easy Danish Pastries
These Danish Pastries are made with just 4 simple ingredients.
Puff pastry - I like using ready-rolled puff pastry as it's so easy
Mild olive oil - or vegetable oil
Raspberry jam - you may use your favourite flavour of jam
Icing sugar - also known as confectione's sugar
See recipe card for quantities and techniques.
💭 Is puff pastry suitable for vegans?
Most puff pastry from big-name bands to cheaper supermarket own brands are usually suitable for vegans.
If you are not sure, do check the ingredients.
Always avoid 'all butter' puff pastry, as it is just what it says and definitely not suitable for vegans.
📋 Getting the best results from puff pastry
If you treat puff pastry with a little care, you will get the best results from it.
Here are a few things to remember:
FRIDGE - Take it out of the fridge a few minutes before you need to use it.
HOT, HOT, HOT - If your kitchen is hot, then use it right away and quickly.
HOT HANDS - If your hands are hot, you can cool them before handling the pastry by running cold water over your hands for a few minutes to cool them. Remember to dry them properly.
READY- ROLLED PUFF PASTRY - If you are using ready-rolled puff pastry, unwrap it carefully. If it is still really cold, it can crack.
ROLL IT - If you are rolling it yourself, make sure your worktop is well floured and flour your rolling pin too.
BE QUICK - Work quickly!
BE PREPARED - Make sure your oven is pre-heated.
BAKING TRAY - Have a tray prepared and ready to use. If you are using ready-rolled puff pastry it comes wrapped in baking paper, that is suitable for baking it on, so you can leave it on that.
NON-STICK BAKING PAPER - If you are rolling a block of pastry, have a baking sheet/tray lined with non-stick baking paper, ready to move your pastry to.
GOLDEN FINISH - For a golden finish, brush the pastry with oilive oil.
🥐 They look a bit like a crossiant
Yes, the shape is a bit like a croissant, but it tastes like a Danish pastry.
You could actually use this technique to make cheat's croissants.
I really like the way you can see the layers of the pastry.
👩🏻‍🍳 Nothing compares to freshly baked Danish pastries
These aren't as good as a homemade Danish pastry made by a baker who really knows their stuff, but they are a quick option that's pretty darn good.
It can take years to master the technique used to make traditional Danish pastries well.
I knew a baker who mastered it to sell in her own shop and she would be up during the night tending to her dough. It really is labour-intensive, if you're making them to a high standard.
However, these easy Danish pastries are simple for anyone to master and they are super fun to make.
💭 How long with cheat's easy Danish pastries keep?
Danish pastry tarts are best served on the day they are made.
However, you can add them to an airtight container lined with kitchen paper and pop them in the fridge for a couple of days.
They won't be as crisp after time in the fridge, but they will still taste good.
The icing sugar will melt into the pastry in the fridge, so give them another dust of icing sugar when you take them out of the fridge.
Also, try these Biscoff & Chocolate Pastry Swirls or these 10 Minute Vegan Iced Buns.
🥄 Raspberry jam
I used raspberry jam to fill these pastries, but you could fill them with your favourite flavour of jam.
Or why not make your own jam? It's actually super easy to make.
Check out my easy Scottish Raspberry Jam.
🍉 More homemade jams to make at home
Here are a few more easy and delicious jams you can make at home:
🧁 Vegan sweet treats for lunchboxes
These easy Danish pastries are fab packed in a lunch box as a treat, but if you want more ideas, here are a few more sweet recipes to try:
👩🏻‍🍳 Want new recipes delivered to your inbox?
Sign up for my Vegan Lunch Box newsletter for lunch ideas and recipes straight to your inbox when they are published.
Also, sign up for my Tinned Tomatoes newsletter for a selection of recipes delivered to your inbox each week or sign up for my email updates and don't miss out on the latest recipe. Check your spam folder they don't arrive.
📋 Pin it for later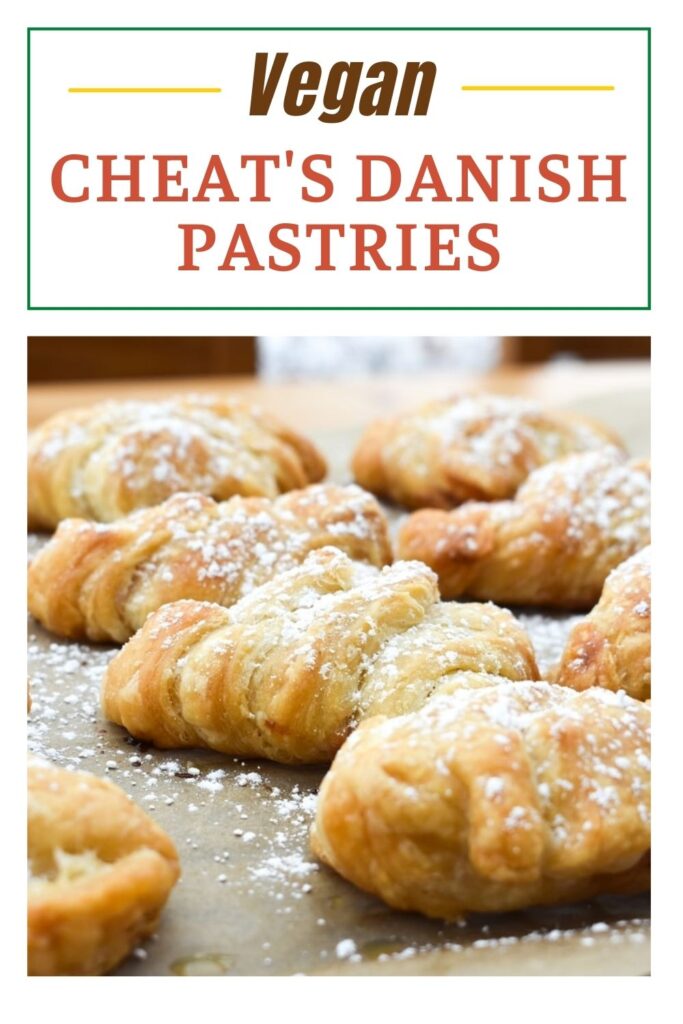 Follow me on Pinterest, Facebook, Twitter and Instagram.
Once you've done that, join my Facebook group Living on the Veg. It's a very friendly community with lots of recipes and chat. I'm in there every day chatting.
🔪 Danish Pastries - step-by-step photos
Step-by-step photos of the Easy Danish Pastries being made. Keep scrolling for the full printable recipe.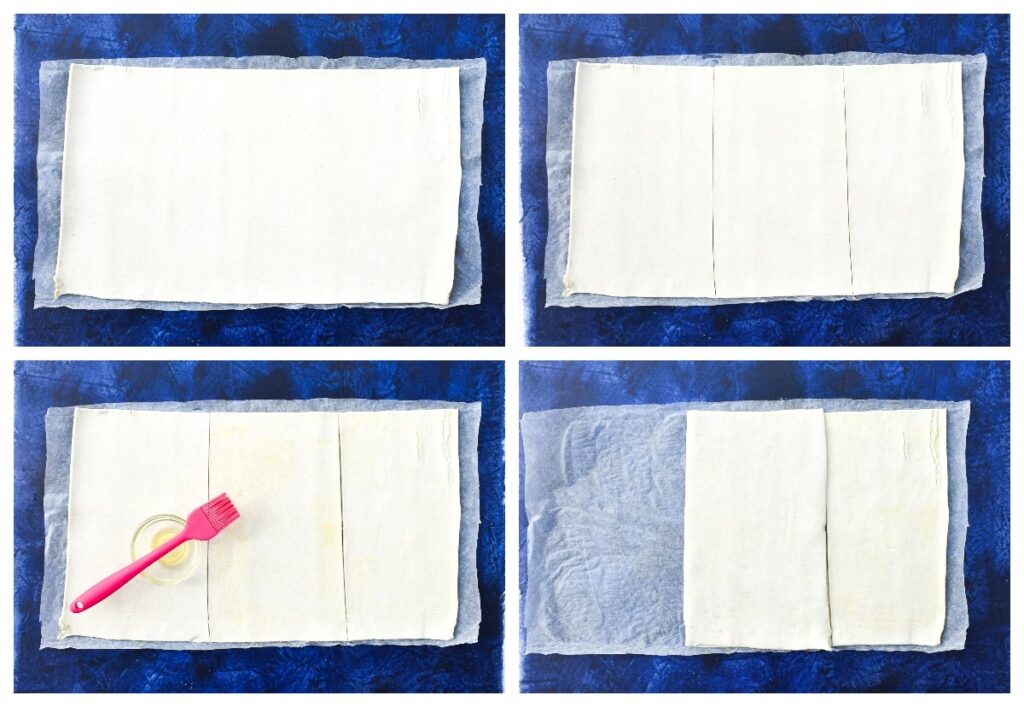 Step 1
Preheat the oven and carefull unroll your puff pastry.
Cut into 3 wide strips (from the long side).
Brush a little oil on the first slice and top with the second slice.
Do the same again and add the third slice.
Step 2
Now you have a deeper, wide strip, it's time to roll it.
Roll it along the length.
Cut slices.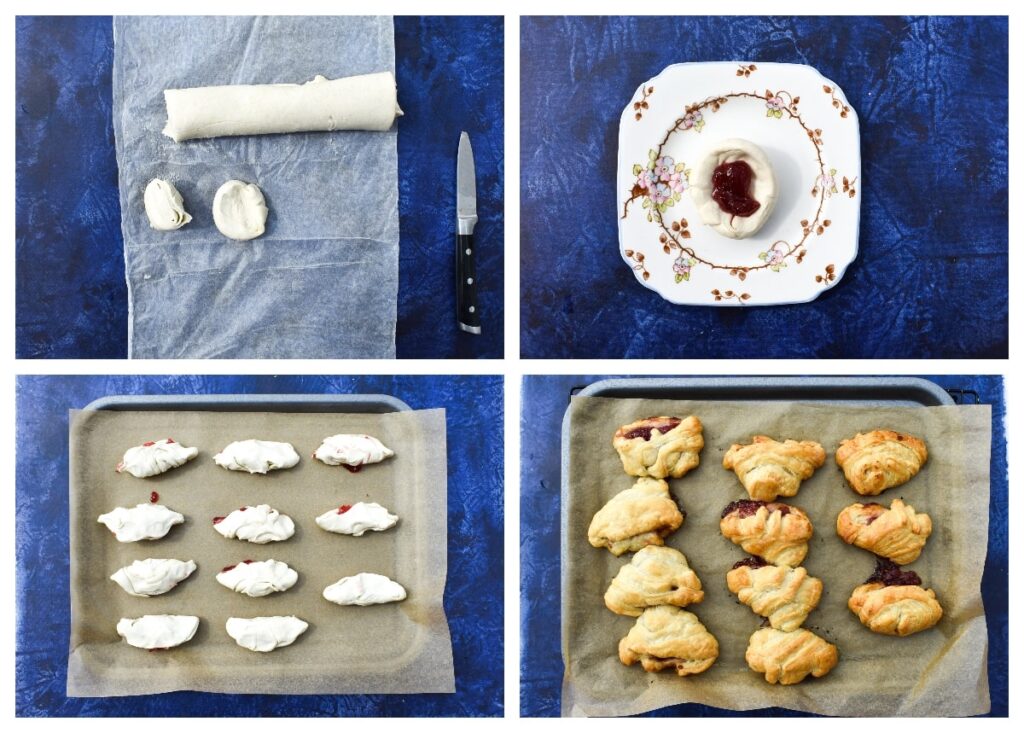 Step 3
Keep slicing until you have lots of sprial slices.
Pick up each slice and press with your thumb to expand the slice, then add a small dollop of jam and seal.
You will end up with lots of half moon shapes. Yours will probably have more defined layers. My kitchen was very hot and I took time taking photos.
Move to a baking tray lined with non-stick baking paper (you may use the baking paper the pastry was rolled in).
Brush with a little oil and bake until golden.
Step 4
Leave the pastries to cool, then dust generously with icing sugar.
Serve and enjoy!
📖 Recipe
Easy Danish Pastries made with Puff Pastry
These cheats Danish pastries are super easy to make and perfect to add to lunch boxes or serve with a cuppa in the afternoon.
Ingredients
375

g

puff pastry

ready rolled

6

teaspoons

raspberry jam

2

tablespoons

olive oil

or other mild oil

1

tablespoons

icing sugar
Instructions
Preheat the oven to 180c/160c fan/350f/gas mark 4.

Take the pastry out of the fridge and measure out your other ingredients.

Unroll the pastry carefully and cut into 3 wide slices (from the long side).

Brush one slice with a little oil and add the second slice on top, brush that with oil and add the third slice.

Roll in a firm long sausage shape, rolling the long side.

Press each slices with your thumb to stretch it a little, then add a small dollop of jam (about ½ teaspoon), then seal, into a half moon shape.

Do this with each slice then place on a lined baking tray (you can use the baking paper the pastry comes in or any non-stick baking paper. Leave a bit of room between the pastries.

Brush each pastry with a little oil and then bake in the oven for 20-25 minutes until golden. Keep an eye on them in case your oven runs hot.

Leave to cool, then add a generous dusting of icing sugar.
Notes
You may use your favourite jam for these pastries.
Don't worry if you add a little too much jam, it will ooze out but go toffee like and glorious.
Do not eat when hot! The jam is like hot lava inside and you will burn your mouth.
These are best served fresh, but can be kept in the fridge overnight and added to lunchboxes the next day.
Nutrition
Serving:
11
g
Calories:
224
kcal
Carbohydrates:
19
g
Protein:
3
g
Fat:
16
g
Saturated Fat:
4
g
Polyunsaturated Fat:
2
g
Monounsaturated Fat:
9
g
Sodium:
86
mg
Potassium:
24
mg
Fiber:
1
g
Sugar:
3
g
Vitamin A:
1
IU
Vitamin C:
1
mg
Calcium:
4
mg
Iron:
1
mg