An easy recipe for Scottish air fryer golden syrup flapjacks. A chewy oat bar that's super easy to make.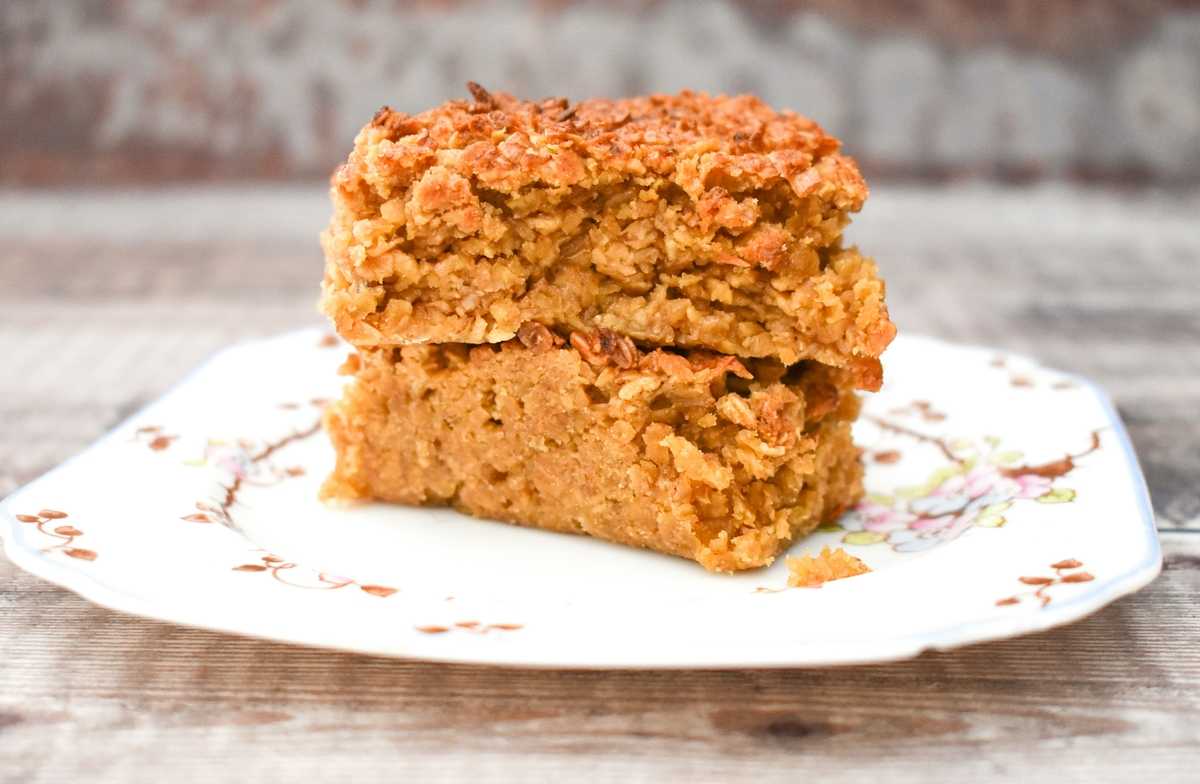 🧾 The history of Scottish flapjacks
Flapjacks are a traditional Scottish recipe.
You could say they were a bit of a happy accident. A very long time ago (oats were introduced to Scotland in 600 AD), crofts would have something known as a porridge drawer.
In the morning a big batch of porridge was made in a pot over the fire. and served hot in a bowl for breakfast.
Leftover porridge was poured into the porridge drawer where it would cool and set before it was cut into slabs.
And that's how flapjacks were invented.
For another traditional Scottish recipe try my Vegan Fruit Scones.
Jump to:
♨️ Air fryer flapjacks
I usually bake flapjacks in the oven, but now I have an air fryer, I want to cook everything in it.
If you've bought one too you'll know what I mean.
I have a Tower Air Fryer, one of the ones with shelves and luckily enough my brownie pan fits perfectly.
My brownie pan is a 20 cm (8 inch) square tin.
Air fryers come in different sizes so you may need to measure yours to find a pan that fits.
Once your flapjack mixture is in the pan it can go on the shelf or the base of your air fryer.
If your air fryer is one with a drawer, you might want to pop something under it to raise it off the base.
Of course, you could bake this in the oven if you don't have an air fryer, just keep an eye on it from 20 minutes onward.
🧾 More vegan air-fryer recipes
Here are a few more vegan air fryer recipes you might like to try.
🥘 Lining your pan
You can use a silicone or metal brownie tin for these oat bars.
Even though silicone is supposed to mean easy removal, I'd still line the pan.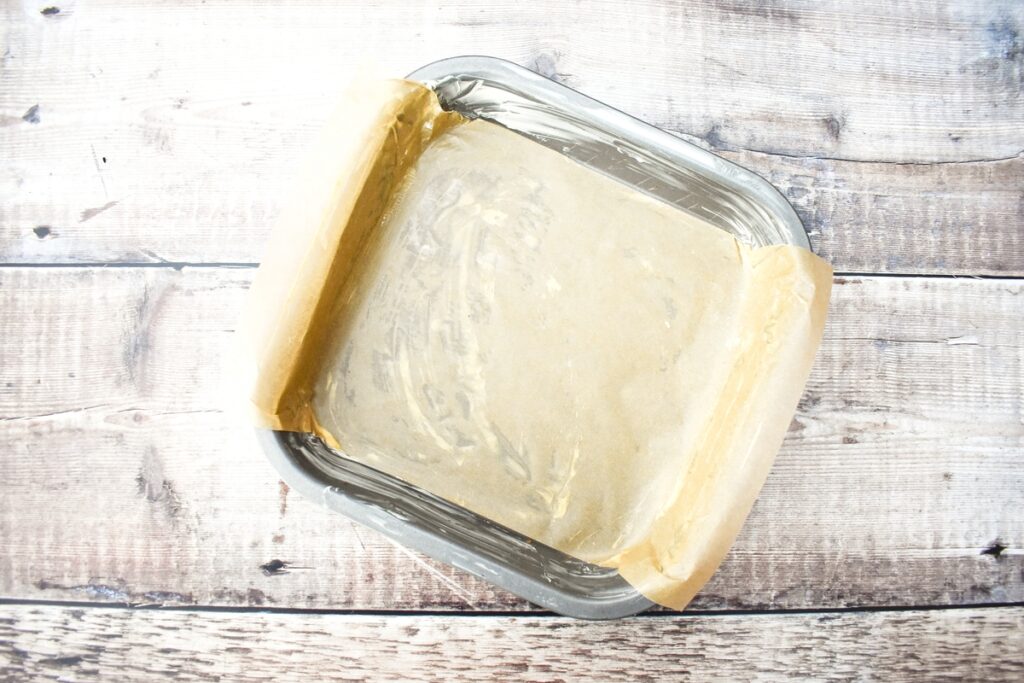 I grease the brownie pan then lay a strip of non-stick baking paper across the tin, with some excess over the edge which you can hold on to when lifting it out.
⭐ The best non-stick baking paper
I now buy double-sided non-stick parchment baking paper, which is non-stick on both sides.
On too many occasions I used the wrong side of normal baking paper and my baked goods would stick to the paper. So annoying!
I use ZeZaZu parchment sheets for baking (in case you are interested).
I buy them from Amazon as I couldn't find just what I was looking for elsewhere. They come in a cardboard packet of 100 unbleached sheets.
They are pre-cut into rectangular sheets which is super handy and fits my sheet pan perfectly.
Of course, there will be other brands available.
🔪 Should flapjacks be crisp or chewy
In my opinion, and the way we eat them here in Scotland is soft and chewy with maybe just a little crisp at the edges.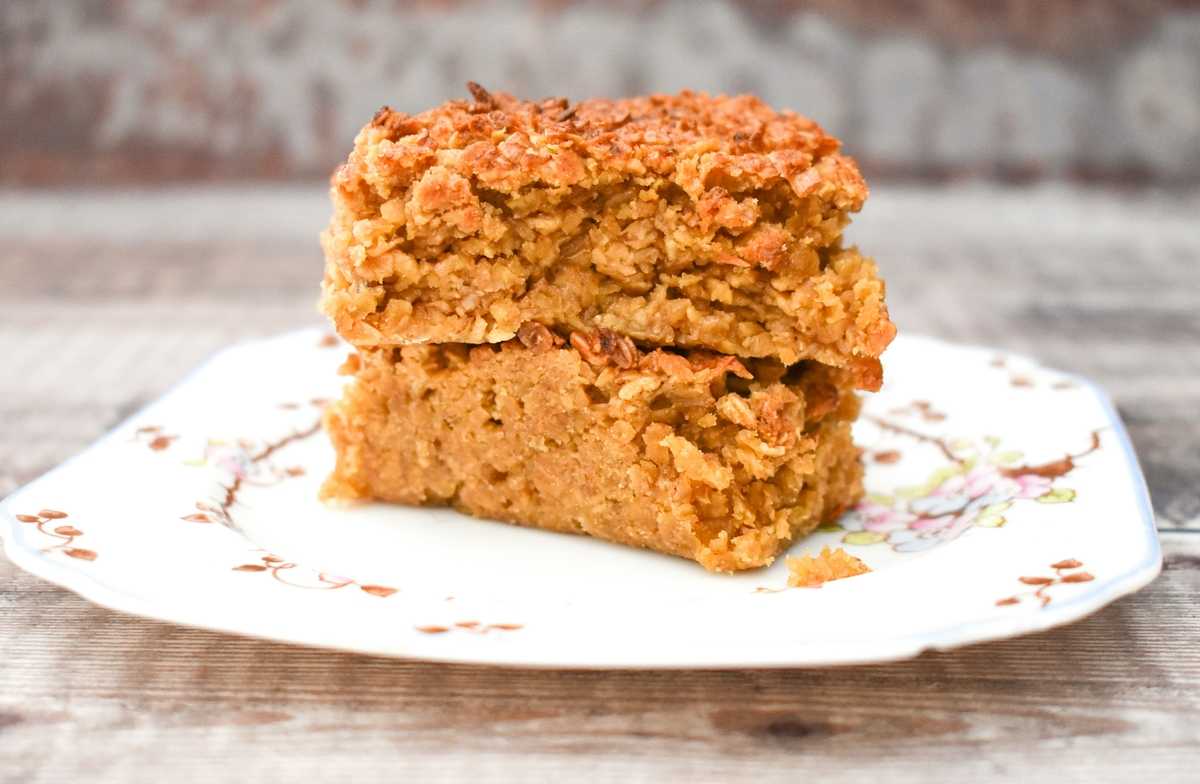 If they are thinner and crisp they are more of a cereal bar or oat bar.
These are known as oat bars elsewhere, but as we laid claim to them first in Scotland, they are definitely flapjacks.
To confuse things further in some parts of America flapjacks are what we call Scotch pancakes like these vegan banana pancakes.
📋 What you need to make golden syrup flapjacks
Here's what you need to make this energy-boosting Scottish oaty snack.
Butter (vegan)- or dairy-free spread
Golden syrup - to sweeten and bind
Brown sugar - no one said these were low calorie
Porridge oats - also known as rolled oats
Salt - just a pinch
See a very simple recipe.
Not as simple as the original flapjack which was made with just oats, water and a pinch of salt (butter and sugar were a later addition), but just a few ingredients.
These oat bars are a great as a lunch box snack and kids love them.
Love oat bars? Also, try these Peanut Butter Oat Bars with Chocolate & Oats (no bake).
The full recipe and method can be found in the recipe card at the bottom of this post after the step-by-step photos.
📖 Variations
Here are a few tweaks you can make to the recipe.
Maple syrup - You could use maple syrup or agave nectar instead of golden syrup
Raisins- raisins, sultanas or cranberries make a good addition
Walnuts - are also good in a flapjack
Chocolate chips - who doesn't love a bit of chocolate
Coconut - dessicated coconut for flavour
Cinnamon - ground cinnamon or ginger add a nice warmth
Banana - I sometimes add mashed banana to a flapjack and cut down on the sugar. Try these Banana, Coconut & Chocolate Chip Flapjacks.
Grated carrot - yup I sometimes add grated carrot too. Try these Carrot, Banana & Chocolate Chip Flapjacks.
I'll be sharing my easy air fryer recipe for scones soon, so make sure you are signed up for my new recipe email, so you don't miss them.
You can subscribe at the bottom of my about me page.
⏲️ How long will flapjacks keep
Flapjacks can be stored in a cake tin or an airtight container.
I usually line with baking paper, wrapping it over the top of the flapjacks.
They will happily keep for up to a week, less if your container isn't airtight.
They don't need to be kept in the fridge, but you can if you like.
🍪 More easy vegan snacks to try
Here are a few more easy vegan snacks for you to try.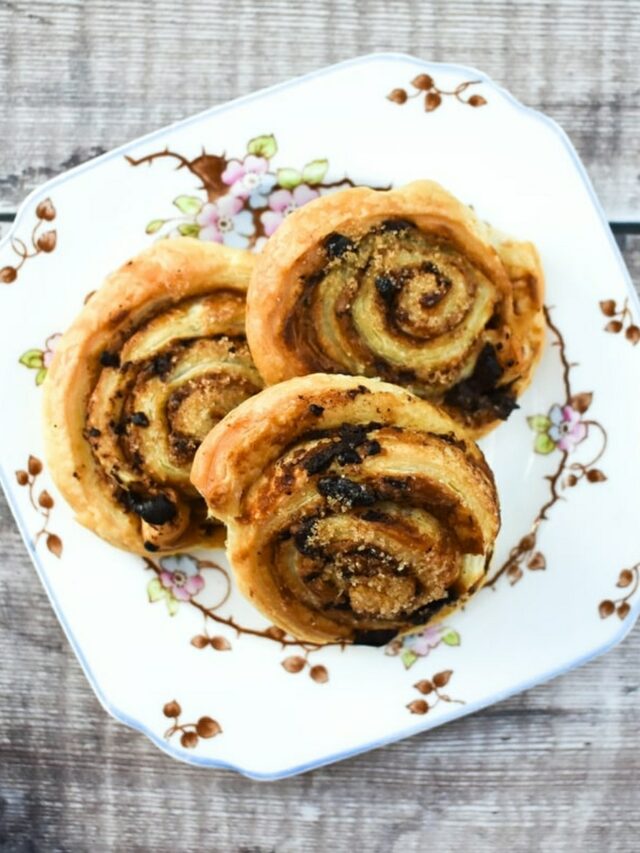 Love Scottish recipes, try these vegan lemon & lime shortbread cookies.
📋 Want new recipes delivered to your inbox?
Sign up for my Vegan Lunch Box newsletter and I'll send the latest recipe straight to your inbox as soon as it is published.
Also, sign up for my Tinned Tomatoes newsletter for a selection of recipes delivered to your inbox each week or sign up for my email updates and don't miss out on the latest recipe.
Check your spam folder they don't arrive, I share a new recipe on each of my blogs every week.
⭐ Pin it for later
Follow me on Pinterest, Facebook, Twitter and Instagram.
🥦 Living on the Veg
Once you've signed up for my newsletters and followed me on social media, why not join my Facebook group Living on the Veg?
Such a friendly community with lots of recipes and chat. I'm in there every day chatting. It's such a nice place to spend time.
💭 How to make air fryer golden syrup flapjacks
Step-by-step photos. Keep scrolling for the full printable recipe (with full ingredient list and nutritional info).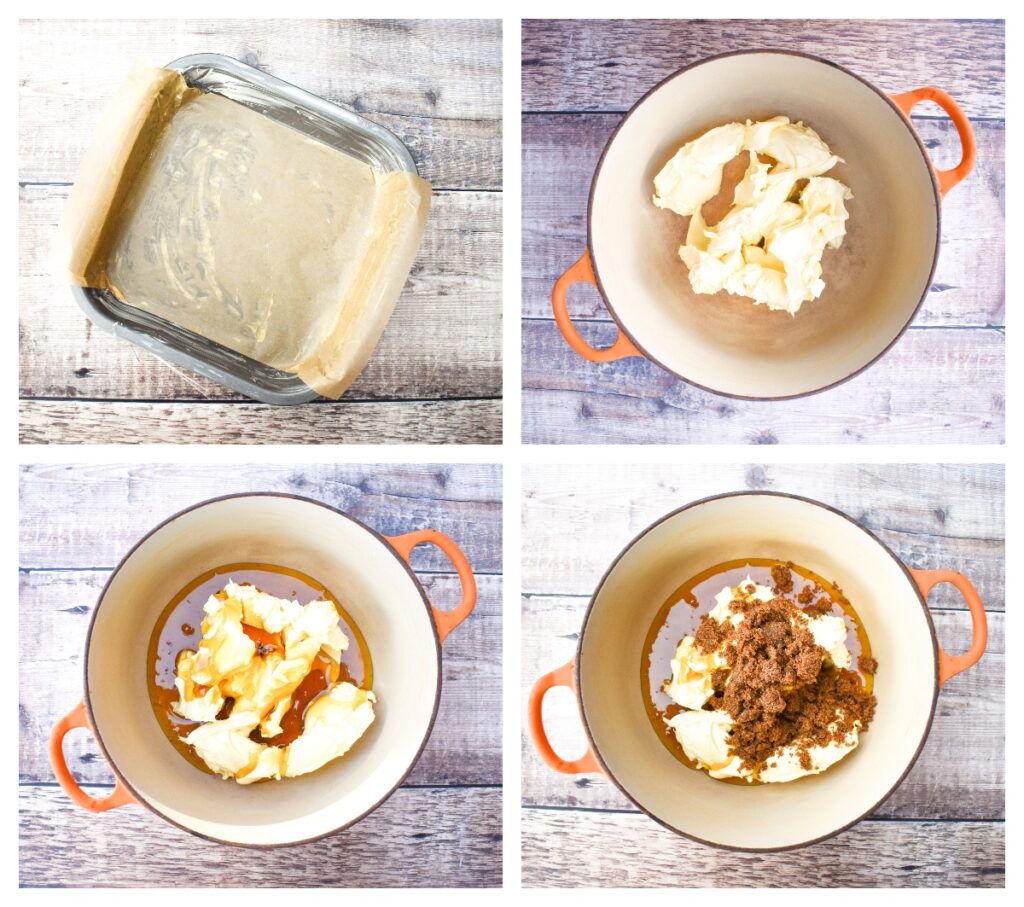 Step 1
Grease and line your brownie tin.
Add the vegan butter, sugar and syrup to a pan (full ingredients and method in the printable recipe card below).
Heat gently until it has melted. Alternatively, you could melt in a large bowl in the micrwave.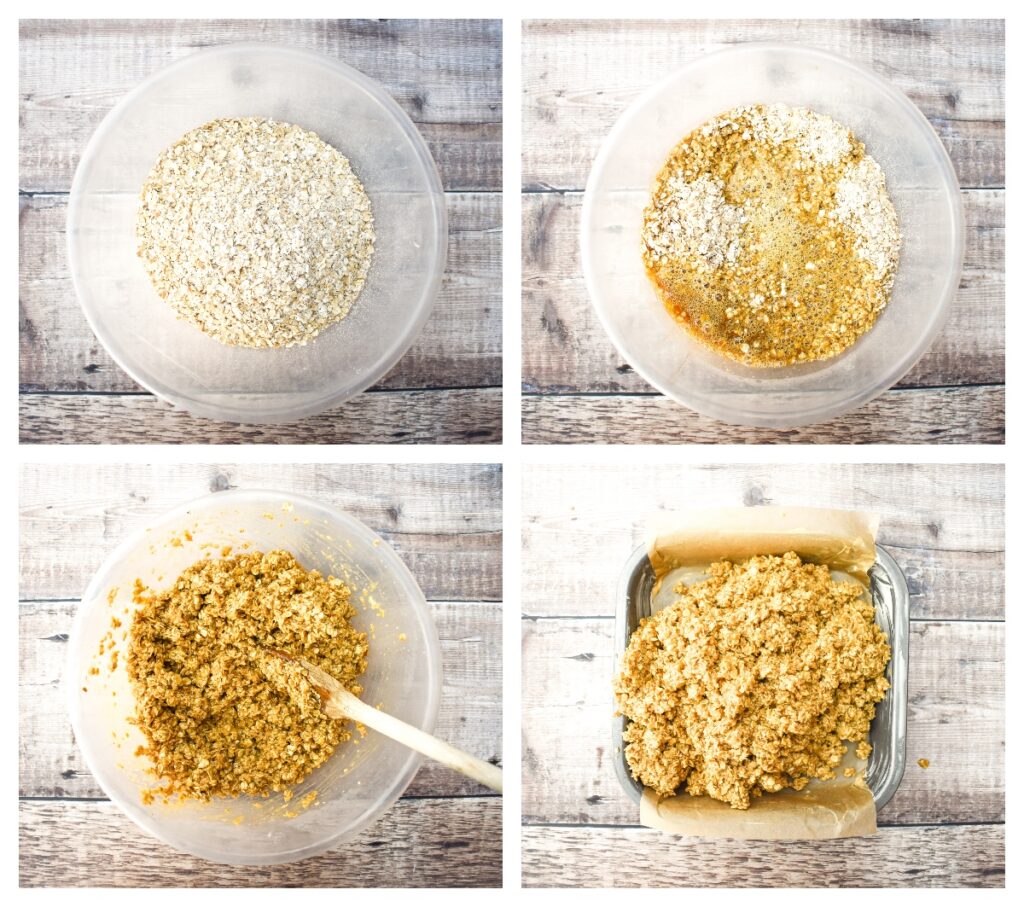 Step 2
Add oats and salt to a mixing bowl, then add the melted butter mixture.
Mix well then pour into the lined brownie pan.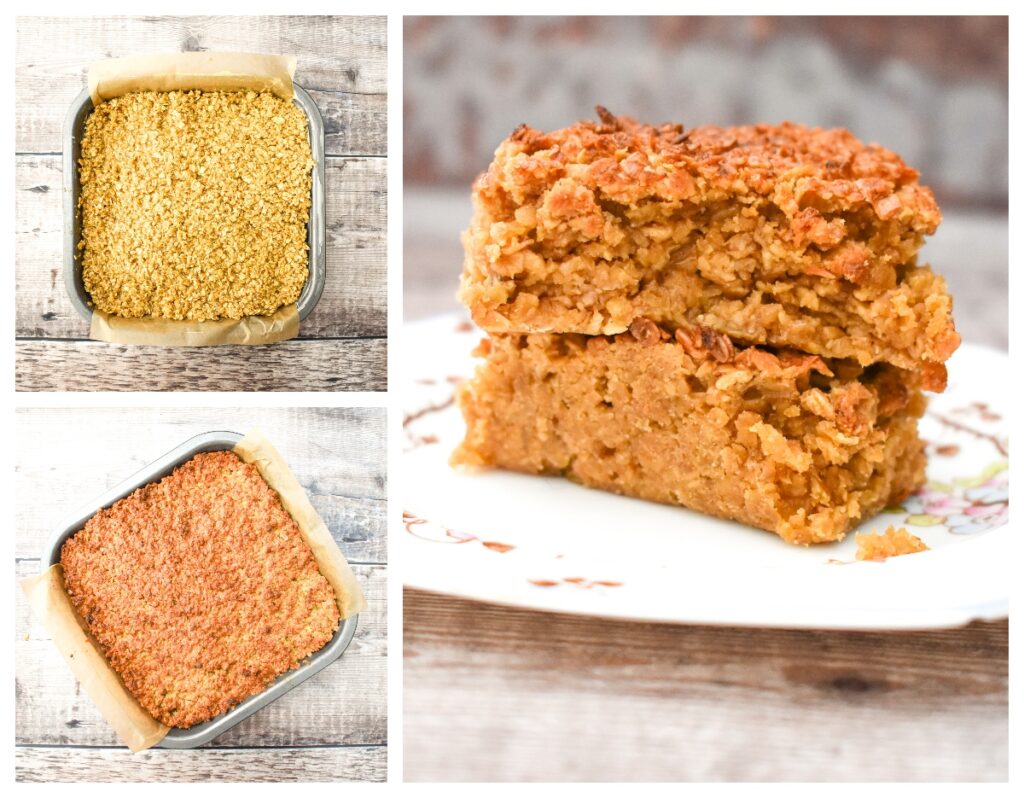 Step 3
Press the mixture down into the tin firmly and as evenly as possible.
Bake in the air fryer or oven until golden (notes for oven in recipe card).
Leave to cool in the tin, then carefully remove from the tin and cut into squares or bars.
Enjoy!
📖 Recipe
Air Fryer Golden Syrup Flapjacks
An easy recipe for Scottish air fryer golden syrup flapjacks. A chewy oat bar that's super simple to make.
Ingredients
250

g

vegan butter

or dairy-free spread

200

g

golden syrup

50

g

brown sugar

400

g

porridge oats

also known as rolled oats

1

pinch

salt
Instructions
Grease and line a brownie pan. Mine is a 20 cm (8 inch) square pan, but you may need a smaller baking tin depending on your air fryer size.

In a pan melt the vegan butter, golden syrup and brown sugar. Once melted set aside.

Measure the oats and salt into a mixing bowl and mix.

Pour the wet ingredients in and mix well until the oats are completely coated.

Pour the flapjack mixture into the pan and press down firmly to make as even a layer as you can.

Bake in your air fryer at 180c or 350 f for 20-25 minutes until golden.

Remove from the air fryer and leave to cool in the pan.

Once cool, you can carefully remove the block from the pan and cut into 16 bars or you could cut into 25 smaller bites.
Notes
Your air fryer might not be big enough to hold a brownie pan, do measure first to see if one will fit, it not look for one or two smaller pans.
My air fryer has shelves, if yours does not, then pop something underneath the pan, when you pop it in the drawer to raise it off the bottom.
The flapjacks can be kept in a cake tin or airtight container for up to a week. I like to wrap them in baking paper.
To oven cook, preheat your oven (same temperature), but check on it after 20 minutes and keep an eye on the flapjacks so they don't brown too much.
Nutrition
Serving:
1
bar
Calories:
238
kcal
Carbohydrates:
30
g
Protein:
3
g
Fat:
12
g
Saturated Fat:
3
g
Polyunsaturated Fat:
3
g
Monounsaturated Fat:
5
g
Trans Fat:
1
g
Sodium:
106
mg
Potassium:
99
mg
Fiber:
3
g
Sugar:
13
g
Vitamin A:
597
IU
Calcium:
16
mg
Iron:
1
mg