These vegan air fryer cheese toasties will become your favourite lunch. Air fryers make the best toast, just like fried bread but less oil.
My son was the one that suggested making cheese toasties in the air fryer.
It became a constant refrain in my kitchen, once the air fryer arrived "Can you cook it in the air fryer?".
This question was asked about just about everything. Yes, the men in my life were excited about this new gadget.
The boy was spot on as these vegan air fryer cheese toasties are so, so good.
Jump to:
🍞 Toast in the air fryer
Healthy fried bread with a fine spray of light oil and cooked until crisp in the air fryer.
Super crisp and golden. Wait until you try it!
Add it to a full cooked vegan Scottish breakfast with vegan sausages, baked beans, tattie scones (Scottish potato scones), air-fried or grilled tomatoes and mushrooms.
Or use it to make the best vegan air fryer cheese toasties.
Check out my air fryer page for more easy recipes.
🍞 Air fryer toast tips
If you can get hold of a grill rack to fit your air fryer or if it comes with one, you can slide slices of bread between each of the struts upright, so you can toast a few slices at once.
All standing upright in a row like a line of soldiers on parade.
While we are talking about air fryers, have you tried my air fryer falafel, which is oil-free, air fryer golden syrup flapjacks, crunchy air fryer chickpeas or air fryer vegan fruit scones?
🧀 Helping vegan cheese to melt
You might be wondering how I got vegan cheese to melt like that, all gooey and delicious.
Applewood Smoky Vegan Cheese was a good place to start as it melts quite well already.
However, you could use this technique with plain vegan cheddar too.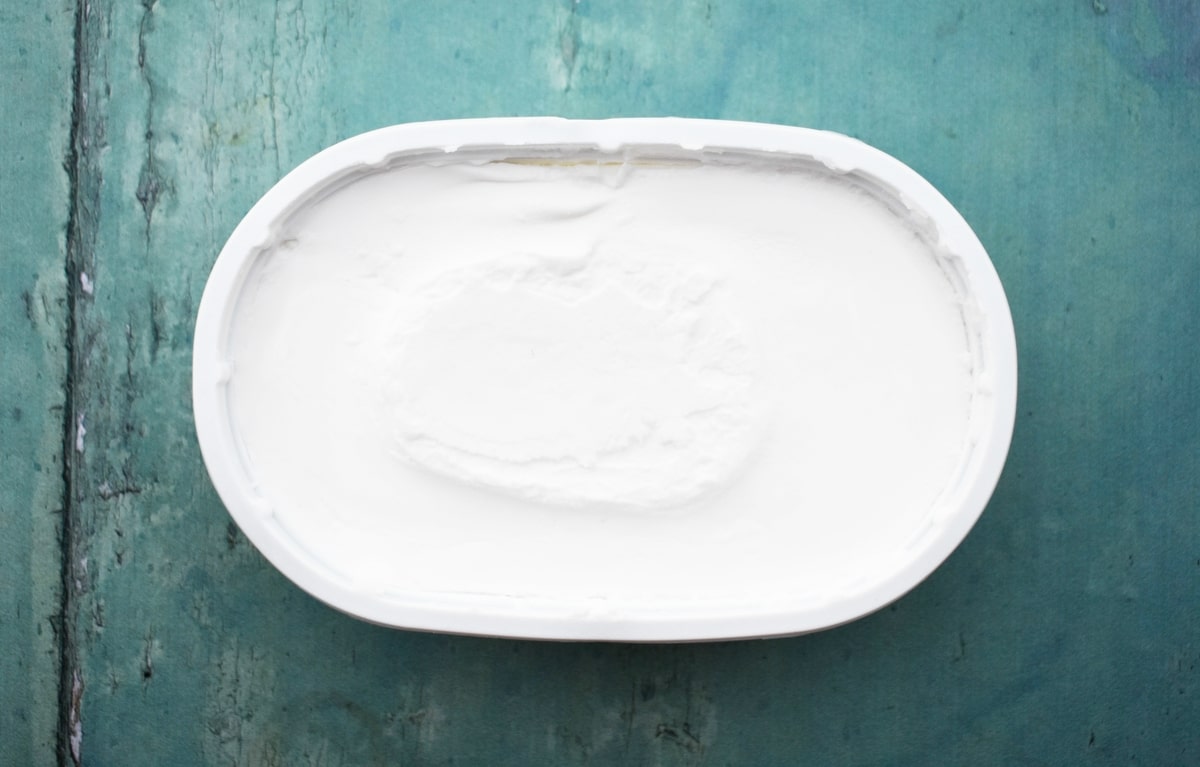 I grated the cheese and mixed it with vegan cream cheese for that super melt in these grilled cheese sandwiches.
I also air-fried the cheese toastie open first to give the cheese a chance to melt before adding the top slice and allowing it to continue to toast.
🥪 What you need to make the best vegan grilled cheese
Here are the ingredients you need.
white bread
spray olive oil - or rapeseed oil
smoked vegan cheese - grated
vegan cream cheese
paprika
tomato puree - optional
pizza seasoning - optional
salt and pepper
We spread one slice of the bread with tomato puree before adding the cheese mixture.
This was another of my son's ideas and it does give it a bit of a pizza flavour, especially if you top the cheese with dried oregano or even my homemade pizza seasoning.
That seasoning is fabulous stuff. It perks up so many dishes.
🍞 What type of bread makes the best cheese toastie?
For the best British-style cheese toastie, you want bog-standard white sliced bread.
Once toasted it is soft inside and crisp on the outside and is a good size for a filled toastie.
🍞 Types of bread that make good toasties
Here are a few more options. Each on you choose will make a very different toastie.
White sliced bread - a good old British classic
Bloomers bread - heavenly toasted
Sourdough - for that bistro type grilled cheese
Wholemeal bread - so you can pretend it's healthy
Seeded bread - same again
🥪 Vegan grilled cheese variations
Here are some tweaks you can make to your air fryer vegan grilled cheese.
Smoked Cheese - use vegan cheddar instead
Mozzarella - mix vegan mozzarella with vegan cheddar
Pickle - a very British option, use vegan cheddar and top with sandwich pickle.
Gherkins - sliced gherkins, also known as dill pickles are a tasty addition to grilled cheese
Tomato - add thin sliced seasoned with salt and pepper
Onion - add fine slices
Mushrooms - add grilled or air fried mushroom slices
Sriracha - spread one slice of bread with this tasty hot sauce
Chilli - add chilli flakes to the cheese
Oregano - add a good sprinkle on top of the cheese
🥗 How to serve vegan grilled cheese
Here are some ideas for serving grilled cheese.
🥪 More toasted sandwiches to try
Here are a few more toasted sandwiches you might enjoy.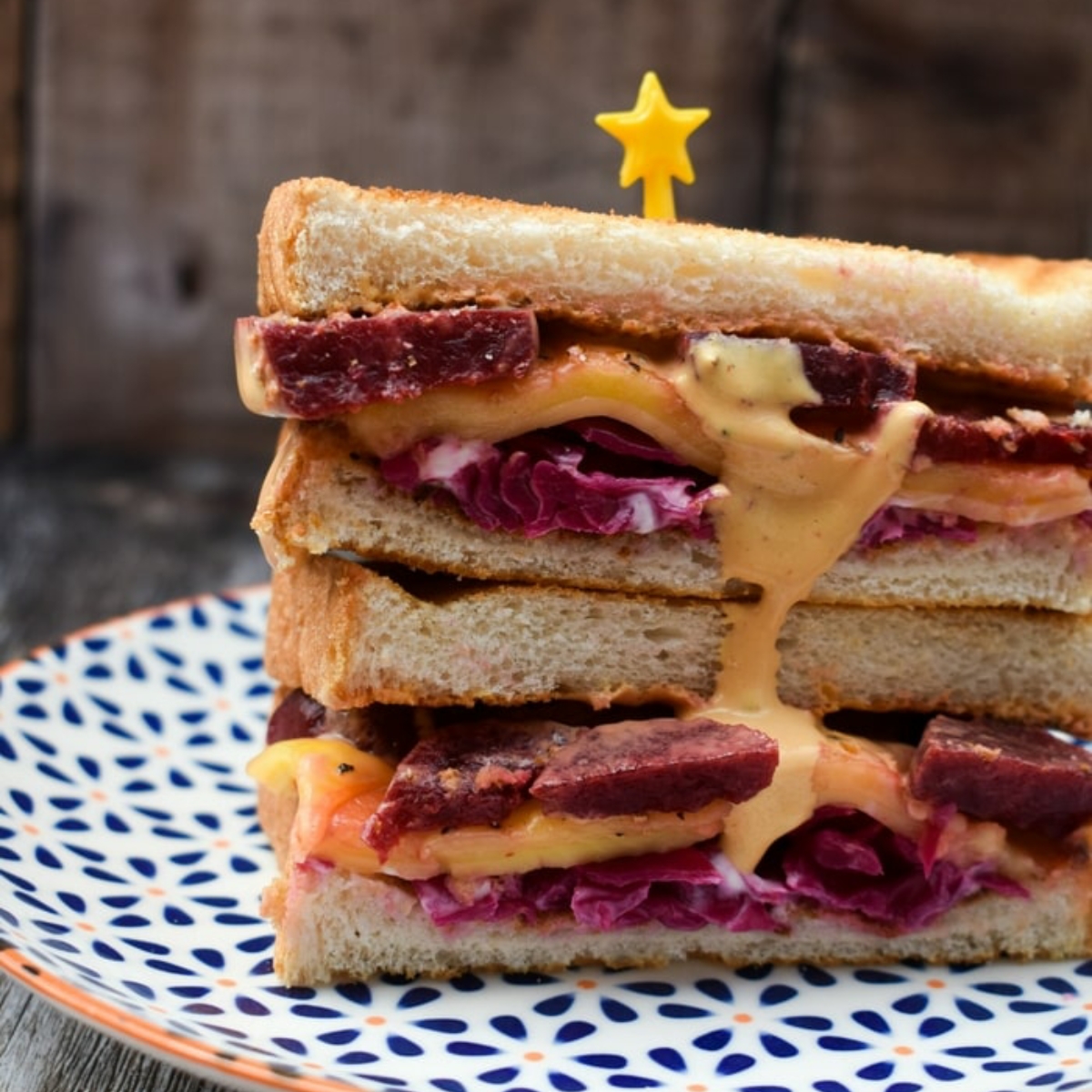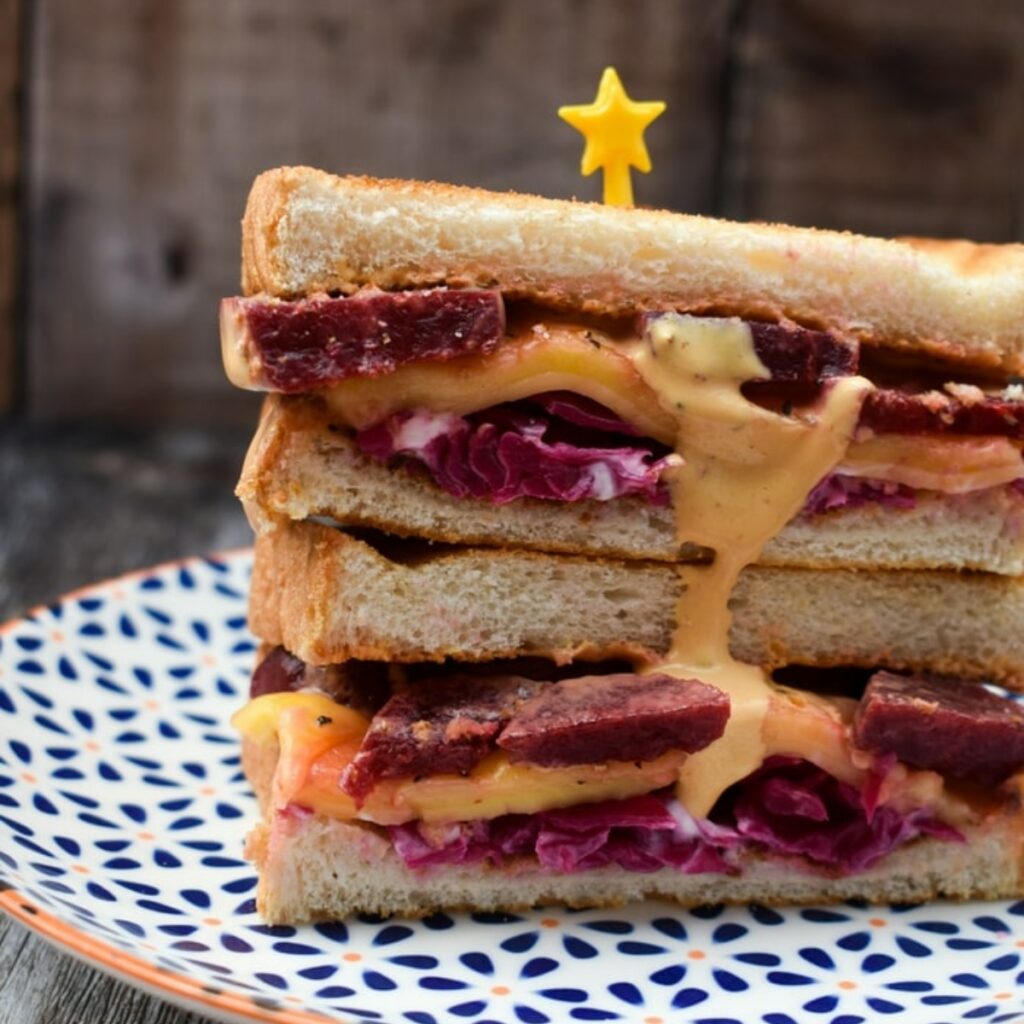 Check out my vegan sandwich and wrap page for more ideas.
📋 Want new recipes delivered to your inbox?
Sign up for my Vegan Lunch Box newsletter and I'll send the latest recipe straight to your inbox as soon as it is published.
Also, sign up for my Tinned Tomatoes newsletter for a selection of recipes delivered to your inbox each week or sign up for my email updates and don't miss out on the latest recipe.
Check your spam folder they don't arrive, I share a new recipe on each of my blogs every week.
⭐ Pin it for later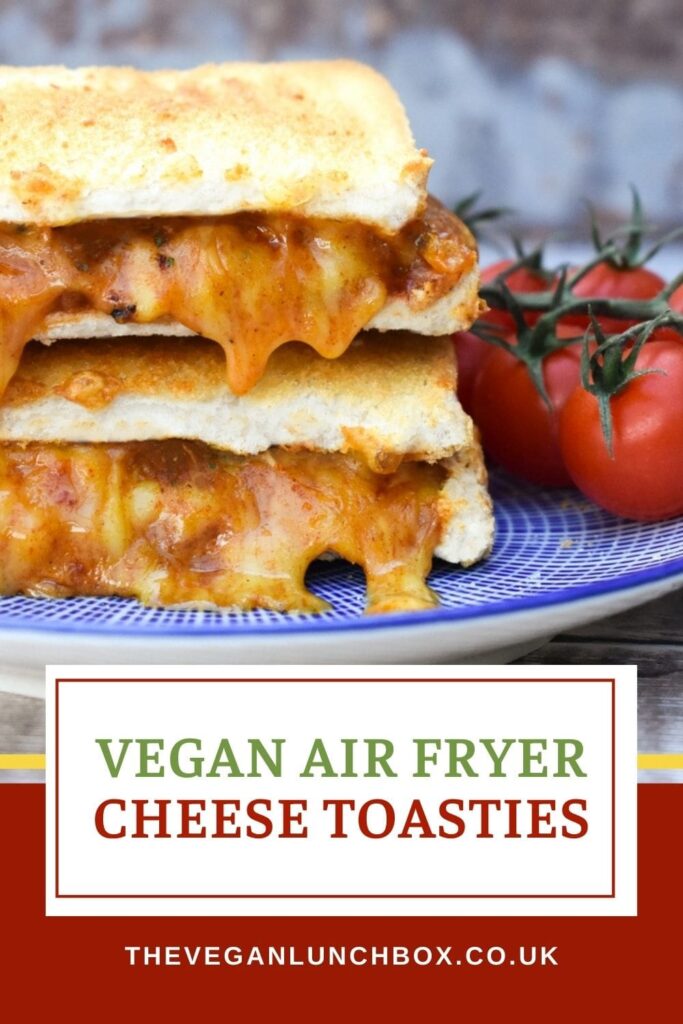 Follow me on Pinterest, Facebook, Twitter and Instagram.
🥦 Living on the Veg
Once you've signed up for my newsletters and followed me on social media, why not join my Facebook group Living on the Veg?
Such a friendly community with lots of recipes and chat. I'm in there every day chatting. It's such a nice place to spend time.
💭 How to make easy air fryer cheese toasties
Step-by-step photos. Keep scrolling for the full printable air fryer toastie recipe (with full ingredient list and nutritional info).
Step 1
Mix the vegan cream cheese in a bowl to soften it.
Add the grated smoked vegan cheese or cheddar to the bowl, then add the spice and season.
Mix well.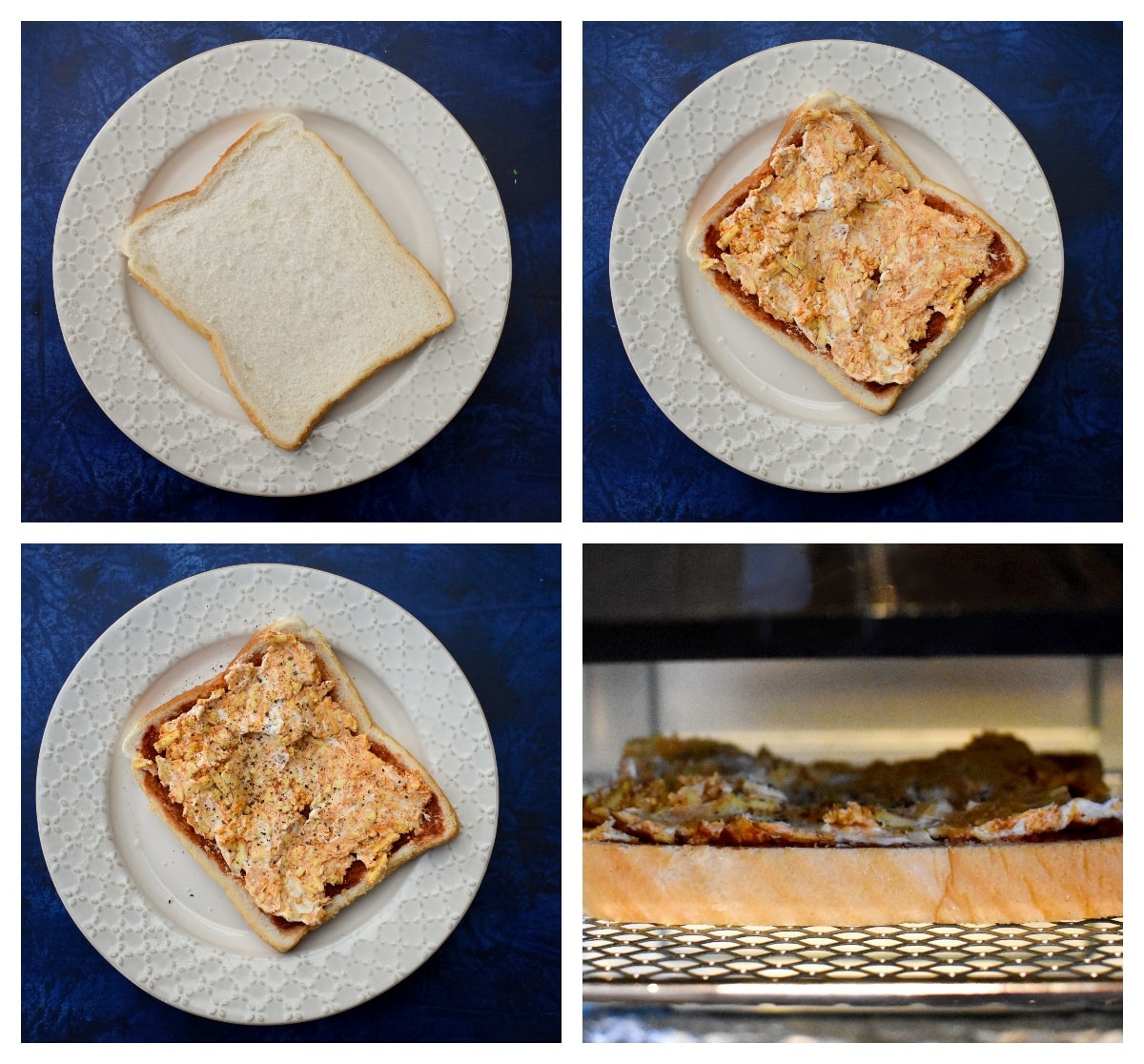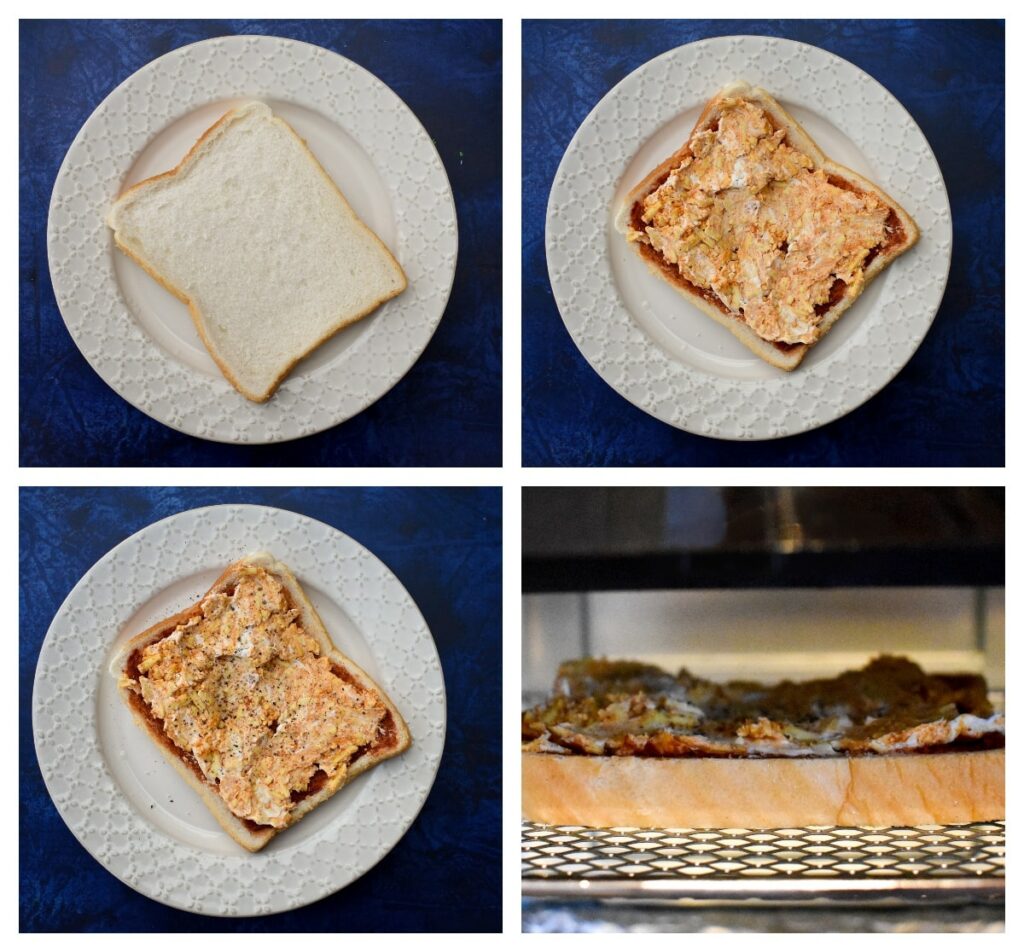 Step 2
Lightly spray the outside of each slice of spread with light oil.
Spread the other side with tomato puree (optional), then top with cheese mix.
Add both of your topped bread and a plain slice to the shelves of your air fryer, if you don't have shelves you should be able to get a shelf with legs to place in your air fryer drawer to separate the slices.
Let it melt.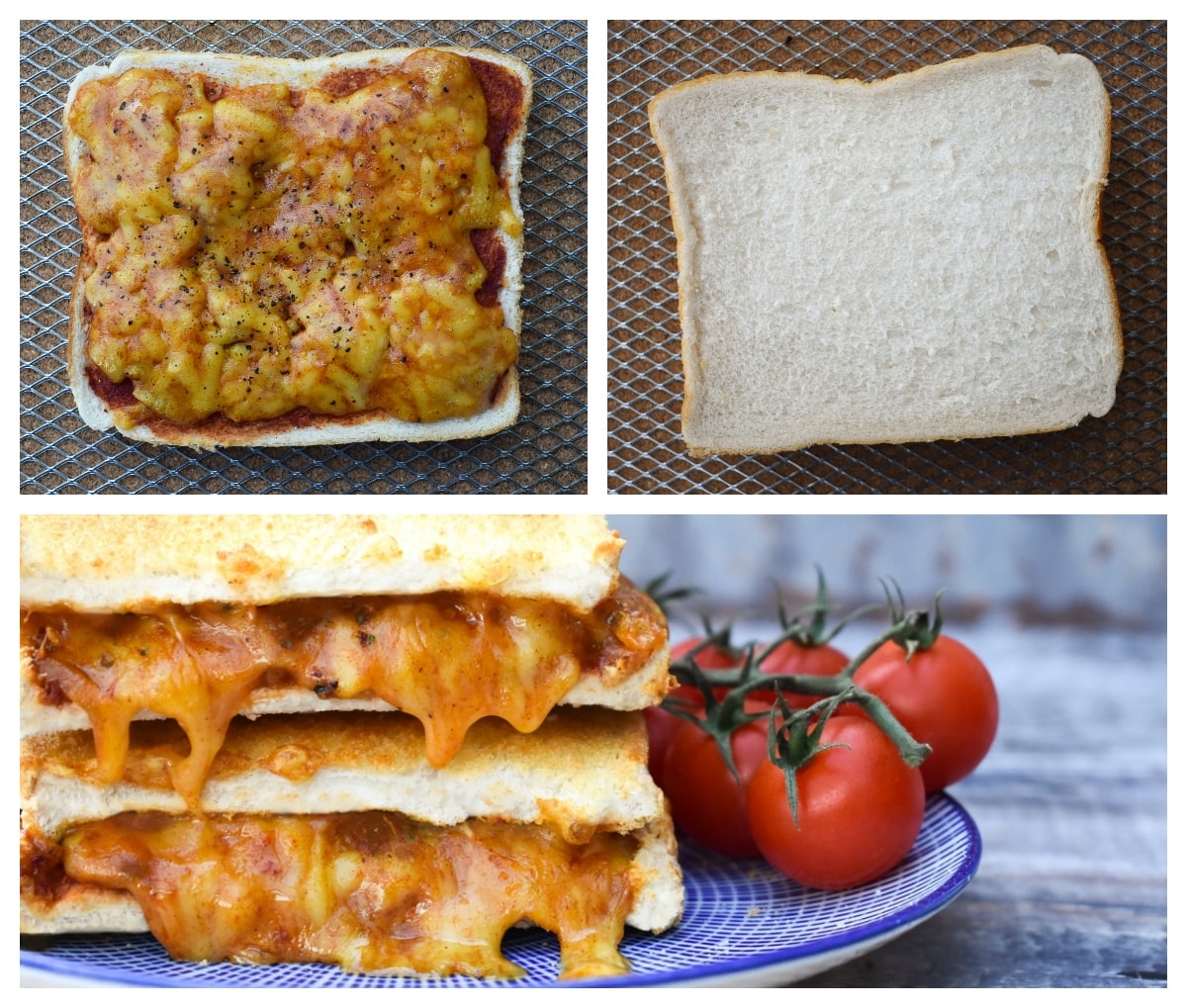 Step 3
Once the cheese has melted, add the top slice and pop back in the air fryer.
Air fry the whole toastie until golden.
Enjoy!
📖 Recipe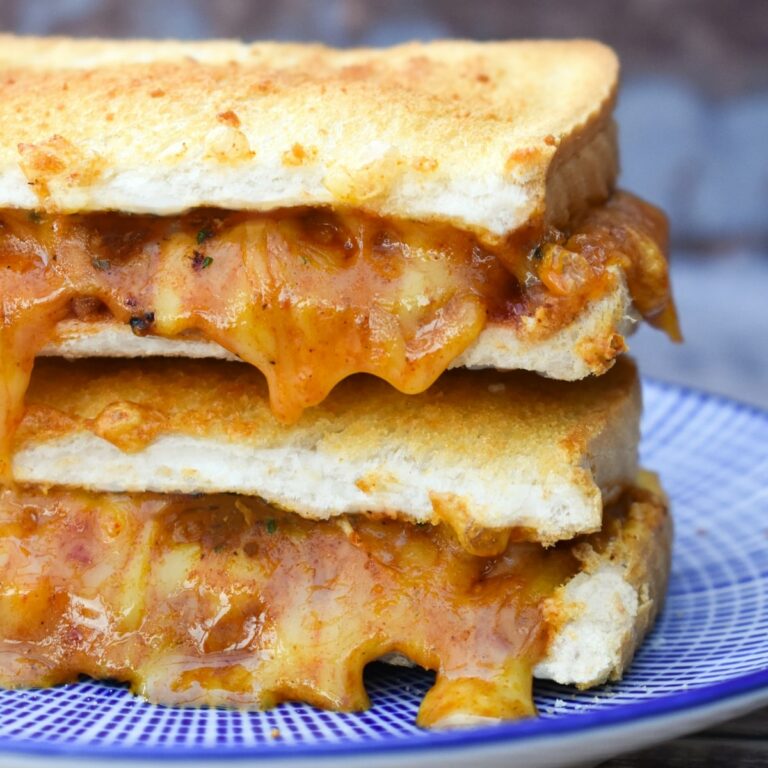 Vegan Air Fryer Cheese Toasties
These vegan air fryer cheese toasties will become your favourite lunch. Air fryers make the best toast, just like fried bread but healthier.
Ingredients
4

slices

white bread

4

sprays

oil

100

g

vegan cream cheese

100

g

vegan cheese

smoked or cheddar, grated

½

teaspoon

paprika

1

pinch

salt and pepper

2

teaspoons

tomato puree

1

teaspoon

pizza seasoning

or dried oregano
Instructions
Mix the cream cheese, with the grated cheese, paprika, salt and pepper.

Give one side of each slice of bread a quick spray of oil. This is optional.

Spread the other side (no oil) of two slices with tomato puree, then add the cheese mixture and spread in an even layer.

Sprinkle pizza seasoning or oregano over the cheese.

Place the two slices of cheese topped bread in your air fryer and cook for 3 mins at 180c/350f to give the cheese a chance to start melting before adding the top slice. If you have an air fryer with a drawer and not shelves, you may need to do one slice at a time.

Now add the top slice (oil side out) on top of the melted cheese slice and cook for another 4 mins until golden.
Notes
For a plain grilled cheese you can just mix the cream cheese with grated cheese, season and spread on plain bread.
The spray of low-calorie oil is optional but makes the toasties extra crispy.
Cooking the slice topped with cheese before adding the top slice of bread helps the cheese to melt.
If your air fryer has shelves you may be able to cook two toasties at once (or more). If you have a drawer you would need a shelf on legs to allow you to cook two toasties at once.
Air fryers vary, so do keep an eye on your toastie. It should be golden and crisp.
Nutrition
Calories:
327
kcal
Carbohydrates:
43
g
Protein:
10
g
Fat:
7.5
g
Saturated Fat:
6.5
g
Polyunsaturated Fat:
1
g
Monounsaturated Fat:
1
g
Trans Fat:
1
g
Sodium:
954
mg
Potassium:
91
mg
Fiber:
7
g
Sugar:
5
g
Vitamin A:
76
IU
Vitamin C:
2
mg
Calcium:
190
mg
Iron:
3
mg