Serve these vegan smoky vegetable quesadillas with creamy sriracha dip and salad for the perfect lunch.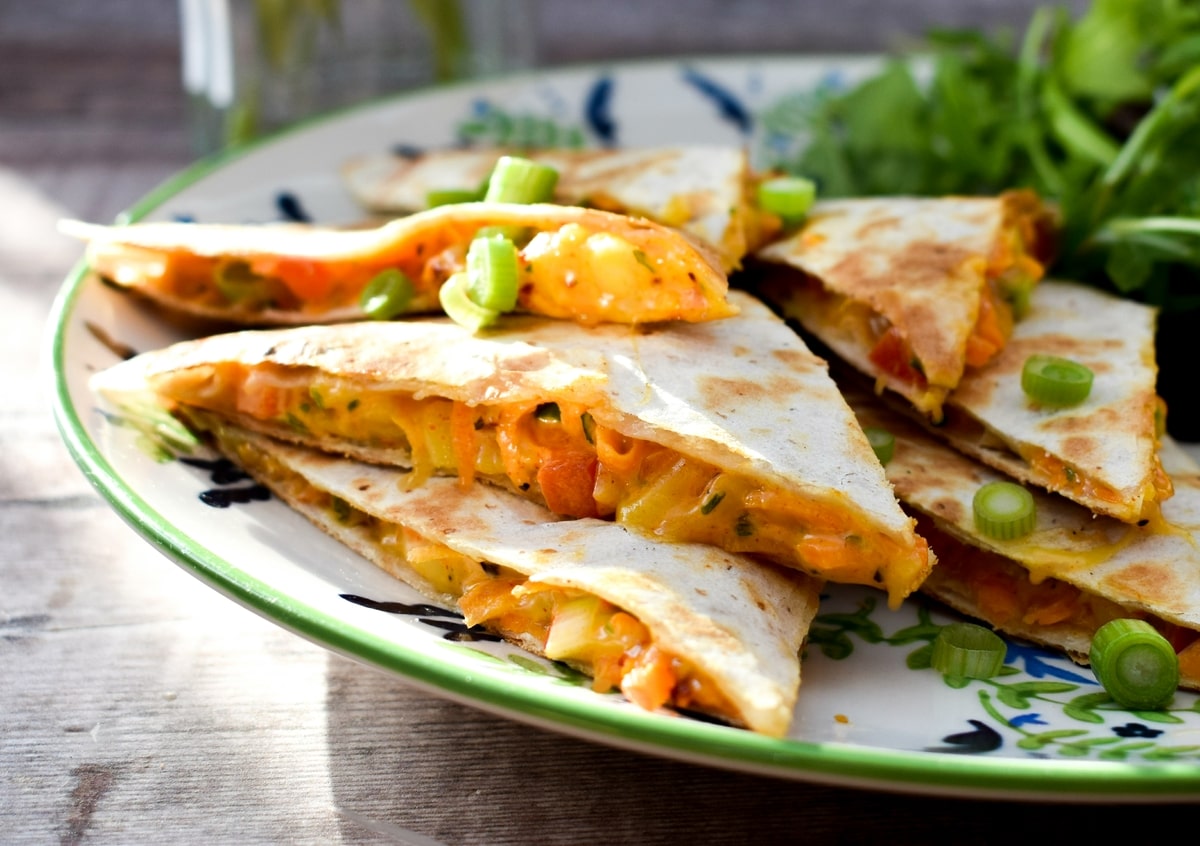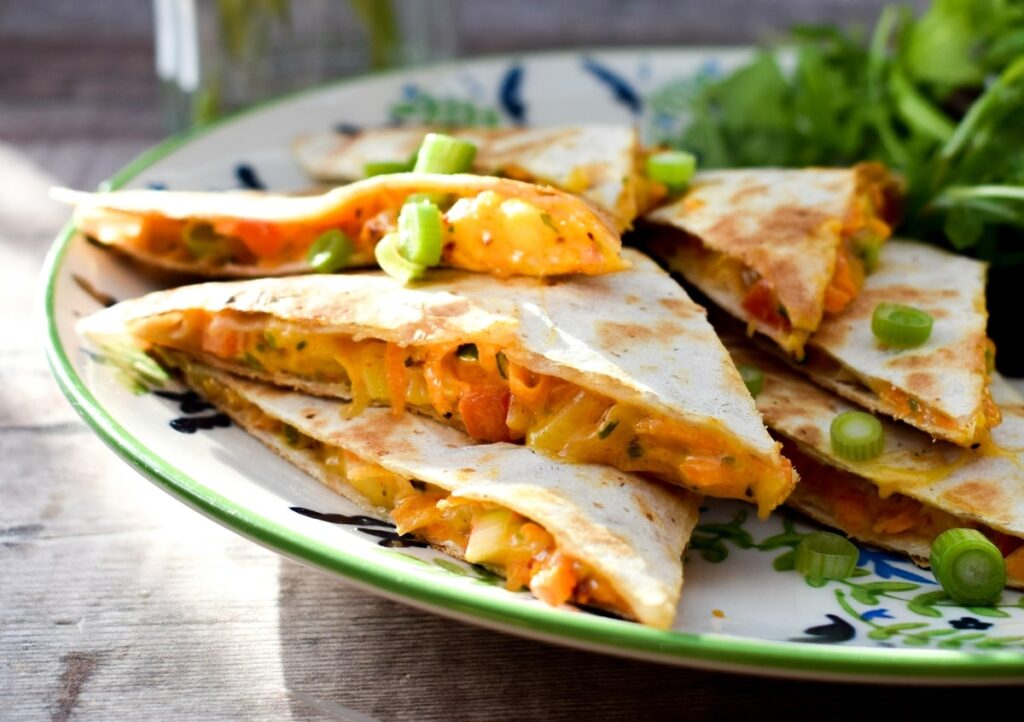 We're always well stocked up with flour tortillas.
We use them to make lunch wraps like these onion bhaji wraps; homemade nachos (tortilla chips); sheet-pan vegetable fajitas, sweet potato enchiladas and of course quesadillas.
They are rather handy and these quesadillas are rather special.
Jump to:
💭 What is a quesadilla?
I am sure you already know, but just in case, I will explain.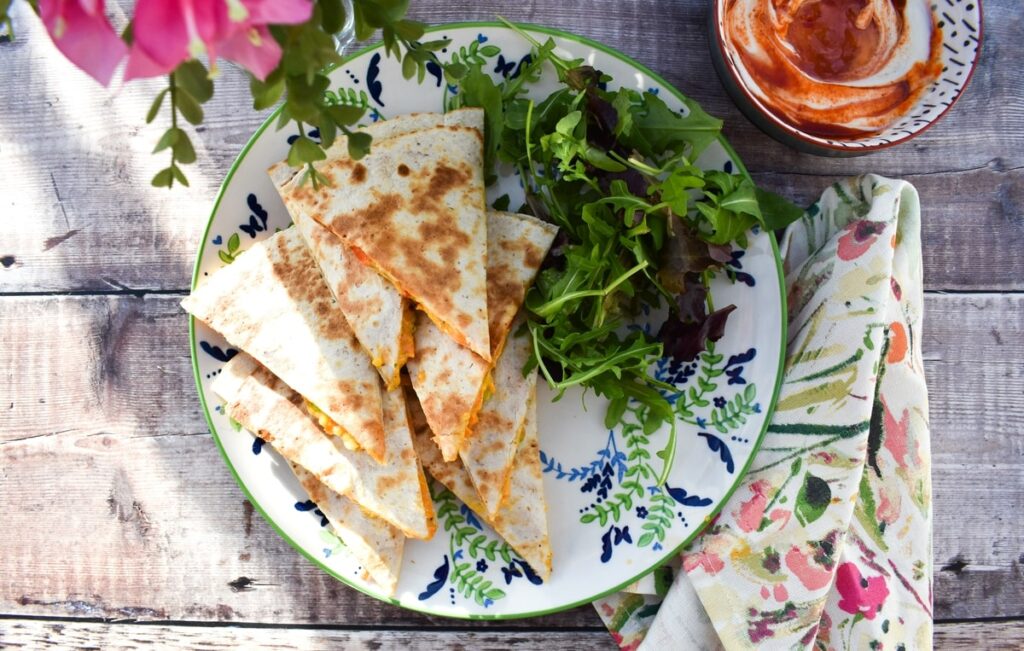 Quesadillas are a Mexican dish made of tortillas (flour or corn) are filled with cheese and other fillings, along with spices and seasonings.
It translates as 'little cheesy thing' which I rather like.
They are usually cooked in a frying pan or griddle.
Once cooked on both sides it is cut into triangles to serve.
Also, try these spicy bean burritos with cheese.
👩🏻‍🍳 Cooking quesadillas
I used to cook my quesadillas in a frying pan, but no longer!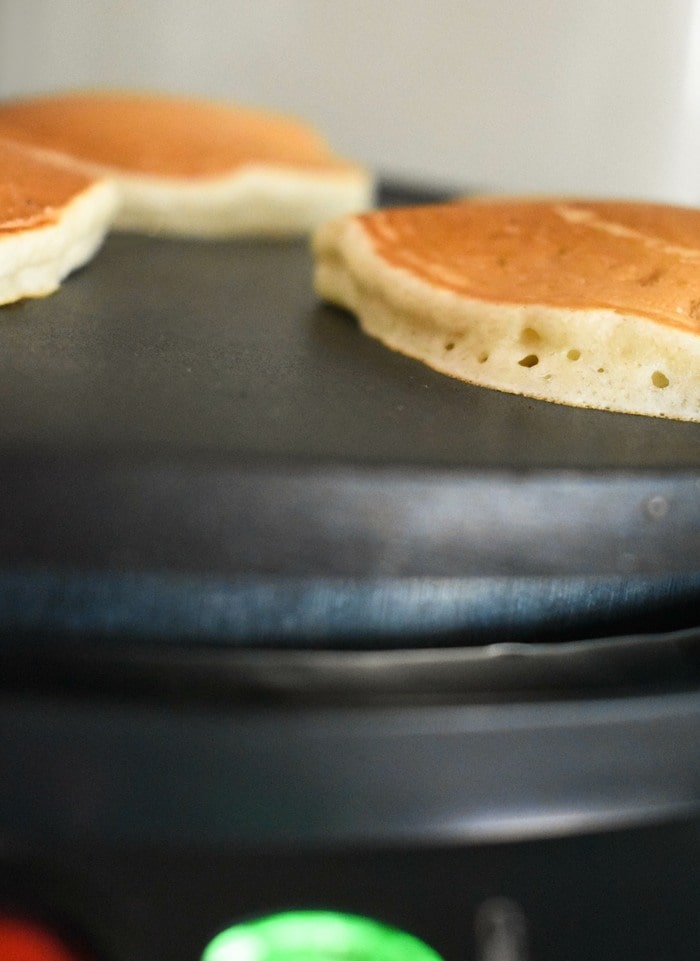 My secret quesadilla maker is actually my electric crepe maker ( I don't have a photo of me making quesadillas on it, I am afraid, but this will give you an idea).
I have to say it is the best purchase I've made over the last couple of years.
I use it to make my popular vegan banana pancakes, to toast (broil) the inside of burger buns and to make quesadillas, which are always perfect, require no oil, and never stick.
Funnily enough, I never make crepes on it.
I highly recommend it. Such a good buy if you make these three yummy dishes or crepes of course.
🌶 Ariba! Ariba! It's smoky!
Smoky but not hot.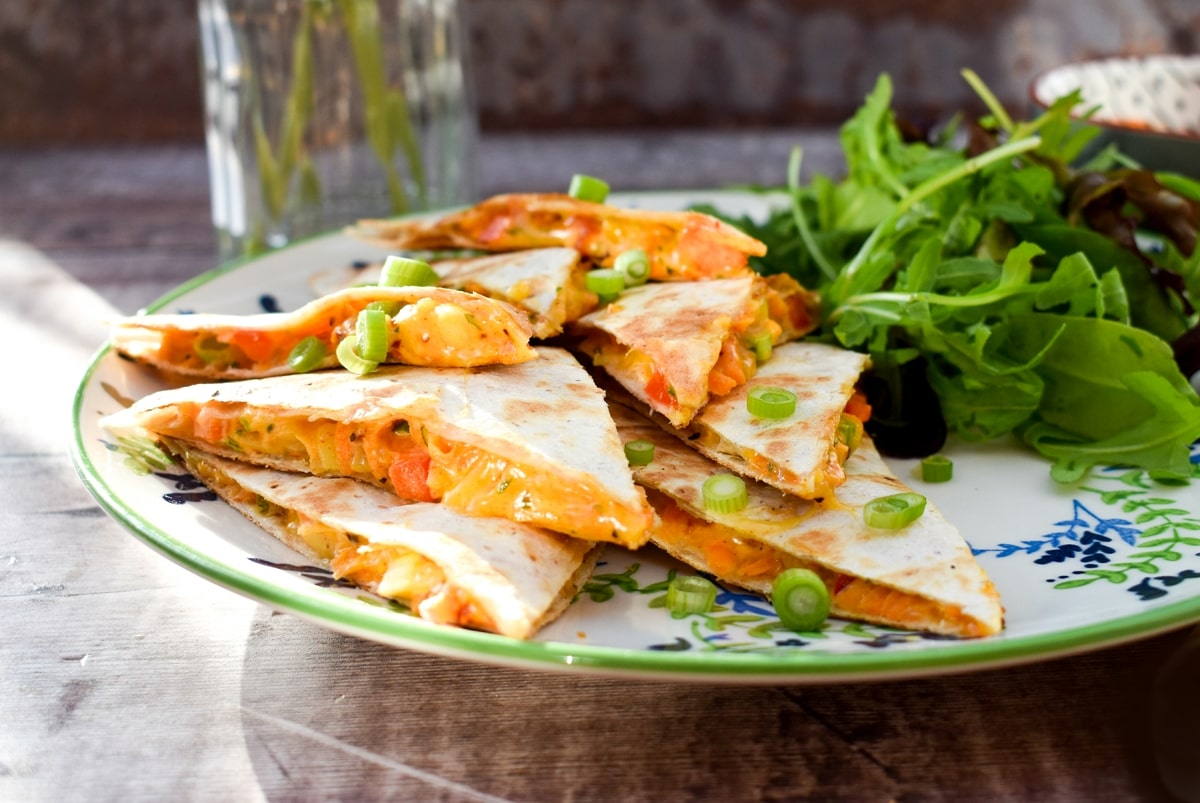 The smoky flavour comes from paprika and smoked vegan cheese.
There's lots of flavour but not too much heat.
If you like heat, you can add extra chilli.
🧀 Smoked vegan cheese
Most quesadillas are filled with cheese as the main ingredient and these are no different.
Ask me a few years ago and I would say save money and never buy grated cheese, but roll forward to today and I am a super busy mum and I'm all for anything that saves me time.
The vegan smoked cheese I used in these quesadillas is Vegan Smoked Applewood Cheese.
There are other options, but this one is our favourite and it melts like a dream, so it's perfect for toasties and quesadillas.
It comes in a block, slices and grated.
Lovely stuff!
🥕 Vegetables to use in quesadillas
There are so many vegetables you can use in quesadillas.
For these smoky vegetable quesadillas, I added red bell pepper, carrot and spring onions (scallions).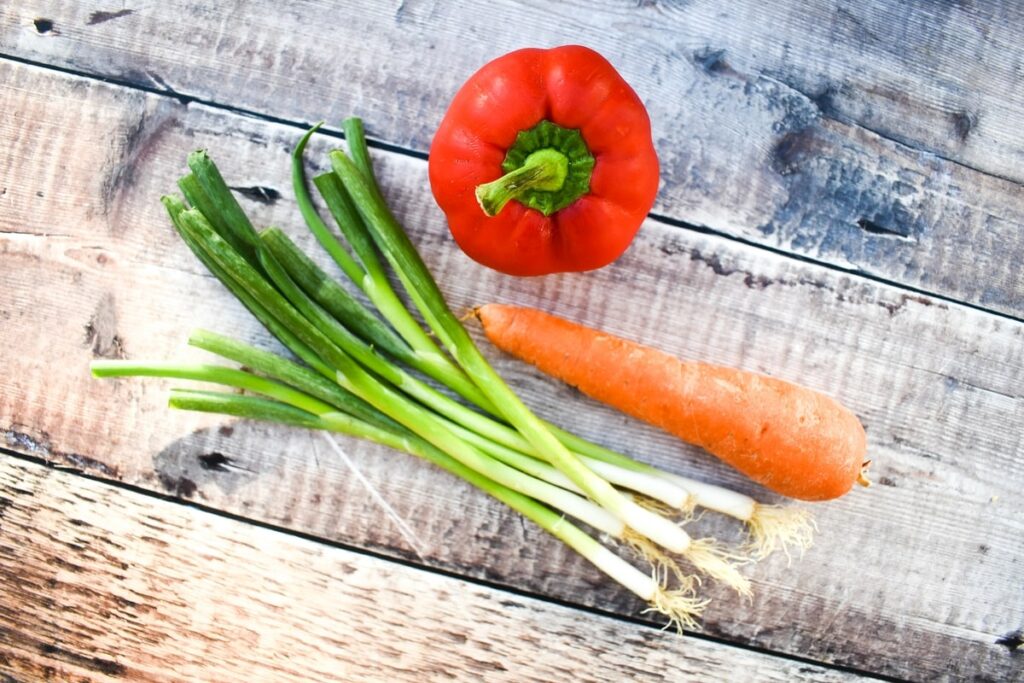 These vegetables are also particularly good in quesadillas.
Beets - fresh or pickled, grated
Carrots - grated
Leeks - finely sliced and sauteed
Mushrooms - sauteed or grilled
Onions - finely sliced, sauteed and seasoned
Red Onion - finely diced or sliced
Red, Yelllow or Orange Peppers - finely sliced or diced
Spring Onions - also known as scallions
Sweet Potato - roasted or baked
💭 Top Tip
While it's great to add vegetables to a quesadilla, it's important to get the quantities right.
You always want more cheese than vegetables and always chop or slice the veg very finely.
The melted cheese (apart from being gorgeous). will hold the tortilla together like a particularly tasty and edible glue.
Also, try topping the filling with some of this easy homemade pizza seasoning.
🌯 Which tortillas to use to make quesadillas?
Traditionally quesadillas are made with corn tortillas, first by the Aztecs who stuffed them with squash and then later by the Spanish who added cheese.
I like to use flour tortillas, but you could use your favourite type of tortillas or even make your own tortillas at home.
The main thing is to choose large tortillas, so there is plenty of room for fillings.
🌯 Gluten-free quesadillas
Quesadillas are a great option if you are on a gluten-free diet.
There's such a good variety of gluten-free wraps to choose from. Just use your favourite and make the quesadillas in exactly the same way as the standard quesadillas.
Also try Lentil Burrito Lunch Wraps
🥗 How to serve smoky vegetable quesadillas
Here are a few ideas for serving smoky vegetable quesadillas.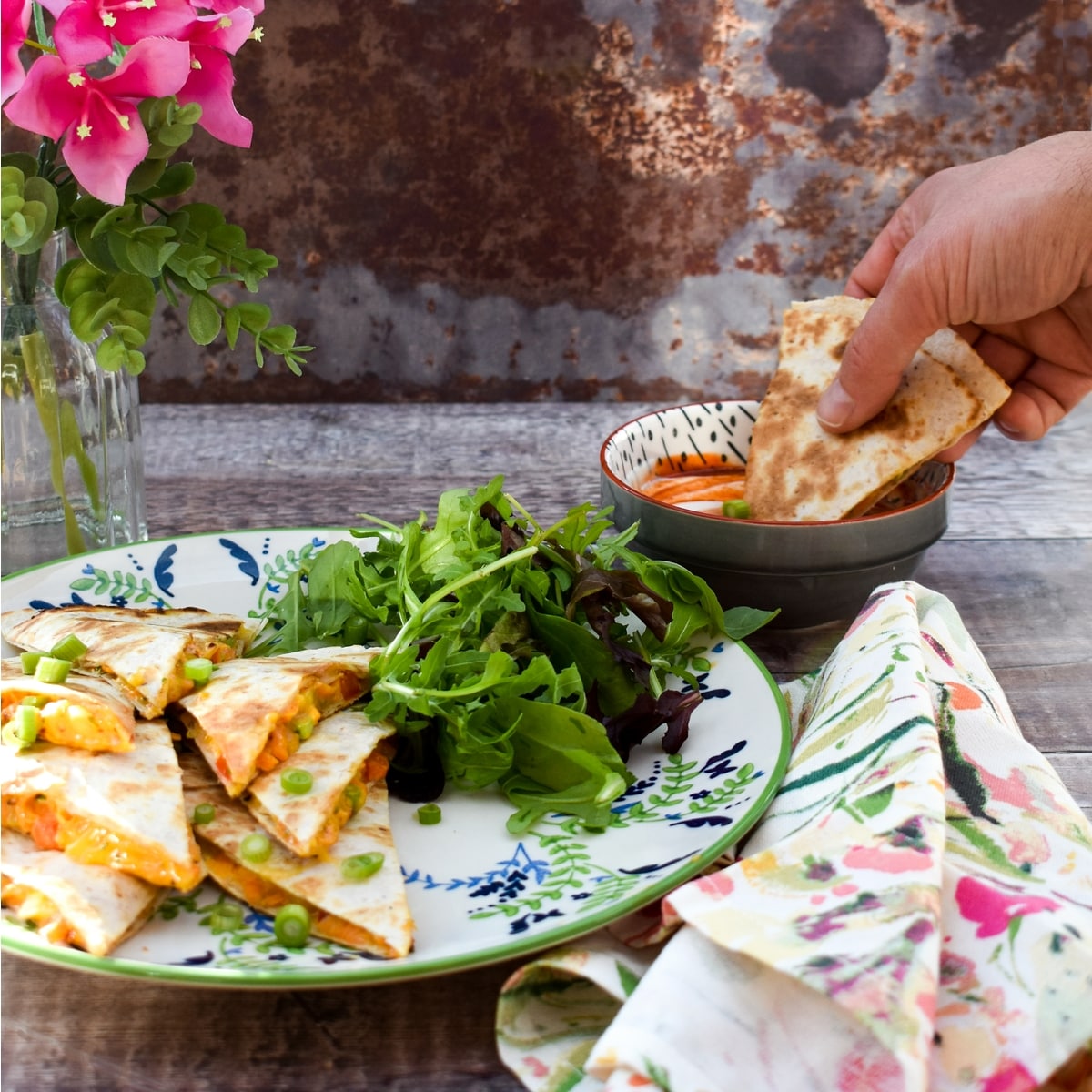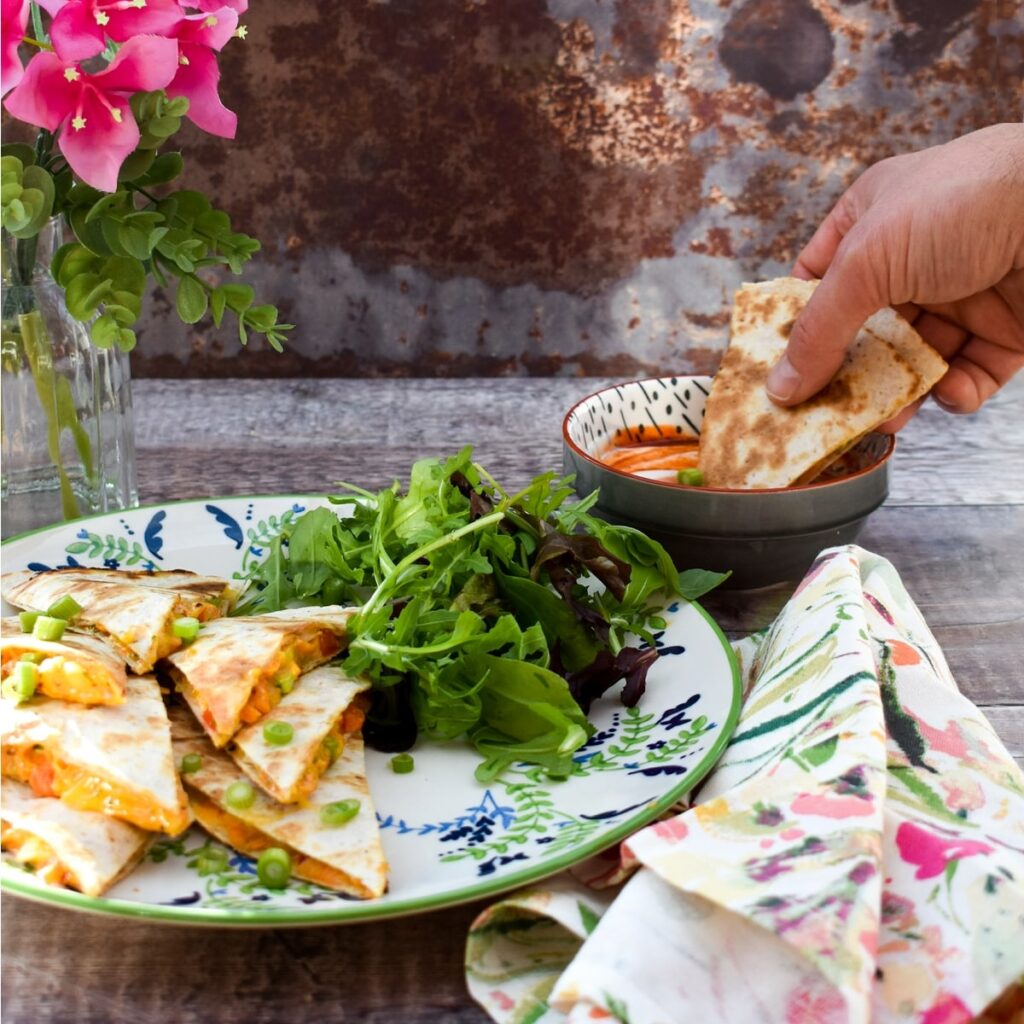 salad & dip for dunking
sliced avocado and salsa
on the side with soup (we're having that tonight!)
sweet potato fries and dip
potato wedges and salad
Smoky vegetable quesadillas are great served hot for lunch or dinner, but they are actually pretty good cold in a lunchbox too.
Kids love them.
If you are looking for ideas for vegan kids' lunchboxes, check out my guide Back to School Vegan Packed Lunches and 45 Back to School Lunches for Vegan Kids.
🍵 Vegan dips to serve with smoky vegetable quesadillas
Here are a few easy homemade dips you could serve with your quesadillas for dunking.
👩🏻‍🍳 Want new recipes delivered to your inbox?
Sign up for my Vegan Lunch Box newsletter and I'll send the latest recipe straight to your inbox as soon as it is published.
Also, sign up for my Tinned Tomatoes newsletter for a selection of recipes delivered to your inbox each week or sign up for my email updates and don't miss out on the latest recipe.
Check your spam folder they don't arrive, I share a new recipe on each of my blogs every week.
📋 Pin it for later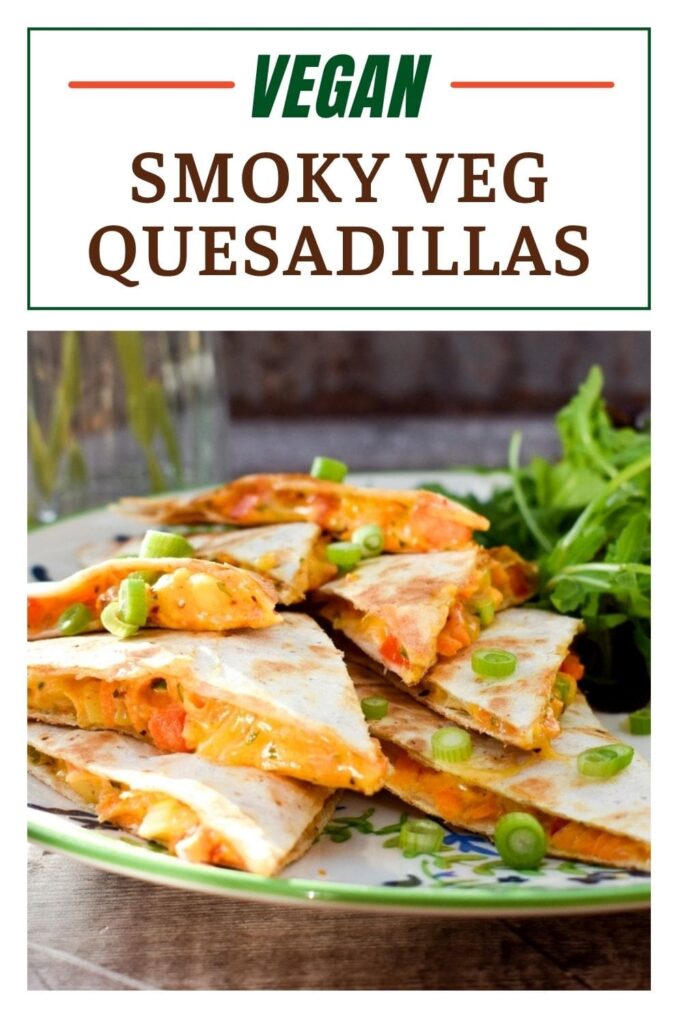 Follow me on Pinterest, Facebook, Twitter and Instagram.
🥦 Living on the Veg
Once you've signed up for my newsletters and followed me on social media, why not join my Facebook group Living on the Veg?
It's a very friendly community with lots of recipes and chat. I'm in there every day chatting. It's such a nice place to spend time.
👩🏻‍🍳 How to make Smoky Vegetable Quesadillas
Step-by-step photos of these vegan smoky vegetable quesadillas being made. Keep scrolling for the full printable recipe.
Step 1
Add grated vegan cheddar to a mixing bowl or large bowl. I used smoky cheese but you could use vegan cheddar.
Now add grated carrot and finely chopped red pepper and spring onions (scallions)
Step 2
Add vegan mayo, herbs and spices, mix well and spread on the first evenly across the first tortilla. There is enough for 2 large tortillas or 3 if you spread it thinly.
Step 3
Top with another tortilla.
Dry fry in a frying pan or if you are lucky enough to have an electric crepe maker like me cook it on that.
Leave to cook on one side until it starts to crisp up and golden patches appear, then carefully flip over and toast the other side.
Move to a chopping board and cut it across the middle in quarters then eigths, a bit like you cut a pizza to make triangles.
Serve with salad and sriracha dip for dunking.
Enjoy!
📖 Recipe
Vegan Smoky Vegetable Quesadillas
Serve these vegan smoky vegetable quesadillas with creamy sriracha dip and salad for the perfect lunch.
Ingredients
2

large

flour tortilla

or corn tortillas

150

g

vegan smoked cheddar

grated

1

medium

carrot

grated

3

spring onions (scallions)

finely sliced

½

red pepper

finely sliced

4

tablespoons

vegan mayo

1

teaspoon

dried oregano

1

teaspoon

dried parsley

1

teaspoon

paprika

¼

teaspoon

chilli flakes

optional (you can add more if you'd like heat)

1

pinch

salt and pepper
Instructions
Add the grated cheddar and chopped vegetables to a mixing bowl.

Add the mayo, herbs, spices and seasoning and mix well.

There is enough to fill 2-3 quesadillas. Spread the filling evenly across 2 or three tortillas, then top with another tortilla and toast on a hot dry pan (no need for oil) until each side is golden and fairly crisp (flip once one side has cooked) and the cheese has melted.

Cut into triangles as you would cut a pizza and serve with salad and cip.
Notes
You can skip the chilli or add more, depending on what you prefer.
If you don't like mayo you can add vegan plain or greek yoghurt.
If you can't find vegan smoked cheese you can use vegan cheddar.
Calories shown are for each quesadilla if you make 2
These are great hot or cold in lunchboxes.
Nutrition
Serving:
3
g
Calories:
513
kcal
Carbohydrates:
43
g
Protein:
6
g
Fat:
36
g
Saturated Fat:
8
g
Polyunsaturated Fat:
1
g
Monounsaturated Fat:
1
g
Sodium:
1165
mg
Potassium:
280
mg
Fiber:
6
g
Sugar:
5
g
Vitamin A:
6376
IU
Vitamin C:
46
mg
Calcium:
128
mg
Iron:
3
mg