The most delicious homemade pizza seasoning. It takes minutes to make and perks up so many dishes. Add it to everything!
I seem to be reaching for this jar of easy homemade pizza seasoning every day.
It's so darn delicious and makes so many dishes taste amazing.
Jump to:
🍕 What is pizza seasoning?
Pizza seasoning isn't the regular seasoning you find in pizza restaurants or Italian restaurants here in the UK.
You would generally be served a spice or herb shaker with Italian herbs or chilli flakes.
This is the ultimate pizza seasoning, this spice and herb mix is much more complex and packed with flavour.
🍕 What's in homemade pizza seasoning?
This tasty and complex pizza spice mix doesn't have any strange or hard-to-find ingredients.
You probably have most of them on your spice shelf.
tomato powder (or tomato flakes)
chilli flakes
garlic powder
nutritional yeast (nooch)
oregano (dried)
parsley (dried)
basil (dried)
paprika
black onion seeds (also called nigella seeds, black caraway seeds or black cumin)
salt
black pepper
See the printable recipe card below for quantities.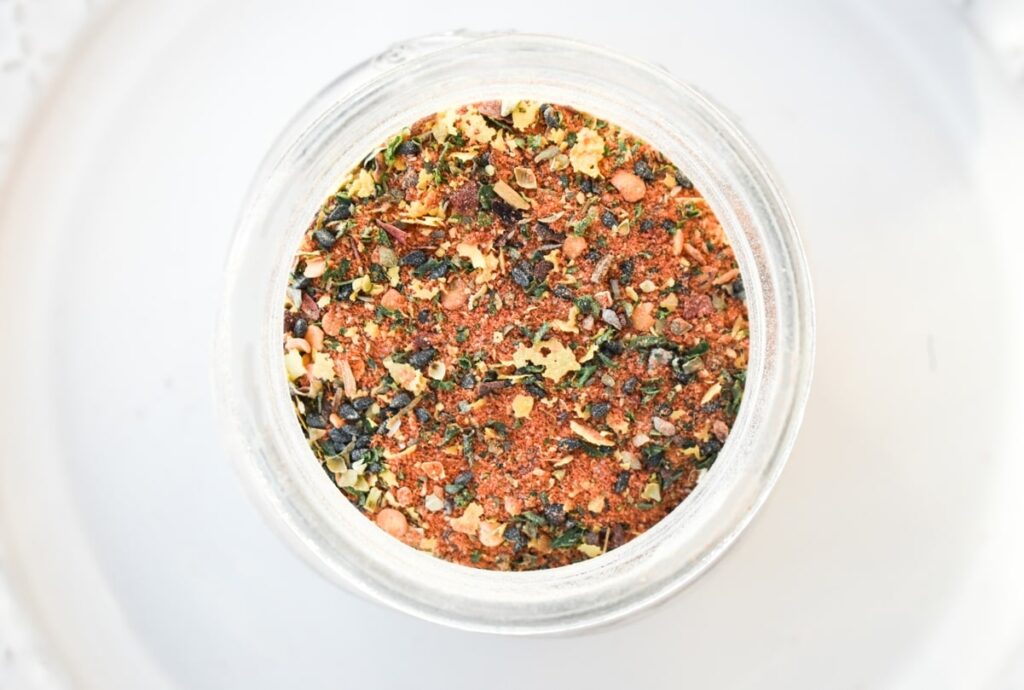 💭 How to make sure a spice mix or seasoning lasts longer
Spices don't last forever and should be replaced with a fresh jar occasionally.
To make sure they lasts longer, store them in a dark, cool cupboard.
Dried herbs and spices lose their flavour and colour quicker if they are in daylight.
🍕 How long does homemade pizza seasoning last?
Store this spice seasoning carefully (see the tips above) and this spice mix could last for up to a year.
It's so tasty and versatile, I really don't think it would last anyone that long.
🍅 Tomato Powder
Tomato powder is a powder made from fresh tomatoes.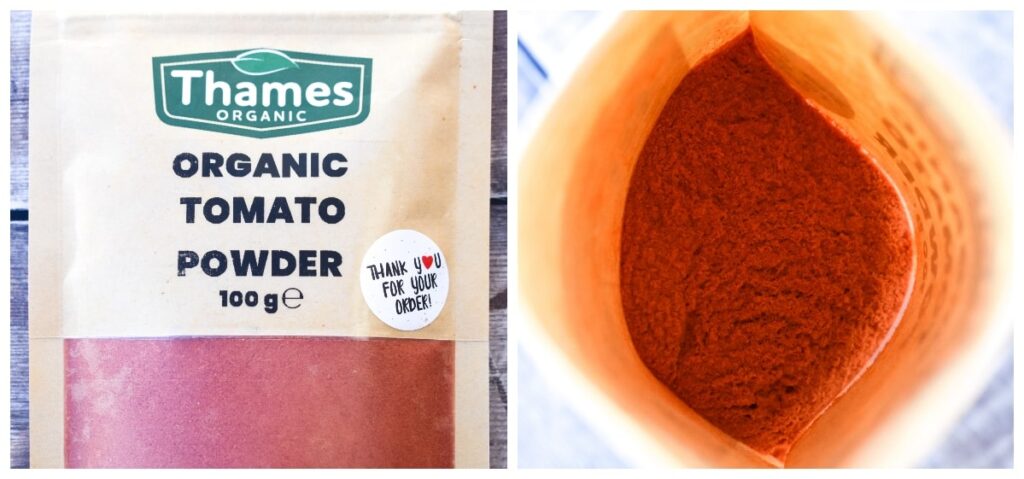 Tomatoes are mashed, then dried to a powder.
The powder can be used to give a tomato flavour to lots of dishes.
You can buy it online or make your own. Try this homemade tomato powder recipe from Rural Sprout.
Alternatively, you could use tomato flakes, which are also available to purchase online.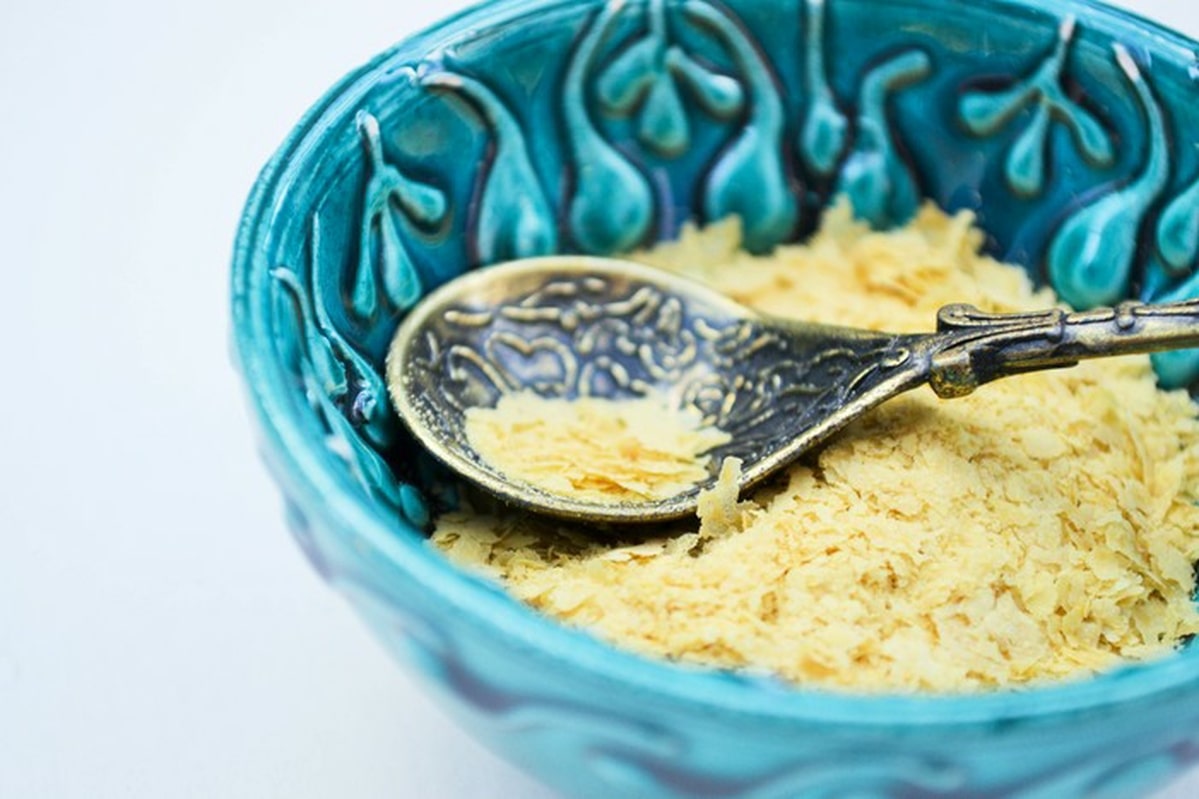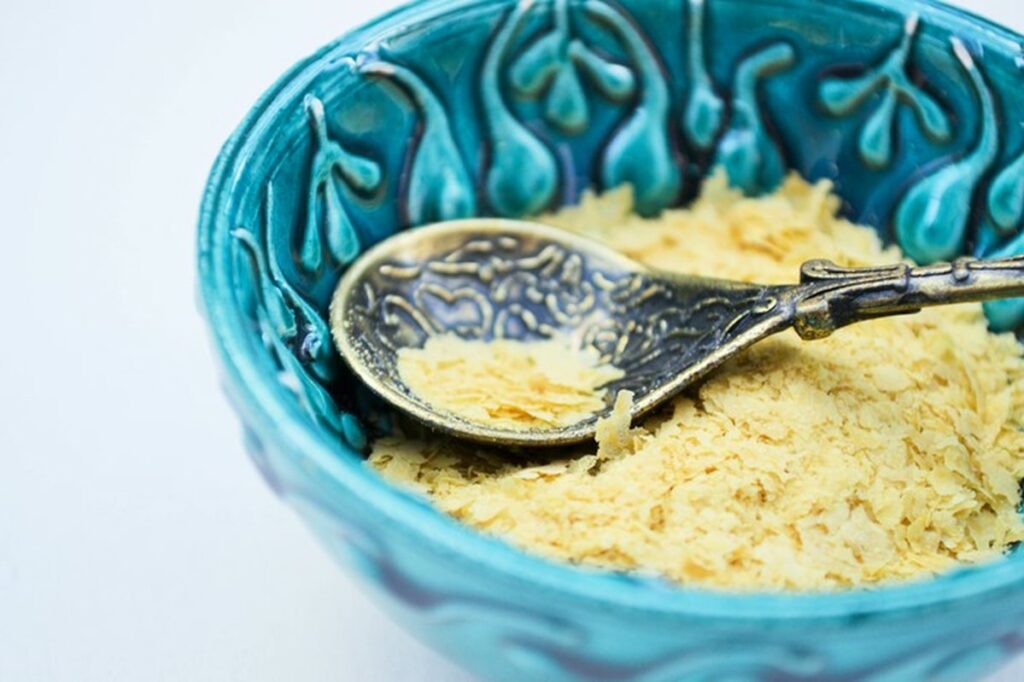 🥫 Adding nutritional yeast to spice mix
Nutritional yeast, also known as nooch is an important ingredient in this pizza spice mix.
It gives the most wonderful savoury umami flavour that's a bit cheesy.
It's also a good source of B12, although you would have to use a lot of this pizza spice to be getting the recommended daily amount.
📋 Substitutions
Here are a few tweaks you can make to use what you have in your store cupboard or other options when shopping for this homemade pizza seasoning.
Tomato powder - you can use tomato flakes instead
Chilli flakes - you can use chilli powder instead
Dried herbs - you can use Italian herbs instead, which is usually a mixture of herbs which includes the ones added to this recipe, but do replace with the same quantity of herbs
Black onion seeds - you can use sesame seeds instead
Also, try easy vegan parmesan with garlic and herbs, it's another great homemade seasoning.
🧂 Glass spice jars
Glass is a good option when you are choosing a spice jar as it will last a long time and can be recycled.
Most importantly, look for a spice jar with large holes in the top, that flakes will shake through.
My jar is 0.25 litres/250ml/250g/1 cup/8 ¼ oz.
I'm afraid I can't recommend the one I bought, which you can see in the photo above, but it is a good size for this.
I thought by buying a good brand like Kilner I would get a really good quality spice jar, but in actual fact it's rubbish.
The plastic seal inside the lid that allows you to unscrew the lid from the jar comes away from the metal lid, which means you are at risk of the lid falling off as you shake the seasoning over your dish. Which would be a mealtime disaster.
While I say add the seasoning generously, you don't want a jarful of spice heaped on your dish.
💭 Spice jar tips
Here are a few practical tips and questions to ask when buying and using spice jars.
Make sure it's big enough for what you need.
Does the lid fits tightly and won't fall off easily?
Are the holes in the spice shaker lid are big enough for flakes to be distributed over food?
If you like to use a dishwasher, make sure that it's dishwasher safe.
Once washed, make sure you dry it carefully and completely before adding your spices.
💭 Alternative to a spice jar
Don't have or want to buy a spice jar? You could use a small airtight tub instead.
If you are storing the seasoning in a tub, make sure it is clean and dry with a tight-fitting lid.
As you don't have the sprinkle lid with holes, just sprinkle your seasoning mixture over food with a teaspoon.
I have to do this with my spice jar with the loose lid.
🥘 21 Ideas for using pizza seasoning
This luscious Italian style seasoning adds lots of flavour to so many dishes.
Here are a few ideas.
Pizza - sprinkle on your pizza before baking
Cheese toastie - sprinkle on your cheese toastie filling before toasting
Cheese on toast - sprinkle over roasted cheese (as we call it in Scotland)
Garlic bread - sprinkle over garlic bread before baking
Potato Wedges - sprinkle over wedges before roasting
Sweet Potato Fries - sprinkle over fries before baking or air frying
Dip - sprinkle over dip to perk it up
Pasta sauce - stir some in to jazz it up, try sprinkling it over mac and cheese
Pizza sauce - for more flavour
Pizza dough seasoning - for flavour
Breadstick seasoning - before you bake
Olive oil - add a sprinkle over a small bowl of olive oil for dipping crusty bread
Hummus - it would be amazing served on hummus, drizzle some oil first then add the seasoning
Salad dressing - mix with olive oil and lemon juice to make a tasty salad dressing
Soup - sprinkle some over soup before serving, it will look pretty and taste great
Mayo - mix some through vegan mayo for a tasty addition to your sandwiches
Salad cream - prefer salad cream, add it to that too
Baked beans - add some to your baked beans and make them Bistro posh
Grated cheese - mix though grated cheese before topping dishes
Cream cheese - mix with cream cheese for added colour and flavour
Kale chips - season kale chips (crisps) with this seasoning
Garlic bread - sprinkle it on this 5-minute garlic bread, which can be cooked in an air fryer or the oven
🍕 More vegan pizza recipes to try
Here's a varied selection of pizza recipes for you to try next.
Remember to use your pizza seasoning if you make any of these recipes.
📋 Want new recipes delivered to your inbox?
Sign up for my Vegan Lunch Box newsletter and I'll send the latest recipe straight to your inbox as soon as it is published.
Also, sign up for my Tinned Tomatoes newsletter for a selection of recipes delivered to your inbox each week or sign up for my email updates and don't miss out on the latest recipe.
Check your spam folder they don't arrive, I share a new recipe on each of my blogs every week.
⭐ Pin it for later
Follow me on Pinterest, Facebook, Twitter and Instagram.
🥦 Living on the Veg
Once you've signed up for my newsletters and followed me on social media, why not join my Facebook group Living on the Veg?
Such a friendly community with lots of recipes and chat. I'm in there every day chatting. It's such a nice place to spend time.
🍕 How to make homemade pizza seasoning
Step-by-step photos. Keep scrolling for the full printable recipe (with full ingredient list and nutritional info).
Step 1
Make sure your spice jar or tub is clean and completely dry, especially in the corners and make sure the lid is tight fitting. My jar is 0.25 litres/250ml/250g/1 cup/8 ¼ oz.
First add your tomato powder (or flakes) and garlic powder (the quantities are in the recipe card below).
Next add chilli flakes, nutritional yeast (nooch) and all the dried herbs.
Step 2
Now add salt, paprika and black onion seeds.
Add the lid and give it a good shake or use a spoon to mix it.
That's it, it's ready to use.
Enjoy!
📖 Recipe
Easy Homemade Pizza Seasoning
The most delicious homemade pizza seasoning. It takes minutes to make and perks up so many dishes.
Equipment
250ml spice jar or tub

(1 cup or 250g or 8 ¼ oz)
Ingredients
4

tablespoons

tomato powder

or tomato flakes

1

tablespoon

chilli flakes

add more for heat

2

tablespoons

garlic powder

2

tablespoons

nutritional yeast

also called nooch

1 ½

tablespoons

dried oregano

1

tablespoon

dried parsley

1

teaspoon

dried basil

1

teaspoon

paprika

2

teaspoons

salt

2

teaspoons

black onions seeds

also called nigella seeds or black cumin seeds

½

teaspoon

black pepper
Instructions
Make sure your jar or tub is clean and completely dry, especially in the corners and make sure the lid is tight fitting.

Add all the ingredients to your jar or tub add the lid and shake or give it a stir with a spoon.

Add it to pizza and everything else you can think of.
Notes
You can use tomato powder or tomato flakes.
You may add more chilli flakes or hotter chilli flakes for heat. The amount in the recipe just adds a warmth.
It can be easier to mix the ingredients in a jug, then pour into the spice jar or tub.
Check out the post for 21 uses for this lush seasoning.
Add it to everything!
Nutrition
Serving:
40
servings
Calories:
6
kcal
Carbohydrates:
1
g
Protein:
1
g
Fat:
1
g
Saturated Fat:
1
g
Polyunsaturated Fat:
1
g
Monounsaturated Fat:
1
g
Sodium:
121
mg
Potassium:
39
mg
Fiber:
1
g
Sugar:
1
g
Vitamin A:
72
IU
Vitamin C:
1
mg
Calcium:
7
mg
Iron:
1
mg