An easy vegan ranch dressing recipe for your salads and wraps or for dunking crunchy veg or nachos.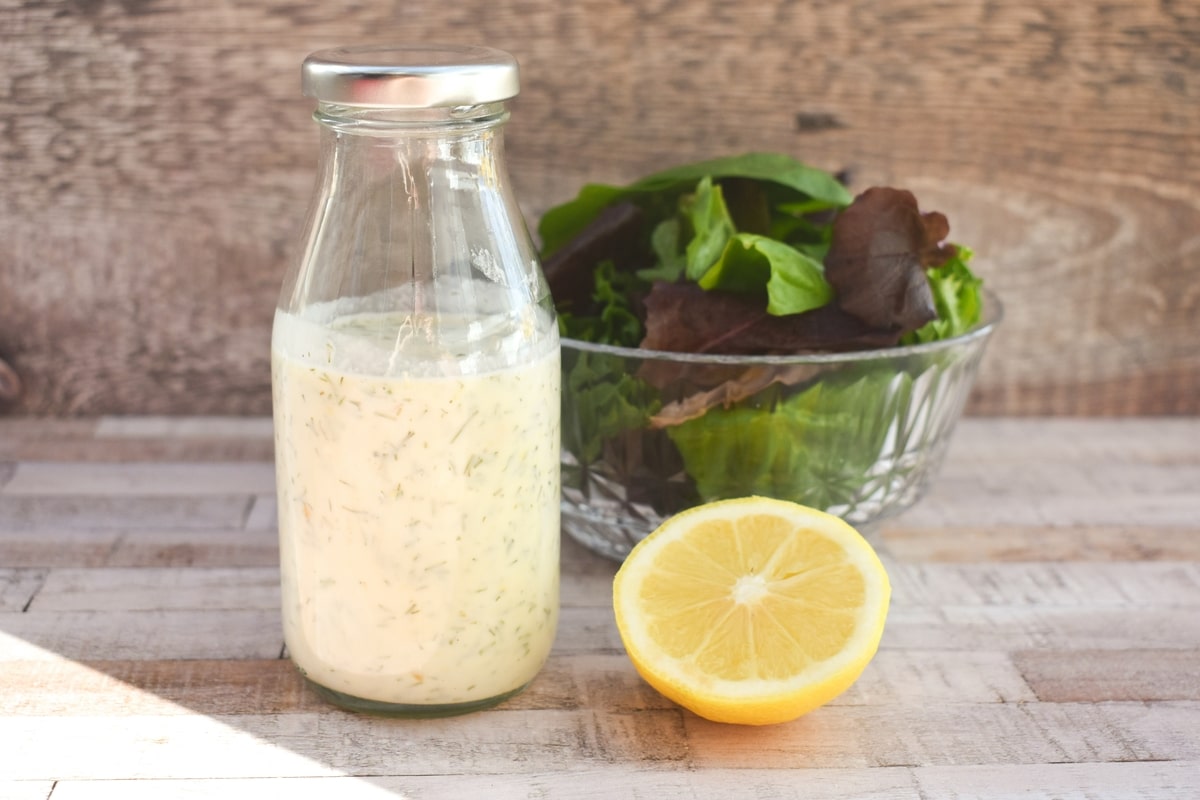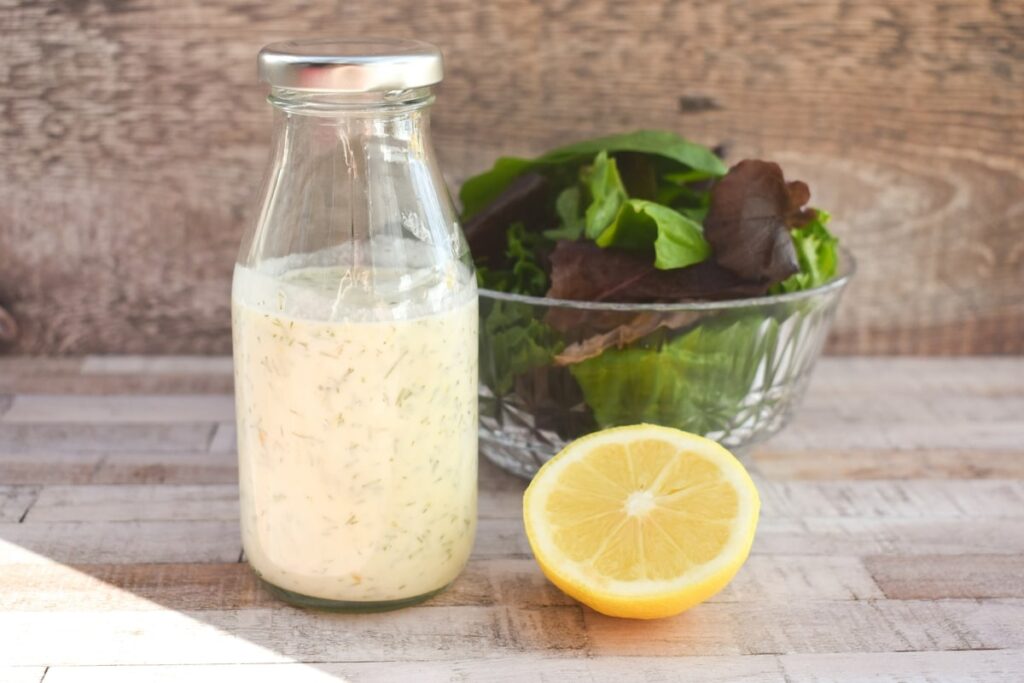 I only came across Ranch dressing a few years ago when I selected it from the line-up of dressings at a Subway. I think I was buying a salad sub.
Of course, that dressing wasn't vegan, so since then I've had to start making my own dairy-free ranch for sandwiches, wraps and salads.
I just love it.
Just lush, creamy and quick to make.
Jump to:
🥗 Small batch salad dressing
This recipe makes a small batch of dairy-free salad dressing.
Even if you're eating salads every day, you don't want to be using the same dressing every time, so it's better to make up a small batch of dressing.
That way you can have two or three different dressings made up or just change them about.
🥫 Storing salad dressing
There are a few different options when storing salad dressings.
Salad dressing should always be stored in the fridge, but there are different ways to store it.
salad shaker - made especially for making salad dressing
oil and vinegar bottle - good for a basic oil and vinegar dressing
glass jam jar - just keep an empty jam jar and wash it out, removing any labels
tupperware - (plastic container) drinks container
mini glass milk bottle - choose one with a lid
squeezy sauce bottle - the clear type you would use for ketchup
Personally, I like a jam jar or mini milk bottle with a lid.
Glass always seems like a good option. It's recyclable, you can clearly see the contents and it washes well without staining.
🥛 What makes vegan ranch dressing so creamy?
Vegan ranch dip or dressing is made with a base of vegan yoghurt, mayo, and milk.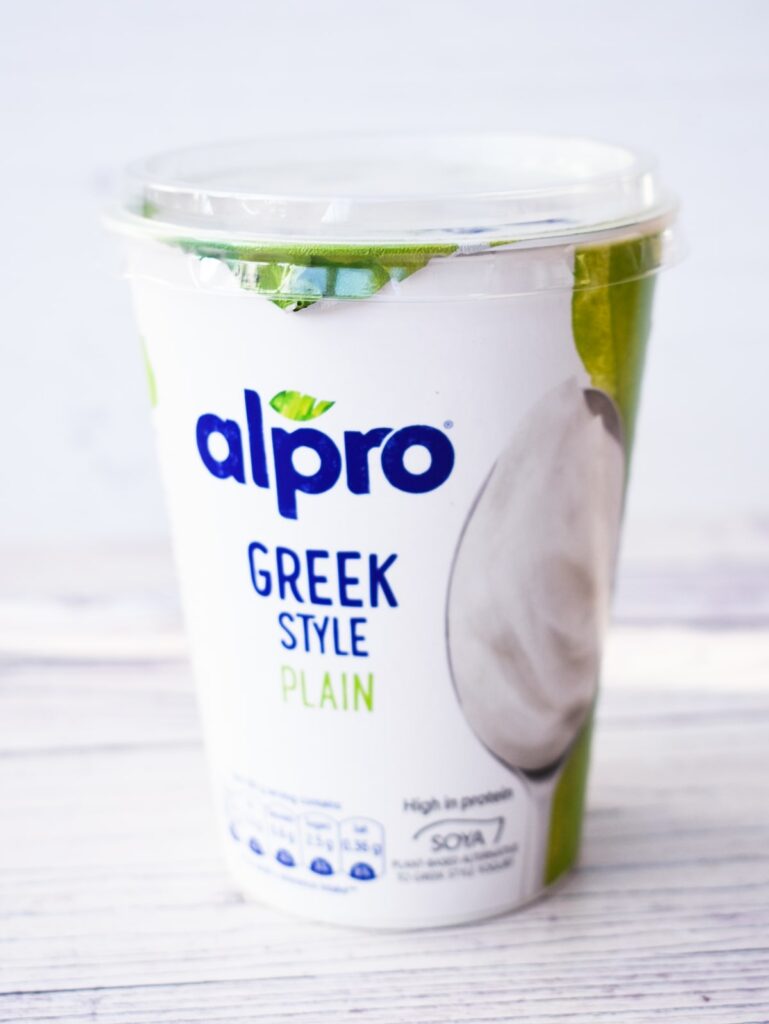 Greek vegan yoghurt is a good choice, but any plain vegan yoghurt will do.
Just remember, coconut-based yoghurts can have a strong coconut flavour, which would be delicious in some salad dressings, but not in a ranch dressing.
The good thing about adding yoghurt to a salad dressing is it adds protein to your dish, which is always a good thing.
🥣 Vegan ranch dressing ingredients
Here are the simple ingredients you need to make ranch dressing.
Vegan plain yoghurt - I like Greek style yoghurt
Vegan mayo - loving Hellman's vegan mayo
Plant milk - I like oat milk, but use whatever you have in the fridge
Lemon juice - freshly squeezed is best
Dijon mustard - which is generally suitable for vegans
Garlic powder - you could use fresh garlic, but I prefer to use powder in a dressing
Onion powder - for extra flavour
Dried dill - you can use fresh
Dried parsley - you can use fresh
Salt and pepper - to season
🥣 How long does vegan ranch dressing last?
This small-batch ranch salad dressing will last for up to a week in the fridge.
Vinaigrette dressings that are acidic tend to last the longest and could keep in the fridge for 2-3 weeks.
Dressings with fresh ingredients and creamy dressings don't last quite as long.
This is why making up a small batch of creamy dressing is a good idea.
Of course, if you are making a lot of salad you can make double or triple the amount. My recipe card will help you scale up the recipe easily.
💭 Ideas for using vegan ranch dressing
Here are a few ideas for non-dairy ranch dressing.
Salads- the most obvious way to serve this creamy dressing, but completely delicious
Pasta salad - I like to add it as a dressing to a bow tie pasta salad with cherry tomatoes, corn, cucumber and grated carrot
Wraps - people rarely think of adding dressing to a wrap, but go into a sandwich shop and watch them add those dressings
Pitta - great drizzled over salad, falafel and vegan feta in pitta bread
Toastie - dunk your toastie in it
Pizza - the perfect dip for your pizza crusts
Roast veggies - drizzle it over roast veg served on couscous
Corn - drizzle over freshly cooked corn on the cob and add a scattering of fresh herbs
Wedges - drizzle over spicy potato wedges
Potatoes - use as a tasty dressing for potato salad
Nachos - dunk nachos/tortilla chips in this tasty dip
Sweet potatoes - serve as a dip with sweet potato wedges or chips (fries)
So many ways to use ranch!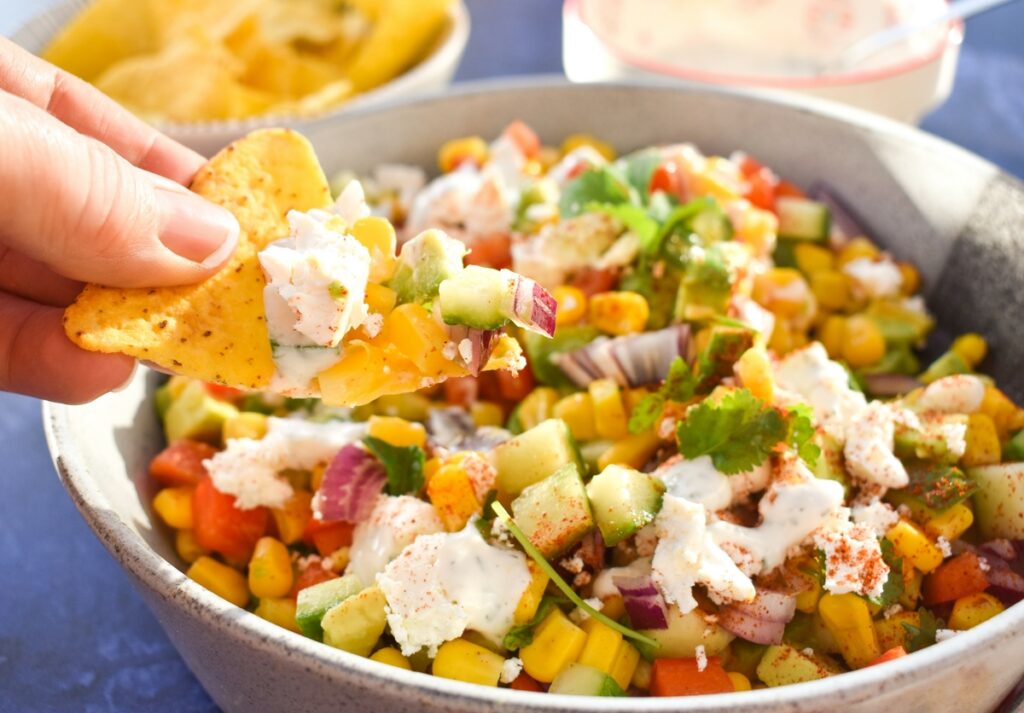 For the ultimate lunch, try this ranch dressing on my Tex Mex Corn Chopped Salad.
🥗 More vegan salad dressing & dip recipes to try
Here are a few delicious vegan salad dressings and dips.
Which will you try next?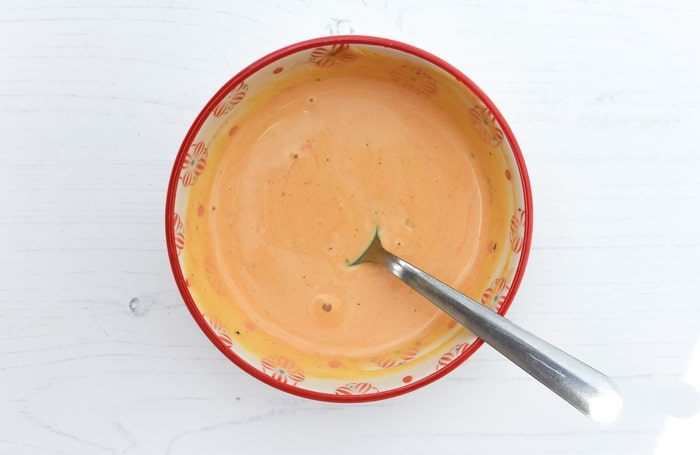 📋 Want new recipes delivered to your inbox?
Sign up for my Vegan Lunch Box newsletter and I'll send the latest recipe straight to your inbox as soon as it is published.
Also, sign up for my Tinned Tomatoes newsletter for a selection of recipes delivered to your inbox each week or sign up for my email updates and don't miss out on the latest recipe.
Check your spam folder they don't arrive, I share a new recipe on each of my blogs every week.
⭐ Pin it for later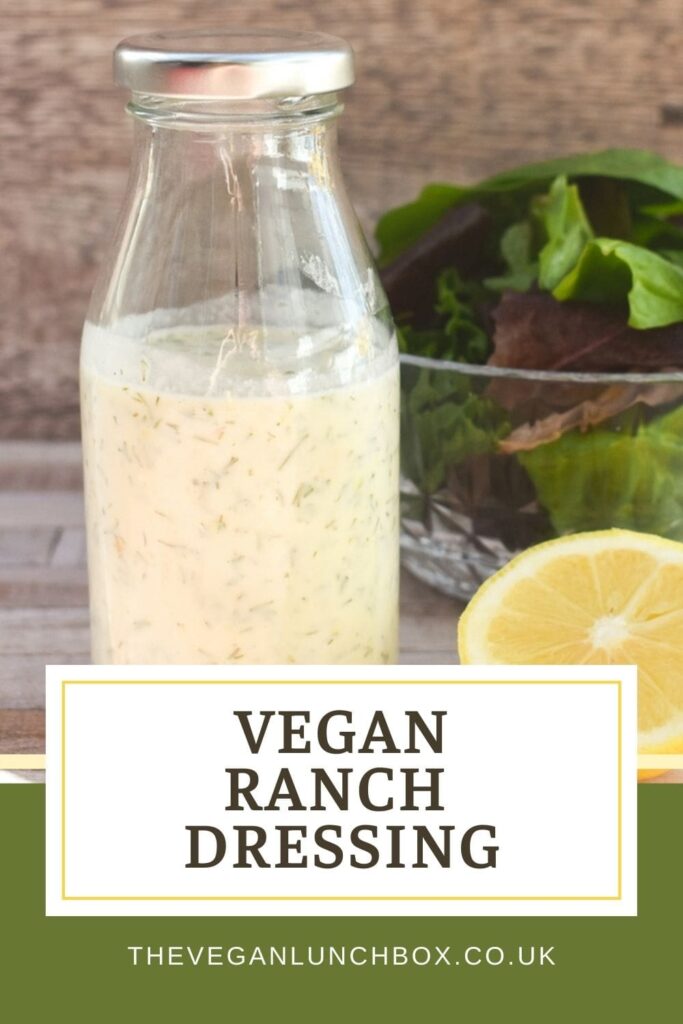 Follow me on Pinterest, Facebook, Twitter and Instagram.
🥦 Living on the Veg
Once you've signed up for my newsletters and followed me on social media, why not join my Facebook group Living on the Veg?
Such a friendly community with lots of recipes and chat. I'm in there every day chatting. It's such a nice place to spend time.
🥗 How to make easy vegan ranch dressing
Step-by-step photos. Keep scrolling for the full printable recipe (with full ingredient list and nutritional info).
Step 1
In a mixing bowl or jug add the yoghurt, mayo, milk, lemon juice (full ingredient list in printable recipe card below).
Now add the onion and garlic powder.
Step 2
Add the dried (or fresh herbs), mustard, salt and pepper.
Step 3
Mix well and taste to check the seasoning, then pour into a jam jar or bottle.
Enjoy!
📖 Recipe
Easy Vegan Ranch Dressing
An easy vegan ranch dressing for your salads and wraps or for dunking crunchy veg or nachos.
Ingredients
6

tablespoons

vegan Greek yoghurt

or plain yoghurt

2

tablespoons

vegan mayo

2

tablespoons

oat milk

or your regular milk

1

tablespoon

lemon juice

2

teaspoons

garlic powder

2

teaspoons

onion powder

2

teaspoons

dried dill

or fresh

1

teaspoon

dried parsley

or fresh

½

teaspoon

djon mustard

1

pinch

salt and pepper
Instructions
Add all the ingredients to a bowl or jug and mix well until smooth.

Season with salt and pepper and taste to check the seasoning.

Decant into a jar or bottle and pop in the fridge until you need it.
Notes
I added a portion as 1 tablespoon, but feel free to add more.
This salad dressing will keep in a sealed container in the fridge for 1 week. A glass bottle or jar with lid is a great container for salad dressing.
Nutrition
Serving:
1
tablespoon
Calories:
30
kcal
Carbohydrates:
2
g
Protein:
1
g
Fat:
2
g
Saturated Fat:
1
g
Polyunsaturated Fat:
1
g
Monounsaturated Fat:
1
g
Sodium:
24
mg
Potassium:
21
mg
Fiber:
1
g
Sugar:
1
g
Vitamin A:
18
IU
Vitamin C:
2
mg
Calcium:
22
mg
Iron:
1
mg