Skip the ready-made salad dressing and try this vegan creamy Italian dressing. It's a small batch so no waste either.
Ranch dressing or a balsamic vinaigrette have always been my favourite dressings, but now I'm torn as this creamy Italian dressing is so good.
It's a small batch recipe, so enough for 2 or 3 salads and no waste.
Of course, you can scale it up and make a bigger batch if you want to.
Jump to:
🥛 Grinder salad dressing
I first made this tasty dairy-free dressing when I was recreating the famous TikTok Grinder Salad Sandwich.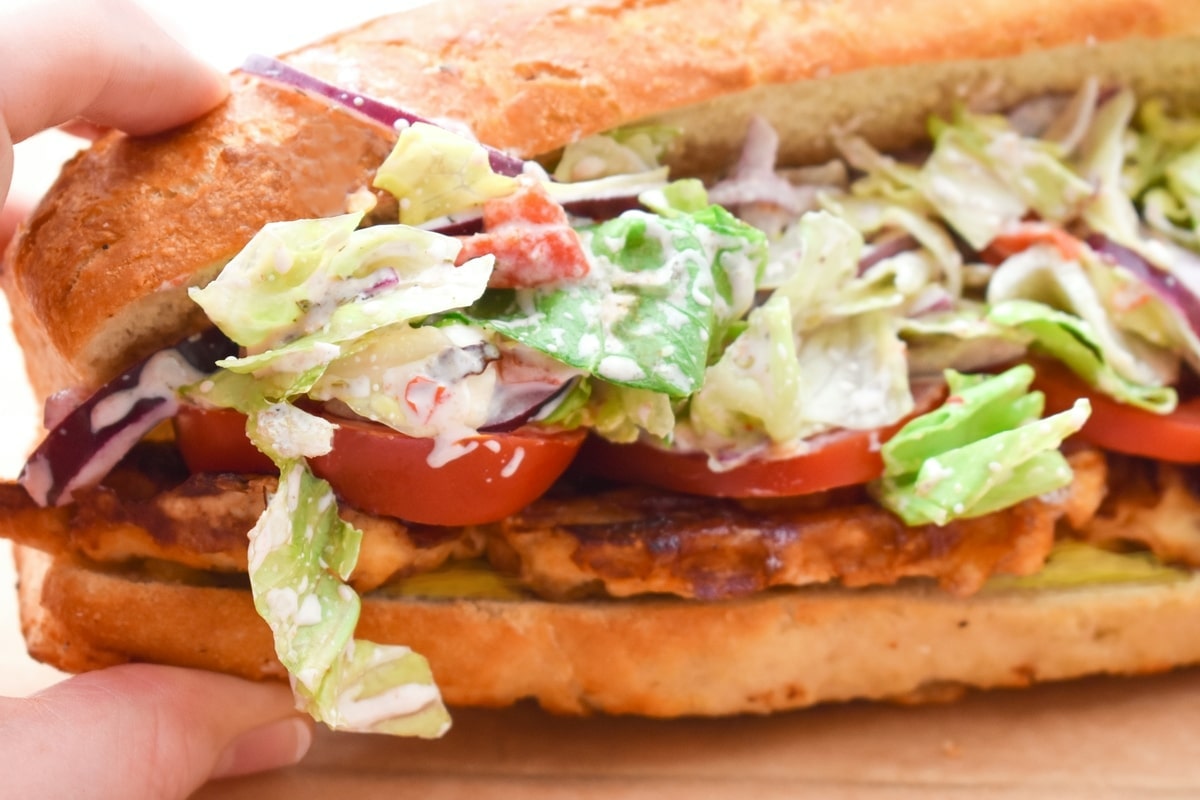 The salad piled high on the sandwich is tossed in this glorious creamy salad dressing.
It needed its own recipe.
One I could return to whenever I have the urge and share with you of course.
🥛 Small batch salad dressings
Small batch salad dressings are particularly good as they are fresh and there is no waste.
Too many recipes make a big jar, sometimes two jars of salad dressing and as much as we all like salads, it's a lot to get through, so some inevitably gets thrown out.
These smaller quantities are perfect.
Enough for 2 or 3 salads but you can scale them up if you need to.
Also, try this small batch vegan French dressing or Also, try this mustard balsamic dressing.
🍶 Storing salad dressing
Any airtight container will do, but here are a few ideas.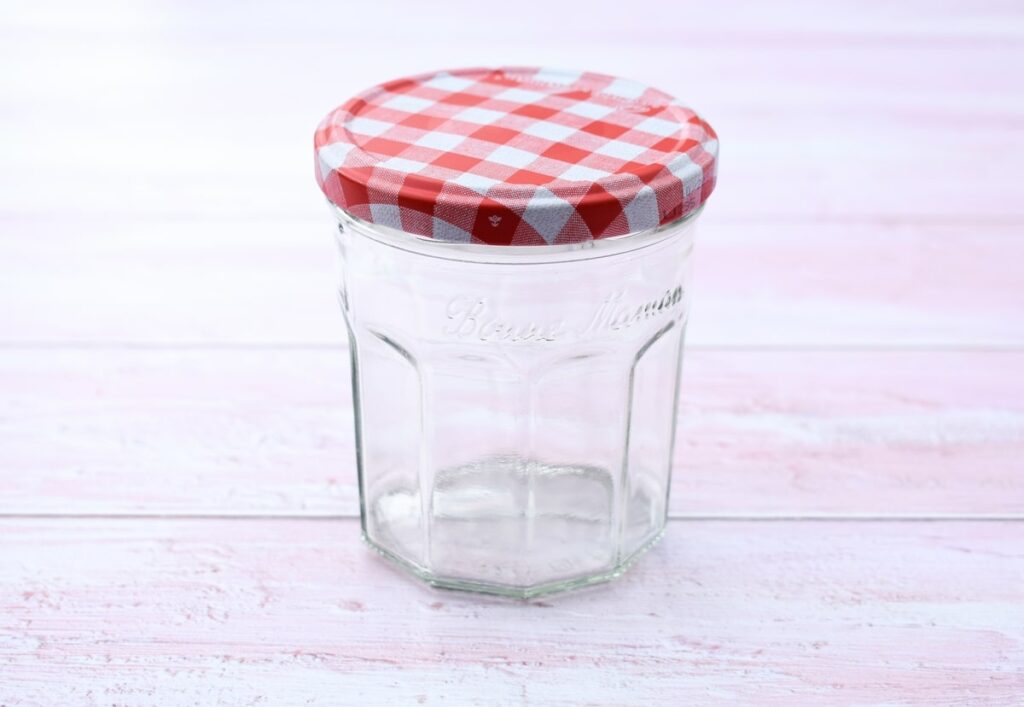 Clean jam jars - these are good because you can see how much is left and you can give them a good shake before dressing your salad.
Mini milk bottles - the ones with a screw on lid.
Glass cruet - the type of glass bottle with a stopper and lip that oil is often served in.
Glass is always a better option as it doesn't discolour, washes well and can be recycled.
I love the Bonne Maman jar jars. The jam is always so delicious and the jars are as cute as can be with the gingham lids.
🥣 Add your salad dressing last
You should always add your salad dressing at the last moment, so the salad will stay fresh, dressing does tend to make it soggy.
When taking salad to work or school, look out for those little plastic dressing pots you can find in most supermarkets.
You can just pop it in your lunchbox ready for lunchtime.
🥗 Take a lot of salads to work?
Then I have a little trick for you.
Make your dressing, fill your little dressing pots (labelling the underside) and freeze them.
In the morning just select a wee pot of dressing from the freezer and pop it in with your salad.
It will defrost in time for lunch while keeping your salad cool.
📖 What you need to make vegan Italian dressing
Here are the few simple ingredients you need to make this easy Italian salad dressing.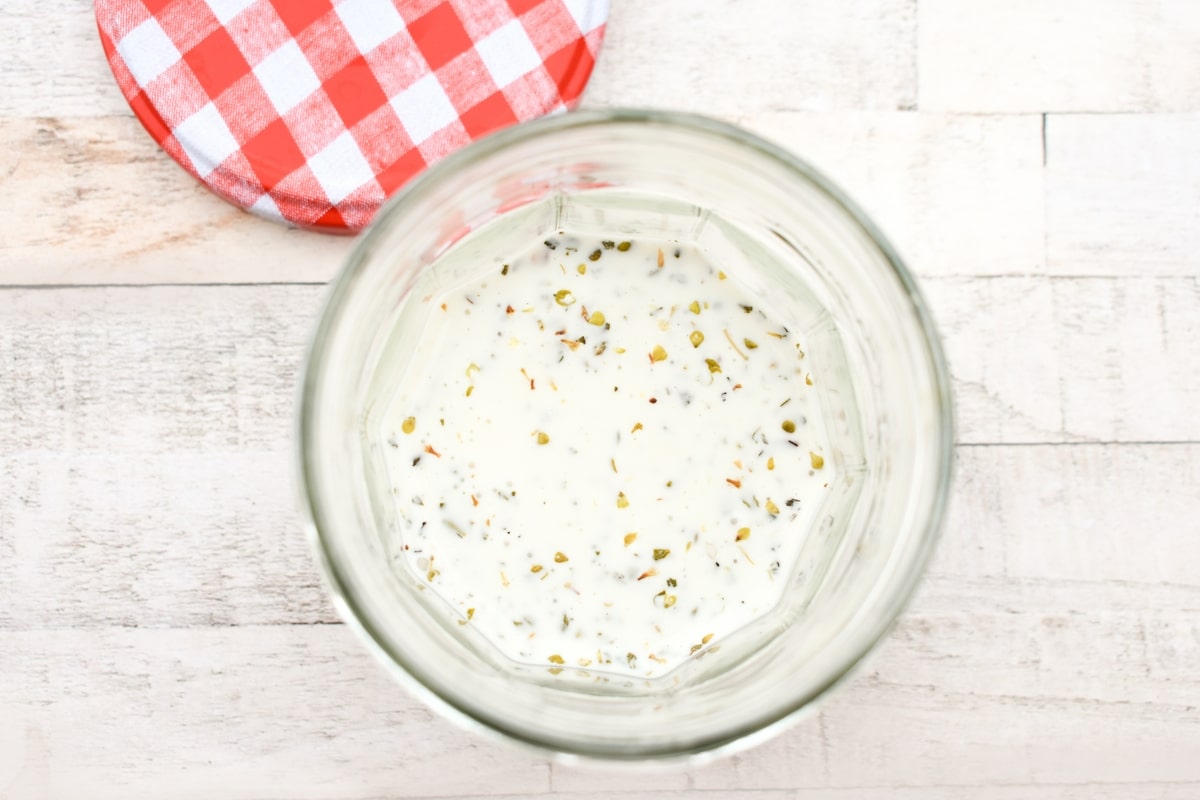 Vegan mayo - no need for oil in this simple dressing as there is oil in mayo
White wine vinegar - or any other clear vinegar, cider vinegar would work too
Oregano - I use dried oregano
Chilli flakes - if you don't have chilli flakes you could use chilli powder, but I would use less as it tends to have a more powerful heat
Salt & pepper - to season
Simple as can be but so, so tasty.
See printable recipe card below for full quantities.
🥙 Ideas for using salad dressing
Here are a few ideas for using salad dressing.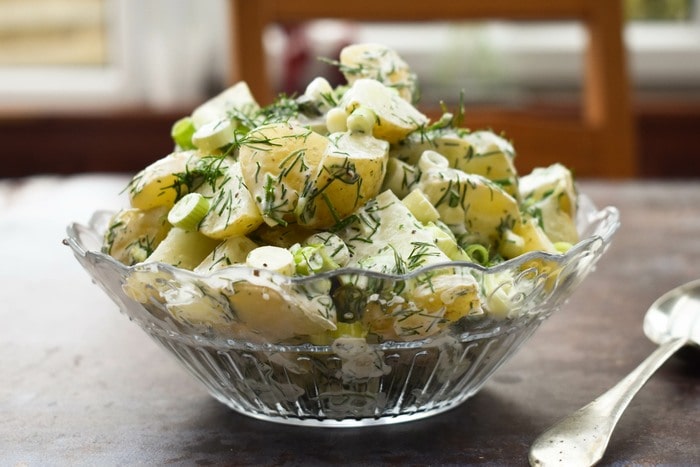 Salad - traditional but always good
Pitta - drizzle over the salad in a pitta bread
Wraps - add a drizzle to the filling of your lunchtime wrap for more flavour
Pizza - use it for dunking pizza crust
Potato wedges - good with spicy potato wedges
Fries - chips or sweet potato fries
Pasta salad - it makes the perfect dressing for a pasta salad too, try this Greek Pasta Salad
Potato salad - change up your potato dressing by using salad dressing instead of mayo
Colelsaw - improve your slaw with salad dressing instead of mayo
Spread - use it as a spread when you are making a sandwich, this works better with creamy salad dressing
💭 How long will salad dressing keep?
Fresh salad dressing can be kept in the fridge for 3-4 days once made.
Creamy dressings don't last as long as vinaigrettes.
A vinaigrette can last for a couple of weeks.
⭐ The best spot in the fridge for dressings
Many people keep dressings in the fridge door as they fit well in the compartments there.
However, the fridge door is the warmest part of the fridge as the door is regularly opened, reducing the temperature.
So, for the freshest dressings, keep them on a shelf inside the fridge.
🥬 Vegan salad recipes
Try drizzling some of this easy Italian salad dressing in these vegan salads.
🥛 And more salad dressing recipes
Just in case you would like to try some more salad dressing recipes.
📋 Want new recipes delivered to your inbox?
If you don't want to miss any of my new recipes, sign up in the green box below and I will send you my new recipes by email when they are published.
Never miss a recipe again!
Also, sign up for my Tinned Tomatoes newsletter for a selection of recipes delivered to your inbox each week or sign up for my email updates and don't miss out on the latest recipe.
Check your spam folder if they don't arrive, I share a new recipe on each of my blogs every week.
⭐ Pin it for later
Follow me on Pinterest, Facebook, Twitter and Instagram.
🥦 Living on the Veg
Once you've signed up for my newsletters and followed me on social media, why not join my Facebook group Living on the Veg?
Such a friendly community with lots of recipes and chat. I'm in there every day chatting. It's such a nice place to spend time.
👩🏻‍🍳 Step-by-step photos
Step-by-step photos. Keep scrolling for the full printable recipe for the best creamy Italian dressing (with full ingredient list and nutritional info).
Step 1
In a clean jam jar or another airtight container, add the white wine vinegar, dried oregano and chilli flakes (full printable recipe card below).
Now season with salt and pepper.
Step 2
Now add the mayo.
Screw on the lid tightly and shake like crazy.
Voila, one awesome salad dressing ready to dress a splendiferous salad (or check out one of my ideas above).
📖 Recipe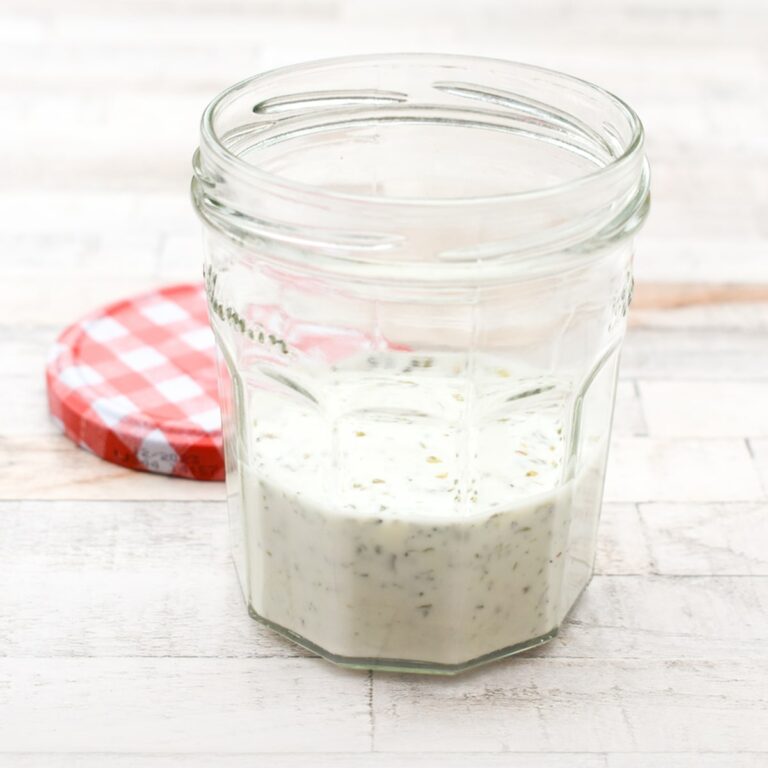 Vegan Creamy Italian Dressing - Small Batch
Skip the ready-made salad dressing and try this vegan creamy Italian dressing. It's a small batch so no waste either.
Ingredients
5

tablespoons

vegan mayo

1 ½

tablespoons

white wine vinegar

1 ½

teaspoons

dried oregano

½

teaspoons

chilli flakes

more if you want it spicy

1

pinch

salt and pepper
Instructions
Add all the ingredients to a clean jam jar or other airtight glass jar with lid.

Shake well to combine and emulsify the dressing.

Taste to check the seasoning and add more salt, pepper or chilli flakes to suit your tastes.
Notes
Keep the salad dressing on the shelf in the fridge, not in the fridge door to keep it fresher.
Keep for 3-4 days.
Freeze in portions in small plastic dressing tubs, then pop the frozen dressing straight into your lunchbox. it will keep your salad cool and be defrosted by lunchtime.
Nutrition
Serving:
1
serving
Calories:
155
kcal
Carbohydrates:
3
g
Protein:
0.1
g
Fat:
15
g
Saturated Fat:
2
g
Polyunsaturated Fat:
0.04
g
Monounsaturated Fat:
0.02
g
Sodium:
152
mg
Potassium:
22
mg
Fiber:
1
g
Sugar:
0.1
g
Vitamin A:
116
IU
Vitamin C:
0.1
mg
Calcium:
18
mg
Iron:
0.5
mg