You can't beat a slice of freshly baked banana bread and this vegan chocolate orange banana bread is rather special. Easy to make too.
You may laugh, but I often buy bananas just to make banana bread.
I know most people make it to use over-ripe bananas that are ready to be thrown out but we just love banana bread, so I always make sure I have bananas.
My latest twist to banana bread is this rather gorgeous vegan chocolate orange banana bread.
It's flavoured with fresh orange and studded with dark chocolate chips.
Just gorgeous
Jump to:
🍌 Buying bananas for banana bread
As I said, I buy bananas specifically for banana bread.
But how to get them at that optimum stage where they are over-ripe, soft and sweet and perfect for banana bread?
If you are planning to make the fruity bread right away, then buy bananas that look a bit bashed and starting to blacken.
You will often find these bananas in the reduced section which is a bonus.
Or, buy them a week before.
I do a weekly shop on a Saturday or Sunday. By the following weekend, my bananas are perfect for baking.
Weekly banana bread is go!
🍊 Fresh oranges
Always use fresh oranges in baking, it makes all the difference.
Don't be tempted to buy orange essence or extract, it just won't give you the same fresh, fruity flavour.
The only extracts I ever buy (you notice I say extract and not essence, as essence is an artificial flavouring and not very nice) are vanilla, almond and peppermint. That's it.
For maximum flavour when baking you want to use both freshly squeezed lemon juice and finely grated zest.
The zest gives you most of that orange flavour in the final bake.
I used blood or ruby oranges, as that's what I had. Boy I love them.
You can use standard large oranges or blood oranges for this banana bread.
Love oranges? Try this Vegan Homemade Orange Ice Cream (no-churn recipe).
🍫 Buying vegan chocolate chips
Unless you are buying chocolate chips that are labelled as dairy-free or vegan, you do need to be careful.
You might think dark chocolate chips are suitable for vegans, but not always.
Manufacturers are sneaky and add in that milk whenever they can.
I have found a few supermarket brands are ok, but not many and many big brand chocolate chips are not suitable.
If you are in the UK, Asda own brand choc chips are fine.
Love chocolate chip recipes? Try these .
🥛 May contain milk
Milk may not be in the ingredient list, but underneath the ingredient list it might say that they may contain milk.
Don't worry, this just means the factory that make these choc chips may also run different product lines that may contain milk.
It's more to warm people with really severe allergies and to protect themselves.
👩🏻‍🍳 What do I need to know when making easy banana bread?
Here are a few tips for making the best banana bread.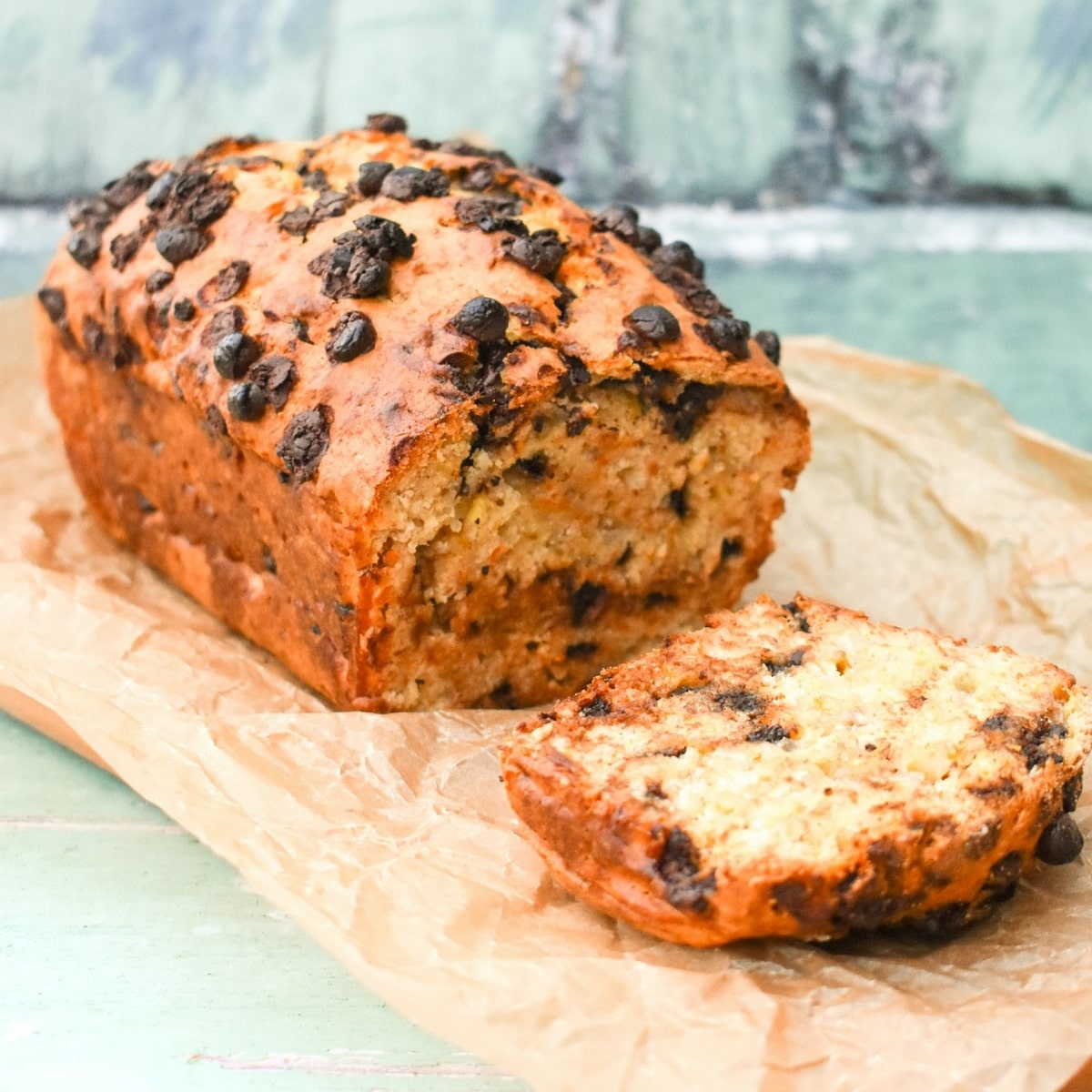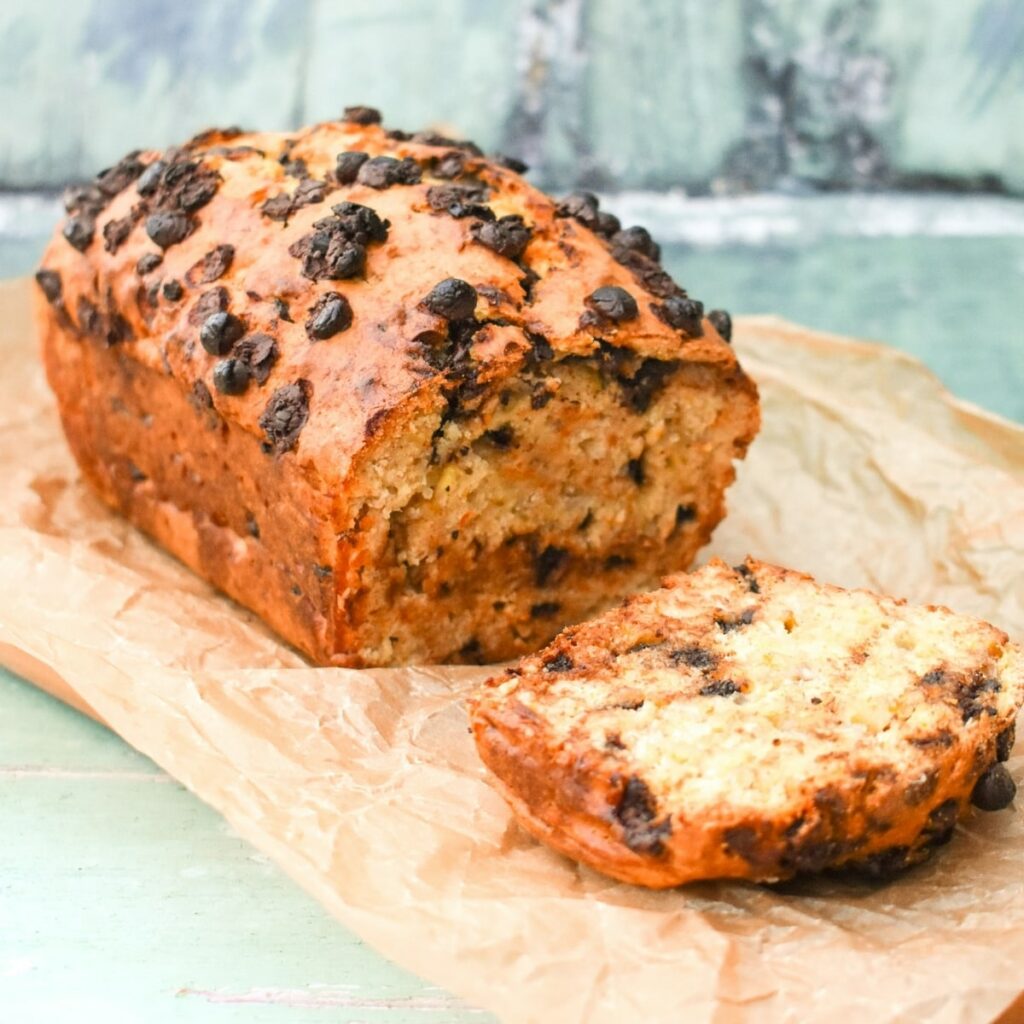 Preheat - Always pre-heat your oven and use a shelf in the middle of the oven.
Line it - Line your loaf tin before you do anything else, you want it handy to use when you are ready to get that cake in the oven.
Liners - Use loaf tin liners. They are so convenient and save on all the faffing about trying to measure and cut baking paper.
Ripe Bananas - Use ripe bananas and mash them well.
Spice - Think about adding spices for extra flavour. Cinnamon, ginger or mixed spice are all good in a loaf of standard banana bread.
Salt - Make sure to add that pinch of salt, it will really help with the flavour.
Be Careful - Don't over mix it. This is the most important tip, as an over-mixed banana bread batter will produce a heavy and often rubbery loaf cake. Just fold all the ingredients in until just combined and don't worry about stray bits of flour.
Crust - I love a crust on banana bread, but if you like a softer top, cover the banana bread with foil for the last 15 minutes.
Leave it - Leave to cool in the tin for 10 minutes before moving to a baking rack to cool completely.
Cool it - You find it hard to resist, but a banana bread will slice better if you let it cool completely, although admittedly it is rather fabulous eaten warm slathered with butter.
Slather it - Yes, slather it with butter, once it is sliced (I use vegan butter or spread), you will thank me!
Toast it - Second and third day, toast it. it's amazing toasted and again, yes you guessed it buttered!
🍞 Now the loaf tin
Another important factor when making good vegan banana bread is the tin.
You want a 2 lb (900g) loaf tin.
They can vary a little in size but are usually about 21cm long, 11cm wide and 7cm high (8 x 4 x 3 inches approx).
I prefer a metal tin, but you can buy soft silicone loaf pans.
I don't think the silicone pans are as good as they tend to bulge and lose their shape a bit.
If you do decide to use one, make sure you pop it on an oven tray for support.
📖 Variations
I like this dairy-free banana bread just how it is but here are some tweaks you could try.
Lemon - you could add lemon zest for extra zing.
Deluxe - add chunks of chopped dark chocolate instead of choc chips.
Red - when they are in season you could use blood (ruby) oranges for that wonderful colour and flavour.
Icing - you could also add a drizzle of icing to the top of the banana bread before serving
Also try this vegan raspberry banana bread with choc chips.
🍌 More vegan banana bread recipes to try
All my other banana bread recipes, yes I have a few, are on my other blog Tinned Tomatoes.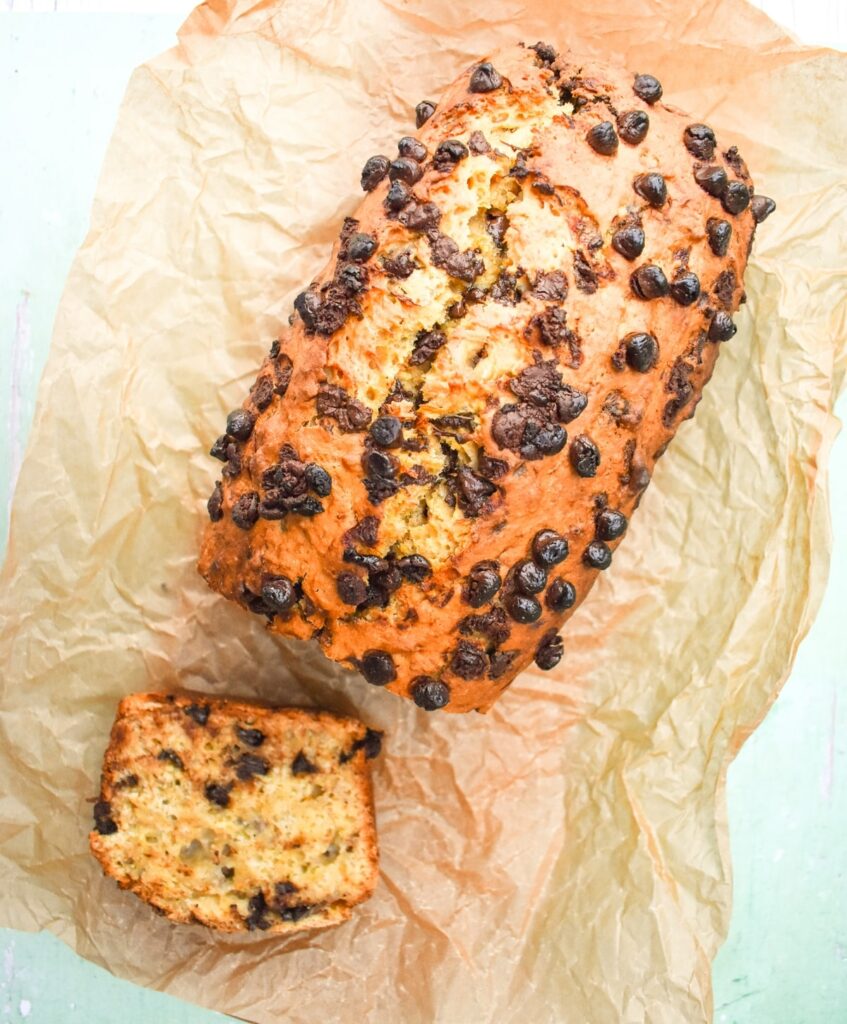 Give one or two of these a go too.
📋 Want new recipes delivered to your inbox?
Also, sign up for my Tinned Tomatoes newsletter for a selection of recipes delivered to your inbox each week or sign up for my email updates and don't miss out on the latest recipe.
Check your spam folder if they don't arrive, I share a new recipe on each of my blogs every week.
⭐ Pin it for later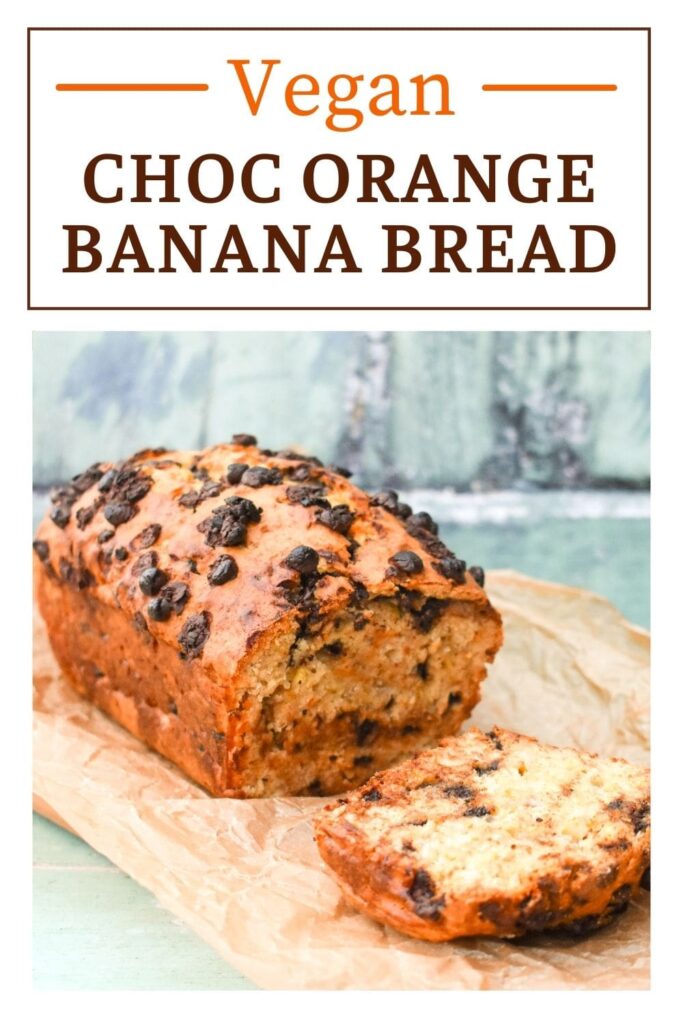 Follow me on Pinterest, Facebook, Twitter and Instagram.
🥦 Living on the Veg
Once you've signed up for my newsletters and followed me on social media, why not join my Facebook group Living on the Veg?
Such a friendly community with lots of recipes and chat. I'm in there every day chatting. It's such a nice place to spend time.
💭 Storage
Banana bread is always best on the day it is made and then sliced and toasted on subsequent days.
I just wrap it tightly in baking paper and leave it on the countertop.
It never lasts long but will keep out for toasting for a few days.
📖 Recipe
Vegan Chocolate Orange Banana Bread
You can't beat a slice of freshly baked banana bread and this vegan chocolate orange banana bread is rather special. Easy to make too.
Ingredients
3

large

bananas

(ripe)

3

tablespoons

orange zest

(zest from 3 oranges)

250

ml

orange juice

(Juice of 3 oranges, then make up the quantity with milk - I used oat milk, but whatever you use)

120

g

caster sugar

450

g

plain flour

1

teaspoon

baking powder

1

pinch

salt

125

g

dark chocolate chips
Instructions
Line a 2 lb (900g) loaf tin and preheat the oven to 180c/160c fan/350f/gas mark 4.

Zest three oranges and add them to a measuring jug. Add the squeezed juice of 3 oranges, then make it up to 250ml with milk.

In a large mixing bowl, mash the bananas, then add the sugar and the orange juice mix and give a mix, just a quick mix.

On top of the wet ingredients add the flour, sugar, baking powder, salt and chocolate chips. Reserve some choc chips to decorate the top of the banana bread with.

Fold the dry ingredients into the wet ingredients until just combined. Don't overmix and don't worry about the odd bit of unmixed flour. All will be well!

Pour into the loaf tin, sprinkle over the extra choc chips and bake for an hour.

Check after 1 hour with a skewer or toothpick inserted into the centre of the banana bread. It should come out clean, if not give it 5-10 miutes more. If it is quite brown after an hour you can cover with tinfoil to prevent further browning.

One it is out of the oven, leave to cool in the tin for 10 minutes, then tip out gently and leave to cool completely on a baing rack.
Notes
Storage
Banana bread is always best when just baked, but it will last for a few days.
After the first day, I like to slice it and toast it. It's gorgeous toasted and spread with (vegan) butter.
I keep it wrapped in baking paper, but you can store it in an airtight container.
Bake time
Cookers vary and then there is also the shelf placement. You can check on your loaf from about 50 minutes through the bake, but I find mine usually take between and hour and an hour and 10 minutes. 
I quite like a crisp crust on mine, so don't cover it with foil.
Nutrition
Serving:
1
slice
Calories:
299
kcal
Carbohydrates:
66
g
Protein:
6
g
Fat:
5
g
Saturated Fat:
4
g
Polyunsaturated Fat:
1
g
Monounsaturated Fat:
1
g
Cholesterol:
1
mg
Sodium:
61
mg
Potassium:
327
mg
Fiber:
3
g
Sugar:
23
g
Vitamin A:
85
IU
Vitamin C:
19
mg
Calcium:
76
mg
Iron:
2
mg