Vegan chickpea farinata is a savoury pancake flatbread made with chickpea (gram) flour. It's fabulous served with hummus & salad for lunch.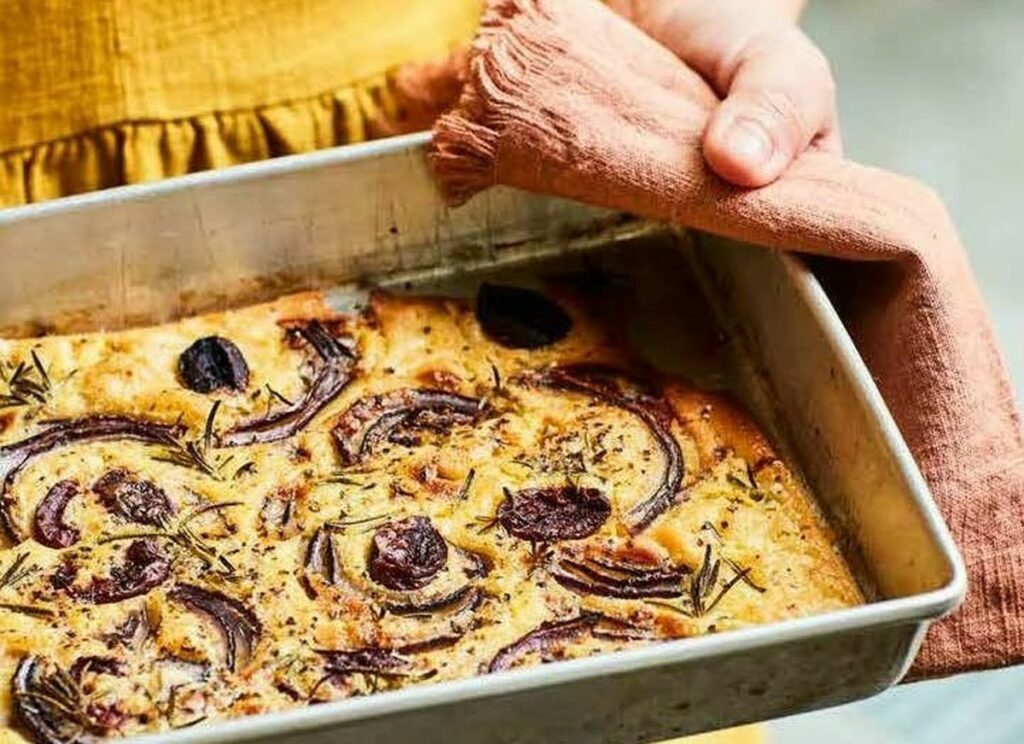 A simple recipe with lots of flavour.
Once you try it, it will soon become a regular lunchtime treat.
Jump to:
🥘 What is farinata?
Farinata is a savoury pancake-style flatbread. It's easy to make and is unleavened so no raising agents or yeast.
It's also called socca, torta di ceci, and cecina.
A traditional recipe from Genoa, in the north-west of Italy in the Liguria region.
You can also find it in Gibraltar, an island on the south coast of Spain, where it is called calentita.
💭 Chickpea flour
The main ingredient in this chickpea pancake is chickpea fllour.
If you are looking for it and struggling to find it, it is also called gram flour, garbanzo flour or besan.
Chickpea Farinata is made from dried chickpeas which are ground to make flour.
It contains all the nutrients of chickpeas.
A good source of protein and iron and high in folate, manganese and magnesium.
🥣 How easy is it to make?
Super easy to make.
The mixture is made up in a jug, just like when you make pancakes.
Then it's poured into an oiled tray that's been heated, the toppings are added and it's baked in the oven.
Simples!
Also, try this quick garlic pizza bread.
💭 Gluten-free flatbread
This easy chickpea flour flatbread is naturally gluten-free.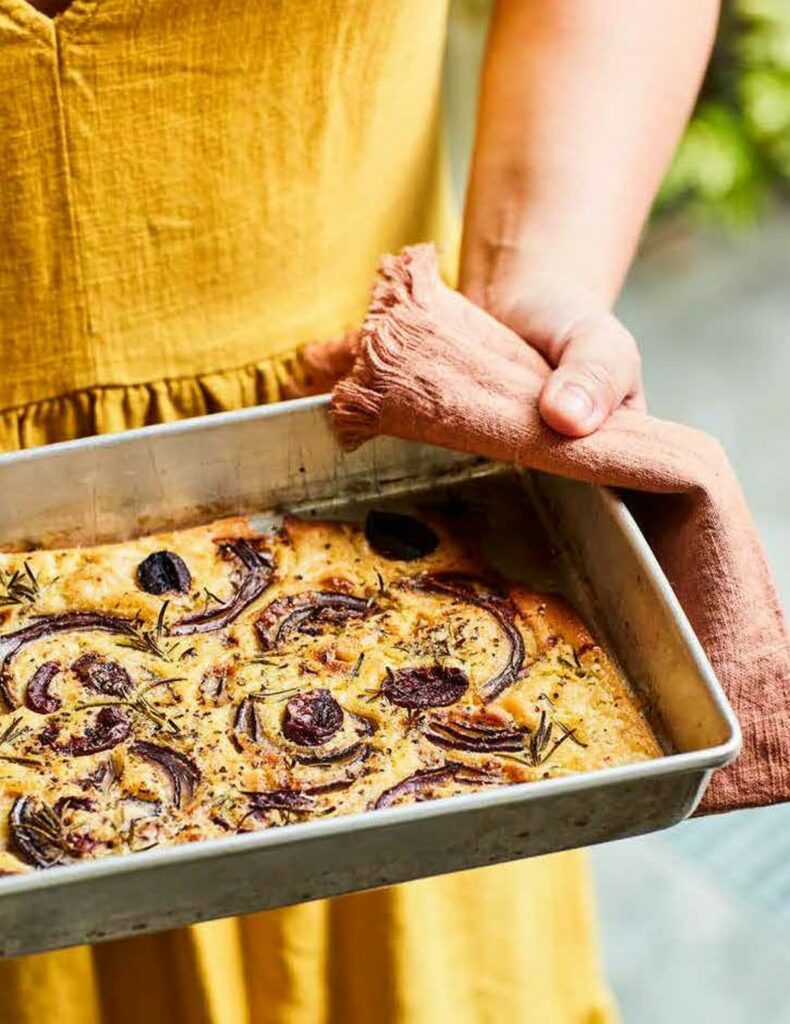 Chickpeas are gluten-free of course and none of the other ingredients include gluten.
🌡️ Can farinata be baked in an air fryer?
Yep, you could definitely use an air fryer to bake chickpea farinata.
You will have to do it in 2 or 3 batches, in baking trays.
I like to use brownie tins (20cm x 20 cm / 8 inch x 8 inch approx) which fit nicely in my air fryer, but do measure your own for the correct measurements.
If you have an air fryer with shelves like mine (love it!), you could bake in 2 to 3 tins at the same time.
Just remember to rotate them, as the top one always cooks quicker.
They will also be ready up to 10 minutes quicker in the air fryer.
⭐ Feel Good
This fabulous recipe comes from Feel Good cookbook by Melissa Hemsley.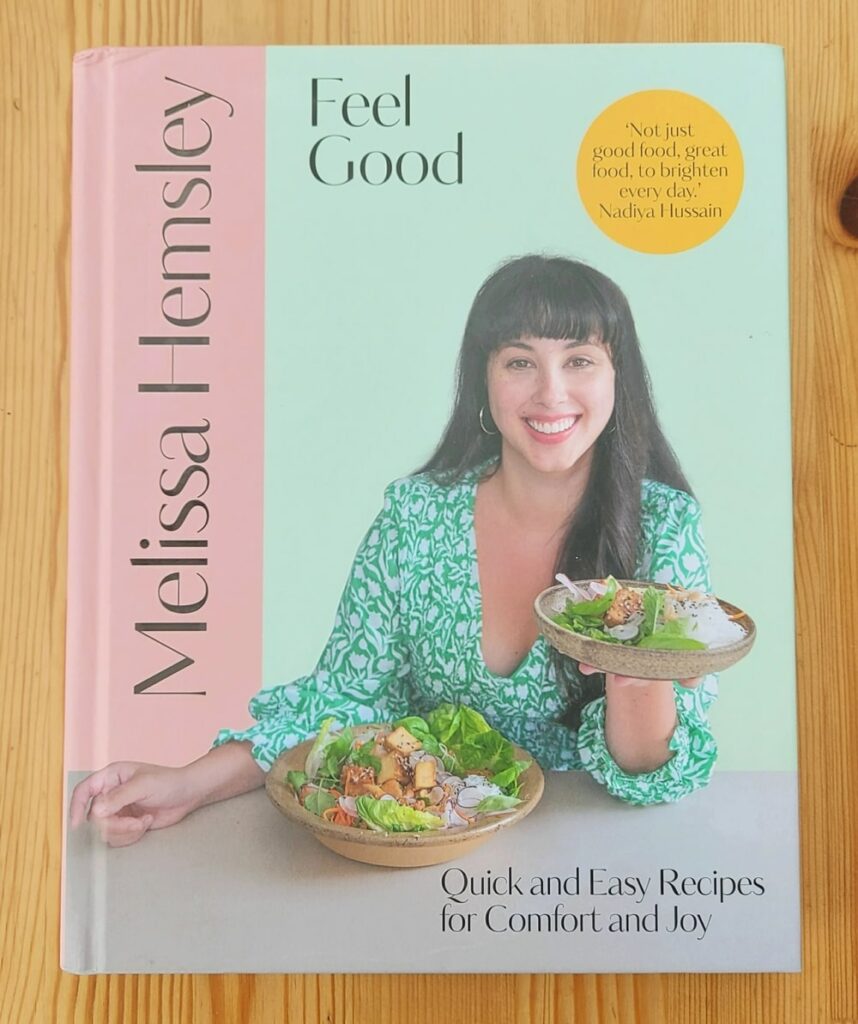 Not a vegan cookbook, but plenty of vegan recipes in there or recipes that can be easily tweaked as we are so used to doing.
This cookbook is all about easy food that will make you feel good.
The photos are full-page and glorious.
Don't you hate a cookbook with not enough photos or those with no photos whatsoever?
I want to drool over the photos. I want them to tempt me.
And they did.
You can see my full review along with an easy chocolate mousse made with dates, which is also in the book.
Disclosure: I was sent this cookbook to review and given permission to share the recipe and photos.
📋 Vegan recipes in the cookbook
Penty of vegan recipes and many where you can just make a straight swap to vegan cheese or butter.
Vegan recipes = 32 recipes
Simple swaps to make it a vegan recipe = 33 recipes
Unsuitable recipes = 35 recipes
Total recipes = 100
There's also a page of swaps and tips for vegan versions of recipes.
📖 Cookbook details
Here's what you need to know if you fancy picking up a copy of this book.
Title: Feel Good
Author: Melissa Hemsley
Imprint: Ebury Press
Published: 19/05/2022
ISBN: 9781529109818
Length: 256 Pages
Dimensions: 252mm x 25mm x 197mm (Hardback)
RRP: £22.00
⭐ Credits
Farinata Photography by Lizzie Mayson. Recipe extracted from Feel Good by Melissa Hemsley (Ebury Press £22)
🧾 Socca toppings
You can go crazy when topping chickpea socca, but for this recipe, it was simply black olives, red onion and rosemary.
Olive - you could add green olives instead or skip them if you really don't like them.
Red onion - you could use white onion instead
Rosemary - I use fresh, but you could use dried.
Printable recipe card below with the full ingredients.
👩🏻‍🍳 Variations
Here are a few ideas of other toppings you could add for a totally different flatbread.
Leeks - leeks, crushed mustard seeds and vegan feta to serve (not bake as it will melt).
Sundried Tomatoes - sundried tomatoes (pat to remove excess oil), red onion, jalapeno slices and fresh basil to serve.
Artichoke - jarred artichoke (pat to remove liquid or oil), red onion, garlic and fresh coriander to serve.
Garlic - crushed garlic, parsley and salt
🥙 Serving chickpea flatbreads
Here are a few ideas for serving these delicious crepe-style flatbreads.
Just remember it's best served warm.
Soup - serve with freshly made soup
Hummus - serve with hummus and salad
Pasta - serve alongside pasta instead of garlic bread, with a green salad
Dip - with a tasty dip for a snack, try this creamy vegan sriracha dip
💭 Top tip
Make this flatbread fresh.
It's best served warm and fresh.
Luckily it's easy and fairly quick to make.
🥗 More vegan lunch ideas
Here are a few more simple vegan lunch recipes for you to try.
Check out my recipe index for more sweet and savoury lunch and lunchbox ideas.
🥦 Living on the Veg
Once you've signed up for my newsletter (box above) and followed me on social media, why not join my Facebook group Living on the Veg?
Such a friendly community with lots of recipes and chat. I'm in there every day chatting. It's such a nice place to spend time.
Hit the heart
You might have seen a wee heart appearing if you've been here in The Vegan Lunchbox this week when you look at recipes.

Hit it to let me know you like the recipe and if you hit the atom symbol beside it, you can save your favourite recipes in one place or share them on Twitter or Facebook.
📖 Recipe
Chickpea Farinata (Socca) with Rosemary & Black Olives
Vegan chickpea farinata is a savoury pancake flatbread made with chickpea (gram) flour. It's fabulous served with hummus & salad for lunch. This is a gluten-free snack.
Ingredients
150

g

chickpea flour

5

tablespoons

olive oil

1 ¼

teaspoons

sea salt

1

red onion

( finely sliced)

20

black olives

(pitted and halved)

6

sprigs

rosemary
Instructions
Place the flour in a large mixing bowl or jug and pour in 300ml (1 ¼ cups) water, whisking as you add it.

Preheat the oven to it's highest temperature.

Grease the base and sides of a large baking tray (30cm x 22 cm/12 inches x 9 inches) or two smaller trays with 1 tablespoon of olive oil and place in the oven to heat.

Whisk the remaining 4 tablespoons of olive oil into the batter with the salt and a good grinding of black pepper.

Carefully remove the hot tray (or trays) from the oven and pour in the batter.

Top evenly with the onion, rosemary and olives, then bake for 30 minutes until deep golden and crisp on top. Check it after 20 minutes and if it's getting too dark, turn the oven down to 220c/200c/425f/gas mark 7 for another few minutes.

Leave it to cool in the tin for 10-15 minutes before slicing and serving with an extra sprinkle of salt.
Notes
Chickpea flour - also called besan, gram flour or gazbanzo flour
Olives - don't like them, leave them out.
Trays - you can use more than one tray if you don't have a big enough tray.
Air fryer - you can bake these in an air fryer (if you have trays that fit), it will bake up to 10 minutes quicker (remember the top of the oven bakes quicker)
Fresh - serve it freshly made and warm
Gluten-free - this flatbread is gluten-free
Nutrition
Serving:
1
serving
Calories:
170
kcal
Carbohydrates:
13
g
Protein:
4
g
Fat:
12
g
Saturated Fat:
2
g
Polyunsaturated Fat:
2
g
Monounsaturated Fat:
8
g
Sodium:
532
mg
Potassium:
184
mg
Fiber:
3
g
Sugar:
3
g
Vitamin A:
50
IU
Vitamin C:
1
mg
Calcium:
18
mg
Iron:
1
mg