The most delicious sriracha chickpea & Avocado wrap, made with an easy chickpea sandwich filler and salad. Make a batch for the week ahead.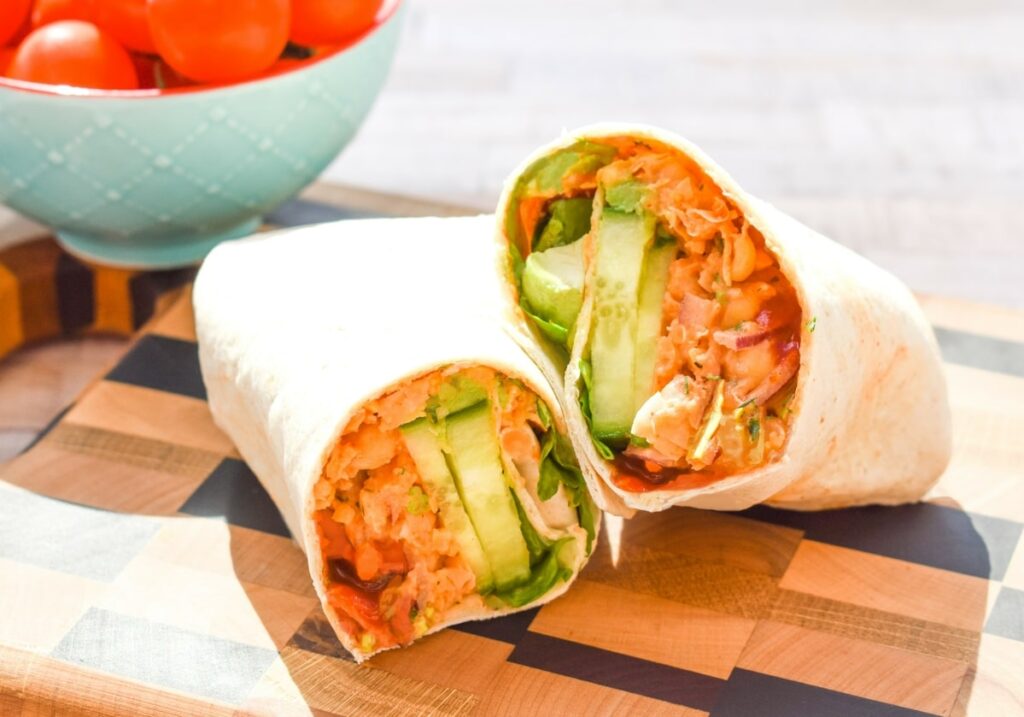 I'm on a roll (excuse the pun) with my new sandwich and wrap recipes (check them out in my sandwiches and wraps section) and my latest is a corker.
A tasty chickpea sandwich filler on a flour tortilla with avocado, salad and hot sauce (just a little).
My husband is very happy with all these new lunches being offered up to him.
Jump to:
🌶 What is sriracha?
Sriracha is super popular hot sauce.
It is a popular addition to Thai food and it has become a must-have for anyone who likes a bit of heat with their meal.
This spicy sauce is made in California and is also known as Rooster Sauce.
Bright red and super tasty, this sauce is made with jalapenos, garlic, vinegar and sugar, although the actual recipe is very secret.
I'm a bit of a wuss when it comes to heat in my food, so I can safely say it is not as spicy as most hot sauces. It has more of a medium heat, that even I enjoy, but it does give a kick.
Love sriracha? Try these 5 minute sriracha noodles (one-pot).
🥫 Tinned or fresh chickpeas?
You can use canned or fresh chickpeas to make these delicious vegan wraps.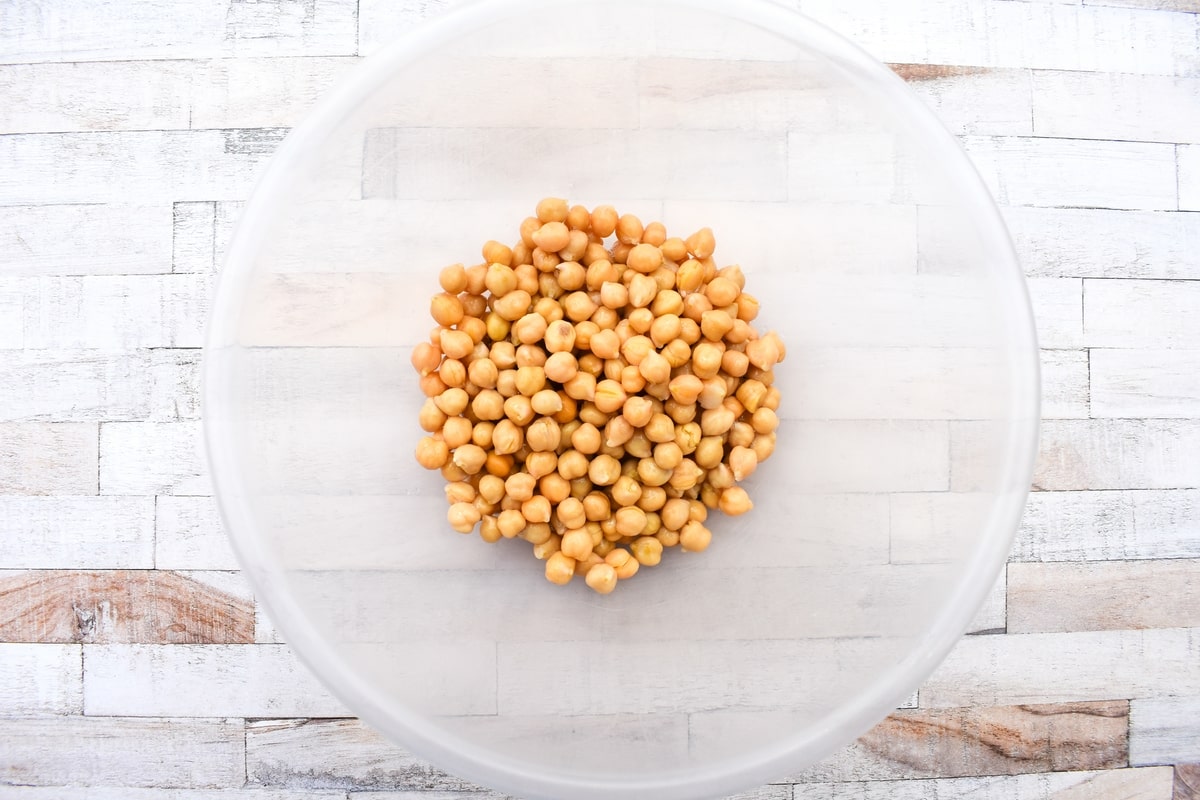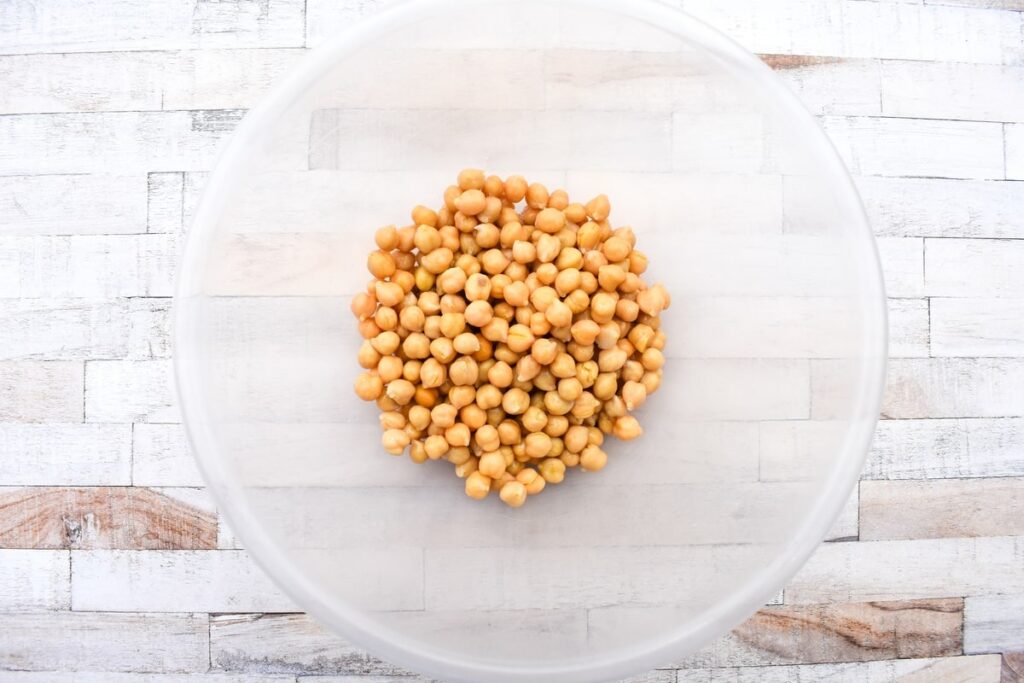 I use tinned canned chickpeas as they are very convenient and great quality.
However, with prices going up, I realise a lot of people will be more careful when shopping and may want to soak dried chickpeas for dishes.
Want to soak and cook dried chickpeas (also known as garbanzo beans) but not sure how?
Check out this guide on cooking dried chickpeas by Veggies Don't Bite.
I have included the drained weight in the recipe, which you can use for measuring out your cooked chickpeas when making these salad wraps.
👩🏻‍🍳 What you need to make this tasty vegan lunch wrap
Here are the simple ingredients you need to make this chickpea wrap.
Flour tortillas - go for large tortillas
Salad leaves
Avocado - make sure it's ripe
Cucumber
Chickpeas - canned or freshly soaked and cooked
Sriracha - hot sauce
Fresh herbs - single or a mixture (I like parsley, chives, basil or dill)
Red onion
Vegan mayo - we love Hellman's
Lemon juice
Dried dill
Garlic powder - or granules (you could use fresh garlic)
Salt & pepper
See the printable recipe card (at the end of this post after the step-by-step photos) for quantities.
🥪 Variations to the recipe
Here are a few suggestions for tweaks to this sriracha flavoured wrap.
Corn tortillas - instead of flour tortillas
Sandwich - use the fillings in a sandwich with wholemeal bread
Tomato - add slices of tomato or sundried tomato
Cannellini beans - instead of chickpeas
Sweet chilli sauce - instead of sriracha sauce, for sweetness and less heat
Spring onion (scallions) - or white onion, instead of red onion
Like a bit of spice, also try this Vegan Bombay Cheese Sandwich.
🌯 How to fold a lunch wrap or burrito
Here is an easy guide with visuals, so you can fold each lunchtime wrap perfectly every time.
I fold it towards me, but many people prefer to fold away from them. Do what feels more comfortable.
Folding a wrap successfully
Lay a large flour tortilla on a flat surface.
Spread on any mayo etc, then add the filling horizontally along the top about ¾ of the way up, leaving space around the filling.
Fold the sides in, partially over the filling.
Holding firmly, fold the top over the filling and tucked in sides.
Roll towards you, tucking any ends in as you go.
Cut in half and serve.
💭 Can you make these ahead?
These wraps are best made on the day they are served but you can make the chickpea sandwich filling ahead.
Store it in the fridge for 3-4 days in an airtight container.
A great way to make these tasty wraps even quicker to make.
🥗 What to serve on the side
Want more than a wrap for lunch here are some tasty ideas and recipes to serve with your wrap.
🌯 More vegan lunch wraps to try
Here are a few more of my favourite wraps for you to try.
For more lunch inspiration check out 39 of the Best Vegan Sandwiches and check out my guide to packing lunches.
Also, check out my guide to wraps 50 BEST Vegan Lunch Wraps & Easy FIlling Ideas.
📋 Want new recipes delivered to your inbox?
Also, sign up for my Tinned Tomatoes newsletter for a selection of recipes delivered to your inbox each week or sign up for my email updates and don't miss out on the latest recipe.
Check your spam folder if they don't arrive, I share a new recipe on each of my blogs every week.
⭐ Pin it for later
Follow me on Pinterest, Facebook, Twitter and Instagram.
🥦 Living on the Veg
Once you've signed up for my newsletters and followed me on social media, why not join my Facebook group Living on the Veg?
Such a friendly community with lots of recipes and chat. I'm in there every day chatting. It's such a nice place to spend time.
👩🏻‍🍳 Step-by-step photos to make Sriracha Chickpea & Avocado Wrap
Step-by-step photos. Keep scrolling for the full printable recipe (with full ingredient list and nutritional info).
Step 1
Add the cooked chickpeas to the bowl and mash with a fork or potato masher.

Don't mash them completely, it is good to keep some texture.
Next, add the fresh herbs and chopped red onion.
Step 2
Add the mayo and sriracha sauce.
Then add the dried herbs and other flavourings and salt and pepper to season.
Mix well and taste to check the seasoning.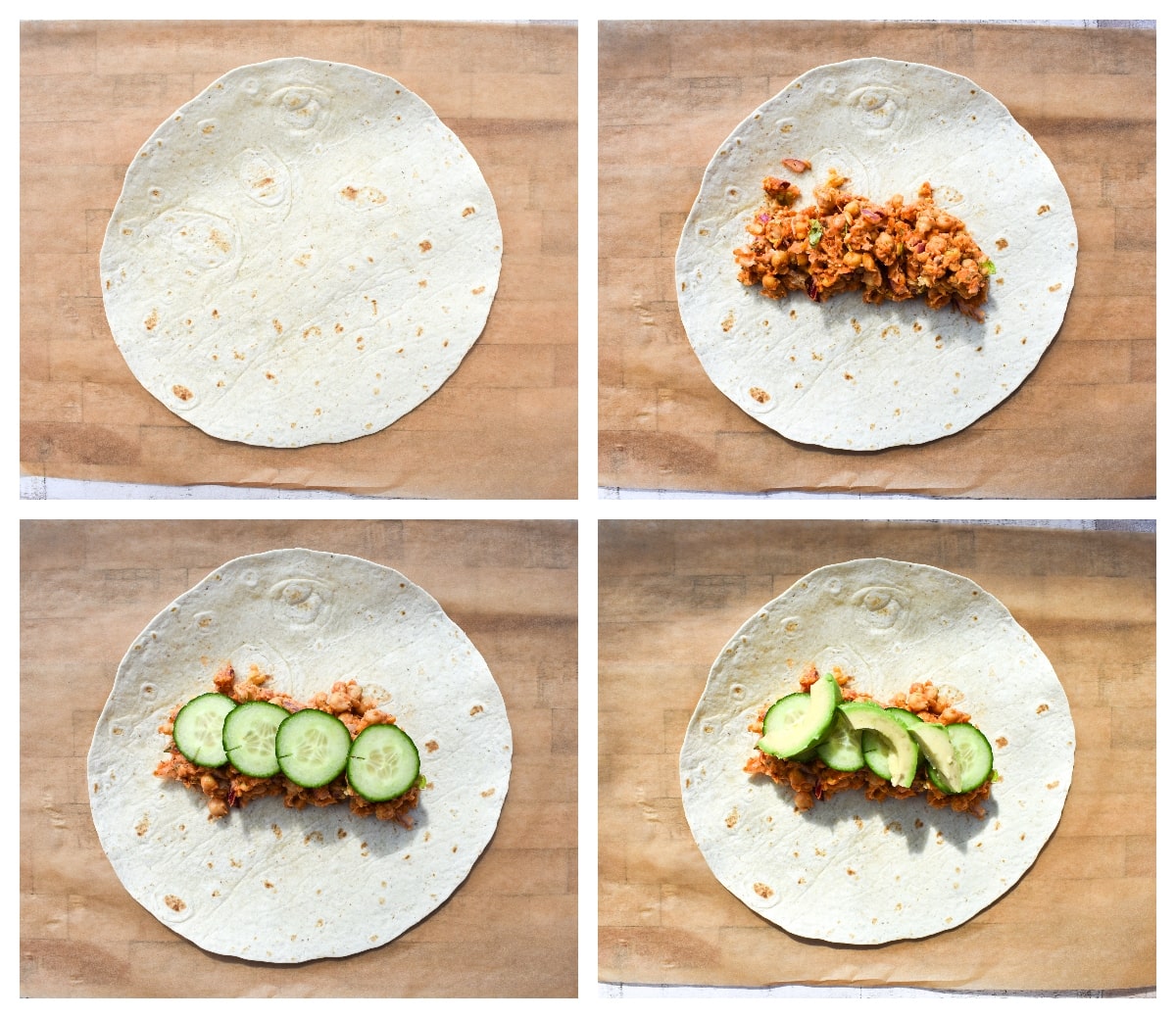 Step 3
Place your large flour tortilla on a flat surface..
Add the chickpea filling.
Top with slices of cucumber and avocado.
Step 4
Add a handful of salad leaves and top with a drizzle of sriracha and wrap.

See the above guide on how to fold a wrap.
Enjoy!
📖 Recipe
Sriracha Chickpea & Avocado Wrap
The most delicious sriracha and avocado chickpea wrap, made with an easy chickpea sandwich filler and salad. Make a batch for the week ahead.
Ingredients
2

large

flour tortillas

240

g

chickpeas

(400g/14 oz tin of chickpeas, drained and rinsed)

1

handful

fresh herbs

(basil, parsley, chives or dill)

½

red onion

(finely chopped)

2

tablespoons

vegan mayo

2

tablespoons

sriracha

(plus 2 teaspoons for drizzle)

2

teaspoons

lemon juice

1

teaspoon

dried dill

1

teaspoon

garlic powder

(or granules)

1

pinch

salt and pepper

8

slices

cucumber

1

handful

salad leaves

½

avocado
Instructions
In a large mixing bowl add the chickpeas and mash them with a fork or a potato masher. Don't mash completely, it's nice to have some whole chickpeas or larger pieces for texture. Stop mashing just before it is completely mashed.

Add the red onion, 2 tablespoons of sriracha, the mayo, fresh and dried herbs, garlic and season with salt and pepper. Mix well.

Add half the mixture to each tortilla (about ¾ way up; leaving a border, in a sausage shape).

Top with slices of cucumber, and avocado, then some salad leaves.

Drizzle with sriracha and wrap firmly.
Notes
The sriracha chickpea filling can be made ahead and kept in the fridge in an airtight container for 3-4 days.
Wraps are best made on the day you are serving them.
Sweet chilli sauce can be used for a milder and sweeter alternative to sriracha.
Nutrition
Serving:
1
wrap
Calories:
483
kcal
Carbohydrates:
58
g
Protein:
15
g
Fat:
22
g
Saturated Fat:
3
g
Polyunsaturated Fat:
3
g
Monounsaturated Fat:
6
g
Sodium:
681
mg
Potassium:
779
mg
Fiber:
15
g
Sugar:
9
g
Vitamin A:
383
IU
Vitamin C:
24
mg
Calcium:
133
mg
Iron:
5
mg