This delicious black olive couscous wrap is filled with salad and a drizzle of hot sauce for the most lush lunchtime wrap.
This is my new favourite lunch wrap.
A flavourful vegetable couscous in a wrap with hummus and a spicy sauce. This black olive couscous wrap is so, so good.
Jump to:
💭 What is couscous?
Many people think couscous is a grain, but it's actually a type of pasta.
It's a North African dish made from durum wheat semolina and water.
It comes in three different sizes.
Smallest - Moroccan Couscous (the most common)
Bigger - Israeli Couscous (also known as pearl couscous which are more ball shaped like peppercorns)
Largest - Lebanese Couscous
💭 Is couscous gluten-free?
As couscous is wheat-based, it's not suitable for a gluten-free diet.
There are gluten-free substitutes made from corn or cassava, but some are not vegan as they are made from tapioca starch mixed with egg whites.
🥘 Making couscous
No need for a pot to make couscous, you just need a bowl and boiling water.
The water fluffs up the grains, finishing the cooking process.
Couscous can be quite bland when made with water, so it needs perked up.
For this wrap I made it with vegetable stock, herbs, salt and pepper, then added in salad and a tangy sauce.
🌶 Adding flavour to couscous
Here are some flavours to perk up your couscous.
Stock - Make it with vegetable stock
Miso - Add miso to the boiling water
Marmite - Add marmite to the boiling water
Pesto - Add pesto

to the cooked couscous

Sundried Tomato Paste - Add sundried tomato paste

to the cooked couscous

Pepper Paste or Pesto - Add pepper paste

to the cooked couscous

Herbs - Add fresh herbs

to the cooked couscous

or dried herbs to the boiling water or stock
Chilli - Add fresh chilli or chilli flakes

to the cooked couscous

Sriracha - Stir sriracha hot sauce through the couscous
Sweet Chilli Sauce - Stir sweet chilli sauce through the couscous
🥗 Serve it as salad
When you make the couscous for these wraps, you can use some of the couscous to serve as a salad.
Or why not double up the quantity and enjoy both wraps and couscous salad for lunches this week.
🥙 Serve it on pitta
The ingredients of this wrap are also delicious on a pitta bread.
It's very versatile.
📋 Ingredients you need
Here are the ingredients you need to make this tasty vegan lunch wrap.
Large flour tortillas
Hummus
Couscous
Vegetable stock
Dried Oregano
Chilli flakes
Salt
Black olives
Spring onions (scallions)
Cucumber
Carrot
Sundried tomatoes (or sunblush tomatoes)
Mango Chutney (or sweet chilli sauce)
Fresh parsley
Hummus
Salad leaves
Sriracha hot sauce
🥣 Homemade hummus
The hummus is like the glue in this wrap.
A really generous thick layer. Mmmmm! Tasty!
I used shop-bought hummus but you can make your own if you like.
Want a recipe for a super easy hummus? Try my homemade hummus recipe.
💭 Black olives or green olives?
This lunch wrap is made with black olives, but you could use green olives instead if you prefer those.
Just make sure they are pitted.
Love olives? Try this white bean and olive pate. So tasty!
👩🏻‍🍳 Don't like olives?
Don't like olives? What? Oh ok then, you can tweak it.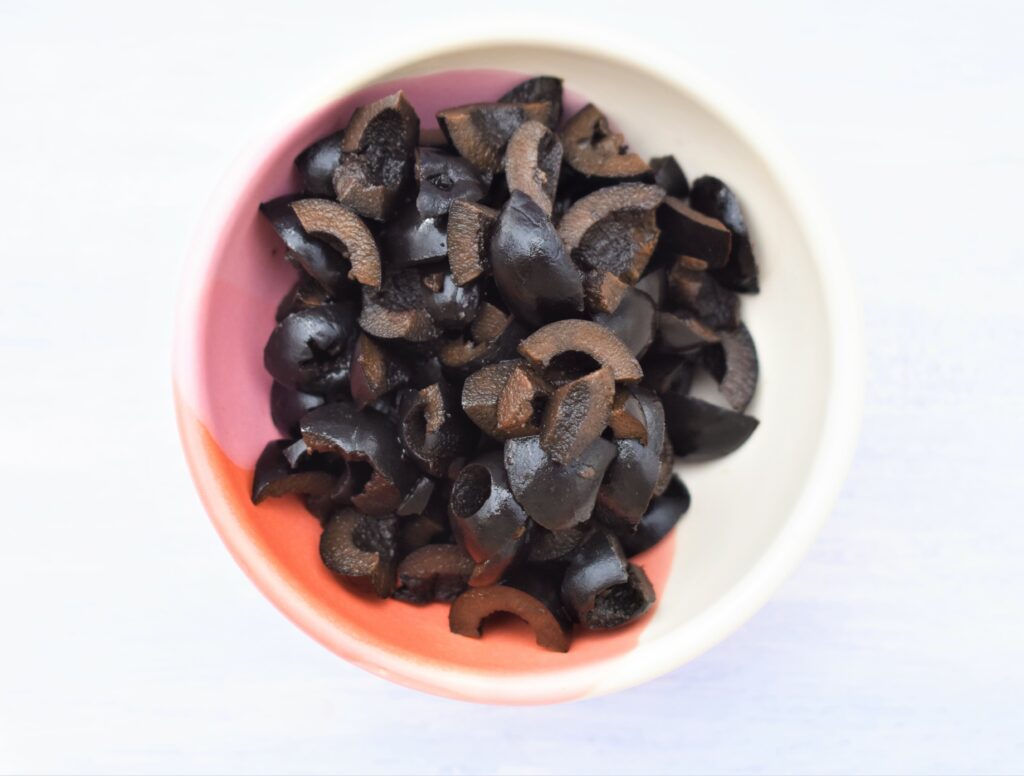 Don't worry, you can leave them out.
There's enough salad veg and other flavours in this filled wrap, so you can skip them.
👨🏽‍🍳 How to fold a wrap
Folding wraps is always the thing people seem to struggle with, but with a few tips and a bit of practice, you will soon find them easy.
Lay your wrap on a cutting board.
Place the filling just above the centre of the wrap in an oblong shape, leaving a border free around the edge.
Fold the sides in slightly over the filling.
Roll the top of the wrap over the filling (and folded in sides) firmly.
Roll towards you (you can start at the bottom and roll away from you), tucking in as you go.
Cut in half and serve.
🌯 Packing your wrap for lunch
It's important to cover your wrap securely if you're eating it later in the day.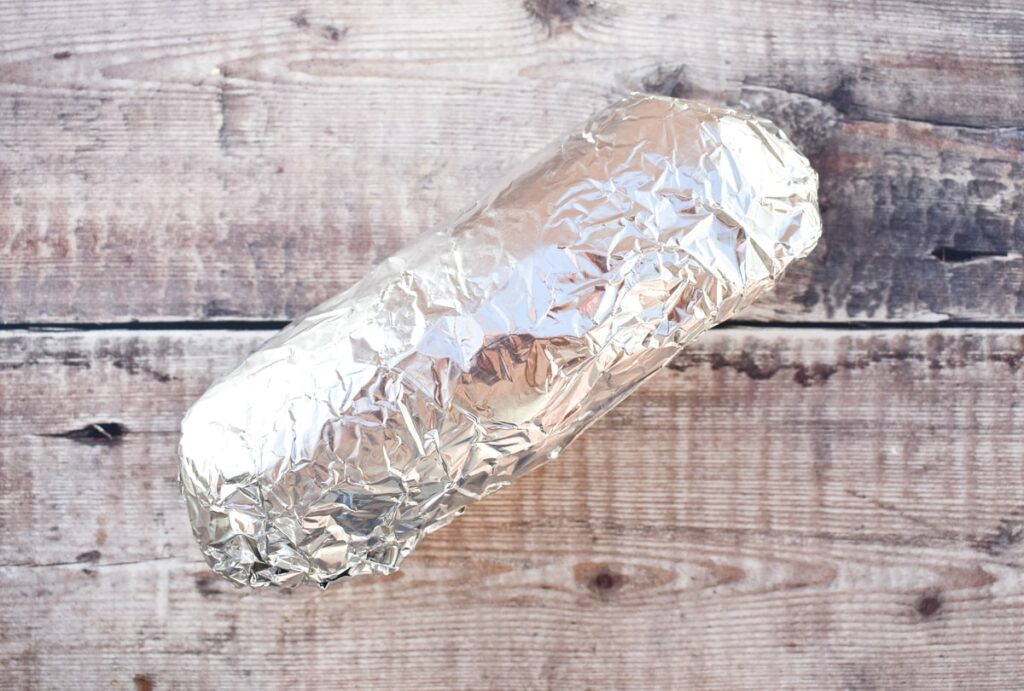 You can either wrap it firmly, burrito style in foil, then cut in half to serve, folding back the foil as you eat it.
This is probably the most secure way of wrapping it.
You could also wrap it in baking paper or wax-based sandwich wraps.
I would be happy wrapping it in baking paper and taking it to work if I popped it in a tub with something else in there (maybe some fruit) to stop it from moving about and unwrapping.
Also, check out my guide to wraps 50 BEST Vegan Lunch Wraps & Easy FIlling Ideas.
🍅 What to serve with a wrap
Of course, you can just serve it on it's own, but here are a few serving ideas to make it more of a meal.
Serve a couscous wrap with:
Salad
Crisps (chips)
Chips (fries)
Sweet Potato Fries
Potato Wedges and Vegan Mayo
Falafel, Beetroot and Hummus
Vegetable Crudites and Dip (try this creamy sriracha dip)
⏲️ How long will these couscous salad wraps keep?
If you can, make these wraps on the day you are serving them.
You could make them the evening before, but for best results make them on the day you are serving them.
My advice is to make the couscous salad ahead (it will keep in the fridge in an airtight container for a few days), then you can quickly make the wrap in the morning before work.
Once the couscous is made the wraps literally take about 2 minutes to make.
🌯 More vegan lunch wraps to try
Here are some of my favourite lunch wraps. Which one will you try first?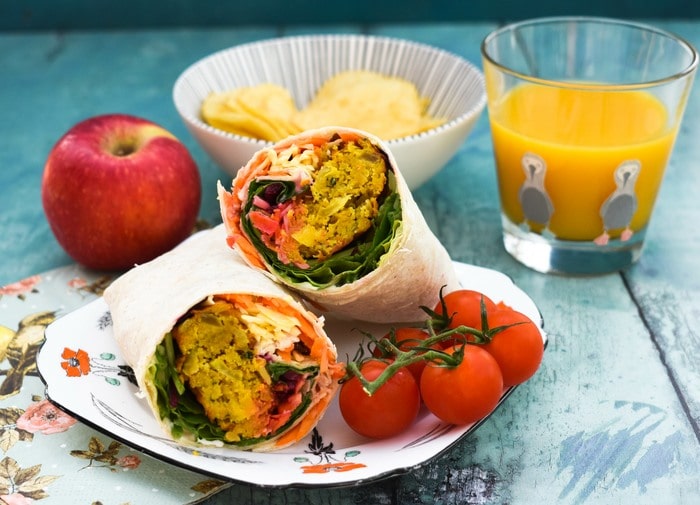 For more lunch inspiration, check out 39 of the Best Vegan Sandwiches.
📋 Want new recipes delivered to your inbox?
Also, sign up for my Tinned Tomatoes newsletter for a selection of recipes delivered to your inbox each week or sign up for my email updates and don't miss out on the latest recipe.
Check your spam folder if they don't arrive, I share a new recipe on each of my blogs every week.
⭐ Pin it for later
Follow me on Pinterest, Facebook, Twitter and Instagram.
🥦 Living on the Veg
Once you've signed up for my newsletters and followed me on social media, why not join my Facebook group Living on the Veg?
Such a friendly community with lots of recipes and chat. I'm in there every day chatting. It's such a nice place to spend time.
👩🏻‍🍳 Step-by-step photos
Step-by-step photos. Keep scrolling for the full printable recipe (with full ingredient list and nutritional info).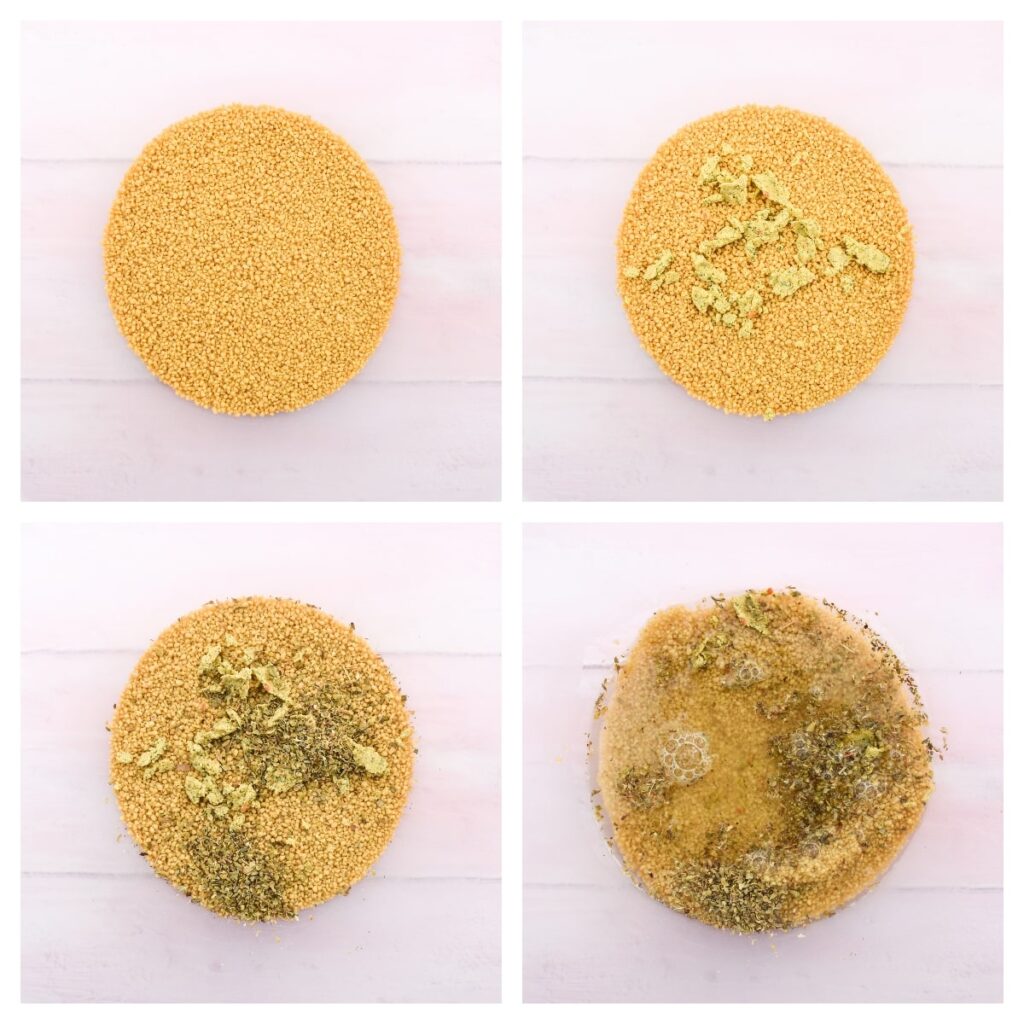 Step 1
First make the couscous.
Add the couscous to a mixing bowl, then crumble in the stock cube, add the dried herbs (full printable recipe below), chilli flakes (if you are adding them) and season with salt and pepper.
Pour in the boiling water.
Step 2
Mix with a fork, then cover with a clean teatowel and leave to soak.
Once cooked, fluff with a fork, than add the cucumber.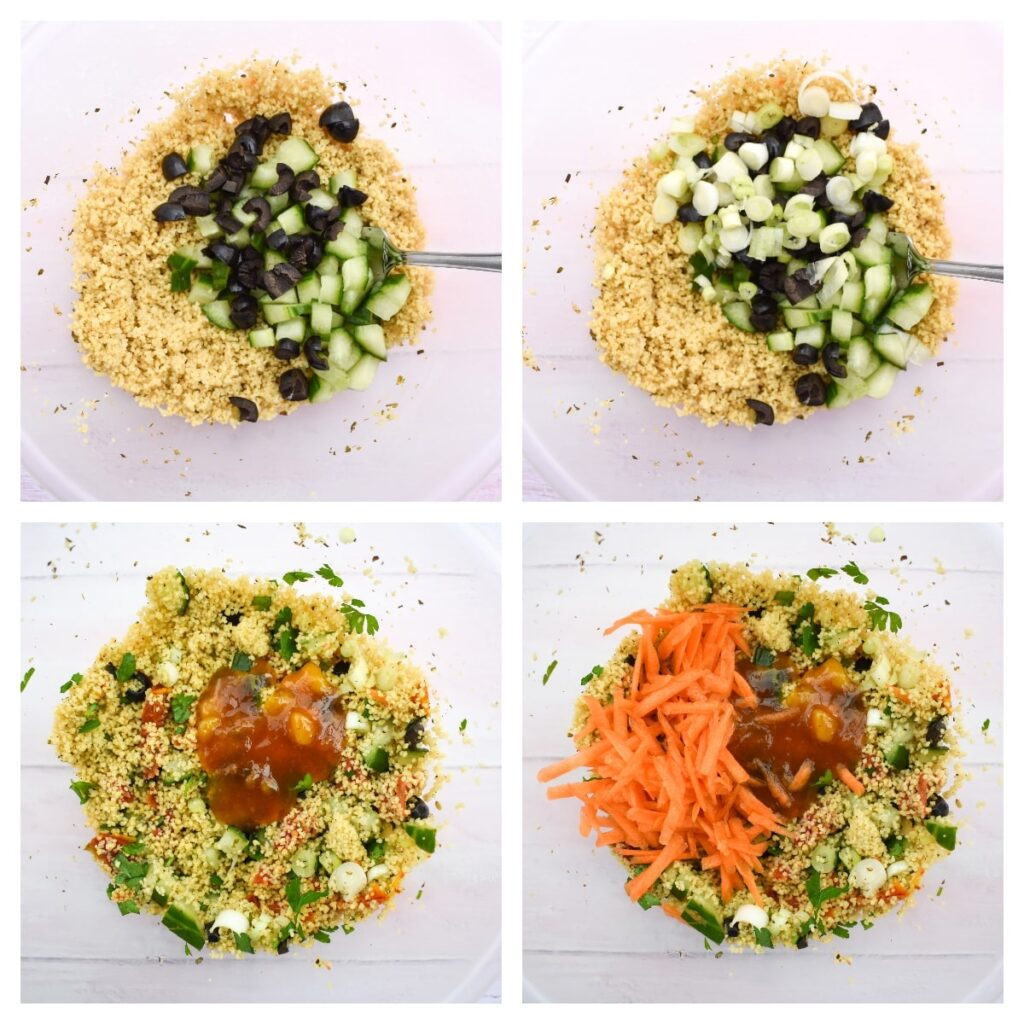 Step 3
Now add the olives, sundried tomatoes, spring onion and fresh herbs and mix well.
Add grated carrot and mango chutney. The mango chutney will help it hold togther better in the wrap and give lots of flavour.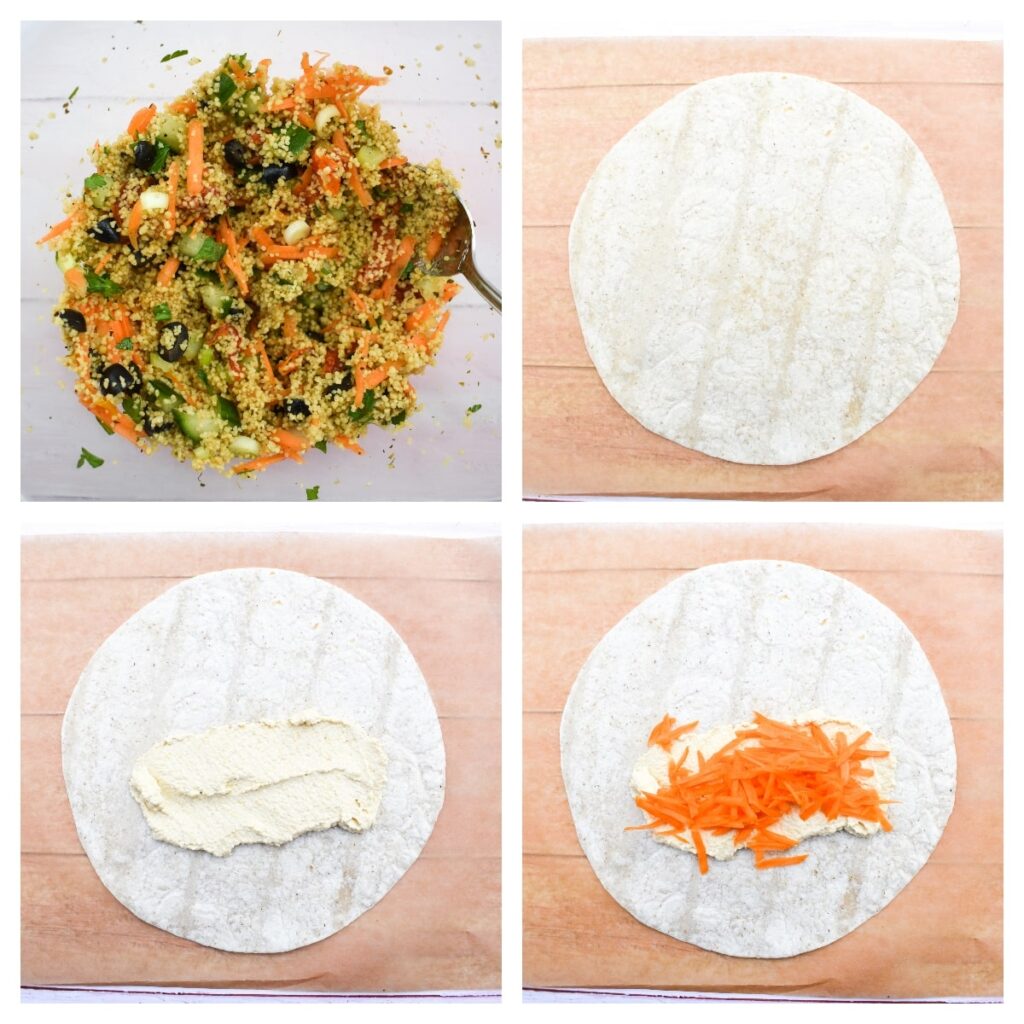 Step 4
Mix well.
This couscous can be made ahead and kept in an airtight container in the fridge for a few days.
Now add a generous layer of hummus to a large flour tortilla and top with grated carrot.
Step 5
Now add a generous layer of couscous salad, then add some salad leaves.
Finish with a generous drizzle of sriracha before folding firmly.
Cut in half and enjoy!
📖 Recipe
Black Olive Couscous Wrap
This delicious black olive couscous wrap has lots of salad as well as hot sauce for the most lush lunchtime wrap.
Ingredients
100

g

couscous

120

ml

vegetable stock

(½ stock cube and boiling water)

1

teaspoon

dried oregano

½

teaspoon

chilli flakes

(optional)

1

pinch

salt and pepper

6

black olives

(pitted)

¼

cucumber

(cubed)

2

spring onions

(finely chopped)

1

large

carrot

(grated)

5

sundried tomatoes

(or sunblush tomatoes, chopped)

3

tablespoons

mango chutney

(or sweet chilli sauce)

small

handful

fresh parsley

(chopped)

4

large

flour tortillas

12

tablespoons

hummus

90

g

salad leaves

4

teaspoons

sriracha
Instructions
First make the couscous. Add the couscous to a large mixing bowl, crumble in the half stock cube, add the dried herbs, season with salt and pepper then add the boiling water (or make the stock up before adding) and stir in well.

Cover with a clean teatowel to plump up while you chop and grate the vegetables.

Once the couscous is ready, add the olives, spring onions, cucumber, sundried tomatoes, a handful of the grated carrot and mix well.

Add the mango chutney and fresh parsley and mix well.

Now make the wraps (you can have the coucous in the fridge and make up a fresh wrap each morning, instead of making them all at once).

Spread 3 tablespoons of hummus on wrap above the centre, leaving a border.

Top with a generous layer of couscous, then add a handful of salad leaves.

Drizzle with sriracha hot sauce, them wrap firmly.
Notes
These wraps are best made on the day you are serving them.
To save time, make the couscous ahead and keep in an airtight container in the fridge, then you can make your wrap really quickly in the morning.
The couscous will keep for 4-5 days in the fridge.
If you are taking the wrap to school or work, the safest way of securing it is to wrap it firmly in foil or a wax sandwich wrapper.
Nutrition
Serving:
1
lunch wrap
Calories:
331
kcal
Carbohydrates:
56
g
Protein:
10
g
Fat:
8
g
Saturated Fat:
2
g
Polyunsaturated Fat:
2
g
Monounsaturated Fat:
3
g
Sodium:
742
mg
Potassium:
430
mg
Fiber:
7
g
Sugar:
11
g
Vitamin A:
4954
IU
Vitamin C:
10
mg
Calcium:
104
mg
Iron:
3
mg