Black olive tapenade takes just a couple of minutes to make. A tasty spread for sandwiches, wraps and bruschetta.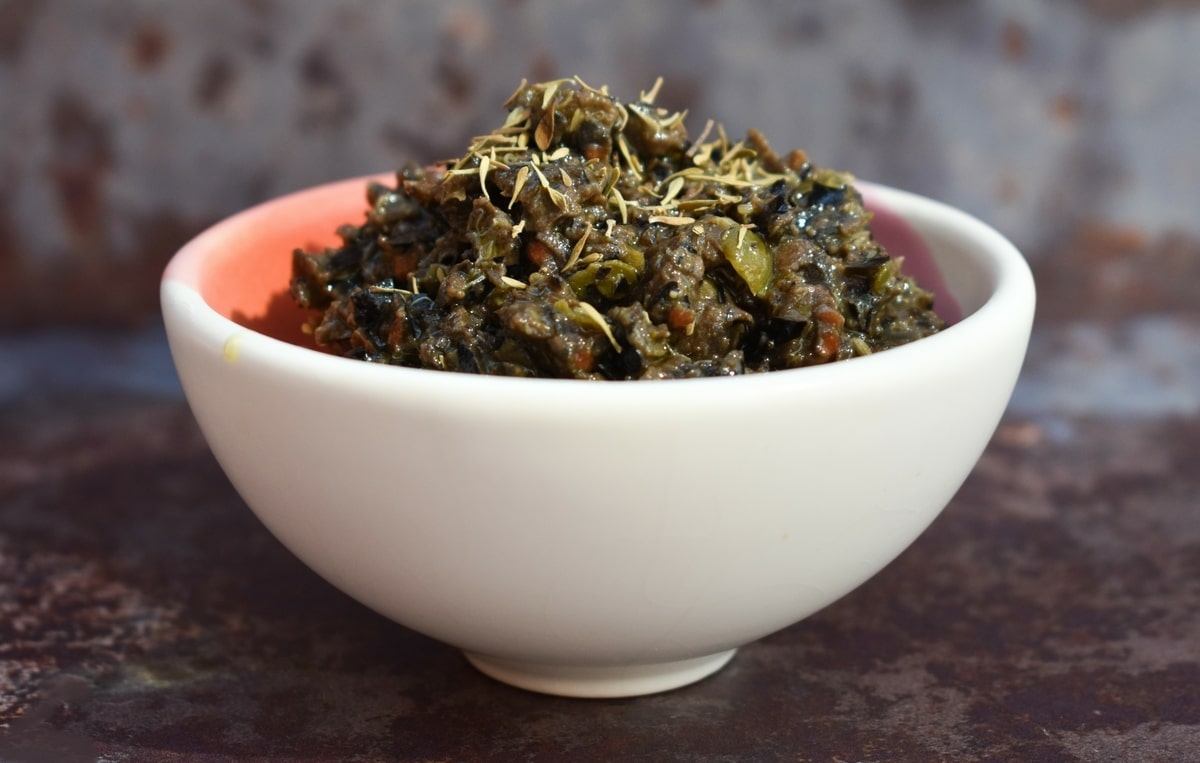 This olive-based spread is packed with flavour.
It has a rich olive flavour, with a salty hit from the capers.
The original recipe contains anchovies, but I have replaced them with sundried tomatoes for a vegan version of tapenade.
Jump to:
💭 Where does tapenade originate?
Tapenade is a dish that was created in France.
It comes from the region of Provencal in the South of France.
Created in 1880 by Chef Meynier in his restaurant La Maison Dorée in Marseille.
The name for the dish comes from the Provencal name Tapen which means capers. As you can imagine the capers are an important element in this dish.
🥗 Olives from Provencal
I was lucky enough to visit vineyards in Provencal where they still pick olives the traditional way.
The black olives I tasted in Provence were the best olives I have ever tasted.
They leave them on the vine until they are black and wrinkly and achingly soft.
The green olives were good too and the olive oil was lush, but oh those black olives.
I occasionally order few jars of the Nyons black olives to keep me going.
🧾 Tapenade ingredients
Here are the ingredients you need to make vegan black olive tapenade.
Black olives - pitted olives
Capers - for that salty bite
Sundried tomatoes - for a flavour boost
Miso paste - to replace the umami flavour of the anchovies in the original recipe
Thyme - dried thyme (you could use fresh also)
Lemon juice - just a little
Olive oil
Salt & Pepper
The sundried tomatoes and thyme are optional, but they add to the flavour.
💭 Top Tip
Don't like a chunky, rough-textured tapenade? Blend it for longer until it is smooth.
🥫 Shop bought tapenade
Just a wee reminder to be careful if you are buying ready-made tapenade from a supermarket.
Tapenade usually contains anchovies (fish), so you will have to scrutinise the ingredient list.
Another good reason to make your own.
🥣 Which miso paste should I use?
This recipe substitutes the anchovies with miso paste as a vegan alternative.
The miso replicates the unami and slightly salty flavour of anchovies.
There are three basic types of miso. White miso, yellow (or brown) miso or red miso.
They are all fermented, but for different lengths of time and the colour deepens and changes colour the longer it is fermented, so the paler the colour the milder the flavour.
The white miso is the one I use the most as I want to add flavour to dishes, but don't want to overpower them. This is the mildest.
The yellow (or brown) miso, is a medium miso with a stronger flavour.
The red miso has the longest ferment and the strongest flavour. You have to be careful with this one as it can easily overwhelm all the other flavours in a dish.
Use red miso sparingly!
💭 Ideas for serving tapenade
Here are a few serving ideas for your homemade tapenade.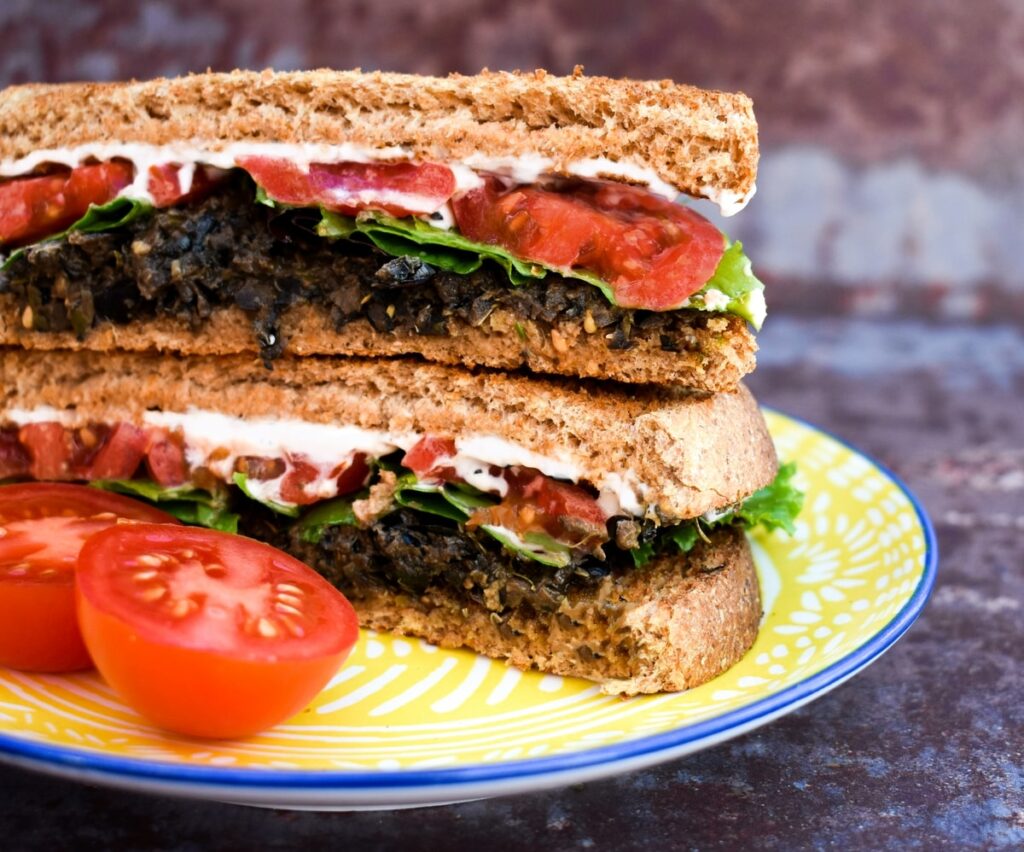 Baked sweet potatoes - bake a sweet potato, top with tapenade and crumble some vegan feta over the top.
Brushetta - toast some sourdough, tiger or bloomer's bread, rub with a clove of garlic, then top with tapenade, slice of tomato and crumble over some vegan feta, finishing with a drizzle of olive oil or chilli oil.
Buffet - add it to a help yourself meal, with crusty bread, salad, falafel, hummus, pickled onions and vegan cheese.
Burger topping - add tapenade as one of the toppings when you a layering up your next vegan burger in a bun.
Hummus - mix it with hummus for a flavour boost.
Oatcakes - serve on oatcakes or crackers
Sandwich filling - serve on a sandwich with salad.
Spaghetti - mix through freshly cooked spaghetti and top with grated vegan style parmesan.
Stuffed mushroom filling - fill large mushrooms with tapenade and top with vegan cheese and bake
Stuffed pepper filling - mix tapenade with cooked rice, onion, herbs, salt and pepper and fill red and yellow peppers, top with grated vegan cheese and bake.
Also try Creamy Vegan Sriracha Dip
⏲️ How long will homemade tapenade keep?
Store your homemade tapenade in an airtight container in the fridge for 7 to 10 days.
If you top it up with a little olive oil, it can last a little longer.
📋 More tasty vegan recipes with olives
Here are a few more easy vegan recipes with olives you may enjoy!
👩🏻‍🍳 Want new recipes delivered to your inbox?
Sign up for my Vegan Lunch Box newsletter and I'll send the latest recipe straight to your inbox as soon as it is published.
Also, sign up for my Tinned Tomatoes newsletter for a selection of recipes delivered to your inbox each week or sign up for my email updates and don't miss out on the latest recipe.
Check your spam folder they don't arrive, I share a new recipe on each of my blogs every week.
📋 Pin it for later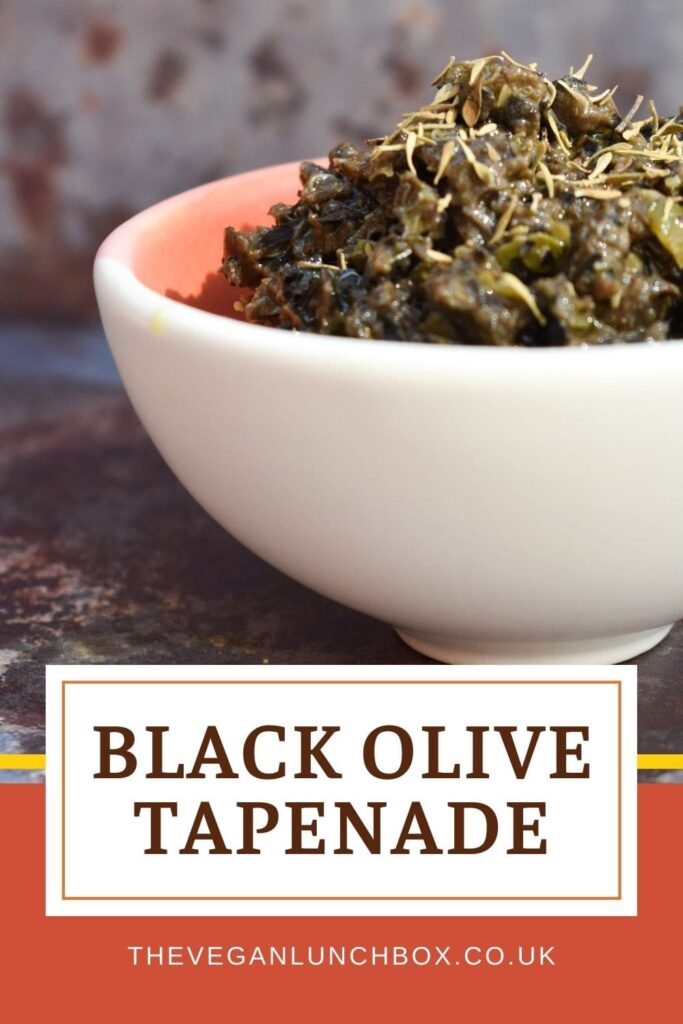 Follow me on Pinterest, Facebook, Twitter and Instagram.
🥦 Living on the Veg
Once you've signed up for my newsletters and followed me on social media, why not join my Facebook group Living on the Veg?
It's a very friendly community with lots of recipes and chat. I'm in there every day chatting. It's such a nice place to spend time.
👩🏻‍🍳 Vegan Olive Tapenade - step-by-step photos
Step-by-step photos of this vegan black olive tapenade being made. Keep scrolling for the full printable recipe.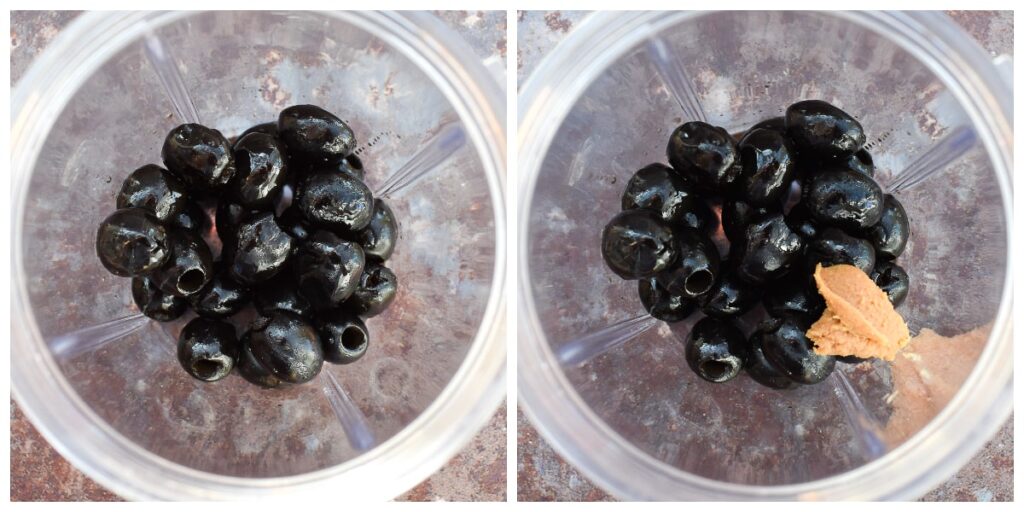 Step 1
Add the olives and miso paste to a blender jug or food processeor bowl.
Have neither? You could use a stick blender with a jug.
Step 2
Add the capers and thyme to the other ingredients.
Step 3
Add a sundried tomato and olive oil.
Season with salt and pepper.
Blend until the tapenade still has a bit of texture or blend until smooth.
Enjoy!
📖 Recipe
Easy Black Olive Tapenade (vegan)
Black olive tapenade takes just a couple of minutes to make. A tasty spread for sandwiches, wraps and bruschetta.
Ingredients
70

grams

black olives

pitted

1

sundried tomato

2

teaspoon

capers

1

teaspoon

white miso

¼

teaspoon

dried thyme

2

tablespoons

olive oil

1

pinch

salt

1

pinch

black pepper
Instructions
Add all the ingredients to the jug of a blender or the bowl of a food processor. If you don't have either of these, you can use a stick blender and a jug.

Whizz until it is the desired consistency. I like it with a bit of texture but you can serve it smooth.

Taste to check the seasoning and serve.
Notes
You can keep this in the fridge in an airtight container for 7-10 days.
Nutrition
Serving:
4
g
Calories:
92
kcal
Carbohydrates:
1
g
Protein:
1
g
Fat:
10
g
Saturated Fat:
1
g
Polyunsaturated Fat:
1
g
Monounsaturated Fat:
7
g
Sodium:
367
mg
Potassium:
29
mg
Fiber:
1
g
Sugar:
1
g
Vitamin A:
78
IU
Vitamin C:
1
mg
Calcium:
12
mg
Iron:
1
mg