An easy recipe for the most tempting vegan Biscoff oat bars. These tempting homemade cookie bars are a no-bake fridge cake.
How good do these easy Biscoff oat bars look?
I can confirm they are as scrumptious as they look and this no-bake fridge cake is super simple to make with just a few basic ingredients.
They are chewy and delicious!
Jump to:
💭 What is a fridge cake?
A fridge cake is a no-bake traybake, which is chilled to set and not baked at all.
It is usually cut into cookie bars, fingers or bites, depending on what size of a treat you want.
A brownie pan (mine is 20 cm x 20 cm, approximately 8 inches x 8 inches) is a good-sized cake tin to use for no-bake treats.
👩🏻‍🍳 Make your own oat flour
These Biscoff chocolate bars are made with homemade oat flour.
But don't worry, it's super easy to make at home.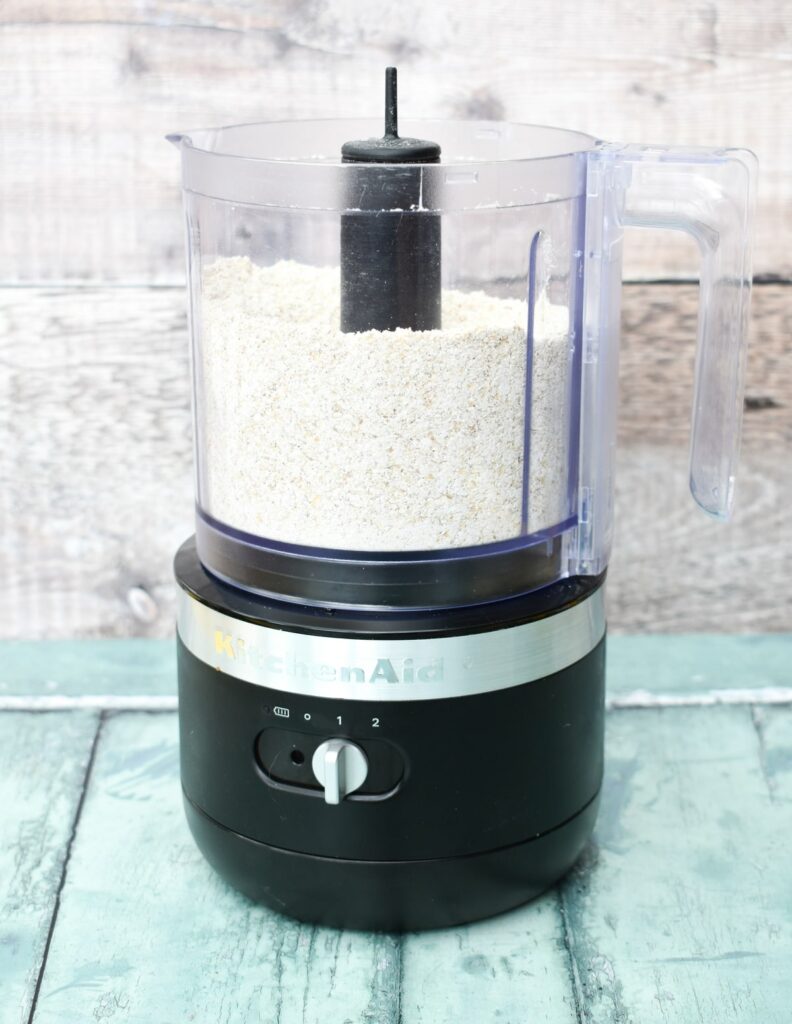 I used porridge oats to make these fridge bars, which are also known as rolled oats, but you could also use oatmeal or jumbo oats.
It doesn't matter how coarse or fine your oats are as you will be blending them.
Use a blender, food processor or spice mill to grind the oats into a coarse flour.
Just blitz it a few times, it doesn't take long.
📋 What you need to make Biscoff oatmeal bars
Here are the simple ingredients you need to make these delicious Lotus Biscoff biscuit bars.
Oats - porridge oats, rolled oats or otameal
Biscoff spread - a cookie butter
Maple syrup - to sweeten
Vegan butter - or spread
Salt - just a pinch
Dark chocolate - or dark chocolate chips
See the printable recipe card below for full ingredients, method and calories.
🧾 Variations to the recipe
Here are a few easy substitutions to make these Biscoff candy bars.
Golden Syrup- you could use golden syrup instead of maple syrup.
White Chocolate - you could melt vegan white chocolate to use instead of dark chocolate or use it as a drizzle on top of the set dark chocolate.
Raisins - can be added to the oat and Biscoff mixture for a chewy finish.
Cranberries - are also a good addition, especially if you are making these vegan oat bars as a Christmas gift.
Love oat bars? Try my microwave jam flapjacks.
What is Biscoff spread?
In 1932 a Belgium baker called Jan Boone created biscuits with a delicious caramel flavour. He called these Lotus Biscoff and delivered them to restaurants and cafes to be enjoyed with coffee.

People began to crumble these biscuits on bread or toast and some would dunk it in their coffee first to soften it, so Lotus Biscoff bakeries decided to make it into a spread.


Where is Lotus Biscoff spread made?
This distinctive caramel spread (cookie butter) is still made in the same village (the village of Lembeke in Kaprijke, Belgium), where the Biscoff biscuits were created in the 1930s. They are both still made in the family-run bakeries there.
Is Biscoff spread vegan?
Yes, Lotus Biscoff spread is one of those products that are accidentally vegan.
Why did they call it Biscoff?
It's a combination of the words biscuit and coffee, as it was created as a biscuit (cookie) to be served with coffee.
Does Biscoff have another name?
Lotus Biscoff can be called Lotus, Biscoff or speculoos. Speculoos is the generic name for this type of biscuit (cookie) in Holland.
⭐ Hit the heart (NEW)
Have you seen the little heart in The Vegan Lunchbox ?

Hit it to like the recipe.
Or hit the molecule-like symbol beside it, to save your favourite recipes or share them.
🍪 Are these Biscoff cookie bars easy to make?
Yes, these chewy oaty bars are super easy to make.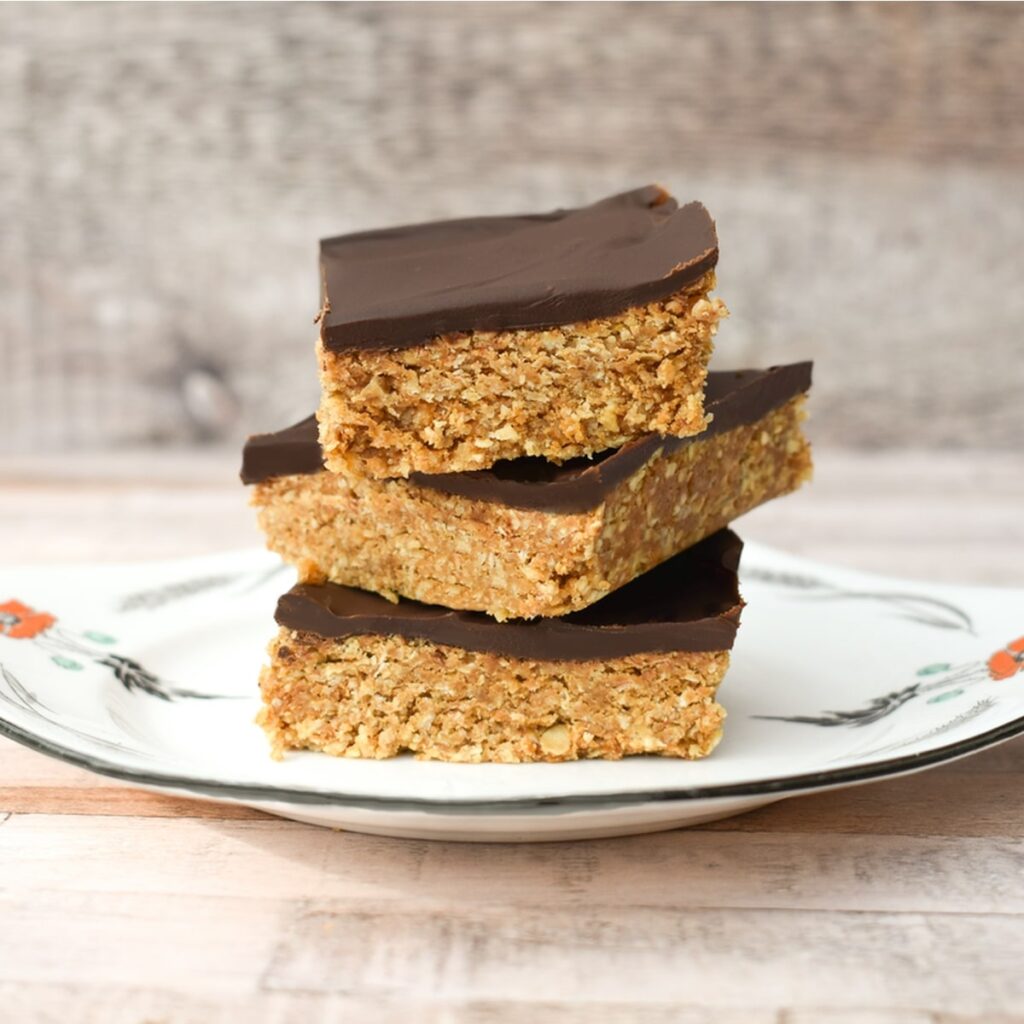 A quick whizz of the oats to make flour, before the melted Biscoff mixture is stirred in and pressed into a lined tin, then chilled before the melted chocolate topping is added.
It takes just a few minutes to make the base and this vegan Biscoff traybake is super easy to make.
💭 Top tip
For easy removal and cutting, make sure you line your brownie tin.
If you lightly butter the tin first, then add a strip of non-stick baking paper across the tin, the vegan oat bars will be easy to lift out and then cut.
🔪 Cutting tip
I cut this vegan Biscoff cake into 9 bars, but after taking photos I decided the bars were just too big.
So, I cut each of the bars in half, so they were more fingers of Biscoff cookie bars.
I have included calories in the notes of the recipe card for 9 large bars or 18 more treat-sized snacks.
🌡️ Storing oat bars
These nut-free oat bars can be stored in an airtight container in the fridge.
They will keep for up to a week but are unlikely to last that long as they are so good.
You can also freeze them, then defrost them in the fridge overnight for lunch boxes or an afternoon snack.
👩🏻‍🍳 More vegan recipes with oats
Here are a few more easy oat recipes for you to try.
👩🏻‍🍳 How to make Biscoff bars
Step-by-step photos. Keep scrolling for the full printable recipe (with full ingredient list, calories and nutritional info).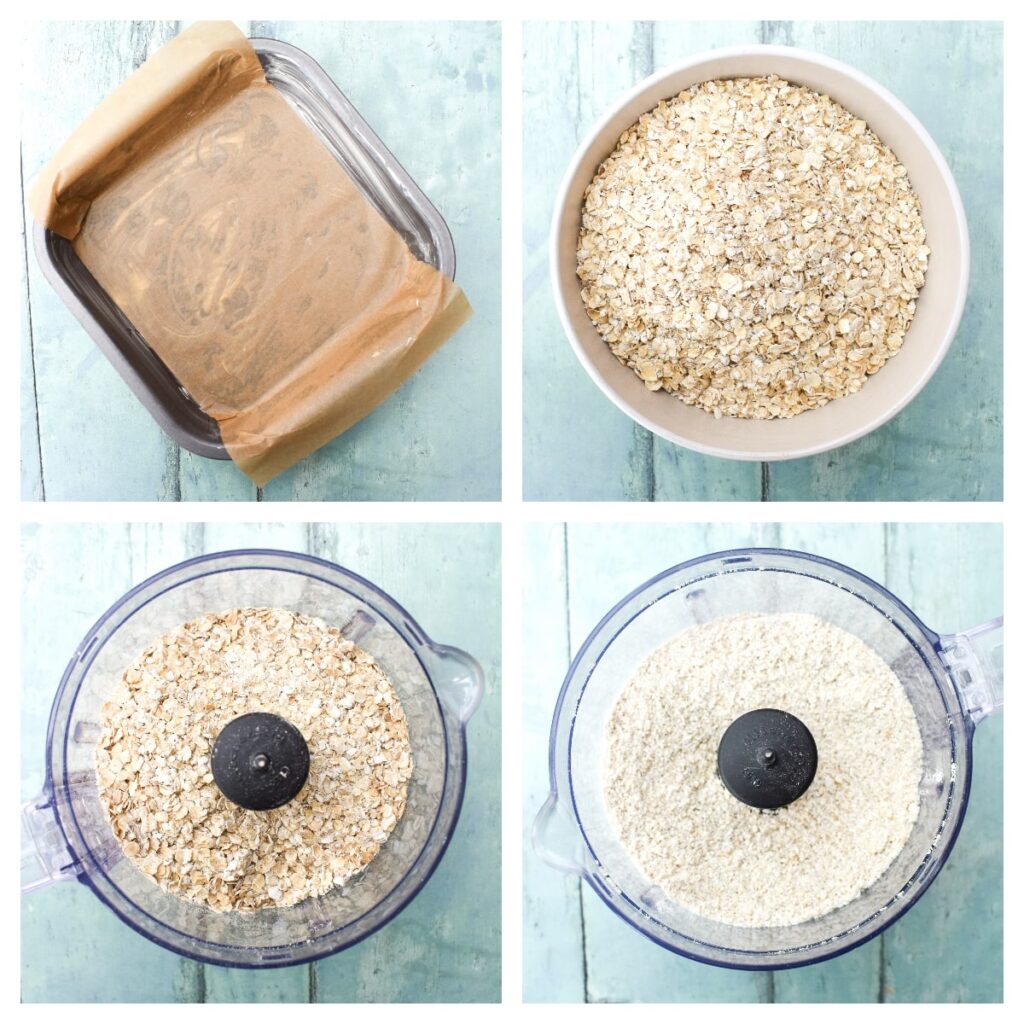 Step 1
Grease and line your traybake tin.
Add the oats into a blender or food processor and whizz until fairly fine.
Step 2
MIcrowave - add the Biscoff spread, syrup, butter and salt to a bowl and zap in the microwave until melted.
Pot - add the ingredients to a pan and melt on the cooker top.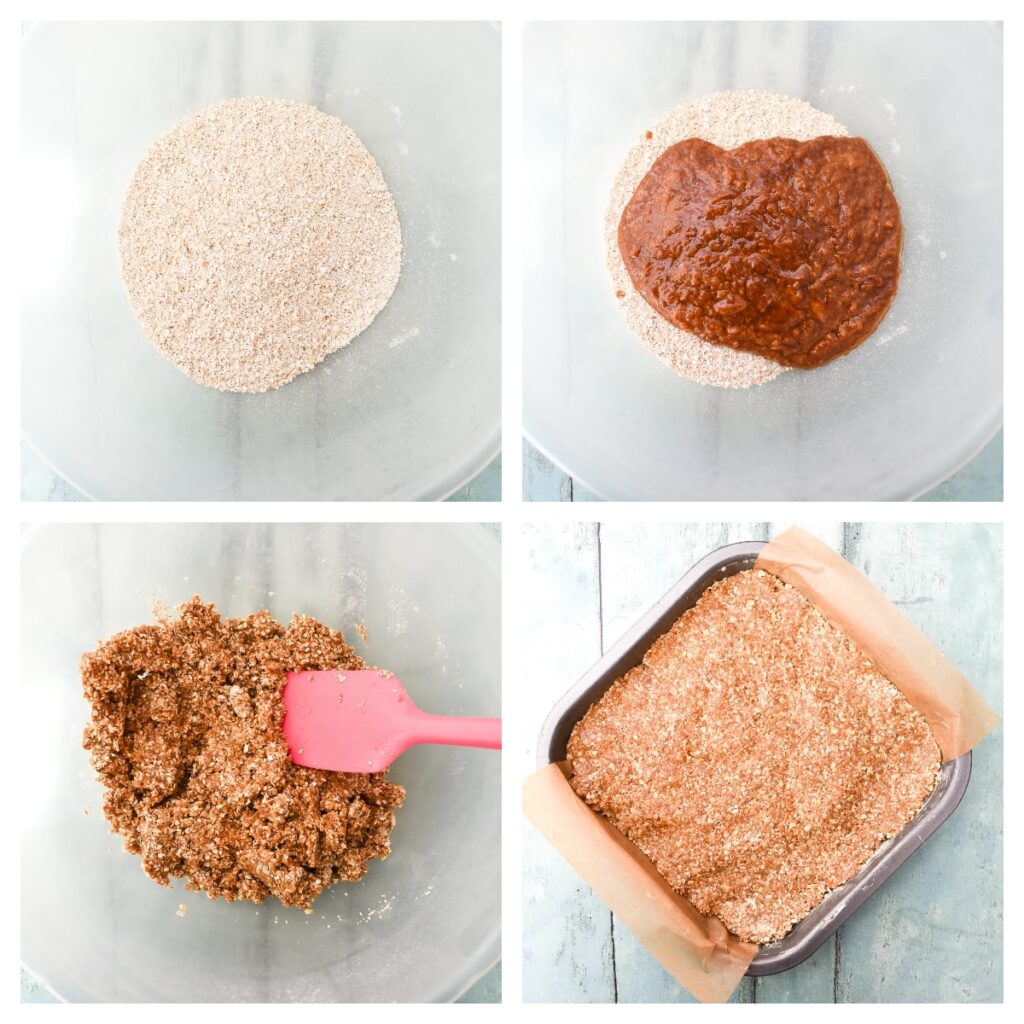 Step 3
Place the oat flour into a mixing bowl, then add the melted Biscoff mixture and mix until well combined.
Press into your lined tin, then pop in the fridge to chill.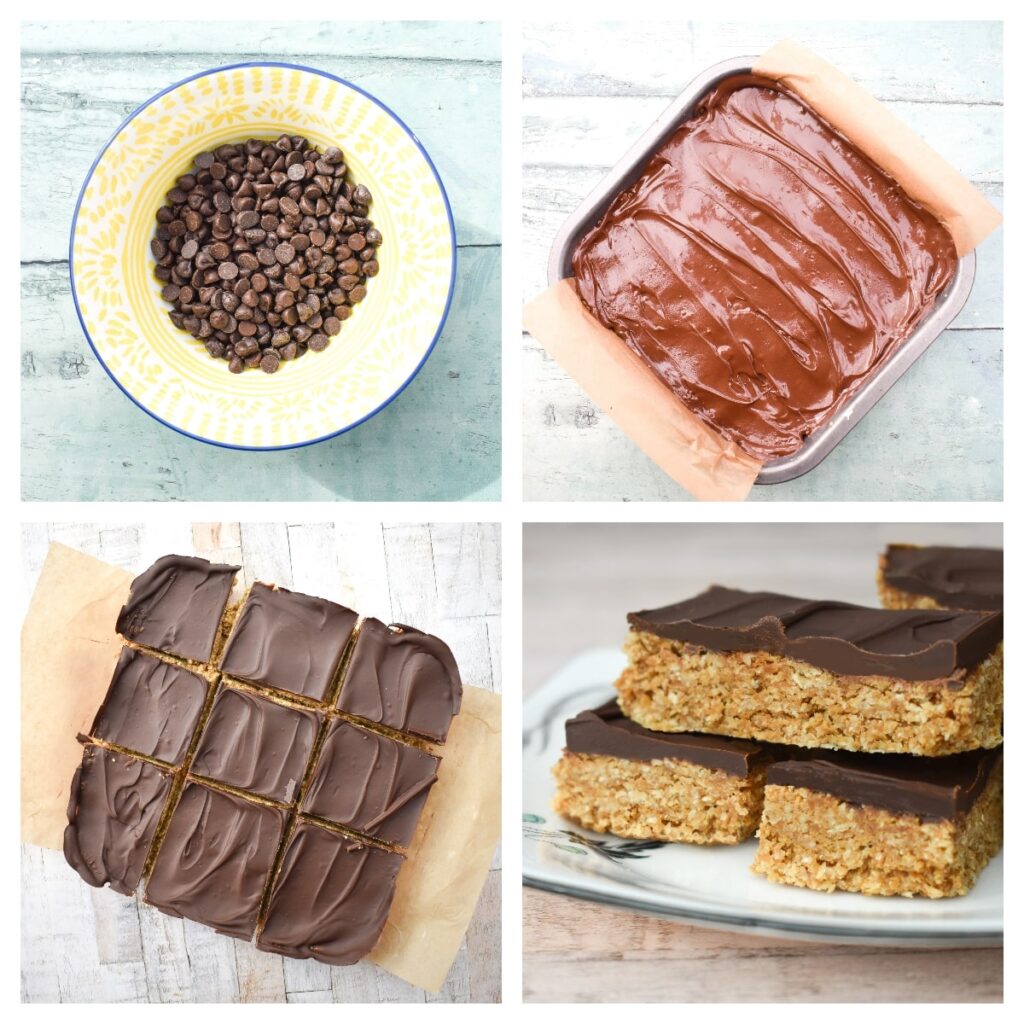 Step 4
Melt the chocolate in a bowl in the microwave or over a pan of simmering water (make sure the bottom of the bowl does not touch the water or the chocolate will seize).
Pour over the oat base, then smooth out with a spoon or spatula.
Chill until the chocolate has set.
Cut into bars or fingers and enjoy!
📖 Recipe
Vegan Biscoff Oat Bars (homemade no-bake)
An easy recipe for the most tempting vegan Biscoff oat bars. These tempting homemade cookie bars are a no-bake fridge cake.
Ingredients
250

g

oats

225

g

Biscoff spread

2

tablespoons

maple syrup

3

tablespoons

vegan butter

1

pinch

salt

150

g

dark chocolate
Instructions
Grease and line a brownie tin or other deep tray (20c x 20 cm or 8 inch x 8 inch approx).

Add the Biscoff spread to a bowl with the maple syrup, butter and salt and melt in the microwave briefly or in a pan on the cooker top.

While that melts, whizz the oats into a coarse flour in a food processor or blender for a few seconds.

Add the oat flour to a mixing bowl, then pour over the melted Biscoff mixture, and mix until well combined.

Pour into the lined tin and press into the tin as smooth and even as possible, then pop it into the fridge to chill.

Melt the chocolate in the microwave for 1 - 1 ½ minutes, stirring during the melt time or over a bain marie (see notes).

Pour the melted chocolate over the oat base and smooth out, then pop back in the fridge to chill for about 30 minutes.

Once the chocolate is set, cut into bars or snack size fingers or bites.
Notes
You can use chocolate bars or chocolate chips.
To melt chocolate in a bain marie, break and pop in a bowl that will sit over a pan of simmering water. The bottom of the bowl must not touch the water or the chocolate could seize.
Cut into 9 large bars, 18 fingers or 36 bites. I cut mine into bars, then decided they were too big, so cut them into 18 fingers.
Calories
9 big bars =  362 calories each
18 fingers = 181 calories each
36 bites = 90 calories each
Nutrition
Serving:
1
bar
Calories:
181
kcal
Carbohydrates:
12
g
Protein:
4
g
Fat:
13
g
Saturated Fat:
6
g
Polyunsaturated Fat:
1
g
Monounsaturated Fat:
2
g
Trans Fat:
0.01
g
Cholesterol:
7
mg
Sodium:
70
mg
Potassium:
69
mg
Fiber:
1
g
Sugar:
8
g
Vitamin A:
236
IU
Calcium:
28
mg
Iron:
1
mg