These crispy Italian chickpeas with Italian flavourings are roasted until crispy in an air fryer (or oven) to make a moreish healthy snack.
My latest recipe is these crispy Italian chickpeas flavoured with dairy-free pesto flavours and roasted until crisp in the air fryer.
Of course, you could roast these tasty little snacks in the oven instead.
Crunchy chickpeas make an excellent protein-packed snack, that is full of fibre and nutrients.
They make a great alternative to crisps (potato chips) which are not quite as healthy.
Jump to:
🥘 Crispy chickpea ingredients
Here are the simple ingredients you need to make this gluten-free snack.
Cooked chickpeas - canned chickpeas are an easy option
Oil - olive oil for flavour
Basil - you want dried basil for this recipe
Garlic - garlic powder
Nutritional yeast - also called nooch
Salt & Pepper - to season
See the printable recipe card at the end of this post for quantities, method, calories and nutrition.
📖 Variations
Use this crunchy chickpea recipe as a base and change up the flavours every time you make them.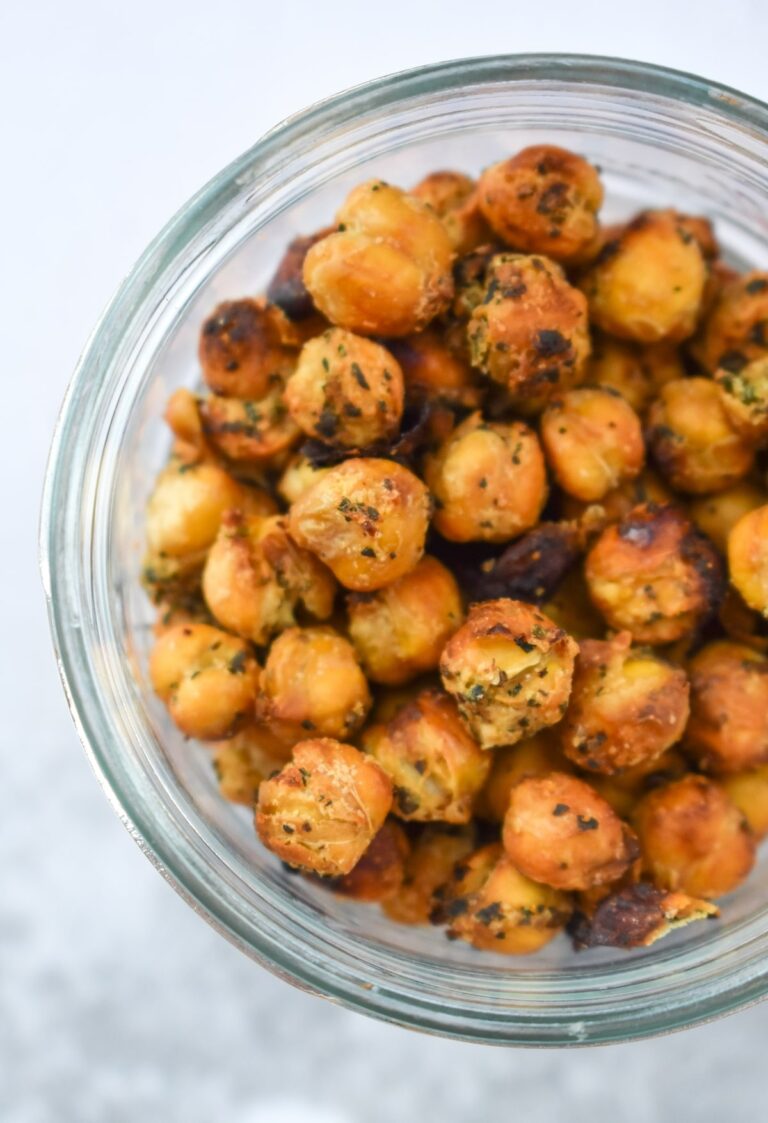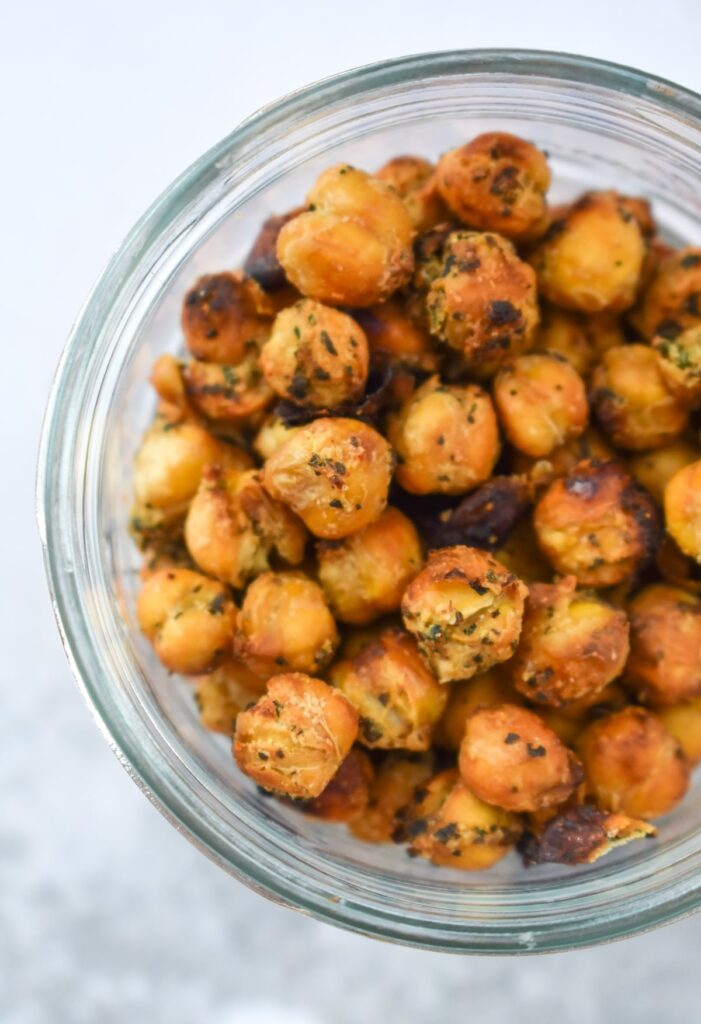 You may like to try my crunchy pizza chickpeas next, but here are some more flavouring ideas.
Garlic & Herb - add garlic powder and dried herbs
Lemon & Herb - add lemon zest, oregano and salt
Smoky - add paprika, salt and some chilli flakes for a bit of heat
Sweet & Savoury - add maple syrup, cinnamon, cumin and salt
Curry - add cumin, ground coriander, turmeric and ground ginger
⏲️ Air fryer or oven?
Roast chickpeas can be baked in the oven or in an air fryer.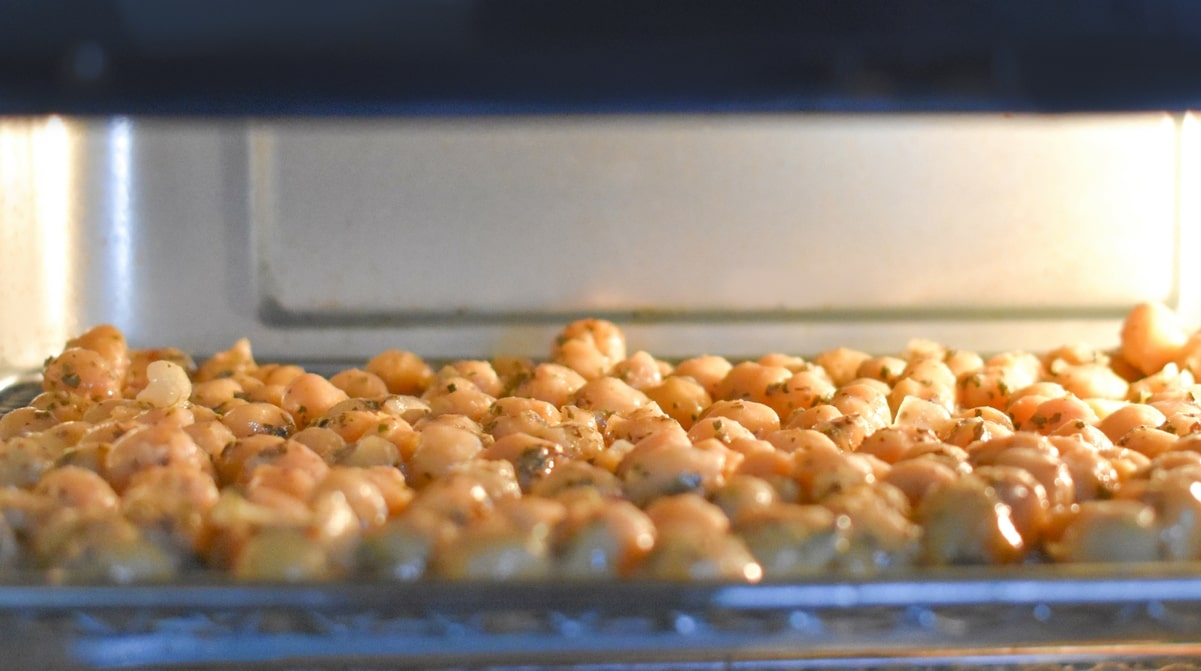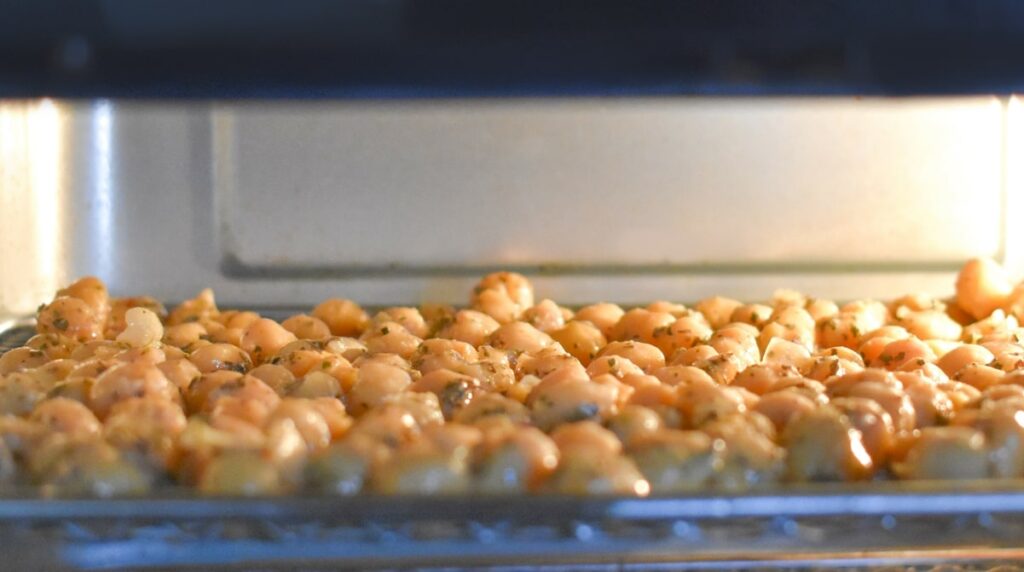 Using an air fryer is quicker and cheaper (energy consumption is lower with an air fryer), but if you prepare them properly, they will crisp up nicely in both.
In an oven or oven-style air fryer with shelves, bake them on a lined tray near the top of the air fryer, stopping to move them about (turn them), so they are evenly crisped.
If you have an air fryer with drawers, then give them a good shake during the roast.
Next, try these crunchy air fryer balti tofu bites.
💭 Roast chickpea tips
Here are a few tips for the crunchiest roasted chickpeas.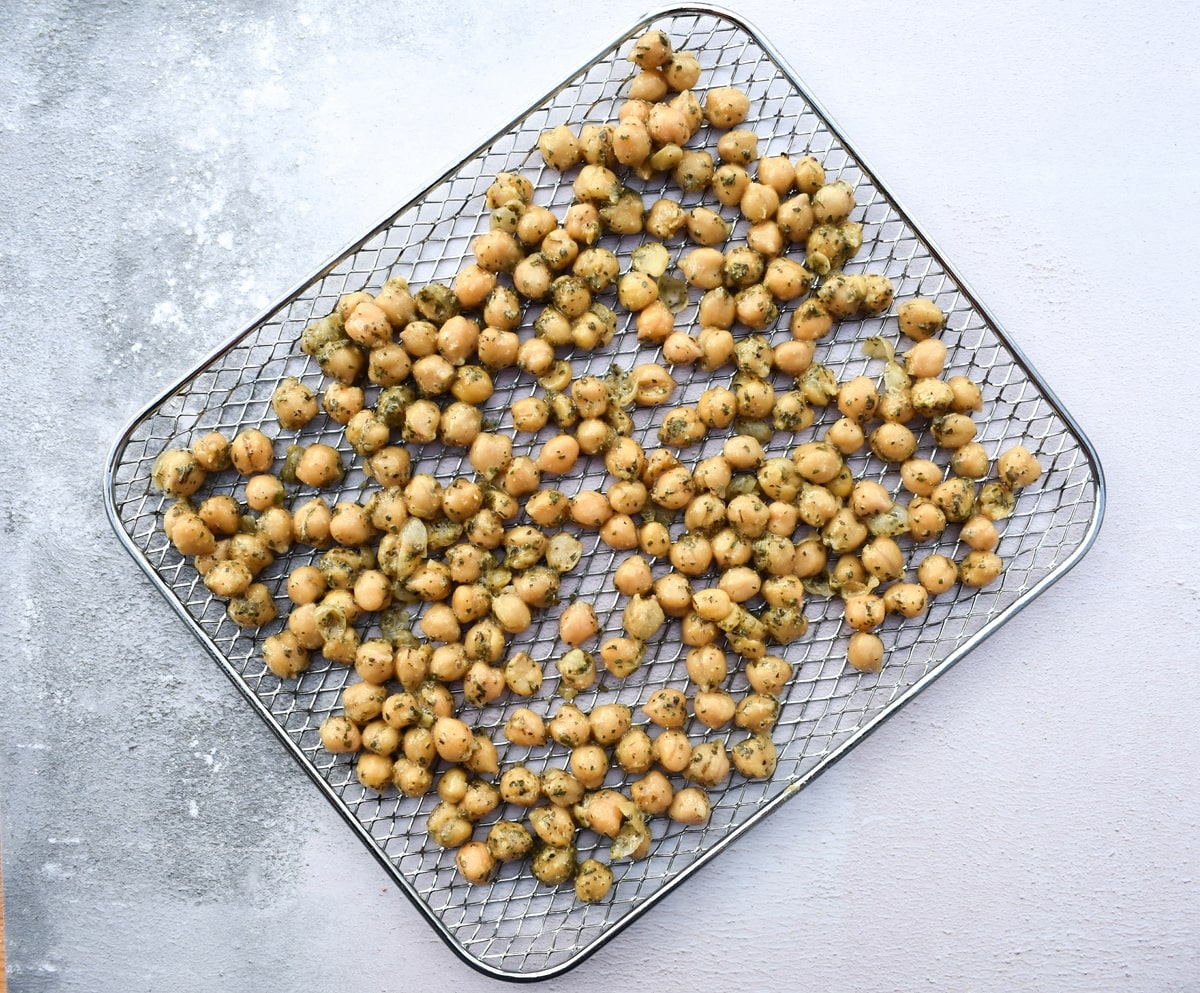 Dry them - make sure you dry them well on kitchen paper or a clean tea towel before adding the flavourings.
Give them space - don't overcrowd the basket or tray, have a bit of room between them to allow the chickpeas to crisp
Move them - move them about during cooking to make sure they are evenly roasted
Watch them - they can go from crispy to burnt quite quickly, so keep an eye on them
Do give them a try, they are a fabulous oven-roasted snack and great for lunchboxes.
They are suitable for vegetarians, vegans and those on a dairy-free or gluten-free diet.
🥗 How to serve crunchy chickpeas
Here are a few serving suggestions for roasted chickpeas, if you can manage to do anything other than pop one after another of these tasty morsels in your mouth until they are all gone!
Naked - just serve them as they are as a tasty protein snack
Salad - serve them as a crunchy topping on a salad
Pitta - add them to pitta bread with salad and a creamy ranch dressing or the most gorgeous Russian dressing
Wrap - add to a wrap with salad and a rich vegan buffalo sauce
Soup - add them as a crunchy topping to soups instead of croutons, try them with this homemade vegan cream of tomato soup
Trail Mix - go all American and add them to a trail mix (dry snack mixture) with nuts, seeds and dried fruit
🥫 Storing crispy baked chickpeas
Store crispy pesto chickpeas in a glass jar or an air tight container.
Just make sure the glass jar or airtight container is spotlessly clean and totally dry, as any hint of moisture or water and the chickpeas will go soft.
You can add some kitchen paper, just to be on the safe side.
⏲️ How long will they keep?
Store them right and these crispy Italian chickpeas will keep for a few days.
They make a great portable snack, that's low in calories, high in protein and fibre and full of nutrients.
Best of all, they taste so good!
👩🏻‍🍳 Related recipes
Looking for more savoury snack recipes like this? Try these:
👩🏻‍🍳 Pairing recipes
Try adding crunchy chickpeas to these dishes as a filling or topping:
⭐ Want new recipes delivered to your inbox?
Sign up for my Vegan Lunch Box newsletter for lunch ideas and recipes straight to your inbox when they are published.
Sign up for my Tinned Tomatoes newsletter and my new recipes will be delivered as soon as I publish them on the Tinned Tomatoes blog.
⭐ Save your favourite recipes for free!
Hit the heart (look to the right) to save this and other recipes.

Once logged in, you can save your favourite recipes and access them by hitting the heart on any of my recipes or going to grow.me where they will be stored for you for free.
I use this website and can highly recommend them.
👩🏻‍🍳 How to make crispy Italian chickpeas
These step-by-step photos will show you how to make these air fryer crispy chickpeas. Keep scrolling for the full printable recipe (with full ingredient list, calories and nutritional info).
Step 1
Drain the chickpeas (reserving the aquafaba aka chickpea water to make chocolate mousse) and pat dry with a clean tea towel or kitchen paper.
Add the oil and flavourings (see the recipe card below for the full ingredient list).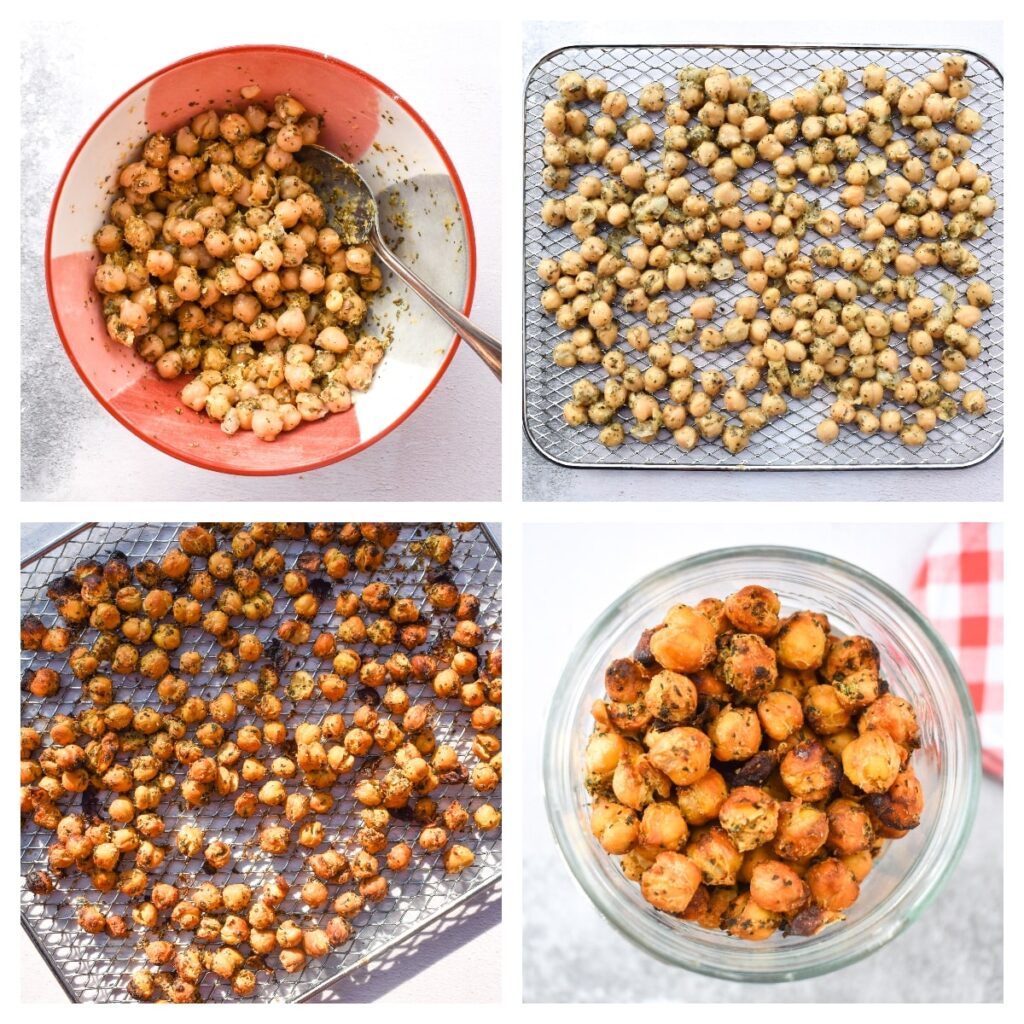 Step 2
Mix until well coated then spread on a tray (to oven or air fryer oven roast) or in an air fryer drawer.
Roast until crunchy.
Enjoy!
📖 Recipe
Crispy Italian Chickpeas Roasted in the Air Fryer
These crispy Italian chickpeas are chickpeas flavoured with pesto and roasted until crispy in an air fryer to make a moreish healthy snack.
Ingredients
240

g

chickpeas

(400g/14 oz can drained)

2

teaspoons

olive oil

1

teaspoon

dried basil

1 ½

teaspoons

garlic powder

(or granules)

2

teaspoons

nutritional yeast

(also called nooch)

1

pinch

salt and pepper
Instructions
Drain a can of chickpeas, drain and dry on kitchen paper or a clean tea towel.

Pour the chickpeas into a large bowl, add the oil and mix well.

Add the herbs, nooch and garlic and season with salt and pepper, then mix well to coat.

Add to your air fryer basket and shake into an even layer or if you have an air fryer with shelved either spread out in a tray or on straight on the mesh shelves.

Cook at 180c/350f for 10 miutes then turn up to 200c/400f for a further 5 minutes. Keep an eye on them so they don't burn and check at this point to see if they are just right, if mot give them a few more minutes.

Once cool store in a dry jar or airtight container and tuck in.
Notes
Air Fryers
Air fryers vary, so do keep an eye on these. Yours may need a little less or a little more time.
Storage
Roast chickpeas are best when just made but can be kept for a few days in a clean, dry jam jar or any other airtight container. You can add some kitchen paper to catch any moisture.
Nutrition
Serving:
1
serving
Calories:
124
kcal
Carbohydrates:
18
g
Protein:
6
g
Fat:
4
g
Saturated Fat:
0.4
g
Polyunsaturated Fat:
1
g
Monounsaturated Fat:
2
g
Sodium:
15
mg
Potassium:
215
mg
Fiber:
5
g
Sugar:
3
g
Vitamin A:
18
IU
Vitamin C:
1
mg
Calcium:
36
mg
Iron:
2
mg